Last Updated on October 24, 2020 by The 'Noms.
Over Easy is a great place for breakfast and brunch in west Omaha!
With our kids having a slumber party at the grandparents, Mrs. Nom and I had a chance to go out for a nice breakfast just the two of us. In west Omaha, there are the usual chain places you can head to for breakfast. There aren't a whole lot of locally owned restaurants that are open for breakfast.
What is Over Easy?
There are the usual doughnut shops and fast food places, but no real options for a great breakfast. That was until Nick Bartholomew opened up Over Easy and brought their unique brand of breakfast place to the West O.
So Over Easy opened as a place that offered locally sourced food and creative chef driven gourmet dishes that served breakfast and lunch exclusively. We have eaten there a number of times and it has become one of our go-to places! Especially when we get a chance to have breakfast out (which sadly is quite few and far between). It is one of those spots that works for a quick bite or a nice sit down with friends for a leisurely brunch.
Located in the end bay of a strip mall at 168th and Q, Over Easy is a small cozy diner with about a dozen tables and a lunch counter. The decor is an eclectic mix of country and vintage chic with antiques and pieces of art sprinkled onto rough finished steel shelves. Reclaimed barn wood walls and chalk menu boards combine with wooden farm tables and chairs to bring a homey warmth to the space.
We arrived just as the first snow flakes started to fall and were quickly seated at the lunch counter. Our waitress greeted us, tempted us with a housemade Nutella pop tart (we have had these on previous trips and they are delicious) and recommended their seasonal Pumpkin Spice coffee, which is custom roasted for Over Easy!
Over Easy recently revamped their menu to reflect the seasonal changes, which caused us to have to study the menu for a bit longer than normal. While sipping our coffee, we decided to split one of the fantastic browned butter cinnamon rolls to help overcome our morning fogginess.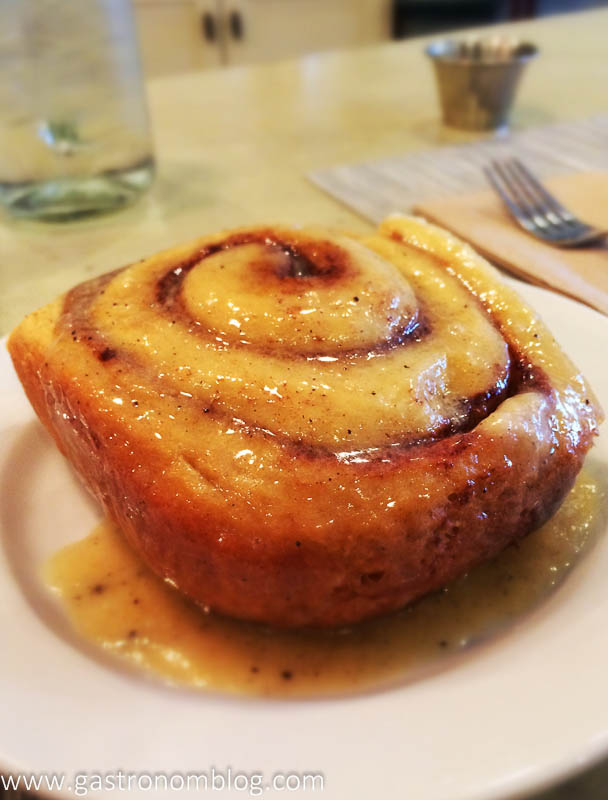 Need dinner ideas?
Check out the Boiler Room!
The browned butter cinnamon roll was served hot, the browned butter frosting oozing over the fluffy roll. The frosting was warm and runny with a rich buttery caramel flavor. Flecks of brown sugar and cinnamon dotted the frosting and the brown sugar bits gave just a hint of a crunch.
What did we Order?
Mrs. Nom decided from the a la carte menu, she chose the baked oatmeal and a side of TD Niche sausage. The baked oatmeal had baked apples, dried cranberries and chopped pecans with brown sugar. Fresh apples were thinly sliced topped the oatmeal, giving the oatmeal a beautiful presentation and a nice tangy crisp bite.
The oats were well cooked, almost like al dente pasta, giving the dish a bit of an apple crisp like quality. The pork sausage patties came from TD Niche Farms, a local farm that raises heritage pork breeds. The patties were nicely seasoned, slightly salty with a hint of sage.
I decided to order the Chicken and Waffle with a side of farm fresh eggs. The waffle is a savory egg waffle, with hints of sage and garlic. It gave a flavorful depth to the toasted shell of the waffle. The waffle was one of the most uniquely shaped waffles I have ever seen, a large triangle with big rounded bubbles of the batter.
I would have liked the waffle a bit more toasted and crisp on the outside, but it was very good. Drizzled over the waffle was a herb infused honey that gave a nice layered sweetness that complimented the sage. The chicken, a boneless breast from Plum Creek Farms, was served cut in half.
The breast was lightly breaded and crispy, the breading a golden brown from the chipotle cinnamon seasoning. Hints of honey sweetness complimented the restrained spiciness of the breading.
The chicken was nicely cooked, with a nice meaty firm texture. The size of the chicken was generous and with the size of the waffle. So I definitely felt like I got my money's worth. Blackberries and an orange slice decorated the plate and made for a nice presentation as well as a nice fruity treat.
Then the side of sunny side up eggs (in retrospect, it would have been appropriate to order the eggs 'over easy') come topped with a sprinkle of chopped parsley.
How was our Visit to Over Easy?
Service at Over Easy was quick and friendly, and the staff seemed very attentive and worked well as a team. I don't think that either of ever got below a half a cup of coffee! The kitchen was getting orders out quickly and they were turning tables quickly so that there wasn't much of a wait.
We have been there when the weather is more cooperative and the wait can be a bit longer as they are gaining a following. But if you can't wait, Over Easy offers a drive thru that features a slightly trimmed down menu.
They also have started serving alcohol! Yay!
If you will be visiting Omaha, we recommend these Airbnbs!
What Other Restaurants to visit in Omaha
If you are coming to Omaha, we recommend renting a VRBO Rental Location to stay at!
If you liked this recipe, don't forget to subscribe for new (and of course free) recipes by entering your email address on the side bar (and get all the recipes delivered to your inbox when we post). Don't miss out on a thing. You can find us on Facebook, Instagram, Pinterest and Twitter!
Follow my blog with Bloglovin