Last Updated on September 17, 2023 by Leah Hall
Over Easy is one of the great locations for brunch and breakfast places in Omaha!
Overeasy has since closed in 2023. With our kids having a slumber party at the grandparents, we had a chance to go out for a nice breakfast just the two of us. Located in west Omaha, there are the usual chain places you can head to for breakfast. There aren't a whole lot of locally owned restaurants that are open for breakfast.
This post contains affiliate links for products that we think you as readers might find useful, and we make commission off of these! For more details about our affiliates, click our Disclosure and Contacts Page.
What is Overeasy Omaha?
There are the usual doughnut shops and fast food places, but no real options for a great breakfast. That was until Nick Bartholomew opened up Overeasy and brought their unique brand of breakfast to the West O.
Overeasy opened as a place that offered locally sourced food and creative chef driven gourmet dishes that served breakfast and lunch exclusively. We have eaten there a number of times and it has become one of our go-to places! Especially when we get a chance to have breakfast out (which sadly is quite few and far between). It is one of those spots that works for a quick bite or a nice sit down with friends for a leisurely brunch.
Located in the end bay of a strip mall at 168th and Q, Over Easy is a small cozy diner with about a dozen tables and a lunch counter. The decor is an eclectic mix of country and vintage chic with antiques and pieces of art sprinkled onto rough finished steel shelves. Reclaimed barn wood walls and chalk menu boards combine with wooden farm tables and chairs to bring a homey warmth to the space.
Overeasy revamps their menu regularly to reflect the seasonal changes,. While sipping our coffee, we decided to split one of the fantastic browned butter cinnamon rolls to help overcome our morning fogginess.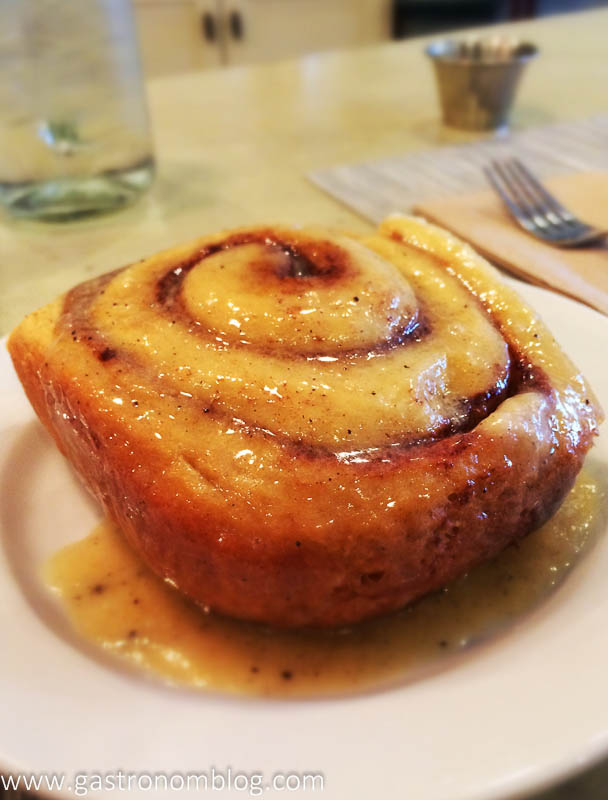 Need dinner ideas in Omaha?
The browned butter cinnamon roll was served hot, the browned butter frosting oozing over the fluffy roll. The frosting was warm and runny with a rich buttery caramel flavor. Flecks of brown sugar and cinnamon dotted the frosting and the brown sugar bits gave just a hint of a crunch. They do change out the flavors of their rolls regularly, as well as the browned butter version, so make sure to check back every week!
Overeasy Food Offerings
One of the staples of their food menu is the chicken and waffles, which is why this is one of the best breakfast places in Omaha. The fun bubble waffle and delicious fried chicken is a great savory and sweet combo!
They usually have a seasonal quiche that changes with what flavors and vegetables are available locally. Accompanied by a salad, bacon or sausage and toast, this is a tasty choice, seen above. As well as the breakfast carnitas, which are seen below. (These are a must order, they are so amazing!)
Another favorite of ours is the Eggs Benedict. You can even add salmon as a twist in flavors. Always a good choice, fresh and tasty. And get your eggs Over Easy. Get it? Lol.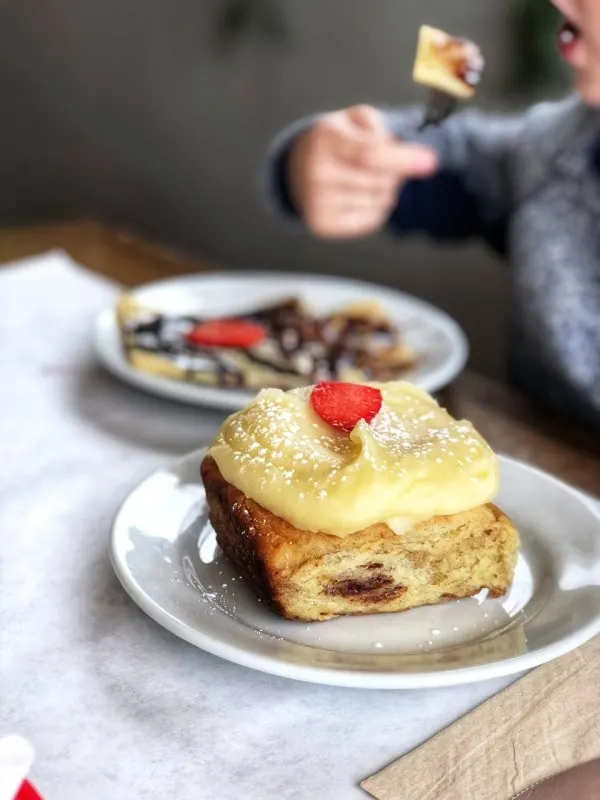 I honestly don't remember what kind of cinnamon roll this is above, but it has a strawberry on it, so strawberry? Overeasys' homemade poptarts (usually Nutella and a seasonal berry) flavors and their cinnamon rolls are enough to get me in the door. We usually even take some home, they are just that good. So make sure to order one while you are there, or for the road if you are too full.
They also have started serving alcohol.
Choices are Bloody Marys, Boozy coffee and sherbet mimosas! We hope you try out Overeasy, and soon!
Cheers!
If you will be visiting Omaha, we recommend these Airbnbs!
What Other Restaurants to visit in Omaha
Also, don't forget to follow us on Instagram and tag #gastronomcocktails so we can see all the wonderful recipes YOU recreate from this site!
You can also subscribe to our weekly newsletter so you never miss a delicious recipe again!
Like this post? Check these out below, too!
Omaha Bars
If you are coming to Omaha, we recommend renting a VRBO Rental Location to stay at!
Interested in stocking your own home bar? Make sure to see our favorites at our Amazon Store!
If you liked this post, don't forget to subscribe for new (and of course free) recipes by entering your email address on the side bar (and get all the recipes delivered to your inbox when we post), so you don't miss out on a thing. You can find us on Facebook, Instagram, and Pinterest!
Gastronomblog is a participant in the Amazon Services LLC Associates Program, an affiliate advertising program designed to provide a means for sites to earn advertising fees by advertising and linking to amazon.com