Last Updated on September 17, 2023 by The Noms
lderA great drink that we have fallen in love with, the Lumiere Cocktail. A classic combination.
While attending the Grand Opening of Spirit World we purchased our first bottle of St. Germain, a French elderflower liqueur that had tried in cocktails as a complementary spirit to add a bit of sweetness. This cocktail may become one of your favorite cocktails!
This post contains affiliate links for products that we think you as readers might find useful, and we make commission off of these! For more details about our affiliates, click our Disclosure and Contacts Page.
Lumiere Cocktail History
We hadn't run across any cocktails that used St. Germain as the base spirit, so we started researching. We came across an interesting sounding cocktail called the Lumiere. It is a classic gin cocktail, with a base of gin and lime juice, accompanied by green chartreuse and we love it served in this beautiful tulip glass!
The Lumiere was developed in Brooklyn, New York as a movie inspired cocktail at the Nitehawk Cinema. The Nighthawk Cinema was a dinner and drinks movie theater and this particular cocktail was created by their director of beverages, Jen Marshall. She was inspired by the Oscar-nominated film, Hugo. Hugo takes place in Paris in the 1930's. The cocktail has a complex layered flavor profile that is sweet and herbal with a nice warming mouth feel.
If You are Looking for a Classic Cocktail, Try These!
Fresh lime juice balances the sweetness of the St. Germain and brings a bright tartness that teases the tongue. The green chartreuse and fresh lime gives the drink a lovely light green color that looks luminescent like the drinks name sake.
What Ingredients are needed for the Lumiere Cocktail?
Gin – There are many gin options that you can use for this cocktail. A London Dry Gin is the classic choice, but we tried it with Hendrick's, as in the pictures, and the floral notes of the Hendrick's gin plays so well with the floral of the elderflower liqueur. So, use what you like!
Green Chartreuse – Green Chartreuse is a French herbal liqueur that brings so much flavor to cocktails. More info on this liqueur below.
Elderflower Liqueur – we used St. Germain, but there are many other elderflower liqueur brands. This floral liqueur adds the sweetness to this cocktail.
Orange Bitters – adds some citrus flavor to the drink, and balances the cocktail.
Lime Juice – this brings sour to the drink, and as always, fresh squeezed lime juice is best!
Chartreuse Liqueur
Green Chartreuse (there is also Yellow Chartreuse) is a liqueur made by Carthusian Monks in France since the 1700s. It consists of 130 herbs, flowers, plants, and who knows what else. The best way to describe the flavor is like floral and herbs with a dash of sweetness. It is a lovely liqueur and used in many different classic cocktails.
Try it in some of our other cocktails like the Verte Chaud and Pear Crisp.
St. Germain Liqueur
St. Germain is a sweet liqueur made from elderflowers picked in the French Alps. This Elderflower liqueur is a relatively new ingredient in cocktail culture. It has only been produced since 2007. It has lovingly been referred to as bartender's ketchup. This new ingredient is showing up in a lot of new classic cocktails and other drinks alike.
This Lumiere cocktail is a great way to try both of these liqueurs. Or, try some Elderflower liqueur in our Normandy Flower, or Where the Sea Meets the Sky!
How to Make a Lumiere Cocktail
While the Lumiere is full of flavor, it is almost all spirits so this is a strong cocktail. It also should be served in a coupe, and served up without ice. All the cooling and dilution takes place in the mixing glass or shaker before serving. If you want a clear sipping cocktail, that is also pretty strong, but perfect for springtime, try our The Spring is Here!
There is some choice in how you make this drink. There is a fruit juice (lime), which usually signals that you should shake this drink. But, we actually prefer this cocktail stirred. We don't want any ice chips in it, which can happen from shaking, and we feel it gets cooler with stirring for a while in the mixing glass. But, feel free to make it either way. Or, try both and see which you prefer.
Tips & Tricks
Garnish – feel free to garnish this cocktail with whatever you like. A lime twist is a classic choice, or orange peel or slice would work well, too!
Mixing or Shaking – like we said above, how to make this cocktail is up to you. We prefer mixing the ingredients in a mixing glass with ice and a long bar spoon. But, if you prefer to shake it, feel free, as it does have lime juice in it.
Mixing Tools – Other tools you may need for this recipe are a mixing glass, tulip glass or coupe, jigger, juicer and orange bitters!
Cheers!
Also, don't forget to follow us on Instagram and tag #gastronomcocktails so we can see all the wonderful recipes YOU recreate from this site!
You can also subscribe to our newsletter so you never miss a delicious recipe again!
Like this recipe? Try these below, too!
The Monk's Muse Cocktail
The Last Word Cocktail
Other St Germain Cocktails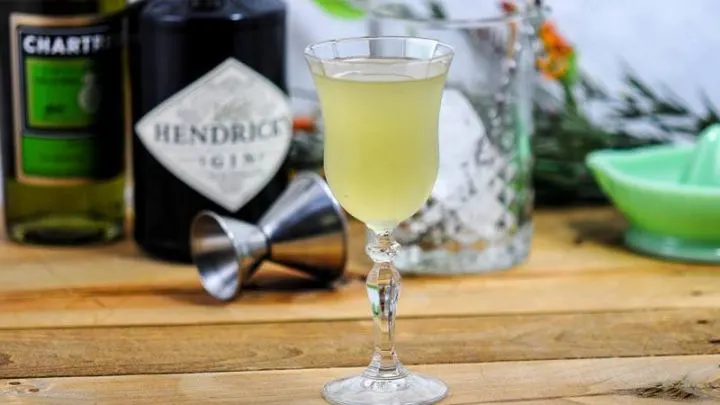 Yield:

1
The Lumiere - A Gin Cocktail
A great cocktail with sour flavors, floral and herbal all mixing together.
Ingredients
1.50 ounces gin
1 ounce St Germain Elderflower Liqueur
.75 ounce green Chartreuse
.75 ounce fresh squeezed lime juice
A dash of orange bitters
Instructions
Pour all ingredients in an ice filled mixing glass.
Stir completely and strain into a chilled coupe.
Garnish with a fresh lime wedge.
Cheers!
Recommended Products
As an Amazon Associate and member of other affiliate programs, I earn from qualifying purchases.
Nutrition Information:
Yield:
1
Serving Size:
1
Amount Per Serving:
Calories:

316
Total Fat:

0.4g
Saturated Fat:

0.2g
Trans Fat:

0g
Unsaturated Fat:

0g
Cholesterol:

0mg
Sodium:

10mg
Carbohydrates:

29g
Fiber:

0.1g
Sugar:

28.8g
Protein:

0.2g
Interested in stocking your own home bar? Make sure to see our favorites at our Amazon Store!
If you liked this post, don't forget to subscribe for new (and of course free) recipes by entering your email address on the side bar (and get all the recipes delivered to your inbox when we post), so you don't miss out on a thing. You can find us on Facebook, Instagram, and Pinterest!
Gastronomblog is a participant in the Amazon Services LLC Associates Program, an affiliate advertising program designed to provide a means for sites to earn advertising fees by advertising and linking to amazon.com