Last Updated on June 12, 2023 by The Noms
These homemade bourbon soaked cherries are easy to make and so great as cocktail garnishes!
Bourbon Soaked Cherries are a delicious and indulgent treat. Easy to make, make sure to keep them on hand for your next cocktail party or in a dessert as a boozy touch. They are a perfect edible gift, so get to making some for Christmas! They make a great garnish for any cocktail, as well as our Sparkly Edible Glitter Cherries, too! These cherries are a simple recipe, but so flavorful!
This post contains affiliate links for products that we think you as readers might find useful, and we make commission off of these! For more details about our affiliates, click our Disclosure and Contacts Page.
A really good cocktail cherry is a home bars' best friend. There are so many classic cocktails that call for a cherry garnish: Old Fashioned, Whiskey Sour, Manhattan even a tropical Mai Tai. We personally don't really like those florescent red cherries that are normally sold in the store. We also have made our own homemade boozy cherries for years, but usually brandy based. So, we switched gears to make bourbon soaked cherries!
How To Make Bourbon Soaked Cherries
You have to start off by pitting the cherries, which can be an interesting chore by itself. We use a great OXO Cherry Pitter with a guard so the cherry juice doesn't spray everywhere. To use one of these is super fast and little mess. We highly recommend getting one for yourself, especially if you make a lot of cherry pies or cherry cocktails. The cherry pitter also doubles as an olive pitter!
No cooking involved, except for making the homemade simple syrup. The simple syrup can be made using a medium saucepan over medium-high heat until the sugar dissolves. Simple syrup is best stored in canning jars or other airtight container, make sure to get the recipe homemade simple syrup.
After the cherries are pitted, make a simple syrup for the base of these Bourbon Soaked Cherries. Then you add the other ingredients and marinate in a jar for at least 1 week, 2 weeks preferably.
Not only are the Bourbon Soaked Cherries delicious, but the Cherry Infused Bourbon makes for a delicious cocktail once these have steeped in the bourbon! Delish!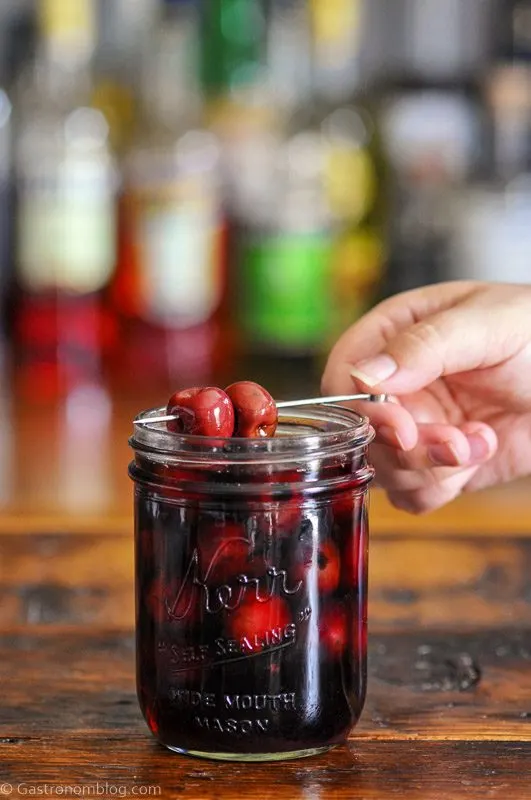 Ingredients in the Bourbon Cherries Recipe
Cherries – fresh cherries are best, you can use frozen if that is all you have access to. Using a cherry pitter, pit the cherries first!
Simple Syrup – a homemade simple syrup is easy to make, and you only need 1/4 of a cup. This helps sweeten up the cherries slightly.
Vanilla Extract – a lovely addition to this recipe, vanilla adds a sweet and light addition to these boozy bourbon cherries!
Citrus Juice – you can either use fresh squeezed lemon juice or orange juice will both do the trick. This helps add some acidity to this recipe! You can also just add some orange peels to the recipe while it infuses instead of the fresh juice.
Orange Liqueur – you can use any orange liqueur you have, but the sweeter the better, as this, along with this sugar syrup adds sweeteness. Cointreau, triple sec or Grand Marnier will work perfectly well.
Bourbon or Whiskey – we used bourbon, but any whiskey will do. Use a whiskey that you like drinking, it will make these bourbon-soaked cherries even more special.
How To Use Your Bourbon Soaked Cherries
They will last up to 6 months stored in the fridge. A great choice for holiday giving coming up!
As an addition or garnish to your favorite cocktail such as an Old Fashioned or Manhattan.
As topping on a dessert (cheesecake) or over vanilla ice cream, yum!
Add to sangria for a boozier kick!
Snack on them. We don't judge!
Check out our other boozy cherry recipe, Brandied Cherries, and other cherry recipes like our Old Fashioned Panna Cotta.
What Bourbon To Use?
Makers Mark, Woodford Reserve or Evan Williams are all good bourbon whiskey options. You can also try with a rye if you prefer them a little spicier. But, honestly the type of bourbon may not matter, just use what you would like and drink by itself.
What Type of Cherries to Use?
We use more tart cherries if we can. There is quite a bit of sugar in these, and the tartness of the cherries helps to balance this out.
Can I Just Buy Bourbon Cherries?

While we highly recommend making your own, you can buy boozy cherries at many many liquor stores or most local grocery stores. You can even buy them online!
What Cocktails are Perfect for Garnishing with Bourbon Cherries?
Use Bourbon Cherries in a Brandied Chocolate Manhattan as a garnish or muddle in a Ginger Cherry Smash. A Cherry Whiskey Sour and an Old Fashioned are also classic cocktails that call for boozy cherries!
Tips & Tricks
Infusion Additions – if you want some additional flavors in these cherries, then feel free to add other flavors! Some suggestions could be a cinnamon stick, orange peel, cinnamon syrup for the regular simple syrup.
Gift – these cherries make for great holiday gifts! Use some cute mason jars wrapped with a bow, add a tag with "bourbon cherries" on it, and you have a great gift to give. Or, share a recipe for one of your favorite cocktails. Great way to use up cherries if you have a lot during cherry season.
Liquid – the cherries by themselves or in cocktails are so tasty! But, also remember to use the bourbon syrup in cocktails too. A great sub for a liqueur or syrup, this tasty and boozy syrup is a tasty touch!
Cheers!
Also, don't forget to follow us on Instagram and tag #gastronomcocktails so we can see all the wonderful recipes YOU recreate from this site!
You can also subscribe to our newsletter so you never miss a delicious recipe again!
Like this recipe? Try these below, too!
Cherry Vanilla Whiskey Sour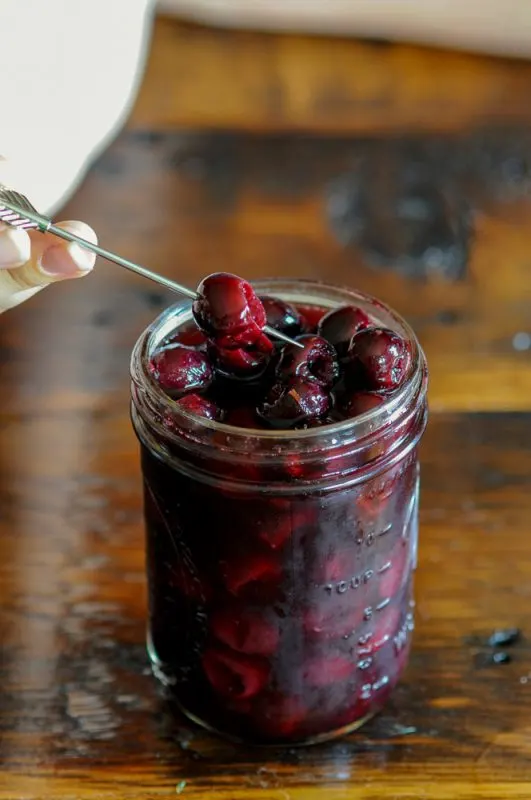 Homemade Brandied Cherries
Other Boozy Fruit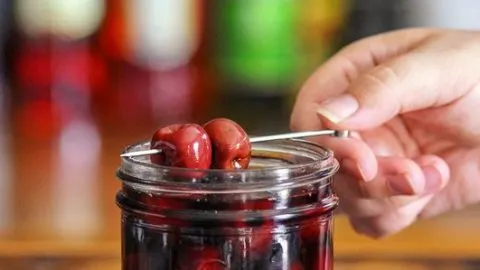 Yield:

1 jar
Bourbon Soaked Cherries
Total Time:
14 days
40 minutes
These bourbon soaked cherries are a great boozy addition to a cocktail or dessert! Easy to make, these boozy cherries make a great and tasty garnish!
Ingredients
1 pound cherries, pitted
2 teaspoon vanilla extract
1.50 Tablespoons lemon juice or orange juice
2 ounces orange liqueur
6 ounces bourbon or whiskey
Instructions
1. Using a cherry pitter (we use one with a splash guard), remove the pits from cherries. Try to keep them whole, as they make a prettier garnish on your cocktails later. This is the messy part - the cherries spray everywhere!

2. Place pitted cherries into a quart canning jar, (32 oz).

3. Top with simple syrup, vanilla extract, juice and orange liqueur. Stir.

4. Top with bourbon or whiskey. Place lid on jar and place jar in dark, dry area for 2 weeks. Occasionally go and shake the jar of cherries. And taste after a week, as you make like them then.

5. We let ours go for at least 2 weeks before trying, so it's up to you if you can't wait.

6. We store ours in the fridge so it adds to the chillness of a fresh cocktail, but it can be stored on the counter, as well.

7. Cheers!
Notes
These bourbon soaked cherries should be really tasty and able to be used for up to 6 months.
Recommended Products
As an Amazon Associate and member of other affiliate programs, I earn from qualifying purchases.
Nutrition Information:
Yield:
24
Serving Size:
1
Amount Per Serving:
Calories:

55
Sodium:

6mg
Carbohydrates:

8.1g
Fiber:

.1g
Sugar:

.1g
Protein:

.1g
Interested in stocking your own home bar? Make sure to see our favorites at our Amazon Store!
If you liked this post, don't forget to subscribe for new (and of course free) recipes by entering your email address on the side bar (and get all the recipes delivered to your inbox when we post), so you don't miss out on a thing. You can find us on Facebook, Instagram, and Pinterest!
Gastronomblog is a participant in the Amazon Services LLC Associates Program, an affiliate advertising program designed to provide a means for sites to earn advertising fees by advertising and linking to amazon.com