Last Updated on June 8, 2023 by The Noms
Perfect for celebrating the spring Cherry Blossom festival, this spring cherry liqueur cocktail is sure to please!
Living in a state that definitely has a winter season, we always are looking forward to the arrival of spring, the warm days letting us get back outside and enjoy the sunny days. Here in Omaha, spring seems to be making an early return, with warm sunny days helping get the spring flowers started.
Just down the street, a cherry tree has blossomed and is covered in beautiful pink flowers which adds a real splash of color to an otherwise gray landscape. That simple splash of color inspired us to make this, the Cherry Blossom, a Sake and gin cocktail, which is also a grenadine or cherry liqueur cocktail.
This post contains affiliate links for products that we think you as readers might find useful, and we make commission off of these! For more details about our affiliates, click our Disclosure and Contacts Page.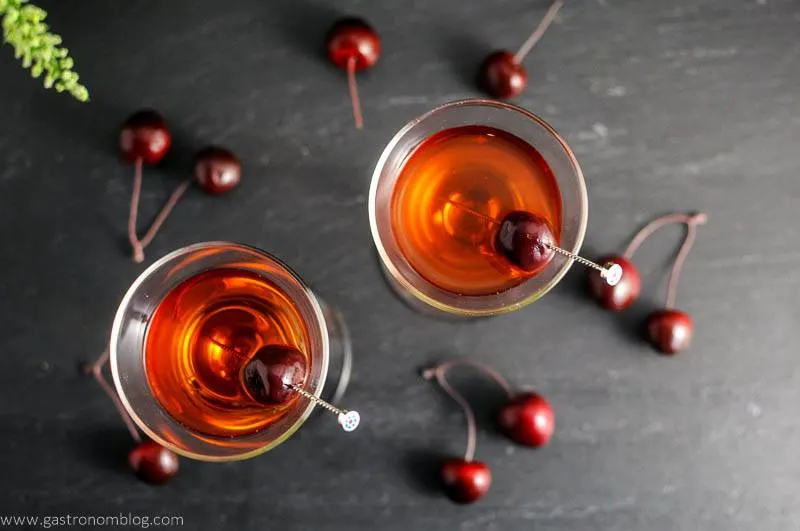 Aperitif glasses – different than ours
Sake and Gin
The original celebration of spring might be the famous cherry blossom festival of Japan, when the cherry trees start blossoming all over the islands and the Japanese come out to to take part in hanami (flower-viewing). A celebrated ritual of spring, hanami is basically a giant public celebration with big picnics and music filling the parks and public spaces around the flowering trees.
These parties can last all day, and keep on going late into the night under light from traditional lanterns hung from the trees!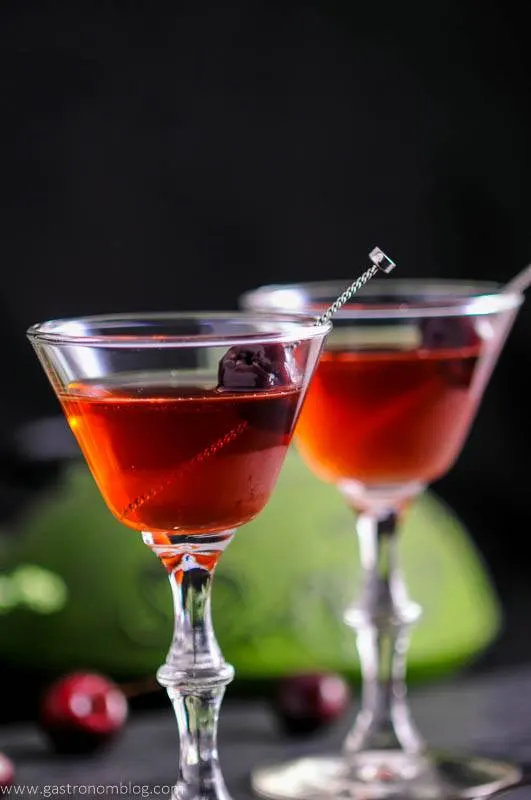 Luxardo Cherries / Mixing Glass / Bar Spoon
The blossoming of the cherry trees marks another important time in Japan, the time for rice planting! Rice is an important crop in Japan, featured prominently in the cuisine and more interestingly for cocktail bloggers like us, in their spirits! One of the most famous Japanese spirits is Sake, a spirit made by fermenting polished rice to create a stout rice wine that is uniquely Japanese.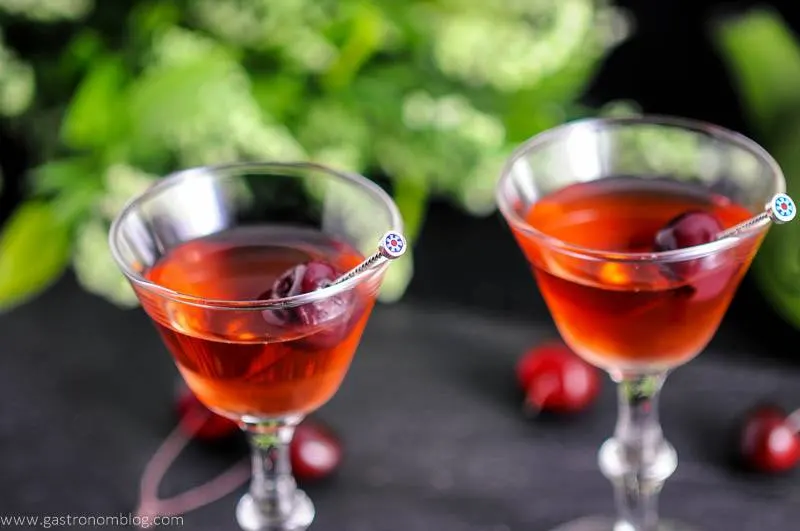 What flavors did We Use in This Cherry Blossom?
We figured that a cocktail celebrating the cherry blossom wouldn't be complete with out a little Japanese influence, so we decided to use sake as the base to our cocktail. The sake we chose is a Junmai, which is a sake made purely from rice, water, yeast, and koji (a fungus that helps break down the rice and imparts the unique flavors to the sake.
The sake has a smooth slightly sweet flavor, with hints of floral and fruit while still remaining crisp, which worked really well when paired up with a tart cherry.
For the cherry flavor, we went with a tart cherry liqueur which brings a bright fresh cherry and a beautiful deep red color to the cocktail. We used a Tart Cherry liqueur from Dancing Pine's Distillery in Colorado, but you could use Cherry Heering to bring the cherry flavor.
A dash of fresh grenadine (use the real stuff like Liber & Co's Grenadine and not the sickly sweet red stuff found in those sugary cherries!) helps add a depth to the cherry flavor.
Can You Make Grenadine?
Yes! If you use real pomegranate juice! You can also use blackcurrant juice but it is darker and tarter then.
Is There Cherry In Grenadine?
No. It actually shouldn't taste like cherries. It should be a sweet/tart syrup more like pomegranate.
Since we were celebrating a flower, we wanted to add a little more floral flavor to the cocktail, so we added a splash of Hendrick's Gin, which has a nice floral quality to it. The Hendrick's also helps balance the cherry liqueur cocktail by drying the flavor out and countering the tartness of the cherry and sake.
If You Are Looking for More Recipes with Liqueur, Try These!
A splash of orange liqueur added a hint of sweetness and citrus brightness that helped bring out the tartness of the cherry. A final squeeze of fresh lemon pulls the cocktail into balance while adding a real fresh quality to the finish. We garnished with one of our brandied cherries to add a nice treat!

What Ingredients are Needed for the Cherry Blossom Cocktail?
Lemon Juice
Orange Liqueur
Grenadine
Gin
Cherry Liqueur
Sake
The Cherry Blossom is a nice crisp cocktail perfect for sipping on a nice spring day! Hints of tart and sweet with a nice floral finish, the Cherry Blossom is one pretty little drink! Note: this cocktail is pretty boozy as there really is not much mixer to dilute it, so this recipe makes 2 cocktails!
Cheers!
Also, don't forget to follow us on Instagram and tag #gastronomcocktails so we can see all the wonderful recipes YOU recreate from this site!
You can also subscribe to our newsletter so you never miss a delicious recipe again!
Like this recipe? Try these below, too!
Smoked Cherry Cocktail
Tangy Balsamic Cherry Crostini
Other Sake Cocktails
Other Grenadine Cocktails
Yield:

1
The Cherry Blossom - A Sake and Gin Cocktail
The perfect spring cocktail, light and flavorful with cherry, sake and gin.
Ingredients
Cherry Blossom Cocktail
1.50 ounces Sake
1 ounce cherry liqueur
.50 ounce gin
.25 ounce orange liqueur
.25 ounce grenadine
1/8 ounce lemon juice
brandied cherry for garnish
Instructions
Add the ingredients to a mixing glass.
Add ice to the mixing glass.
Stir until fully chilled.
Strain into two chilled coupes (this recipe makes 2!)
Garnish with a brandied cherries.
Cheers!
Recommended Products
As an Amazon Associate and member of other affiliate programs, I earn from qualifying purchases.
Nutrition Information:
Yield:
1
Serving Size:
1
Amount Per Serving:
Calories:

241
Total Fat:

0.1g
Saturated Fat:

0.1g
Trans Fat:

0g
Unsaturated Fat:

0g
Cholesterol:

0mg
Sodium:

558mg
Carbohydrates:

19.2g
Fiber:

0g
Sugar:

17g
Protein:

0.2g
Interested in stocking your own home bar? Make sure to see our favorites at our Amazon Store!
If you liked this post, don't forget to subscribe for new (and of course free) recipes by entering your email address on the side bar (and get all the recipes delivered to your inbox when we post), so you don't miss out on a thing. You can find us on Facebook, Instagram, and Pinterest!
Gastronomblog is a participant in the Amazon Services LLC Associates Program, an affiliate advertising program designed to provide a means for sites to earn advertising fees by advertising and linking to amazon.com