Last Updated on June 12, 2023 by Leah Hall
Give a classic whiskey sour a summer flavor with fresh peach simple syrup. Pecan bitters gives a great pie flavor added to the cocktail to bring it into the fall!
This Peach Whiskey Sour is a simple and easy recipe that's nicely balanced. The sweet peach syrup, tart lemon juice and bourbon all work together perfectly to create a drink that is made richer with egg white and some pecan bitters.
This post contains affiliate links for products that we think you as readers might find useful, and we make commission off of these! For more details about our affiliates, click our Disclosure and Contacts Page.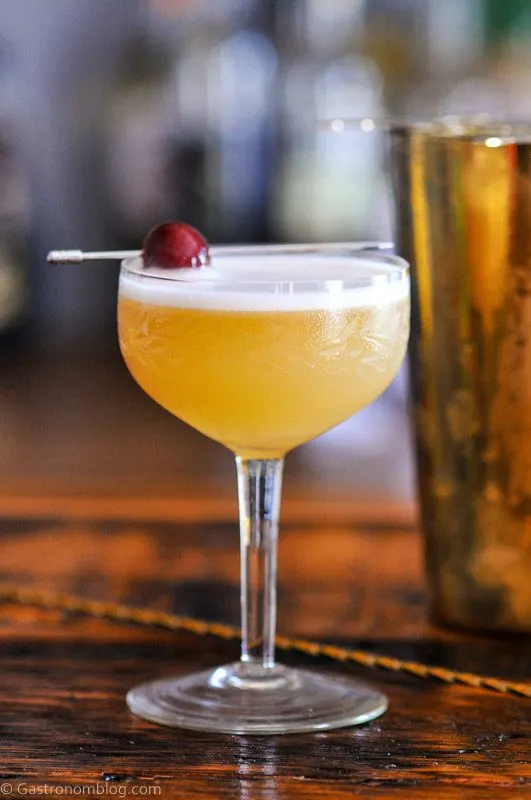 Whiskey Sour
The whiskey sour is one of the oldest cocktails that many bars still make today. It was once just a simple cocktail but has grown to be more complex, as cocktails are wont to do! A lot of recipes now call for an egg white. This may be scary for some, but that fear usually melts away when you get to taste it. Egg white in cocktails are known for its creamy texture and hint of sourness. See below for an alternative if it's just too much!
The whiskey sour cocktail dates back to 1862 when it was written by Jerry Thomas in the book, The Bartender's Guide. But, it's origin goes back to the 1700s on naval ships to battle issues like malnutrition and scurvy. It was a simple recipe then with three ingredients: base spirit, citrus juice and water. Over time, sugar was added to the mix, and the egg white was added into the whiskey sour cocktail.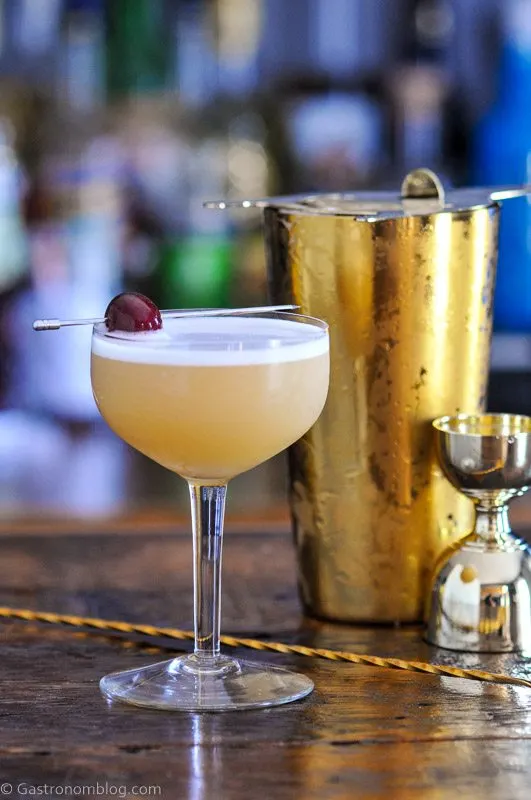 This cocktail became so popular that variations were being made, some using different alcohols or adding fruit. One of which is our Peach Whiskey Sour. The sweetness of the peach syrup really plays well with the lemon and bite of the bourbon.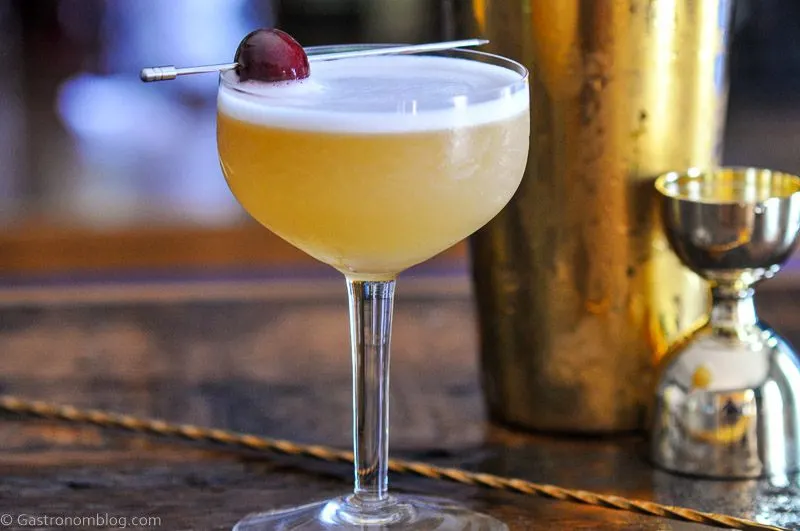 Peach Whiskey Sour Cocktail
This Peach Whiskey Sour really hangs on to summer with the freshness of the Peach Simple Syrup, but feels like fall with us adding some pecan bitters and an egg white. Makes a rich almost dessert like fall cocktail, that almost tastes like a peach pie, especially with the right bourbon.
Egg Whites in a Whiskey Sour
Whiskey sours started without the egg whites. Usually just a spirit and citrus juice make for a sour, with a little sweet added in. But nowadays whiskey sours have a frothy top, and can be really pretty to look at. So, even in the case of this cocktail, if the raw egg whites are not your thing, you can skip it!
To get the foam top in a sour cocktail, an egg white is key. But there is an alternative in using Aquafaba, which is the liquid in a can of chickpeas. Use about 1 Tablespoon per cocktail and you can get foam in your cocktail too, without the slightly eggy smell or worrying about raw egg. We like the egg white because it adds nice texture without any additional flavor.
But, again, aquafaba works, and if both of these aren't great options, then leave them out, and just shake the other ingredients.
How to Use Egg Whites in Cocktails
If you are worried about salmonella in the raw egg, the chances of getting it from a raw egg is pretty low, especially because you are mixing it with alcohol. But you can also purchase pasteurized egg, too.
It is always easier to make egg white drinks by using a good shaker, ideally a Boston shaker or shaker that has a good seal. Make sure to give your cocktail a dry shake. This incorporates the egg white into the rest of the ingredients before we make it cold with ice. Then open your shaker up, add ice, and shake again.
It is important with all drinks to give a good shake, but especially with egg white drinks. This is to make sure the ingredients mix properly and to fluff up the egg white so there is a nice foam on the top of the drink. Strain or double strain into a coupe glass and garnish with a peach slice or lemon peel, or drops of bitters.
We hope you like our twist on the whiskey sour and take a crack at making your own egg drinks at home with this Peach Whiskey Sour!
Cheers!
Also, don't forget to follow us on Instagram and tag #gastronomcocktails so we can see all the wonderful recipes YOU recreate from this site!
You can also subscribe to our newsletter so you never miss a delicious recipe again!
Like this recipe? Try these below, too!
Cherry Vanilla Whiskey Sour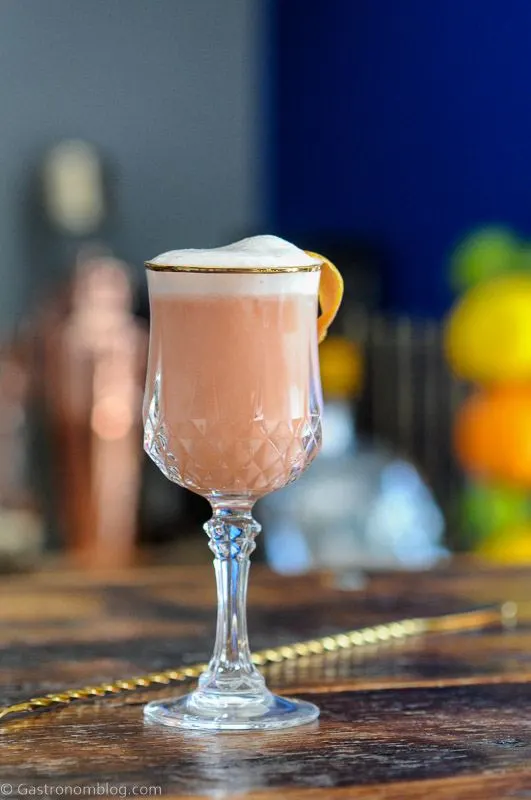 Grapefruit Bourbon Sour
Other Whiskey Sour Cocktails
Yield:

1
Bourbon Peach Sour Cocktail
This Bourbon Peach Sour Cocktail is a great twist on the classic whiskey sour cocktail with frehs peach syrup, egg white and pecan bitters.
Ingredients
2 ounces Bourbon
.75 ounces lemon juice
3 drops Pecan Bitters
egg white
Instructions
Combine all ingredients into a shaker.
Shake for at least 10 seconds, open up shaker.
Add in ice, shake again for at least 20 seconds.
Strain or double strain into coupe.
Garnish with cherry, lemon peel or peach slice if desired.
Cheers!
Recommended Products
As an Amazon Associate and member of other affiliate programs, I earn from qualifying purchases.
Nutrition Information:
Yield:
1
Serving Size:
1
Amount Per Serving:
Calories:

232
Total Fat:

.2g
Saturated Fat:

.2g
Sodium:

53mg
Carbohydrates:

18.6g
Fiber:

.1g
Sugar:

.7g
Protein:

3.8g
Interested in stocking your own home bar? Make sure to see our favorites at our Amazon Store!
If you liked this post, don't forget to subscribe for new (and of course free) recipes by entering your email address on the side bar (and get all the recipes delivered to your inbox when we post), so you don't miss out on a thing. You can find us on Facebook, Instagram, and Pinterest!
Gastronomblog is a participant in the Amazon Services LLC Associates Program, an affiliate advertising program designed to provide a means for sites to earn advertising fees by advertising and linking to amazon.com