Last Updated on September 29, 2023 by Leah Hall
This post is all about a weekend spent in Kansas City, Missouri. Bars, Distilleries, Restaurants and other places we went during our spirited travel to visit Kansas City!
Jay and I took a quick weekend away before the boys started school in August. We can't wait to show you all we ate, drank and saw while we had a great time away from home and kids for the first time in a while!
This post contains affiliate links for products that we think you as readers might find useful, and we make commission off of these! For more details about our affiliates, click our Disclosure and Contacts Page.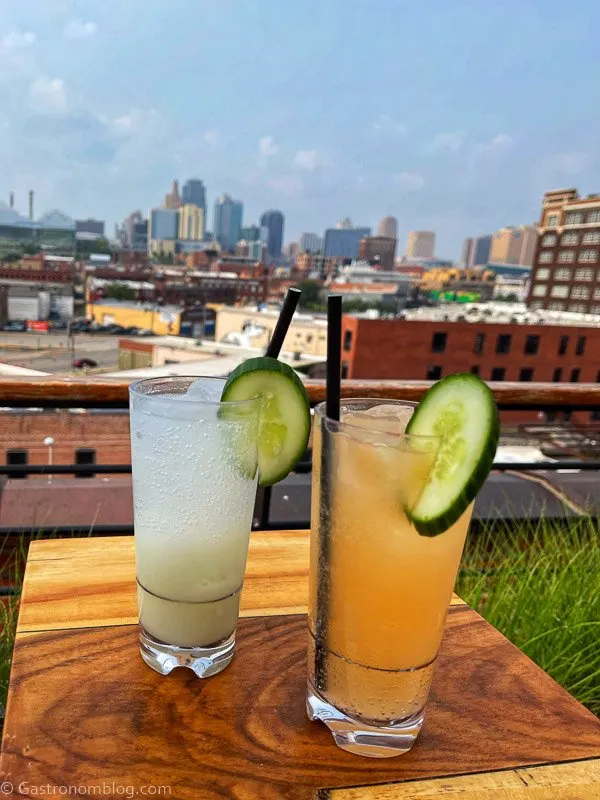 Is Kansas City In Kansas or Missouri?
Both! And actually this trip, we were in both areas. They are just separated by the Missouri river, and getting around to both isn't hard at all!
How Do You Explore Kansas City?
Any way you want to! There are so many things to see and do there, that there are options for everyone. From art lovers to history lovers, foodies, bar hopping, family vacations, they have it all, and you can't explore everything you want to just on one trip while you visit Kansas City!
We headed to Kansas City on a Saturday afternoon, and were planning on staying until Monday, so Jay could take a day off of work! We had made reservations at the Crossroads Hotel, in the Crossroads district. The Crossroads Hotel is a boutique hotel with 131 rooms and was originally the Pabst Blue Ribbon Beer Brewing Depot, built in 1911.
Crossroads Hotel Kansas City
When Prohibition came, KC political boss Tom Pendergast used the building as an office and, according to legend, to bootleg liquor. The gorgeous metal and brick accents are highlighted in the hotel and give a nod to the hotel's industrial roots, with wide corridors and fun spaces, including a bar downstairs (xr cafe), the rooftop bar, Percheron, and Lazia restaurant, which serves Italian fare including wood fired pizzas which make the hotel entrance smell amazing!
Once we checked in and our accommodations were seen to, we were headed out for the night! The first place we went was the Hey! Hey! Club at the J Rieger & Co Distillery. This distillery is a must do if you visit Kansas City for spirited travel!
J Rieger & Co Distilling
J Rieger & Co Distilling was started in 1887 in the West Bottoms area of KC by Jacob Rieger, who later turns the business over to his son, Alexander in 1900. Alexander grew the business with mail order products, including gifts with purchase, like corkscrews and shot glasses. They offered many things by mail – gin, rum, whiskey and stomach bitters. He built the famous Rieger Hotel in 1915 near Union Station.
Of course, with Prohibition, there was a forced closure in 1920. In December 2010 the Rieger idea was revived when Ryan Maybee and Chef Howard Hanna opened the Rieger in the Rieger Hotel building. Andy Rieger, the only living Rieger of Jacob's line attended opening night, and Andy said to Ryan they should bring back the distillery.
By 2015, they did. And the rest is history. They are now producing whiskey, amaro, vodka and gin. If you are interested in a tour and tasting, go here!
Hey! Hey! Club Kansas City
The Hey! Hey! Club is in the basement of the J Rieger Distillery. The original Hey Hay Club was in downtown Kansas City at 4th and Cherry. It only lasted a few years, 1931 – 1938, but played host to jazz musicians like Count Basie and Lester Young. True to the name, patrons sat on real hay bales and the stages were made of old hay wagons.
The Hey Hay Club was owned by Milton Morris. He went on to own several other taverns such as The Novelty Club and Milton's Tap Room. In 1996, filmmaker Robert Altman memorialized the Hey Hay Club in his film, Kansas City. He changed the spelling of the name, and the sign at the entrance is the movie prop used in the film. "The Hey! Hey! Club" is a tribute to Kansas City's rebellious past.
After being escorted downstairs to our table, we ordered a couple of cocktails! I ordered the Fort Union – a great combo of genever, aperitif wine, bergamot, vanilla, tumeric, ginger and grapefruit. It was an explosion of flavors on my tongue, and went down easy!
Jay ordered the Coppola with KC whiskey, barrel proof apple brandy, cardamaro and Marasca cherry. It was a dark sip, had a lot of rich flavors and was really tasty.
The atmosphere of the Hey! Hey! Club was library-esque. Dark green walls, library lighting, a fireplace, and shelves with books and decor. The entryway has an old console radio, and the bright Hey! Hey! Sign. Very vintage, but sexy and romantic.
The Hey! Hey! Club does offer food as well, so we ordered some (a lot) of food, because we hadn't eaten lunch! We ordered the Smoked Cheddar and Beef Tartare with was so rich with an egg yolk, shredded cheese on top, and toasty seeded crackers to go with it! We also got the Pimento Dram Pork Belly, which I think changed our lives. And we need to try to make this recipe at home to share with friends, because it was phenomenal! Rich and dark, this pork belly was so tender it didn't even need much chewing! Served with a jicama slaw on this side, this topical leaning dish was a hit!
We also ordered the bread & butter, which can be mundane, but this was not! The bread was warm and crusty, but the butter stole the show. I almost licked the bowl of butter when we were done with the bread, LOL! It was sorghum butter that evening, but it does change seasonally, and as the chef desires. Divine and rich, this was an amazing and easy appetizer!
While we were eating we ordered another round of drinks, Jay got the nightly drink special, which was a Painkiller Twist, and it was rich and desserty. I ordered the Flintlock with bourbon, Jamaican rum, vermouth, aperitif and an amaro blend. It really complimented our food, and I enjoyed it similar to a rich red wine with the meat and bread.
Drastic Measures
After the Hey! Hey! Club we proceeded to drive to Drastic Measures which is located in Shawnee, Kansas. It was about a 20 minute drive, as Shawnee is (obviously in Kansas) but, to the west of Kansas city. As there was a line out the door, we ventured down the street and had a beer at the neighboring Transport Brewery . We checked the line situation, and it looked good, so we ventured over across the street. Drastic measures has a light in their vestibule that changes color if they have room for you to come in. Green for come in and knock, red for we are full, please wait.
The light was still red, and there was a group waiting ahead of us, so we took a seat on a bench outside. It was about a 20 minute wait, but this was a must visit for us, so we didn't mind it at all. Once entered we selected our seating area, and chose a couch and chairs (there are high top tables or the bar as well) but we liked the light in this area, and we like more intimate seating as well. We proceeded to order some drinks and took in our atmosphere.
I started out with the Afterschool Special – a great combo of peanut butter washed cognac, port, blackberries and raspberries and lime. Sipped like a peanut butter and jelly sandwich!
Jay got the Dead Presidents Club, a tall funky drink with aged rum, clairin, strawberry and lime with fresh oregano.
We got another round of drinks and then headed back to our hotel for the night! Drastic Measures was a great end of the night visit!
Succotash Kansas City
The next morning we headed to Succotash for brunch. The weekend we were there was a tomato focused weekend with heirloom tomatoes and allll things tomato. I had an heirloom tomato omelet, and it was delicious. Jay had the eggs benedict, and we both had breakfast potatoes. We finished the meal with a little snack of a brownie donut. The brownie donut is a stroke of genius, tasting like a rich fudgy brownie, but in a donut form. To wash it all down, we had iced coffees with creative flavors, like caramel rosemary and mint chocolate.
After brunch we headed out to a few antique stores to look for glassware, surprise, surprise! Because we totally needed more of those, LOL!
Visit Kansas City
We stopped at Julep for a round of drinks and Jay had a julep! There was only one other table on the patio, so we had the place to ourselves! We enjoyed the quiet atmosphere, and then headed back to the Crossroads hotel and went up to the rooftop bar, Percheron. The views are amazing and was a fun environment. The drinks aren't fancy, but are refreshing and great for a warm afternoon.
Then, we got ready to go to dinner at Corvino Supper Club (which will be another post by itself), and enjoyed an amazing dinner and drinks.
So concludes our trip to KC. Make sure to check out our other short trip to visit Kansas City the other year! And Holladay Distillery a short drive away! Make sure to check out this post about unique vacation rentals, with quite a few Kansas City locations on it!
Cheers!
Also, don't forget to follow us on Instagram and tag #gastronomcocktails so we can see all the wonderful recipes YOU recreate from this site!
You can also subscribe to our newsletter so you never miss a delicious recipe again!
Other Travel Destinations
Like this post? Check these out below, too!
Interested in stocking your own home bar? Make sure to see our favorites at our Amazon Store!
If you liked this post, don't forget to subscribe for new (and of course free) recipes by entering your email address on the side bar (and get all the recipes delivered to your inbox when we post), so you don't miss out on a thing. You can find us on Facebook, Instagram, and Pinterest!
Gastronomblog is a participant in the Amazon Services LLC Associates Program, an affiliate advertising program designed to provide a means for sites to earn advertising fees by advertising and linking to amazon.com