Last Updated on June 13, 2023 by Leah Hall
Come and visit the Storm Cellar Winery with us! Located in Hotchkiss, Colorado, Jayme Henderson and Steve Steese are producing some great high elevation white and rosé wines!
When we were headed back from our Colorado/Moab trip earlier this month, I knew we should stop at the
Storm Cellar Winery
in Hotchkiss, Colorado. Not only was it going to be a great place to stop for lunch and a break, but Jayme, who is one of the owners has been a huge Instagram supporter of ours almost since we joined Instagram many years ago. Jayme has her own
Instagram
, which is where I came across her, and she has some killer cocktails, and quite a few made with her and Steve's wines from The Storm Cellar Winery!
This post contains affiliate links for products that we think you as readers might find useful, and we make commission off of these! For more details about our affiliates, click our Disclosure and Contacts Page.
How did Jayme and Steve Start The Storm Cellar Winery?
The Storm Cellar is a collaborative vision between Steve Steese and Jayme Henderson. During their many years in the restaurant industry, they spent time away in wine country. They realized they wanted to stay in Colorado. So, they made that happen. They had a desire to make great wine in Colorado, and to get the western wine region of Colorado on the map!
Storm Cellar Winery
In February of 2017 they purchased a vineyard property in Delta County, Colorado that had huge potential, but the need to be fixed up. The property has an amazing view of valley, farms, and orchards as well as being surrounded by mountains. The vineyard site is atop Sunshine Mesa, between the towns of Paonia and Hotchkiss.
The wine industry is still young in this part of Colorado, but is showing incredible potential. This region is one of two nationally recognized grape growing regions (American Viticultural Areas or "AVAs") in Colorado and is known as the West Elks AVA, established in 2001. Colorado seems to want wines and wine tasting locations that are unique, high quality, uses local products and a destination hot spot away from the city.
The Storm Cellar Winery is a boutique offering in the region, and the wines they offer are high quality, aromatic and crisp white and rosé wines. The property is similar to areas in California like the Petaluma Gap in Sonoma. The valley acts as a funnel for air and while in California it bring in cool air from the ocean, the North Fork Valley brings in warm air from the deserts west, allowing for the growing of Vinifera grapes at the high altitude. It is a unique, fertile "banana belt", home to an abundance of organic fruit and vegetable farms.
They showcase this unique Terroir in so many tasty ways, so keep reading to hear about the wines!
Meet Jayme Henderson and Steve Steese
For many years they shared the roles of wine director, sommelier, mixologist, restaurant manager, and beverage director in the restaurant industry. Between the 2 of them, they worked at legendary Denver establishments such as Shanahan's Steakhouse, Barolo Grill, Ya Ya's Euro Bistro, Coohills, and Cru Wine Bar. In 2017, they set these jobs aside and became farmers, winemakers and vineyard owners.
Every single aspect of this project of love is done by the two of them. The day that we were there, Steve had to plant 200+ new vines, while Jayme was in Denver for a Rosé wine festival.
Jayme Henderson is co-founder, farmer, and winemaker for the winery. She worked for fifteen years in the Denver restaurant scene, from event planner and manager to sommelier and mixologist. She is the creator of the award winning blog, holly & flora, which won Saveur magazine's readers' choice award for "Best Drinks Blog" in 2016. Jayme is also a freelance recipe developer, writer, photographer, and contributes pieces for many publications: Grand Junction's Spoke+Blossom magazine and The Kitchn, where she has written nearly 100 articles on wine, cocktails, and gardening. She also studied and interned in wineries, in Oregon, California, and Spain, and on organic farms, most notably at Findhorn in Forres, Scotland.
Steve Steese has been in the hospitality industry all of his adult life. During his seven years at Shanahan's Steakhouse, he transformed its wine list into one of the most respected in Denver, winning the "Best Of" Award of Excellence from Wine Spectator every year that he was involved within the program. He was selected two years in a row as one of fifteen international "Sommelier Stars" to host the Sonoma County Wine Weekend, and he has traveled, interned, and studied in many of the great wine regions of the world. He has degrees from the University of Georgia in both sculpture and ceramics which led to a teaching position in Tuscany, and was the birthplace of his love for wine and fine cuisine.
They are both Sommeliers, and their love of wine, food and the land shines through in their wine and in all they do! They even eloped and got married on the property in 2019!
Award Winning Storm Cellar Winery
Since releasing their first wines in 2019, Jayme and Steve have been featured in a cover story for the Wall Street Journal, featured in Wine Spectator, filmed by both PBS and the John Deere corporation, and selected as the first Colorado winemakers to represent the beverage component of the Colorado FIVE culinary team three years in a row.
The Storm Cellar winery received the award for Best Winery by the editors of 5280 magazine in their 2019 "Top of the Town" awards, earned medals in numerous wine competitions, including double-gold medals in the 2019 Colorado Governor's Cup wine competition, the 2020 American Fine Wine Competition, and 2020 San Francisco International Wine Competition.
Storm Cellar Winery/Redstone Vineyard
The grapes grow in The Storm Cellar's historic Redstone Vineyard. It was originally an apple orchard before the property was planted with grapes in the 1980s, by the previous owners.
Located at 5,900 feet above sea level, this vineyard is both a nightmare and a sommelier's dream. The wines are complex because of the uniqueness of the location and soil. This soil is actually similar to the soils in Champagne, Burgundy, or Santorini. They have white, chalky soil which are high in pH and have river rock. This soil, along with the arid climate, alpine desert conditions, and intense sun, provides a great condition for the fruit with acidity and aromatics.
World class wines are often made in harsh climates and environments. It's an extreme micro climate for them to be growing grapes in. The Redstone Vineyard has southeastern exposure, with slopes in the vineyard ranging from a 5 to 12% grade. This slope, along with being 500 feet above the valley floor, means they regularly have a 3 to 5 degree warmer temperature than the valley floor. This gives them a greater chance at avoiding frost damage. There are two large wind machines to help with that too.
Water of course can be a problem in the desert. Their primary source of irrigation is the Fire Mountain Canal. The canal funnels water from high elevation snowmelt to the Paonia Reservoir The second source of water is a spring which provides drinking water and supplements the vineyard.
Storm Cellar Winery Wines
Jayme and Steve use Colorado grapes for their wines along with temperature-controlled fermentation, whole-cluster pressing, and careful and meticulous blending. They wines are crafted from their estate-grown fruit, in addition to sourcing grapes from top tier vineyards across Colorado's western slope.
Their goal is to craft aromatic wines with character that can be enjoyed on their own, in compliment to food, or in cocktails. They describe them as fresh, clean, lively and balanced wines and we have to agree. I think every taste was better than the last. We came home with 5 bottles!
The first wines released under the label The Storm Cellar were in June 2019. Their 2018 vintage came from the hottest and driest year in 20 years, and the 2019 vintage was the coldest and wettest in 20 years. They are constantly fighting for those vines in extreme situations to produce these fabulous wines.

We tasted quite a few wines, and even some barrel tastings with Steve. As I said earlier, Jayme had to be away when we came, which was disappointing, but it just gives us an excuse to make it out there again to taste some more tasty wines and to meet Jayme!
The wines we tasted were:
All the Flowers: A mix of Viognier, Muscat, Gewurztraminer and Sauvignon Blanc. This dry white is full of tropical flavors as well as floral. Delightful.
Alpenglow: a beautiful rosé, made from a base of Chambourcin. It was a complex dry rosé with floral and citrus notes, plus was a beautiful color!
The GM: This combo of Malvasia Bianca and Grüner Veltliner is divine. It's rich, crisp and dry. This was a favorite of ours!
2019 Chardonnay: This Chardonnay is crafted in a Chablis style, and is very crisp. The ferment on this makes it rich with minimal aging in French oak. Great sipper!
If you get the chance to stop at The Storm Cellar Winery, do it. If you are in Western Colorado, make it a priority, we will be back for sure! If you need a place to stay while wine tasting, we suggest the Wiseheart Springs Inn in Paonia or Laura's Tower, a super unique vacation rental!
Of course you love more less known wine regions in the US, so check out this post about 15 wineries in Charlottesville, Virginia, too! There is so much great wine and hospitality in these areas!
Cheers!
And we got to meet their dog, Lela!
Other Winery Posts
Also, don't forget to follow us on Instagram and tag #gastronomcocktails so we can see all the wonderful recipes YOU recreate from this site!
You can also subscribe to our newsletter so you never miss a delicious recipe again!
Like this post? Check out these below, too!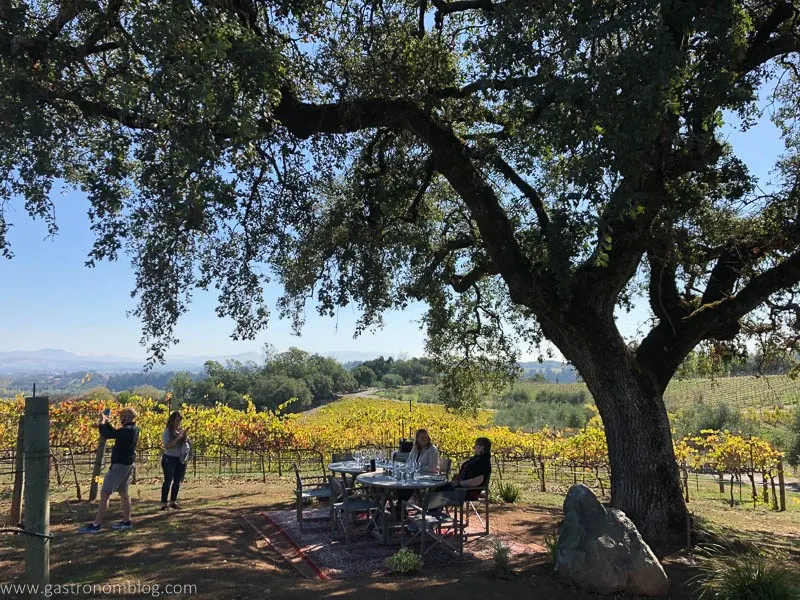 Thomas George Estates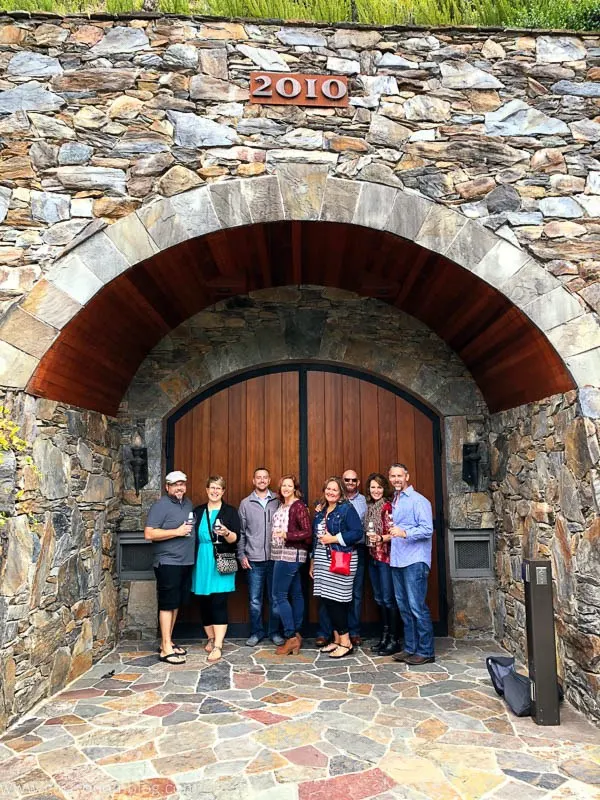 Russian River Valley, California
PIN THIS STORM CELLAR WINERY POST FOR LATER!
Interested in stocking your own home bar? Make sure to see our favorites at our Amazon Store!
If you liked this post, don't forget to subscribe for new (and of course free) recipes by entering your email address on the side bar (and get all the recipes delivered to your inbox when we post), so you don't miss out on a thing. You can find us on Facebook, Instagram, and Pinterest!
Gastronomblog is a participant in the Amazon Services LLC Associates Program, an affiliate advertising program designed to provide a means for sites to earn advertising fees by advertising and linking to amazon.com