Last Updated on June 8, 2023 by The Noms
A great tropical tiki rum pineapple Campari cocktail!
We love a good classic cocktail, and spend a lot of time perusing old cocktail recipe books and menus and making our versions of them. One area we haven't really hit is the world of Tiki, that mythical world of tropical drinks, flaming mugs and enough rum to make Captain Jack Sparrow feel at home.
Until now we have been pretty content to sail on over to our local Tiki Bar and let them handle making the drinks, but when the folks at Liber & Co. sent us some of their syrups to try out, we decided to embrace our inner beach bums and make The Nene Bird.
This post contains sponsored content brought to you by Liber & Co.. We received free products to use in this post, but all opinions and views presented here are 100% our own. This post contains affiliate links for products that we think you as readers might find useful, and we make commission off of these! For more details about our affiliates, click our Disclosure and Contacts Page.
Campari Cocktail
Tiki drinks got their start ironically not in the Polynesian islands, but in Hollywood at a little place called Don The Beachcomber, where a man named Donn Beach started a Tiki movement in the 1930s. Originally named Ernest Gantt, Donn Beach lead a colorful life, running moonshine during Prohibition, and then traveling the South Pacific and the islands of the Caribbean where he fell in love with the charms of island life.
After moving to Hollywood in the 1930s, Donn Beach started up a bar decorated with his souvenirs from his tropical travels. Donn started serving drinks made with lots of rum, fruit juices and flavored syrups and packaging the concoction in Polynesian themed glassware.
His over the top presentation proved to be popular, and after World War II concluded and the servicemen of the Pacific Theater returned with tales from the islands of the South Pacific, a Tiki craze swept the nation.
What do you think of When You Hear Tiki?
Popular during the 1950s and 60s, Tiki bars were a way to travel to the tropics with out even leaving your neighborhood. Full of beachy themed decor, tropical flavors and lots of fun mythology, the Tiki bar was perfectly campy for the era. In the 1970s, Tiki fell by the wayside and like many of the cocktails of earlier eras the drinks were doomed to fade away.
Thankfully some of the original bartenders from famous Tiki bars like Don the Beachcomber and Trader Vic's kept the spirit alive until the 2000's when a Tiki revival took place.
Shrunken head mugs, flaming cocktail bowls and lots of beach themed music, Tiki drinks are big fruity boozy cocktails with lots of fun names. This is where the folks from Liber & Co came in with their cocktail syrups. The Liber & Co. Tiki collection comes with some classic tiki flavors, Pineapple Gum Syrup, Orgeat and Passion Fruit.

Liber & Co
The syrups are made using Liber & Co's specialty process and premium fresh fruits and natural flavors which results in a high quality fresh tasting cocktail syrup perfect for mixing cocktails!
How About a Tropical Cocktail?
Today's cocktail, the Nene Bird, is named for a beautiful bird found in the Hawaiian islands which also happens to be known as the Hawaiian goose! Drawing lots of inspiration from tropical flavors like aged rum, fresh pineapple, orgeat and passion fruit. the Nene Bird Cocktail is our take on a Tiki Cocktail.
Starting out with a nice demerara sugar based rum as our base to bring a rich note of vanilla and cane sugar, the rum sets the stage for the tropical flavors to shine.

What Other Flavors did We Add?
We next added in a fresh pineapple puree and some fresh muddled strawberries. The fresh pineapple brings a sweet tropical tartness, while the fresh strawberries adds berry freshness, while adding in the nice red flavor of the cocktail's name sake. Needing sweetness to bring the drink into balance, we add in some of the passion fruit syrup and the orgeat.
The passion fruit syrup adds a tropical sweetness that also has a great aroma of the passion fruit. Orgeat adds a hint of orange and a sweet nuttiness while also adding a smooth creaminess that makes the Nene a smooth sipper.
What Ingredients are Needed for the Nene Bird Cocktail?
Strawberries
Orgeat
Passion Fruit Syrup
Pineapple Puree
Aged Rum
All those tropical flavors can tend to bring a lot of sweetness which can make the drink overly sweet. We turned to a classic way to temper the sweetness and added a little Campari. The Campari brings the bitterness of a grapefruit, which works really well with the sweetness of the rum and tropical fruits.
Campari also has a rich red color, which is perfect for this drink! Although the Nene is black and white and quite boring, we felt a bright color honored it better!
The Nene is a great Tiki inspired Campari cocktail, full of tropical flavors, classically bold and fruity. Give the Nene a try and you might find yourself transported away to a tropical location! Make sure to check out our Coconut Rum Painkiller, too!
Cheers!
Also, don't forget to follow us on Instagram and tag #gastronomcocktails so we can see all the wonderful recipes YOU recreate from this site!
You can also subscribe to our newsletter so you never miss a delicious recipe again!
Like this recipe? Try these below, too!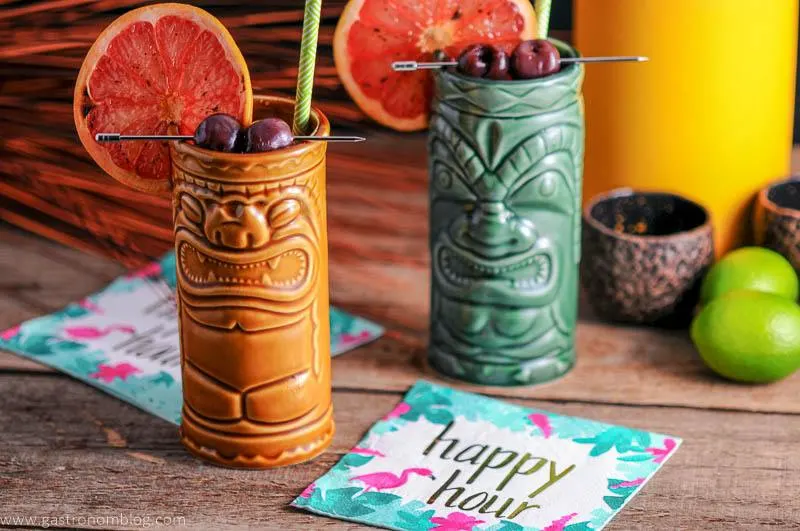 The Rambler's Ruby Tiki Cocktail
Fall in Paradise Tiki Cocktail
Other Rum Tiki Cocktails
Yield:

1
The Nene Bird - A Rum and Campari Tiki Cocktail
A rum tiki cocktail with tropical flavors, pineapple, passion fruit and orgeat.
Ingredients
Nene Bird Cocktail
2 strawberries, chopped
1.75 ounces aged rum
.75 ounce Campari
.75 ounce passion fruit syrup
.50 ounce pineapple puree
strawberry and pineapple wedge for garnish
Instructions
Fill a rocks glass halfway with crushed ice.
Muddle chopped strawberries until fully broken down.
Add remaining ingredients to a shaker with ice.
Shake until chilled.
Strain into a chilled rocks glass.
Garnish with a strawberry and a pineapple wedge.
Recommended Products
As an Amazon Associate and member of other affiliate programs, I earn from qualifying purchases.
Nutrition Information:
Yield:
1
Serving Size:
1
Amount Per Serving:
Calories:

324
Total Fat:

0.2g
Saturated Fat:

0g
Trans Fat:

0g
Unsaturated Fat:

0g
Cholesterol:

0mg
Sodium:

3mg
Carbohydrates:

44.4g
Fiber:

0.7g
Sugar:

33.7g
Protein:

0.6g
Interested in stocking your own home bar? Make sure to see our favorites at our Amazon Store!
If you liked this post, don't forget to subscribe for new (and of course free) recipes by entering your email address on the side bar (and get all the recipes delivered to your inbox when we post), so you don't miss out on a thing. You can find us on Facebook, Instagram, and Pinterest!
Gastronomblog is a participant in the Amazon Services LLC Associates Program, an affiliate advertising program designed to provide a means for sites to earn advertising fees by advertising and linking to amazon.com