Last Updated on June 10, 2023 by The Noms
This Navy Grog cocktail recipe is a great rum based drink with three different rums and citrus juices! A tasty tropical drink served at Don the Beachcomber's restaurants!
This Navy Grog cocktail recipe dates back to the early days of legendary bartender Donn Beach. The original recipe with three types of rum, calls for an ice cone garnish (more on that later). But, we suggest you make it easy with a mint sprig and perhaps a lime wheel.
This post contains affiliate links for products that we think you as readers might find useful, and we make commission off of these! For more details about our affiliates, click our Disclosure and Contacts Page.
This drink began exactly as the name sounds, as refreshment for the British navy. It was a) a way to save the water they stored on the ship and b) get nutrition to fight diseases like scurvy. This grog dates to the 1700s and was typically a mix of rum, water, honey/molasses, lemon, and perhaps cinnamon.
History of "Grog"
Rum was not used by the British Navy until 1655 when Vice Admiral William Penn conquered Jamaica during the Anglo-Spanish war. At that time the island had limited stock, but it did have a lot of something available. Rum! Looking to restock the ships, Penn began giving the sailors rum in place of beer and water.
75 years later, a rum provision was put into the "Regulations and Instructions Relating to His Majesty's Service at Sea". The regulation said that one undiluted half pint of rum was equal to a gallon of beer. So, rum became a part of the provisional stock on every ship in the British Navy.
Now, comes Vice Admiral Edward Vernon, nicknamed "Old Grog" after a grosgrain cloak wore. He always fought for better conditions for sailors in the navy. But, there was a problem. As a result of his sailors getting rum twice a day, the officers were constantly dealing with drunkenness and problems with their crews.
Vernon issued an order in 1740 which stated that all rum must be mixed with water. And the crew "good husbandmen may from the saving of their salt provisions and bread, purchase sugar and limes to make it more palatable to them." Furthermore, the rum was to be diluted in the presence of a Lieutenant of the Watch on the deck.
This fix to their ration was nicknamed "Grog" after the admiral. Served twice a day with the call of "Up spirits!" the purser would deliver the ration until the practice was ended in 1970.
Ice Cone for Tropical Drinks
"Ice cone," you say? This was listed as the garnish for the Navy Grog in Tiki bars and restaurants around the country for many years. But, apparently no one ever bothered to publish how an ice cone is done. In the 90s, Tony Ramos, a past bartender from Don The Beachcomber, would use a pilsner glass filled with finely shaved ice.
You would fill the pilsner with ice, then run a chopstick through the middle to make a hole for the straw, remove the ice cone, and then freeze the cone overnight. In the 2000s, another Tiki bartender said that the Kon-Tiki restaurant chain had a metal cone mold made specifically for the Navy Grog, to make the perfect cone every time. The cone fit perfectly in to a double old Fashioned glass, which the bigger cone didn't do.
This secret was given to Cocktail Kingdom, who have now recreated the mold.
What Ingredients are Needed for the Navy Grog Cocktail Recipe?
Gold Rum – aged or lighter color
Dark Rum – a dark rum with dark sugar cane flavor
Demarara Rum – rum made in Guyana
Honey Simple Syrup (water/sugar 1:1)
Lime Juice
Grapefruit Juice
Club Soda
The Navy Grog cocktail recipe is described on Don the Beachcomber's menu as, "A robust rum punch dedicated to the gallant men of the American navy", it certainly ticked all the boxes of 'manly appeal.
So, it's a classic Don the Beachcomber recipe, with all of his tiki trademarks – 3 rums instead of 1 (why would you only use one rum?), grapefruit juice and of course a spectacular garnish!
We definitely hope you try out this classic tropical cocktail. It's a doozy with all the rum, but oh so tasty!
Cheers!
Also, don't forget to follow us on Instagram and tag #gastronomcocktails so we can see all the wonderful recipes YOU recreate from this site!
You can also subscribe to our newsletter so you never miss a delicious recipe again!
Like this recipe? Try these below, too!
Peach Zombie Cocktail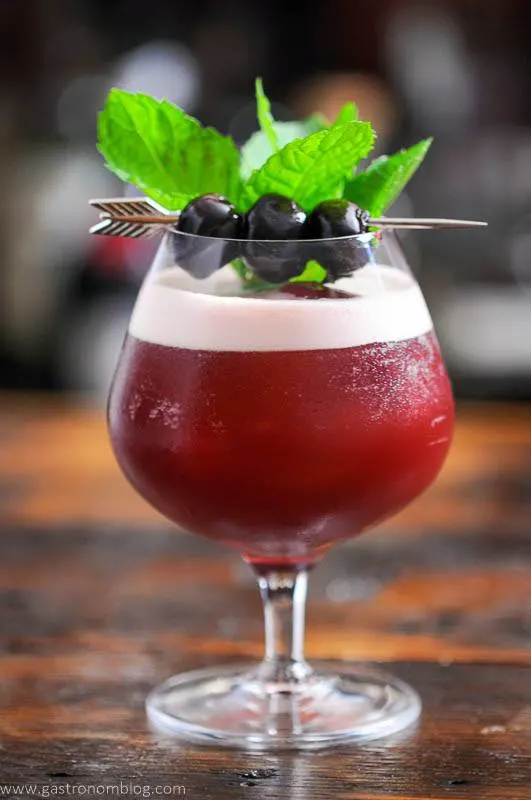 Pineapple Express
Other Don the Beachcomber Cocktails
Yield:

1
Navy Grog Cocktail
This Navy Grog cocktail is a great historical tiki cocktail.
Ingredients
1 ounce Gold Rum
1 ounce dark rum
1 ounce Demarara rum
1 ounce honey simple syrup
.75 ounce lime juice
.75 ounce grapefruit juice
.75 oz club soda
Instructions
Combine all ingredients except club soda in a shaker with ice.
Shake to combine. Strain into glass filled with crushed ice.
Top with club soda.
Garnish with mint and/or grapefruit or lime slice.
Cheers!
Recommended Products
As an Amazon Associate and member of other affiliate programs, I earn from qualifying purchases.
Nutrition Information:
Yield:
1
Serving Size:
1
Amount Per Serving:
Calories:

299
Sodium:

26mg
Carbohydrates:

27.3g
Fiber:

.3g
Sugar:

1.8g
Protein:

.2g
Interested in stocking your own home bar? Make sure to see our favorites at our Amazon Store!
If you liked this post, don't forget to subscribe for new (and of course free) recipes by entering your email address on the side bar (and get all the recipes delivered to your inbox when we post), so you don't miss out on a thing. You can find us on Facebook, Instagram, and Pinterest!
Gastronomblog is a participant in the Amazon Services LLC Associates Program, an affiliate advertising program designed to provide a means for sites to earn advertising fees by advertising and linking to amazon.com