Last Updated on June 8, 2023 by The Noms
A pineapple tiki cocktail to warm you up in the chilly weather!
When most people think of a tropical or tiki cocktail, they usually are thinking of sipping a drink by a pool on a warm summer's day, but if you are like us and live in a spot where winter will chill you to the bone, its really nice to have a cocktail that brings a little bit of that tropical warmth to chase away a chill! Of course, one thing that is kind of ironic about these tropical drinks is that they are full of great fall and winter flavors like fresh citrus and warm spices like star anise, cardamom, cinnamon, and even allspice!
We also love the fresh squeezed lime juice that screams summer!
Throw a couple of these great winter flavors into the mix and before you know it, you will have a great cocktail like our Fall in Paradise that can chase a chill away with the aged rum!
This post contains affiliate links for products that we think you as readers might find useful, and we make commission off of these! For more details about our affiliates, click our Disclosure and Contacts Page.
Fall in Paradise Cocktail
We started thinking about this cocktail a few months ago when we started playing around with our Homemade Allspice Dram and its rich warm spice flavor and we were thinking of all kinds of traditional tiki cocktails that use allspice dram but we also happened to have a great local apple cider on hand.
Apple cider is one of those ingredients that just hollers out fall and winter, and while isn't necessarily a common tiki ingredient, apple cider plays really well with a lot of those great spice flavors that are so familiar to the tiki world! Why not mix in a little apple cider with some tiki flavors and see where we go?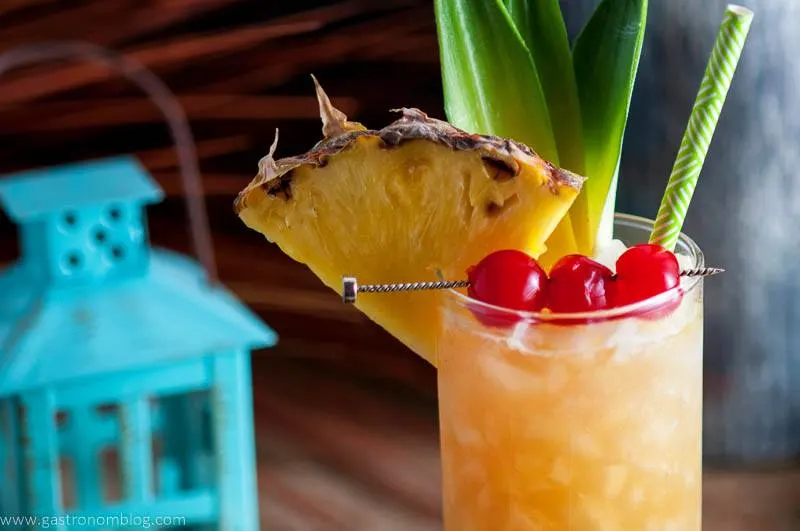 Pineapple Tiki Cocktail
Since we were in a tiki sort of mood, we started out with the quintessential tiki spirit, rum, and in this case a nice aged Demerara rum, which is full of caramel richness, fruity sweetness and just a hint of oak. Demerara rum is one of the most commonly used rums in tiki thanks to Don The Beachcomber, (the famous godfather of Tiki) who loved the rich, complex flavors this style of rum imparted to his classic tropical concoctions.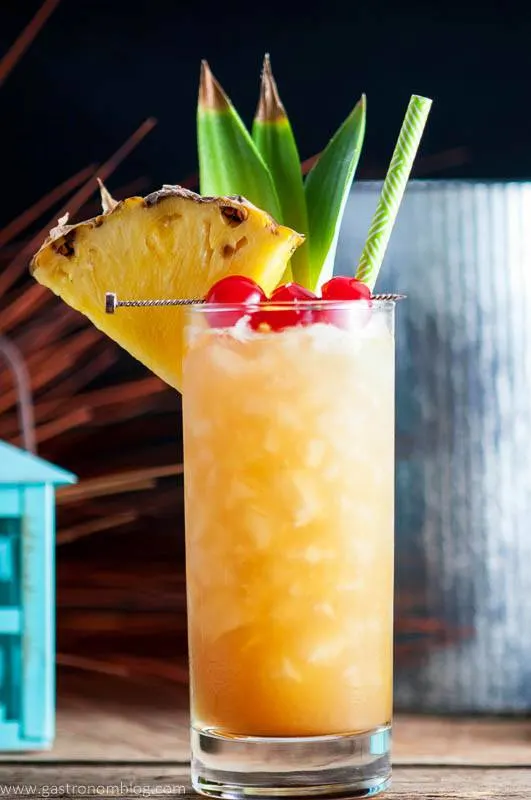 Highballs / Paper Straws / Luxardo Cherries
Made in Guyana on the shores of the Demerara river from sugar cane grown on nearby plantations, the juice from the crushed sugar cane is processed through wooden chutes into the original wooden stills (giant tanks that are made from wood planks and then topped with a big copper pot) which imparts a very unique and complex flavor to the rum being distilled.
The wood of the tanks and stills retains flavors from previous batches and imparts those flavors to the batch being distilled, all of which leads to a rum with lots of character!
What Other Flavors
Once we had the spirit and cider figured out, we wanted to add a little of that tropical warmth we were looking for to get that winter chill out of our bones! One of our favorite tiki flavors is pineapple, where you get that great combination of sweet and tart and a definite tropical feel. Pineapple juice adds a great color and flavor and works really well to add sweetness to balance out the crisp tartness of the apple cider.
Adding in a little fresh squeezed lime juice adds another layer of tropical flavor while adding in a nice brightness to the cocktail!
What Ingredients are Needed for the Fall in Paradise Cocktail?
Apple Cider
Peach Bitters
Demarera Rum
Lime Juice
Pineapple Juice
Allspice Dram
Of course this journey started with wanting something to use our Allspice Dram in, we have to add in the allspice dram. The allspice brings a rich dark spicy layer to the cocktail that brings those warm baking spice flavors that rounds out the sweet caramel flavors from the rum while bringing a depth of slightly bitter flavor that balances out the sweet tart of the juices while adding a complexity to the whole cocktail.
A few dashes of Bitter Truth Peach Bitters adds another burst of summery peach flavor to the whole combination and makes this cocktail a real hit!
Cheers!
Also, don't forget to follow us on Instagram and tag #gastronomcocktails so we can see all the wonderful recipes YOU recreate from this site!
You can also subscribe to our newsletter so you never miss a delicious recipe again!
Like this recipe? Try these below, too!
The Nene Bird Cocktail
While not a classic Tiki cocktail, our Fall in Paradise brings together the flavors of fall with some tropical warmth making this a cocktail sure to chase the cold weather chill away! Cheers!
Other Tiki Cocktails
Yield:

1
Fall in Paradise - A Pineapple and Rum Cocktail
A tiki cocktail with pineapple, rum, allspice dram and apple cider.
Ingredients
Fall in Paradise
1.50 ounces Demerara Rum
1.50 ounces apple cider
1.50 ounces pineapple juice
.50 ounce freshly squeezed lime juice
4-5 dashes Bitter Truth Peach Bitters
Instructions
Fill a highball glass with crushed ice.
Add all ingredients to a shaker.
Add ice to shaker.
Shake and strain into highball glass.
Garnish with cherries and a pineapple wedge, if desired.
Recommended Products
As an Amazon Associate and member of other affiliate programs, I earn from qualifying purchases.
Nutrition Information:
Yield:
1
Serving Size:
1
Amount Per Serving:
Calories:

189
Total Fat:

0.1g
Saturated Fat:

0g
Trans Fat:

0g
Unsaturated Fat:

0g
Cholesterol:

0mg
Sodium:

13mg
Carbohydrates:

23.5g
Fiber:

0.2g
Sugar:

9.1g
Protein:

0.2g
Interested in stocking your own home bar? Make sure to see our favorites at our Amazon Store!
If you liked this post, don't forget to subscribe for new (and of course free) recipes by entering your email address on the side bar (and get all the recipes delivered to your inbox when we post), so you don't miss out on a thing. You can find us on Facebook, Instagram, and Pinterest!
Gastronomblog is a participant in the Amazon Services LLC Associates Program, an affiliate advertising program designed to provide a means for sites to earn advertising fees by advertising and linking to amazon.com