Last Updated on October 23, 2022 by The Noms
This color changing Halloween Harry Potter Cocktail celebrates the new movie The Crimes of Grindelwald, and the Harry Potter Universe!
We are big fan's of J.K. Rowling's Harry Potter books and the fantastic immersive world that she created in these stories and after the books, the movies! One thing we always liked about the Harry Potter universe was the way little details were fleshed out to create this incredibly rich detailed world. You can lose yourself in it for hours. One of those little details that always stuck out with us was all the interesting drinks that the characters consumed. These were drinks like pumpkin juice, giggle water, fire whiskey or the most famous, Butterbeer!
This post contains affiliate links for products that we think you as readers might find useful, and we make commission off of these! For more details about our affiliates, click our Disclosure and Contacts Page.
Of course being people who write about cocktails all day it got us imagining the Harry Potter cocktails that might be consumed in the wizarding world! Would they be colorful or dark? Would the cocktail fit the character? One thing we definitely knew is that they would have some element of "magic" since after all this is a wizard cocktail we are talking about!
One character that popped to mind when we were imaging magical cocktails was the famous dark wizard, Gellert Grindelwald. He was known as one of the most powerful and evil of wizards in the history of the Harry Potter books (and focus of the soon to be released movie, Fantastic Beasts: The Crimes of Grindelwald.)
What kind of drink would a powerful dark wizard drink? It definitely would be something complex and a unique color and maybe contain an ingredient that might cause mere mortals to go mad!
Obviously we don't have much magic as we are but lowly muggles, but we do have ways to make a Harry Potter cocktail feel a little magical! We also just happened to have an ingredient known as the Green Fairy (seems appropriate for a wizard's drink!) Absinthe! With a little time behind the bar, we came up with our cocktail, Grindelwald's Goblet!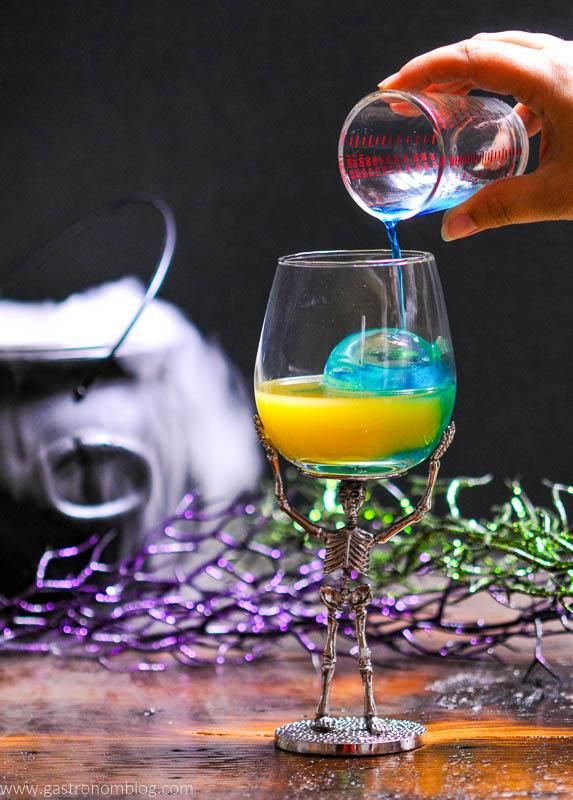 We wanted something that would be appropriately strong (after all, we want a powerful potion!) and in season, so we started out with combination of rum and apple brandy. We love fall cocktails that use aged rums, as the hints of caramel and vanilla in the rum tends to go really well with lots of fall flavors.
What Flavors did we Incorporate into the Grindelwald Cocktail?
The apple brandy brings that hint of fall, which is perfect since we were thinking the Grindelwald's Goblet would be a perfect Halloween cocktail!
The next ingredient is where we start to delve into the wizarding world by adding a little bit of the Green Fairy! Absinthe has long been one of those ingredients that has had all kinds of myths about it. Myths from possibly causing you to hallucinate, to being the drink of choice of all sorts of famous artists (some of who went mad, Vincent Van Gogh would like a word with you!), or being made with a toxic ingredient (wormwood)!
In fact many of these myths were part of the reason that Absinthe was illegal until 2007!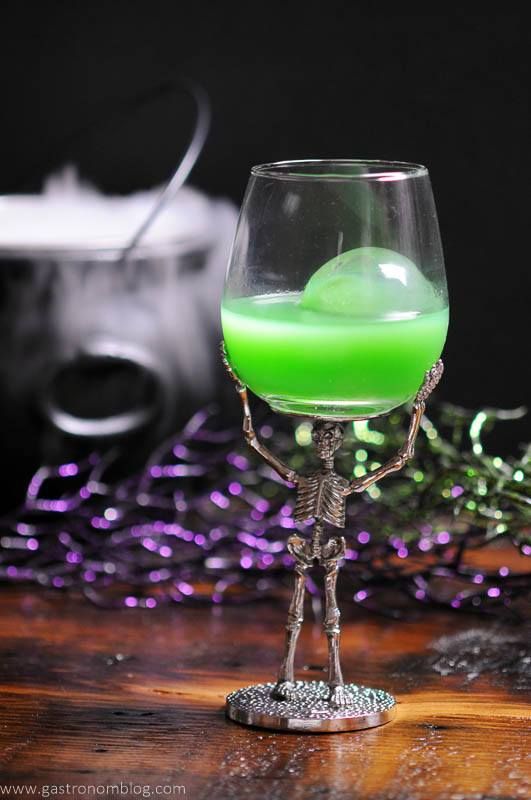 What about Absinthe in Cocktails?
In reality, absinthe is a great spirit that can really make a cocktail shine. It has an intriguing combination of botanical flavors and savory elements useful for adding a real complexity to a drink. Add in the really unique green color and that mythical background and absinthe definitely had to have a spot in our Grindelwald's Goblet!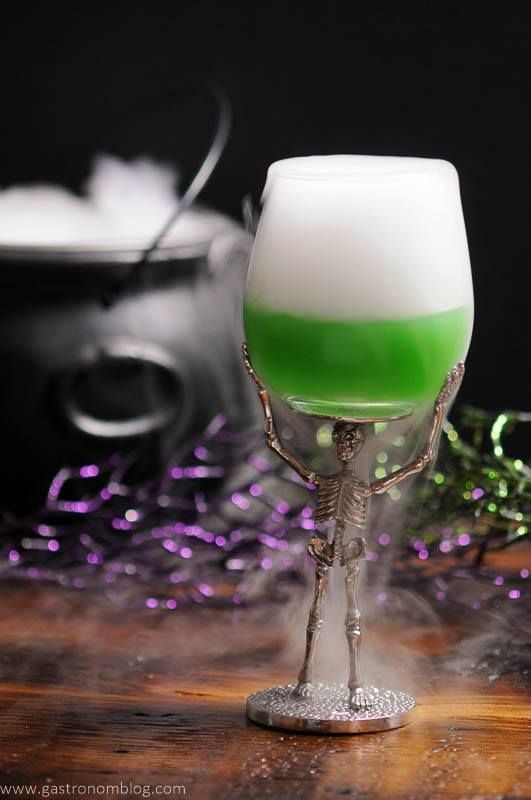 So far we have added a lot of booze, so this cocktail is plenty strong, now we need to balance it out. To start bringing everything into balance, we turned to a little citrus to brighten things up and add fruitiness to the Harry Potter cocktail! A hit of fresh squeezed lime juice adds just the right bit of sour, while fresh orange juice adds sweetness. Using two kinds of citrus also adds layers of flavor that adds to the complexity of this Halloween cocktail.
What Ingredients are Needed for the Grindelwald's Goblet Cocktail?
Apple Brandy
Gold Rum
Lime Juice
Absinthe
Orange Juice
Mango Juice
Blue Curacao
Dry Ice
But what about the magic you ask? Well so far we have a bunch of pretty tame colors in this cocktail, and if we are going to make a cocktail fit to be sipped on by a dark wizard, it better be something kind of magical looking. Plus, we did promise you a bit of magic. Well how about a bit of color changing action?
We have experimented with butterfly pea tea in some of our other cocktails, but for the Grindelwald's Goblet, we wanted something green.
What Made the Cocktail Green?
How did we get something green? How about mixing a little blue curacao in with that orange juice? As you mix in the blue curacao, the Grindelwald's Goblet starts to transform into a bright green cocktail that definitely fits something magical!
If you remember your color mixing chart from kindergarten, mixing blue and yellow (or in our case orange juice) makes green! Adding just the right amount of blue curacao to the orange juice transformed the Grindelwald's Goblet into a green potion worthy of a wizard!
If You Are Looking for More Orgeat Cocktails, Try These!
So We Added Dry Ice!
Everyone knows that a wizard needs a little more flair, so as a finishing touch, we added a chip of dry ice to make the Grindelwald's Goblet start to smoke and bubble like a mini cauldron!
One note of caution, if you do use the dry ice to finish your Harry Potter cocktail, don't drink the cocktail until the drink stops bubbling and the dry ice is completely gone so that you don't get frostbite from the extreme cold of the dry ice!
If You Are Looking for More Halloween Recipes, Try These!
Cheers!
Also, don't forget to follow us on Instagram and tag #gastronomcocktails so we can see all the wonderful recipes YOU recreate from this site!
You can also subscribe to our newsletter so you never miss a delicious recipe again!
Like this recipe? Try these below, too!
Galaxy Magic Moscow Mule
Vampire's Cynar Negroni
Other Harry Potter Universe Cocktails
Other Halloween Cocktails
Yield:

1
Grindelwald's Goblet - Fantastic Beasts Cocktail
Grindelwald's Goblet Cocktail. A bright green concotion of apple brandy, rum, blue curacao and absinthe!
Ingredients
.75 ounce Apple Brandy
.75 ounce gold rum
.25 ounce absinthe
1 ounce orange juice
.50 ounce mango puree or juice
.25 ounce freshly squeezed lime juice
.25 ounce blue curacao
Dry Ice (optional)
Instructions
Combine all ingredients except blue curacao in a shaker with ice.
Shake to combine. Strain into a glass with ice.
Pour in the blue curacao.
Stir to combine.
Recommended Products
As an Amazon Associate and member of other affiliate programs, I earn from qualifying purchases.
Nutrition Information:
Yield:
1
Serving Size:
1
Amount Per Serving:
Calories:

198
Total Fat:

.1g
Sodium:

1mg
Carbohydrates:

26g
Fiber:

.3g
Sugar:

24.7g
Protein:

.4g
PIN THIS GRINDELWALD'S GOBLET COCKTAIL RECIPE FOR LATER!
Interested in stocking your own home bar? Make sure to see our favorites at our Amazon Store!
If you liked this recipe, don't forget to subscribe for new (and of course free) recipes by entering your email address on the side bar (and get all the recipes delivered to your inbox when we post), so you don't miss out on a thing. You can find us on Facebook, Instagram, Pinterest and Twitter!
Gastronomblog is a participant in the Amazon Services LLC Associates Program, an affiliate advertising program designed to provide a means for sites to earn advertising fees by advertising and linking to amazon.com
Follow my blog with Bloglovin