Last Updated on September 22, 2023 by The Noms
This spooky cocktail is perfect for Halloween. It's a great punch served in Blood bags for a creepy effect!

So, I know you are asking me, why? Why iv bags or blood bags to serve cocktails? Well, why not? We thought what a great creepy way to serve a spooky cocktail at a Halloween party than to serve it to, and have people drink from, IV bags! We love some spooky cocktails!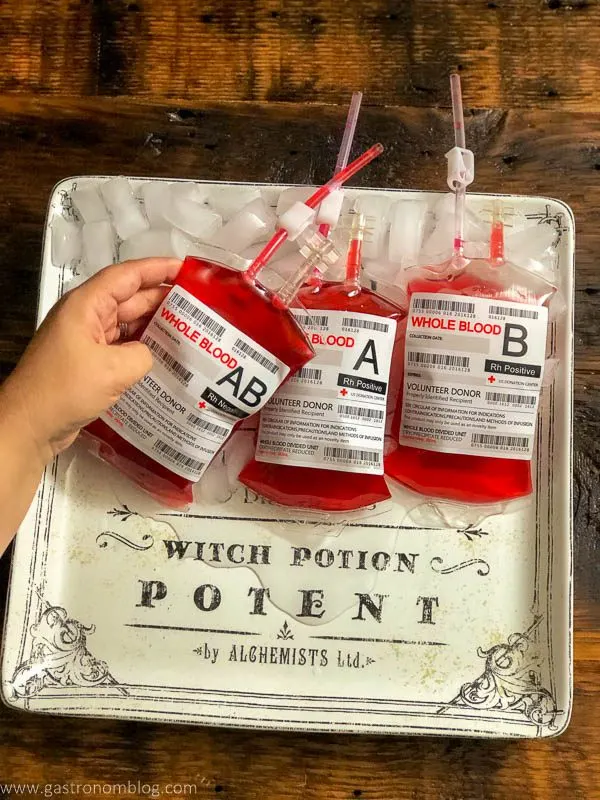 This post contains affiliate links for products that we think you as readers might find useful, and we make commission off of these! For more details about our affiliates, click our Disclosure and Contacts Page.
If you are going for the medical Halloween genre, there are plenty of creepy doctors to pick from in movies, Dr Frankenstein, Hanibal Lector, Dr Frank-N-Furter from Rocky Horror Picture Show! We also thought it would be a fun way to serve a cocktail at a Halloween party! So, IV bags were the clear winner for this idea of a red cocktail! We have another red cocktail in the Poisoned Apple cocktail served in beakers!
Halloween is our favorite time of year, and we have so much fun coming up with Halloween recipes for you like our Cynar Negroni or Key Lime Colada! This gorgeous punch will be perfect for spooky season while munching on candy corn at your next costume party!
A themed punch is a great way to serve liquid ingredients as big-batch cocktails instead of being the bartender all night. And, I don't know about you, but a spooky drink is the best part of Halloween! Try our Eye Candy cocktail, too!
What Ingredients are Needed for the Blood Halloween Punch?
Passion Fruit Tea (or hibiscus, needs to be a tea that will come out red) – this Passion Fruit tea helps give enough volume to the cocktail, so you can fill 6 blood bags. Plus, gives a great flavor to the Halloween punch.
Raspberry Lemonade Crystal Light – or Crystal Light lemonade, but we liked the color of the Raspberry Lemonade. Make sure to use the large pitcher sized packets, this gives a great sour flavor to the punch.
Pineapple Juice – a tropical addition to the drink!
Tequila – we used tequila blanco, but you can use a Reposado or Anejo if that is what you have on hand.
Lime Juice – a sour ingredient, as well as a tropical edge to this recipe. Remember, fresh squeezed juice is best!
Coconut Rum – gives some tropical flavor to the drink, and we loved it with the pineapple, lime and passion fruit flavors.
Triple Sec – a way to sweeten this cocktail, triple sec adds a little orange flavor, too.
Simple Syrup – an optional ingredient, but depending on how sweet your pineapple and lime juices are, you may want to add a dash of homemade simple syrup to the recipe.
Red Food Coloring (totally optional), but if you want a darker blood color, then add a few drops of red food coloring for effect!
Glassware – Not a glass, and not an ingredient, but get the blood bags or IV bags on Amazon!
When we started mixing up this cocktail, right away we knew we wanted to do red, because blood. And blood is creepy, right?! So, we wanted this Blood Halloween Punch to be a great spooky cocktail, but still taste great!
How to Make this Blood Halloween Punch
Our first thought was to use Hibiscus tea, but I couldn't find any at the store, so I bought passion fruit tea instead. This was actually a great choice, as it went really well with the Crystal Light Raspberry Lemonade mix. It was tangy and we knew we could add some sweet flavors to make a perfect Halloween punch.
With the tea base, we added pineapple juice, which actually changed the color slightly, but tasted great together. From there, we started going the margarita route with silver tequila, lime juice and triple sec. (Try a Halloween Margarita) It no longer became a margarita because we then added in a little coconut rum. Because of the passion fruit tea it definitely felt tropical, so we wanted to lean into those flavors.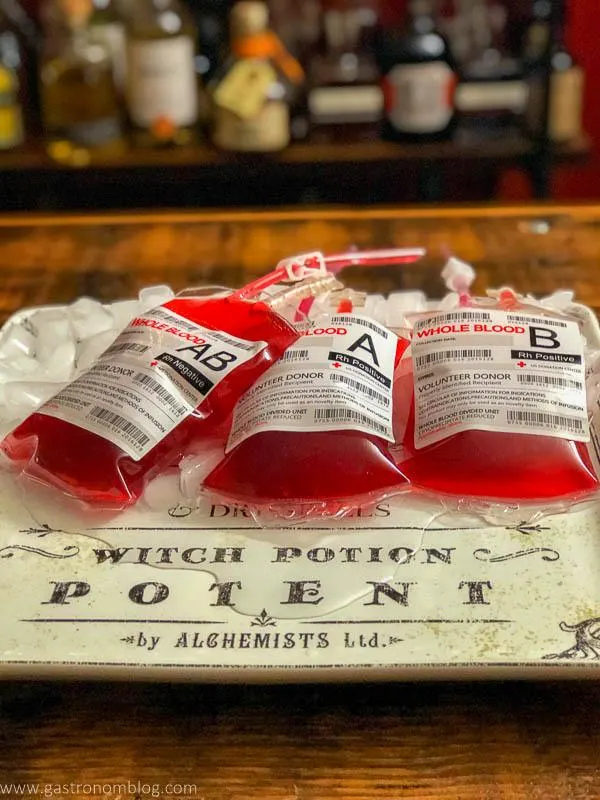 The coconut rum adds so much tropical flavor and goes so well with the pineapple juice. This is a rum and tequila tropical cocktail that is not to be missed. Just sipped out of an iv bag, LOL!
We did add a little red food coloring, which is optional, we just wanted something that was more red and "bloodlike" for lack of a better word. If you don't want your red cocktail to be served in the blood bags, no worries! We just think the blood bags as glassware is super fun and adds a creep factor to your Halloween party!
When making this cocktail, make the base mix of passion fruit tea and Crystal Light Pink Lemonade mixture and then work off of that mixture.You can mix them all together and then fill your blood bags or you can mix them individually and then fill to make sure each one gets the right mix. Or, you can skip the plastic iv bags and serve it punch bowl style for a crowd. (More info below).
When ready to make the blood bags, use the syringe included in your packaging. For ease of use, have the cocktail in a bowl or large cup and fill the syringe and insert the syringe into the plastic tubing. Carefully squirt the cocktail through the tubing and fill the bags to your desired level. Slide the included clamp down the tubing and fit tightly to seal off the cocktail so it doesn't leak.
Stick on the the included blood type labels to the front of the bags. Place in the fridge until ready to serve.
Tips & Tricks
Plastic IV Bags – Make sure that you check the product description to ensure you are buying food-grade fake blood bags that are meant to be used for drinks. Most will say it prominently. Where can I find these IV blood bags for drinks? Most of the time Amazon is going to be your best bet. Some party supply stores may have them.
Can this be made ahead of time? Yes, you can make the Blood Bag Cocktails a day in advance. Try to store the bags with the tubing upright to prevent spills in case the clips fail or come undone.
Other Cocktail Ideas – so, we wanted a blood red color for these drinks, but we also have a zombie blood cocktail option that is green. Other cocktails that would be fun colored would be our Unicorn Blood, our Blue Curacao Halloween cocktail or the Grindelwald's Goblet.
Serving – If you want to display the blood bags in an even creepier way, and you have access to a tall cart like at the hospital, you can hang the cocktail from that for fun effect. But, usually the best way to serve is in a bowl of ice to keep it cold.
Filling the Blood Bags – We found that each bag takes about 2.5 syringes full of liquid. Snap the clip closed to stop liquid from coming out of the straws. Try not to overfill.
For a Crowd – if you don't want to fill each blood bag, or just want to serve this cocktail like a punch, great! Serve it in a punch bowl or a large pitcher as a big batch. And so there is no dilution of the punch, make some ice cubes out of the tea and Crystal light mixture. Just make an extra batch and freeze!
Tea Substitute – if you can't find passion fruit tea or hibiscus tea, there are some other things you can use. Cranberry juice, black cherry juice, fruit punch (watch adding simple syrup to this, it might be too sweet), but can be a fun way to make this red punch.
Coconut Rum Substitute – if you don't like coconut, feel free to use pineapple rum.
Other Fruit Juices – if you don't have pineapple juice, you can try orange juice or apple cider. You can sub lemon juice for lime juice, too.
Carbonation – we don't advise putting any carbonated liquids into the blood bags. If you are serving in a punch bowl, you can add some carbonation like ginger ale, tonic water, orange seltzer, or lemon lime soda to this adult beverage to make it effervescent.
Garnish – obviously if you are serving this spooky Halloween punch recipe in a blood bag glass you don't need a garnish, it is the garnish. If you are serving out of a punch bowl, place some plastic vampire teeth at the top of the glass, or a fresh orange peel will take it to the next level.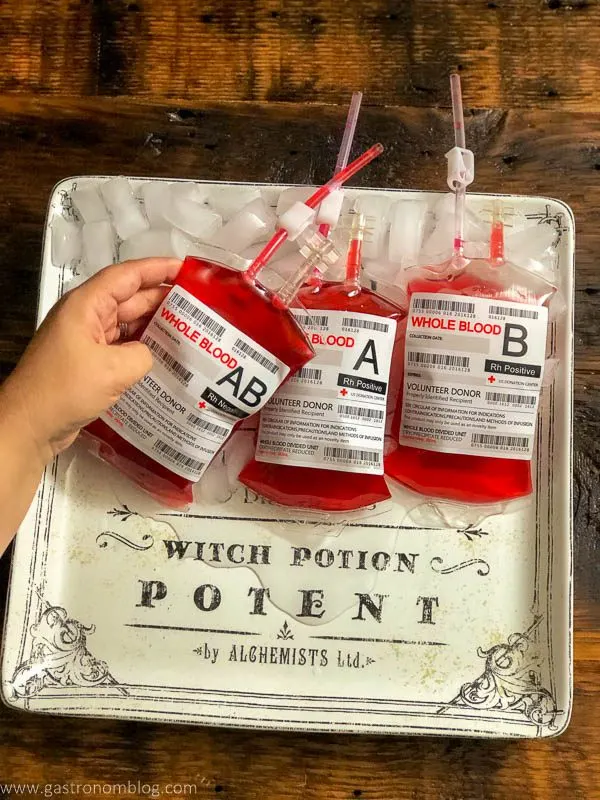 Make sure to pair it with these great Halloween Brownies or Halloween Charcuterie! And try the green Zombie Blood Bag Cocktails, or Hocus Pocus Drink, too! So, plan on making this bloody punch for your next Halloween party!
Cheers!
Also, don't forget to follow us on Instagram and tag #gastronomcocktails so we can see all the wonderful recipes YOU recreate from this site!
You can also subscribe to our newsletter so you never miss a delicious recipe again!
Like this recipe? Try these below, too!
Polyjuice Potion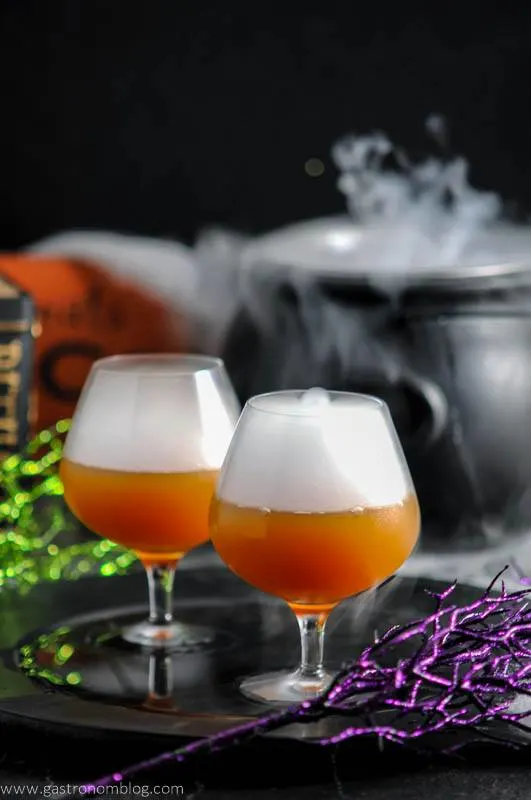 Bourbon Butterbeer
Other Spooky Halloween Cocktails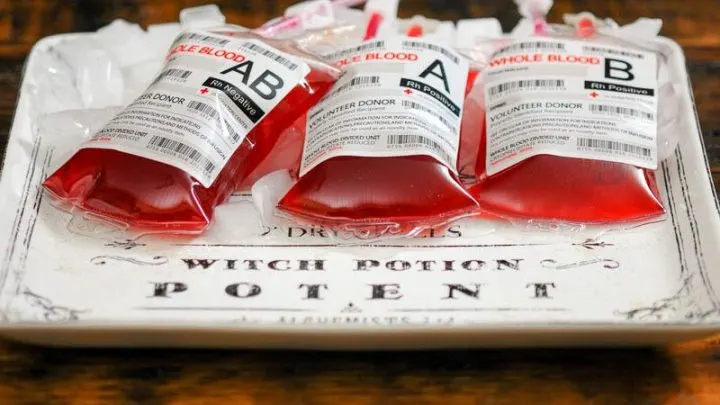 Yield:

6
Blood Halloween Punch
Red Halloween Punch - perfect for filling IV bags with "fake blood" for a Halloween party!
Ingredients
Punch Base
4 cups Passionfruit tea
1 packet Raspberry Lemonade Crystal Light
Blood Bag Punch Cocktail (For 1)
4 ounces Passionfruit Tea/lemonade mix
2 ounces silver tequila
.75 oz Triple sec
1 ounce coconut rum or pineapple rum
2 ounces pineapple juice
.50 ounce lime juice
food coloring if desired for right color
Instructions
For the Tea
1. Make passionfruit tea with 1 large teabag for 4 cups of boiling water.
2. Mix in 1 large Raspberry Lemonade Crystal Light pack.
Blood Bag Punch
Prep the blood bags. Fill a small bowl with water. Use the syringe to squirt water, into each bag swish it around to clean, then dump the water out of the bags.
Combine all cocktail ingredients in a bowl, stir to combine.
Use the syringe if desired and inject liquid into iv bags. Make sure to cap off the tubing so it doesn't leak.
If serving in iv bags, make sure to chill before serving, or serve with the bags on ice.
Notes
Can be made for a crowd in a large punch bowl as well. Use large ice cubes, as not to water it down.
Recommended Products
As an Amazon Associate and member of other affiliate programs, I earn from qualifying purchases.
Nutrition Information:
Yield:
1
Serving Size:
1
Amount Per Serving:
Calories:

316
Total Fat:

.1g
Sodium:

1660mg
Carbohydrates:

15.5g
Fiber:

.2g
Sugar:

29.9g
Protein:

.3g
Interested in stocking your own home bar? Make sure to see our favorites at our Amazon Store!
If you liked this post, don't forget to subscribe for new (and of course free) recipes by entering your email address on the side bar (and get all the recipes delivered to your inbox when we post), so you don't miss out on a thing. You can find us on Facebook, Instagram, and Pinterest!
Gastronomblog is a participant in the Amazon Services LLC Associates Program, an affiliate advertising program designed to provide a means for sites to earn advertising fees by advertising and linking to amazon.com