Last Updated on September 24, 2023 by The Noms
Entertain your guests at your Halloween Party with these fun blood bag cocktails. This green tropical cocktail is a lot of fun for a monstrously good drink!
Getting in the Halloween spirit can mean different things for people. For some it can be dressing up and throwing an extreme Halloween party. Some love to hand out candy and see all the costumes! For others, it can be trick or treating with their kids. Try our Nightmare on Whisky Street cocktail for the Halloween season!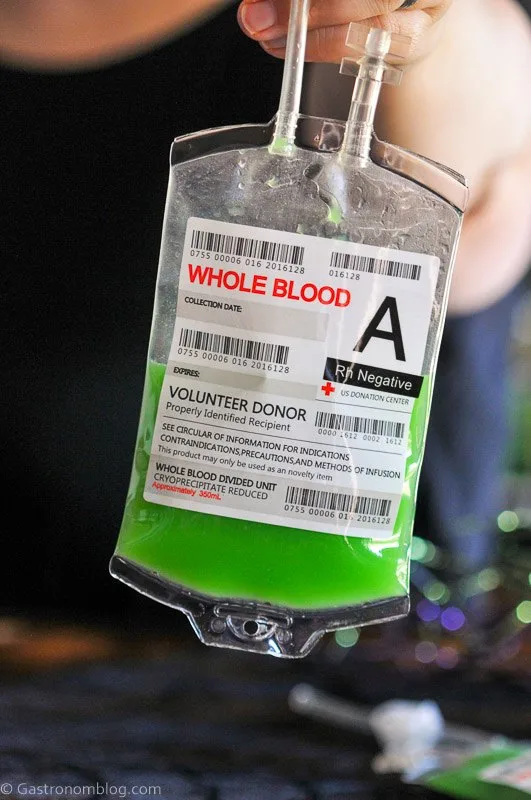 This post contains affiliate links for products that we think you as readers might find useful, and we make commission off of these! For more details about our affiliates, click our Disclosure and Contacts Page.
We are calling all Halloween party people who want to throw a celebration that their guests won't forget. Before you use red solo cups serve cocktails in, consider these IV drink bags instead! Fill them up with a fun drink to spook your guests! We did a red blood bag cocktail version a few years ago – so make sure to check out this Halloween Punch, too, also served in those IV Bags!
If you use these at your Halloween party you will definitely be remembered using these Blood Bag Cocktail containers, or IV drink bags! Whatever you want to call them, simply fill them with any cocktail, soda or juice. Plus, unless you are washing them out (they are reusable) you don't have any dishes to do!
Try some of our other Halloween cocktails like Bourbon Butterbeer, Cynar Negroni and Poisoned Apple.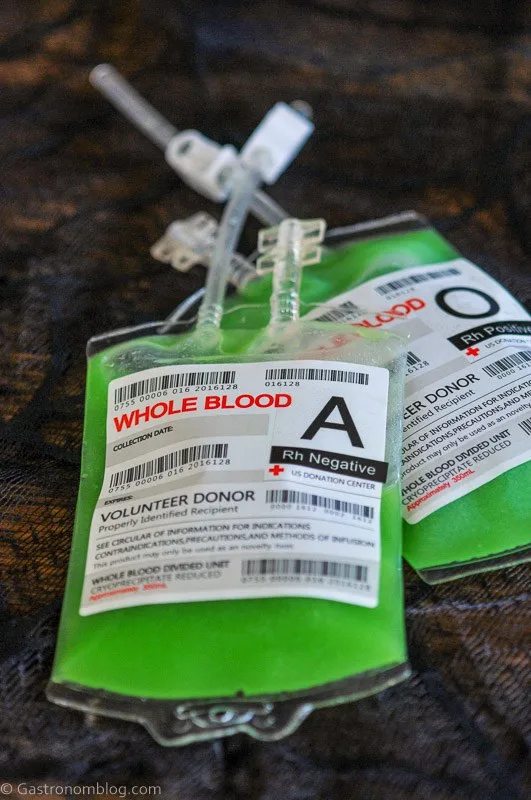 Green Blood Bag Cocktail
There are many ways to make a green cocktail. The easiest method is to use a green liquor or mixers to add color. Midori is a green liqueur that is commonly used, and while we use it in this cocktail, keep in mind that it is a very strong sweet melon flavor.
You can also blend colors to achieve a green color. Obviously yellow and blue make green, so the easiest way to achieve that is blue curacao and orange juice or pineapple juice. You can adjust the color of the green by changing the ratio of ingredients. Usually more orange or yellow than blue, as it's the stronger color.
Since we wanted to highlight zombie brains/zombie blood, we wanted these themed cocktails in a blood bag drink vessel for spooky season! This spooky cocktail can be seen like fake blood (or like our red fruit punch one, too!), but makes for a delicious drink too with fairly simple ingredients.

Ingredients Needed for the Green Blood Bag Cocktail
Vodka – for those vodka lovers, this is the fun Halloween cocktail for you! But, honestly it's just there to boost up the alcohol level of the Midori Liqueur and Blue Curacao.
Midori – Midori is a sweet melon liqueur that is flavored with Japanese muskmelons. It has a sweet and earthy melon flavor, plus is bright green.
Blue Curacao – this bright blue liqueur has the flavor of oranges. Crazy, but true. Goes well with the orange juice in this cocktail, as well as the Midori, and all together makes a fun bright green color for the Zombie Blood. This orange liqueur does have a non-alcoholic version available too.
Orange Juice – fresh squeezed orange juice is fine, but bottled is great if that is all you have!
Coconut Cream – we prefer the coconut cream out of a can. If you use the bottled stuff it is preserved and sweet. But coconut cream out of a can is just the perfect coconut flavor. We tend to like it placed in the fridge 24 hours in advance of using it, and then turn it over to open the bottom part of the can. This is where all the thicker cream settles. This is what you want to use for the cocktail.
Tiki Bitters – Tiki bitters help give more of a tropical flavor to this bright green cocktail in blood Bags!
How to Make these Green Blood Bag Cocktails
If you are serving this cocktail in a blood bag, then the easiest way to get it into the bags is with the provided syringe. Easiest way is to combine everything into a small bowl, stir and then fill the syringe.
When ready to make the blood bags, stick on the the included blood type labels from the blood bag kit to the front of the bag. Then use the syringe included in your packaging. For ease of use, have the cocktail in a bowl or large cup and fill the syringe and insert the syringe into the plastic tubing. Carefully squirt the cocktail through the tubing and fill the bags to your desired level.
Slide the included clamp down the tubing and fit tightly to seal off the cocktail so it doesn't leak.
Place in the fridge until ready to serve.
If you are not using the blood bags, then feel free to add everything to a shaker with ice. Shake and strain over ice in a rocks glass or tumbler!
Tips & Tricks
Blood Bags – Easy to order them off of Amazon, there are a number of different packs of Blood Bags, or IV bags to use for cocktails. Just double check that they are food grade, and have fun stickers to label them with!

Customizable labels: Included are blood type labels of A,B, AB, and O stickers. Pick the blood type of your choice for a phlebotomy flair. You can also write the name of your cocktail instead if you would like. It is easier to add the whole label before filling the bags with your cocktail.
Reusable: each of these Blood Bags has a working tube so that you can drink from it or pour it into a cup if that is too creepy. Or, you can reuse them year after year.
Prevent Leakage: you don't need to worry about any liquid dripping out because of the included clips to seal the tube. No zombie blood, or drinks to clean up because of a great seal. If they aren't placed properly they won't work though. So slide the tube through both holes of the clip vertically, and then close the clip to locked.

Other flavors – you could sub the vodka for some rum, you could even add fresh lemon juice or lime juice. If it isn't sweet enough, you can add some simple syrup, but all ideas will make for a happy Halloween!
Can this be made ahead of time? Yes, you can make the Blood Bag Cocktail a day in advance. Store the bags with the tubing upright to prevent spills in case the clips fail or come undone.
For a Crowd – if you don't want to fill each blood bag, or just want to serve this cocktail like a punch, super fun! Serve it in a punch bowl or a large pitcher as a big batch. And so there is no dilution of the punch, make some ice cubes out of orange juice or coconut cream, or a combo of both!
Garnish – obviously if you are serving this spooky Halloween punch recipe in a blood bag you don't need a garnish, it is the garnish. If you are serving out of a punch bowl, place some plastic vampire teeth in your glass, or a fresh orange peel.
Non-Alcoholic Cocktail – this really cannot be made into a non alcoholic version, as there isn't a sub for the Midori. But, you could make a sort of version using a non-alcoholic blue curacao, orange juice (maybe some pineapple juice) and coconut cream. It won't be quite the same, but will make some sweet drinks. If serving in a cocktail glass, you could top with a lemon lime soda, ginger beer or ginger ale.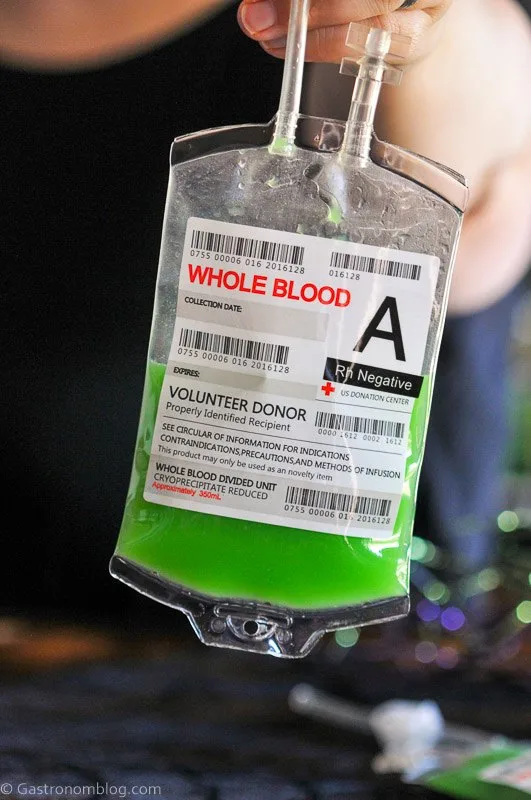 This is a fun way to show some special effects in your Halloween cocktails for your Halloween parties! We did red blood bag cocktails the first time, and now Zombie blood. But you could even do Vampire blood or Alien blood, or something of your own making. The colors and fun are endless! Pair it with our Halloween Charcuterie!
Cheers!
Also, don't forget to follow us on Instagram and tag #gastronomcocktails so we can see all the wonderful recipes YOU recreate from this site!
You can also subscribe to our newsletter so you never miss a delicious recipe again!
Like this recipe? Try these below, too!
Blood Bag Halloween Punch
Peach Zombie
Other Halloween Cocktails
Other Creepy Halloween Cocktails
Yield:

1
Zombie Blood - Green Blood IV Bags Cocktail
These green blood iv bag cocktails are creepy and fun for Halloween! Tropical green cocktails as zombie blood!
Ingredients
.75 ounce vodka
1.25 ounces Midori Liqueur
1.75 ounces orange juice
.50 ounce blue curacao
.25 ounce coconut cream
2 dashes tiki bitters
Instructions
Combine all ingredients in a bowl. Stir to combine.
If using the plastic iv bags to serve, use the syringe to put the cocktail into the iv bag.
Store in the fridge for up to 48 hours before serving. Make sure the clamps are tight!
If not using the iv bags, then put ingredients into a shaker with ice. Shake to combine, strain into glass with ice.
Cheers!
Recommended Products
As an Amazon Associate and member of other affiliate programs, I earn from qualifying purchases.
Nutrition Information:
Yield:
1
Serving Size:
1 bag
Amount Per Serving:
Calories:

228
Total Fat:

1.8g
Saturated Fat:

1.5g
Sodium:

2mg
Carbohydrates:

38.8g
Fiber:

.3g
Sugar:

37.7g
Protein:

.5g
Interested in stocking your own home bar? Make sure to see our favorites at our Amazon Store!
If you liked this post, don't forget to subscribe for new (and of course free) recipes by entering your email address on the side bar (and get all the recipes delivered to your inbox when we post), so you don't miss out on a thing. You can find us on Facebook, Instagram, and Pinterest!
Gastronomblog is a participant in the Amazon Services LLC Associates Program, an affiliate advertising program designed to provide a means for sites to earn advertising fees by advertising and linking to amazon.com