Last Updated on June 9, 2023 by The Noms
A tasty combo of peanut butter whiskey, scotch and banana infused sherry, this peanut butter drink is dedicated to Elvis' favorite sandwich, peanut butter and banana!
In honor of
Elvis Presley
's birthday month, we wanted to pay homage to his favorite food! It was a pan-fried sandwich of peanut butter and sliced
banana
, which got us thinking.
Peanut butter whiskey,
banana infused sherry, hmmm, we can work with this!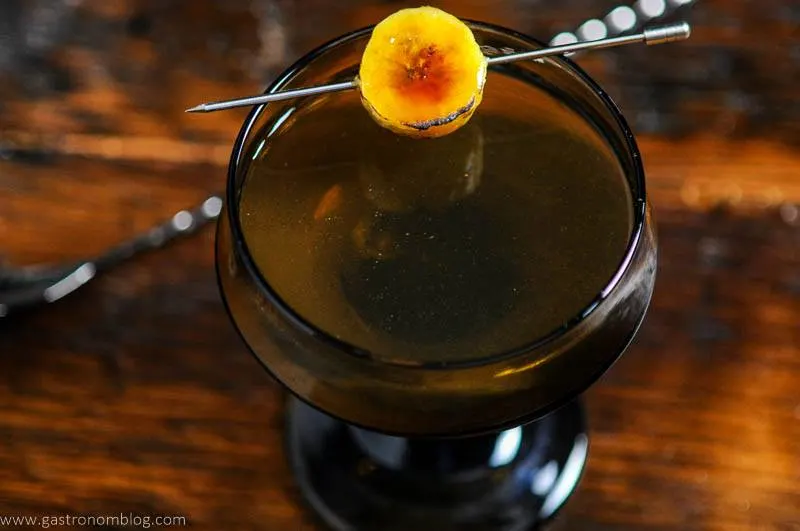 This post contains affiliate links for products that we think you as readers might find useful, and we make commission off of these! For more details about our affiliates, click our Disclosure and Contacts Page.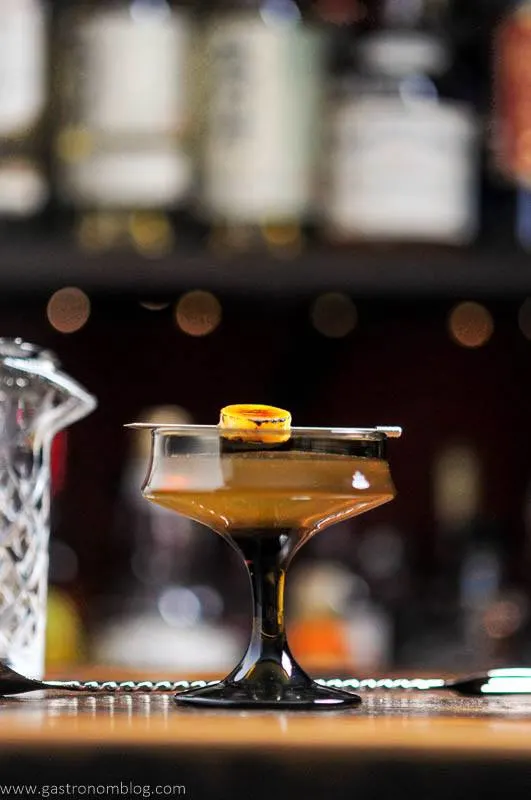 What Ingredients are Needed for the Elvis Cocktail?
Peanut Butter Whiskey
Banana Infused Oloroso Sherry
Scotch
Chocolate and Coffee Bitters
So this Elvis cocktail was born! We started out with the sherry, and we knew we wanted a banana infusion in it. We thought the flavors of the sherry, it is a dry wine, with some tobacco and leather hints, we knew the banana would play well with those.
How Long to Infuse an Alcohol?
The length of infusion depends on how much you like banana: I think the infusion needs to be at least 3 days, but a week if you really want to bring out the banana notes. Just remember it does change the taste of the spirit, too.
How long does infused alcohol last?
On average, your ingredients should stay in the liquor for 2-5 days, though this will vary by the ingredient. Some more intense flavors will only need 2 days; less intense flavors should stay in the liquor for a full week or more. Do a taste test regularly to see if the flavors are where you want them.

Does infused liquor need to be refrigerated?
Spirits like whiskey, rum, gin, vodka: they don't need to be refrigerated because the high alcohol content preserves their integrity. And most liqueurs also have a satisfactorily high alcohol content, as well as sugar that also helps to keep the fla
vors preserved. Even wine is fine, as well! But if you are concerned, you can put it in the fridge!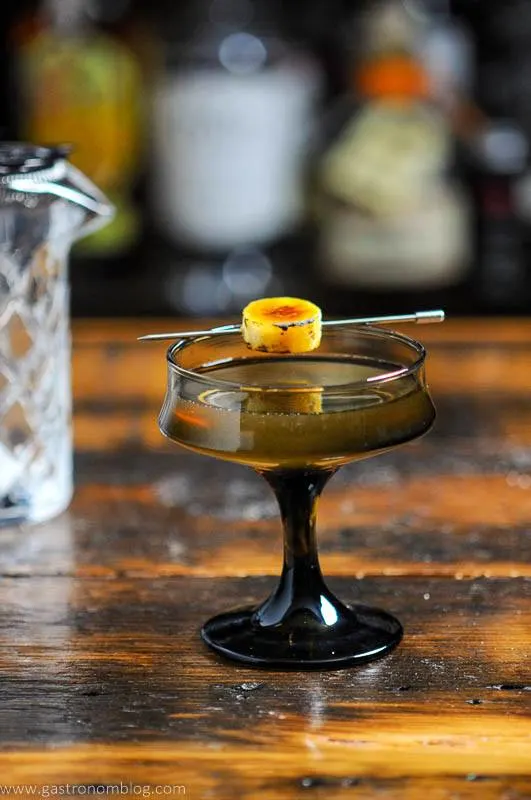 Does fruit go bad in alcohol?
No, they do lose their color and some flavor, but they will not go bad because the alcohol preserves it.
Notes on Infusions
When we do infusions we tend to make them in smaller batches. Here we use 3/4 cup because I find the flavor is lost over time and we don't need and entire bottle of banana flavored sherry!
Another reason to keep this batch smaller is due to the breakdown of the banana slices. They get a bit gooey if you let it sit for too long, as I said, 3 days is optimal.
So, we knew that banana and peanut butter would play well. But, we thought even with the dry sherry, that the drink was too sweet. And then Jay thought about adding a bit of peated scotch. So, we did! We didn't want too much smoke, so we then added some coffee chocolate bitters.
This really helped out alleviating the smoke and sweet flavors for sure. If you don't have the combo coffee chocolate bitters, you can use some of each of the bottles. If you do that, we encourage more coffee than chocolate.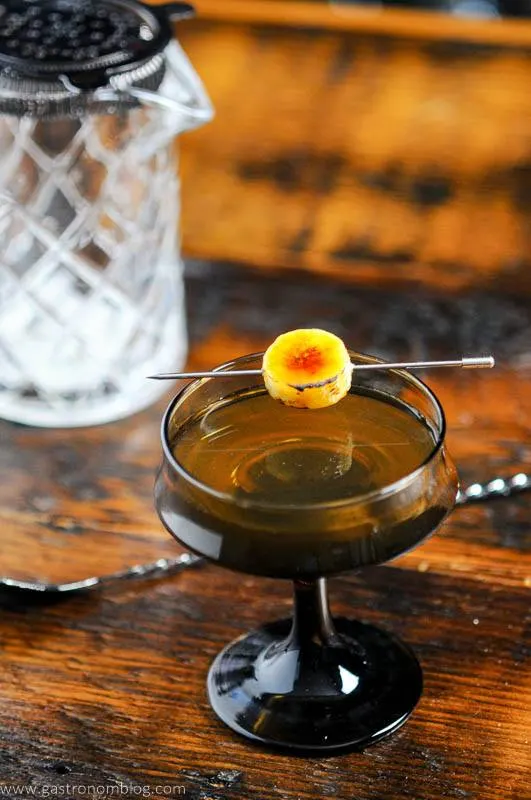 Hope you enjoy this boozy whiskey tipple, and honor Elvis at the same time!
Cheers to this great sip!
Also, don't forget to follow us on Instagram and tag #gastronomcocktails so we can see all the wonderful recipes YOU recreate from this site!
You can also subscribe to our newsletter so you never miss a delicious recipe again!
Like this recipe? Try these below, too!
Peanut Butter & Jelly Cocktail
Cargo Cult Cocktail
Other Peanut Butter or Banana Cocktails
Yield:

1
The Elvis - A Banana and Peanut Butter Cocktail
Total Time:
3 days
5 minutes
This peanut butter whiskey and banana infused sherry cocktail is a boozy tasty homage to Elvis!
Ingredients
1.50 ounces Banana Infused Oloroso Sherry
1 ounce Skrewball Peanut Butter Whiskey
.50 ounce scotch whisky
3 drops chocolate coffee bitters
Banana Infused Whiskey
1/2 a medium banana, sliced
6 ounces Oloroso Sherry
Instructions
Banana Infused Sherry
Place slices of banana in a jar, top with sherry. Let infuse for 72 hours.
Strain out banana slices, throw away.
The Elvis Cocktail
Combine all ingredients in a mixing glass with ice. Stir to chill.
Strain out into coupe.
Garnish with another banana slice, topped with sugar and bruleed.
Cheers!
Recommended Products
As an Amazon Associate and member of other affiliate programs, I earn from qualifying purchases.
Nutrition Information:
Yield:
1
Serving Size:
1
Amount Per Serving:
Calories:

156
Carbohydrates:

.5g
Interested in stocking your own home bar? Make sure to see our favorites at our Amazon Store!
If you liked this post, don't forget to subscribe for new (and of course free) recipes by entering your email address on the side bar (and get all the recipes delivered to your inbox when we post), so you don't miss out on a thing. You can find us on Facebook, Instagram, and Pinterest!
Gastronomblog is a participant in the Amazon Services LLC Associates Program, an affiliate advertising program designed to provide a means for sites to earn advertising fees by advertising and linking to amazon.com