Last Updated on October 13, 2022 by The Noms
What's a better combo than PB&J? How about a Peanut Butter Whiskey combined with a jelly cocktail?
Today we bring you the Peanut Butter & Jelly Old Fashioned. It's a mashup of childhood nostalgia and grown-up taste that works shockingly well together. This one is on the sweet side, so if that isn't what you are into, sorry!
This post contains affiliate links for products that we think you as readers might find useful, and we make commission off of these! For more details about our affiliates, click our Disclosure and Contacts Page.
This Peanut Butter and Jelly cocktail recipe is refreshing with subtle hints of nuttiness and grape jelly.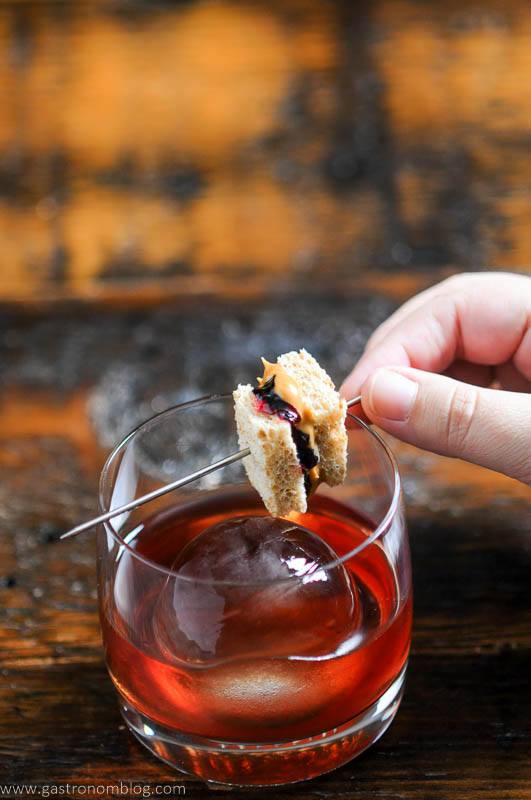 Peanut Butter Whiskey
One of our favorite things to do as cocktail bloggers is to walk around the grocery store and look for all new products. The fall is an especially good time of year for this because every single company is trying to pumpkin spice us to death. Now, don't get me wrong, we love pumpkin spice, but there are just some things we won't eat!
In all fairness though, we hadn't seen Skrewball Peanut Butter Whiskey in the stores yet before we started hearing all about it. We started hearing from friends asking us what we thought, to clients asking us to come out with cocktail recipes using it. Unfortunately, we hadn't even tried it yet!
We finally got our hands on some peanut butter whiskey and set to work on a cocktail! We looked to our sons' favorite treat for inspiration for a cocktail that is the spirit of a childhood staple: the peanut butter and jelly sandwich.
While we used Screwball Peanut Butter Whiskey in this cocktail, there are quite a few more Peanut Butter Whiskies out there now! Some of these include: Sheep Dog, Ole Smokey, Sqrrl, and Barrel & Banter.
Skrewball Whiskey
If you are looking at this post, you probably have a bottle of Skrewball at home and wondering what to do with it. Skrewball whiskey is a flavored whiskey that tastes like peanut butter, as are other peanut butter whiskies.
Peanut butter Whiskey is flavored whiskey made with real peanuts. Skrewball was founded in 2018 by husband and wife Steven and Brittany Yeng, in San Diego, California.
Skrewball is very sweet, with a peanut finish with notes of caramel, coffee and vanilla. It is more like a liqueur than a whiskey. It is also vegan, which makes it a great option!
Is (any peanut butter whiskey) really a whiskey? Whiskey should be at least 40% ABV, and Skrewball is 35% ABV. This makes it closer to a liqueur, even though it is labeled as a "flavored whiskey."
Flavored Whiskey: while labeled a whiskey, with a basis of whiskey, it is sweet enough to be a liqueur. So, if you are using this type of product in a cocktail, know it will be sweeter than just using whiskey, or think about a split base in your cocktail, half whiskey, half of a peanut butter or flavored whiskey.
Grape Simple Syrup
We used homemade Concord grape syrup and the drink seems to be the adult version of the lunchbox favorite without. Of course, we didn't want it being cloyingly sweet, but it is on the sweet side. So, we added some salt to the mix to take away all the sweet, but of course some is still there. This combo is the perfect combination, and a great way to end a meal.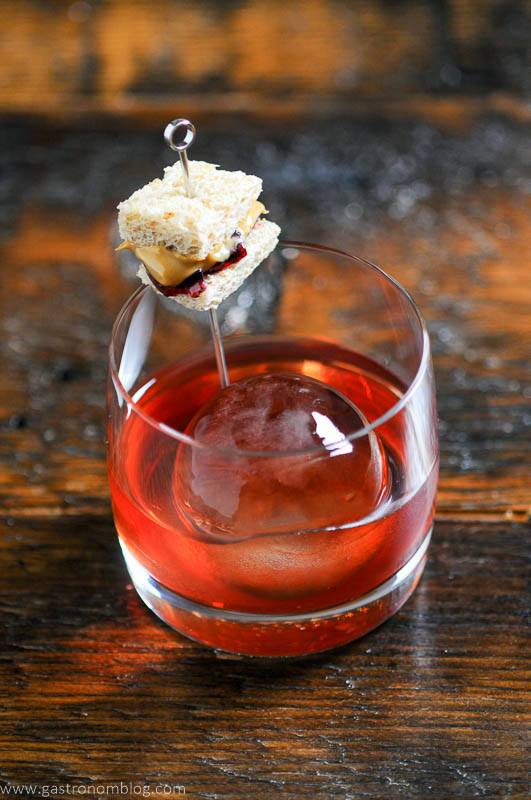 Skrewball Cocktail Recipe
There's something comforting and satisfying about a peanut butter and jelly sandwich, right? The classic nutty and tart combo brings forth memories of school lunches, afternoon snacks, and learning to first assemble something in the kitchen, as we have taught our boys to do!
What Ingredients are Needed for the PB&J Cocktail?
Peanut Butter Whiskey: Skrewball, or any other peanut butter whiskey brand.
Salt: just a dash of salt in the shaker. Cuts down on the sweetness of this sweet drink.
Jelly Simple Syrup: Easy to make, we used grape!
PB&J Cocktail
We hope you give this adult twist on a classic treat a try, and we love the pb & j flavors of this one very much. The peanut butter whiskey will be used many more times I am sure, so bring on some more fun cocktails for sure! This one, being an Old Fashioned, it's super easy to make and so flavorful, but the whiskey is of course the adult flavor we were going with!
PB&J Garnish
This tiny PB&J sandwich is just the perfect addition to this cocktail. Emphasizes the Peanut Butter and Jelly cocktail recipe, as well as just being cute and a fun garnish that everyone will talk about! Make sure to use a skewer so that it doesn't fall into your drink, as it will get soggy, but it's the perfect talking point!
Just a quick tip: cut the bread before making the sandwich. Have your 2 halves and then put on the jelly and peanut butter. Much easier to make, we promise!
What to Mix with Peanut Butter Whiskey?
Here are a few ideas if you still need some ideas with what to do with your bottle of Peanut Butter Whiskey! If you just want a quick sip with 2 ingredients, here are some suggestions!
Orange juice
Hot Coffee or Cold brew
Apple Cider (what a delish fall sip!)
Cream Soda
Bailey's Irish Cream (do ingredients half and half as a shooter)
Cola
Root Beer
Tips and Tricks
Syrup Flavors: if you are wanting to try other flavors of syrup, please do! Use your favorite Peanut Butter & Jelly combo for this. Some suggestions are:

Strawberry, cherry, apricot, seedless raspberry or blackberry. Just use in the same ratio as our Concord Grape Jelly Syrup!

Liqueur instead of Syrup: if you want to use a liqueur instead of the Grape Jelly syrup, Chambord would be a great idea! Raspberry flavored, this sweet liqueur is a good choice.
Garnishes: if you don't want to make the PB&J sandwich, we suggest some fresh raspberries or grapes, or a Peanut Butter Cup.
Cheers!
Also, don't forget to follow us on Instagram and tag #gastronomcocktails so we can see all the wonderful recipes YOU recreate from this site!
You can also subscribe to our newsletter so you never miss a delicious recipe again!
Other Old Fashioned Cocktails
Like this recipe? Try these below, too!
Maple Old Fashioned
Lavender Old Fashioned
Other Peanut Butter Cocktails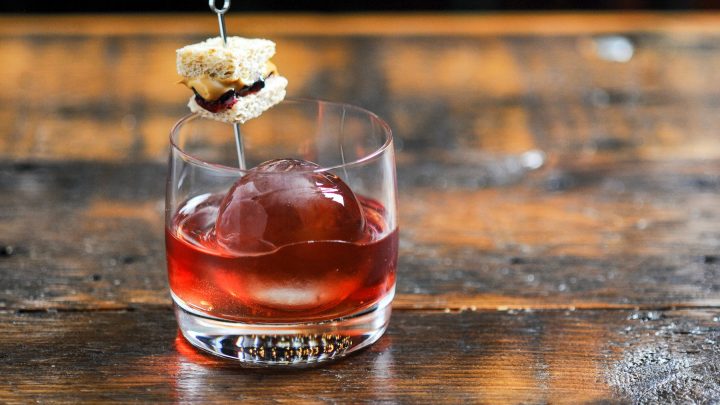 Yield:

1
Peanut Butter and Jelly Cocktail
This Peanut Butter and Jelly cocktail uses Peanut Butter Whiskey as its base and makes for a great jelly cocktail that will please any lover of the classic PB & J!
Ingredients
Peanut Butter Old Fashioned
2 ounces Peanut Butter Whiskey
dash salt
.50 ounce Grape Jelly Simple Syrup
Grape Jelly Simple Syrup
1/4 cup Concord Grape Jelly
1/4 cup water
Instructions
Peanut Butter Old Fashioned
This is a build in glass cocktail, so place an ice ball in a rocks glass.
Pour in Peanut Butter whiskey, and then Grape Jelly Simple Syrup.
Add in dash of salt and stir until all is combined.
Garnish with tiny PB&J sandwich if desired.
Grape Jelly Simple Syrup
Combine water and grape jelly into small saucepan. Bring almost to a boil, turn off heat. Let cool.
Can be stored in fridge for up to 2 weeks.
Notes
You can use any flavor jelly that you prefer. Strawberry would be great, along with anything spicy, such as the peach jalapeno we have in our fridge right now!
Recommended Products
As an Amazon Associate and member of other affiliate programs, I earn from qualifying purchases.
Nutrition Information:
Yield:
1
Serving Size:
1
Amount Per Serving:
Calories:

187
Sodium:

10mg
Carbohydrates:

12g
Sugar:

.1g
PIN THIS PB & J COCKTAIL RECIPE FOR LATER!
Interested in stocking your own home bar? Make sure to see our favorites at our Amazon Store!
If you liked this post, don't forget to subscribe for new (and of course free) recipes by entering your email address on the side bar (and get all the recipes delivered to your inbox when we post), so you don't miss out on a thing. You can find us on Facebook, Instagram, Pinterest and Twitter!
Gastronomblog is a participant in the Amazon Services LLC Associates Program, an affiliate advertising program designed to provide a means for sites to earn advertising fees by advertising and linking to amazon.com
Follow my blog with Bloglovin