Last Updated on September 29, 2023 by Leah Hall
Check out our visit to a Bay Area Distillery on our latest trip! We also developed a blackberry sazerac cocktail featuring the products!

Have you ever smelled a room filled with perfectly ripe pears? Luckily we have and it is amazing, especially when that room happens to also hold a craft distillery! Regular readers know we recently were out in California on a little wine adventure through the Napa and Russian River valleys with friends and since we were really close to San Fransisco's vibrant craft cocktail and spirits scene, we took the short drive from Wine Country down to the east side of San Francisco Bay to visit one of the first legal craft distilleries established in the United States since the dark days of Prohibition, St. George Spirits!
This post contains sponsored content brought to you by St. George Spirits. We were provided a complimentary tasting experiences in exchange for coverage on social media and this blog, but all opinions and views presented here are 100% our own. There are also affiliate links, which we make commission off of. For further information, or if you are interested in working with us please see our Disclaimer page.
We are always fans of craft distilleries, especially ones that make unique liqueurs and spirits that inspire our imagination and make us want to jump into our kitchen and play around with some new cocktails! St. George Spirits is one of these distilleries, their portfolio of spirits a selection of artisanal gins, carefully crafted whiskeys and a bounty of specialty fruit brandies and liqueurs, all carefully created to excite bartenders and drinkers alike!
St George Distilling
Originally founded by Jörg Rupf, a Germain immigrant who fell in love with the food and culture of the Bay Area and who just happened to come from a family of distillers. Inspired by local fruit from nearby California orchards, he drew on his experience of distilling fruit brandies back in Germany's Black Forrest, and started crafting various eu di vie (fruit brandies) from all that local fresh fruit! Jorg's creations soon attracted a loyal following of fans, including one famous fan, Julia Child!
What Ingredients are Needed for the Blackberry Sazerac Cocktail?
Creole Bitters
Angostura Bitters
Blackberry Simple Syrup
Rye Whiskey
Absinthe
St George Spirits soon was turning out more and more of their great fruit brandies, and in 1992 Jorg took his Pear Eu Di Vie to Austria where he beat out hundreds of European distilleries at a blind tasting which sealed St. George Spirits' reputation for being a top notch distillery. When they released their first single malt whiskey in 2000, they cemented their reputation when they were named one of the best American whiskeys bar none.
With a whiskey under their belt, they soon branched out to other spirits like agricole rum, gins, and a little range of vodkas known as Hanger One.
St George Distilling in Alameda
In 2004, they moved to their current location on the grounds of the decommissioned Alameda Naval Air Station in a former airplane hanger where they opened a huge distillery and tasting room. The former aircraft hanger allowed them to build a really amazing distillery and one really cool space to take a distillery tour!
It was this space that we got to take a distillery tour and smell a whole distillery full of ripe pears fresh off the tree waiting to be mashed and processed into one of their spirits in one of the many copper stills.
The tour takes you through the entire distillation process, from the raw fruit and fermentation tanks, to the stills and barrel aging area, where you see what all goes into making some really good spirits! Our tour guide even showed us the botanicals that go into making what might be St. George Spirit's real claim to fame, their St. George Absinthe Verte, the first legal American absinthe made since it was banned in 1912!
Absinthe
Absinthe really got a bad rap as a hallucinogenic back in the early 1900's and it was banned in the US in 1912 as it had the reputation of causing folks to go crazy. It even had the nickname "The Green Fairy" for its reputation to cause folks to see mythical creatures (this reputed propensity to drive folks mad is also why St. George Spirits has a monkey playing a skull like a drum on its label!)
This was a real shame, because a good absinthe is a real treat, especially in some classic cocktails like what might be the most famous absinthe cocktail, the Sazerac.
History of the Sazerac
The Sazerac is a classic cocktail, created back in in New Orleans in the early 1800s where it featured cognac or rye whiskey, absinthe and bitters and sugar and became a favorite drink in New Orleans. This cocktail was rediscovered once the "ban" on absinthe was lifted and bartenders could mix up a real sazerac with absinthe!
We love doing our own spin on classic cocktails, and with us walking out of St. George Spirits with a bottle of St George Absinthe Verde, we had to make our own version of a sazerac, the Blackberry Sazerac!
How to Change Up The Classic Sazerac?
We started out with the classic sazerac recipe, but instead of a sugar cube, we decided to add in a little fruit flavor and use blackberry simple syrup to add a fruity sweetness to the cocktail. Blackberry and absinthe goes together really well, the anise and botanical flavor of the St. George Absinthe Verde complimenting the tart fruity blackberry, especially when paired up with a spicy rye whiskey!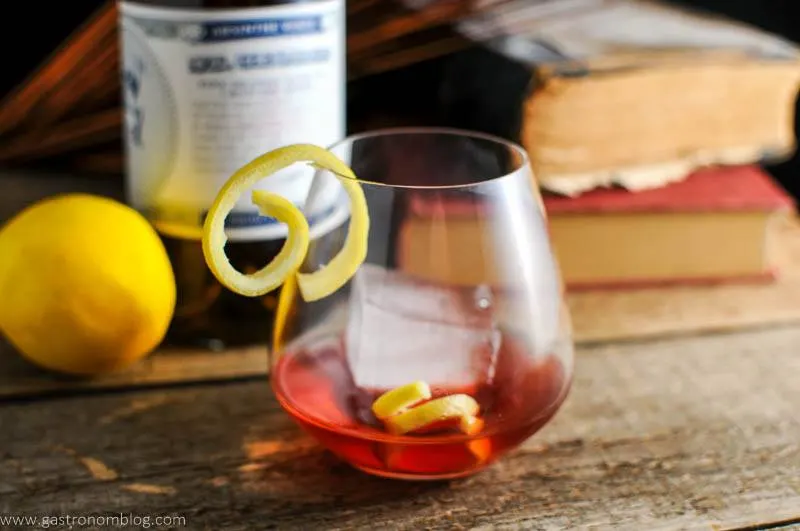 This is one really great cocktail that everyone should try, especially if you take a trip out to Alameda to visit St. George Spirits! (oh and you can get one really amazing view of San Fransisco, where you just might catch a really cool sunset if you are there in the evening!)
Cheers!
Other Distilleries
Other Sazerac Cocktails
Also, don't forget to follow us on Instagram and tag #gastronomcocktails so we can see all the wonderful recipes YOU recreate from this site!
You can also subscribe to our newsletter so you never miss a delicious recipe again!
If you are going to wine country, we recommend renting a VRBO Rental Location to stay at! Or, if you are headed to Northern California, stop at Humboldt Bay Social Club or Humboldt Distillery.
Like this post? Check these out below, too!
Hotaling Distilling – San Francisco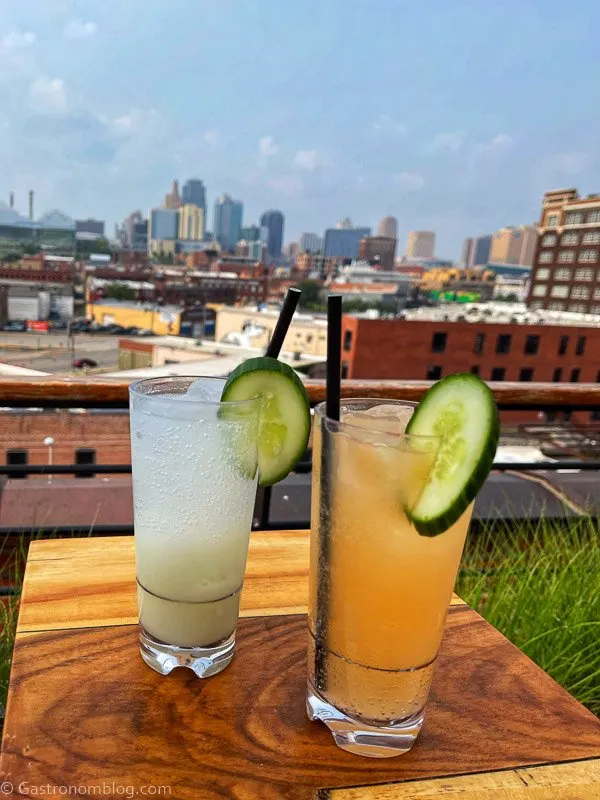 Spirited Guide to Kansas City
Yield:

1
Blackberry Sazerac and a Visit to St. George Distilling
A twist on a New Orleans classic, this Blackberry Sazerac is perfect, made with St. George Distilling absinthe. Plus, our tour at St. George Distilling in Alameda, California.
Ingredients
Sazerac
1.50 ounces rye whiskey
1.50 barspoons absinthe
1 dash Angostura bitters
2 dashes creole bitters
Instructions
Combine all ingredients in a shaker with ice.
Shake and strain over ice.
Cheers!
Recommended Products
As an Amazon Associate and member of other affiliate programs, I earn from qualifying purchases.
Nutrition Information:
Yield:
1
Serving Size:
1
Amount Per Serving:
Calories:

191
Total Fat:

0g
Saturated Fat:

0g
Trans Fat:

0g
Unsaturated Fat:

0g
Cholesterol:

0mg
Sodium:

16mg
Carbohydrates:

20.6g
Fiber:

0g
Sugar:

2.8g
Protein:

0g
Interested in stocking your own home bar? Make sure to see our favorites at our Amazon Store!
If you liked this post, don't forget to subscribe for new (and of course free) recipes by entering your email address on the side bar (and get all the recipes delivered to your inbox when we post), so you don't miss out on a thing. You can find us on Facebook, Instagram, and Pinterest!
Gastronomblog is a participant in the Amazon Services LLC Associates Program, an affiliate advertising program designed to provide a means for sites to earn advertising fees by advertising and linking to amazon.com