Last Updated on June 10, 2023 by Leah Hall
This Absinthe Frappe recipe was invented at the Old Absinthe House bar in New Orleans in 1874 by Cayetano Ferrer. A simple, strong cocktail, but bright and refreshing for summer, this one is a classic for a reason.
The classic Absinthe Frappe is a refreshing mix of absinthe, mint and soda water! The Absinthe Frappe is an absinthe drink that's great for cooling down on a hot summer day for sure. It makes an alternative to the traditional method of absinthe preparation with an ice water drip.
This post contains affiliate links for products that we think you as readers might find useful, and we make commission off of these! For more details about our affiliates, click our Disclosure and Contacts Page.
The Absinthe Frappe, which rose in popularity during prohibition, this mint infused version was particularly popular during the morning hours. Yeah, the morning! A morning pick me up.
It does pack a bit of a punch just because of to the high proof of most absinthe, but the crushed ice and water take the edge off of the strongest flavors. We added bit of effervescence with the soda water, but you can add still water to take off that absinthe edge.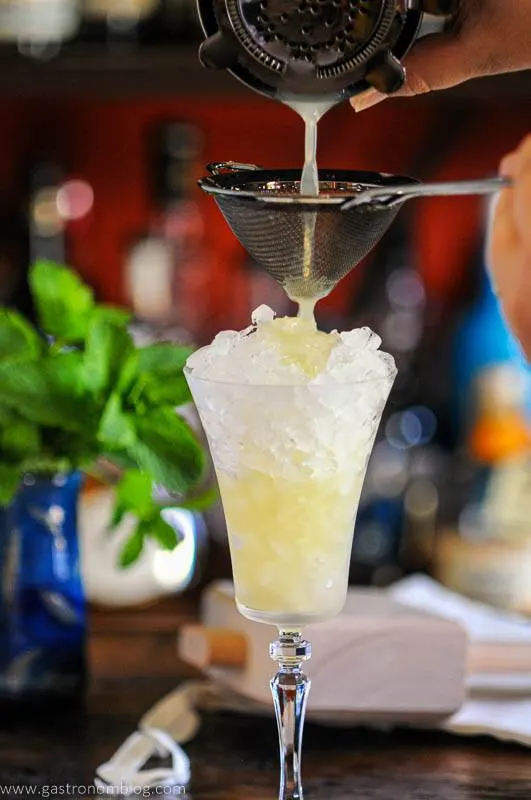 Traditional Absinthe Preparation
True absinthe is bitter, even verging on unpleasant. If you are in reach of a bottle, there are two ways to approach absinthe. There's the ritual method which is as follows.
1) pour an ounce or so of absinthe into a short stem absinthe glass.
2) lay your spade shaped, perforated absinthe spoon over the glass.
3) place one sugar cube on it, drip cold water through the sugar until the glass is full and the sugar crumbly. The absinthe will get all cloudy as you pour.
4) dump the sugar into the glass and stir with the spoon until dissolved.
Absinthe Frappe
But, we think the frappe is the way to go. It really is a more sophisticated way of drinking absinthe, but just be prepared for the strong and boozy flavors. You have to like anise a LOT. Just as a forewarning. Think black licorice.
Muddling the lemon with the simple syrup, adds in some citrus oils along with the juice that better balance the drink, rather than just adding lemon juice.
History of Absinthe in the US
When absinthe first arrived in the United States from Europe/Spain in the 1800s, it was an instant hit, especially in boozy New Orleans where a number of absinthe based classics, were born.
The Department of Agriculture banned absinthe in 1912. Whether this was due to the wormwood infusion's harmful physical effects (it is 120-proof), plus it had a reputation as a mild hallucinogen, we don't know. It was perceived that poisoning, hallucinations or death would come with drinking absinthe.
Up until recently, it was just historical sip of alcohol. About the only place it was legal was Spain, but they weren't exporting any. Then came the European Economic Community, which said it shouldn't be banned anymore. So, now there are dozens of brands on the market, most not as strong in proof, and all lacking in thujone, which in lack of better terms is the THC of absinthe. (because it had the same molecular shape as THC), but it technically isn't.
Thujone
Thujone is a toxic chemical in edible plants, even in tarragon, sage and wormwood.
The compound was found after absinthe became popular in the 19th century. Dr Valentin Magnan studied alcoholism, tested pure wormword oil on animals and found out it did cause seizures that were different from alcohol effects. Because absinthe had a small amount of wormwood oil, it was assumed to be worse than other alcohols.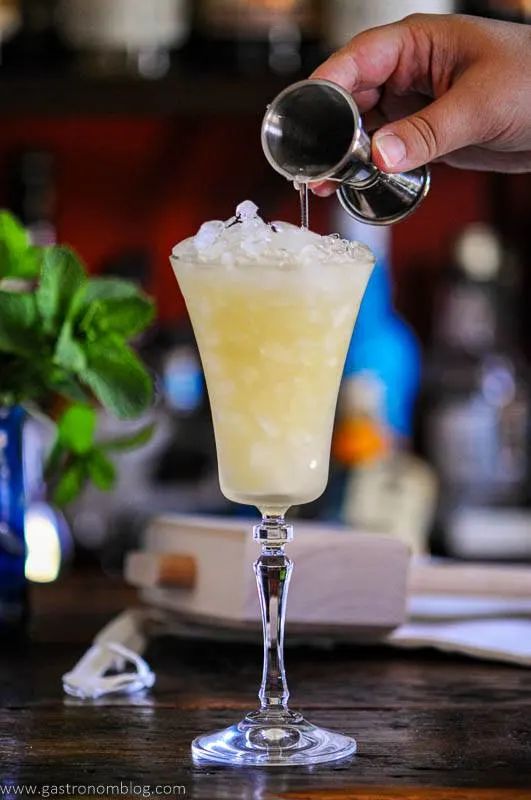 Return of Absinthe
As a result of the ban, Pernod and Herbsaint was substituted for Absinthe in most cocktails, and still can if you can't get your hands on any.
It was "unbanned" in 2008, and distilleries in the US started making their own, as well. Many New Orleans bars went back to the real thing, as a lot of New Orleans cocktails use it, classics such as the Ramos Gin Fizz, Vieux Carre, or the Sazerac.
Absinthe is however, a very high proof liquor at 55-70% ABV! For comparison, an average bottle of booze is around 40-50% ABV.
Absinthe Frappe Song
And for sure, not every cocktail has a show tune written about it, but the Absinthe Frappé does. In 1904, the Broadway musical "It Happened in Nordland" the lyrics to tune, "Absinthe Frappe" One of the verses is: "It will free you first from the burning thirst That is born of a night of the bowl, Like a sun 'twill rise through the inky skies That so heavily hang o'er your soul. At the first cool sip on your fevered lip You determine to live through the day, Life's again worthwhile as with a dawning smile You imbibe your Absinthe frappé! "
What absinthe should I use?
There are now a fairly wide variety of absinthe available in the US. One of our personal favorites is St. George, from Alameda, California. Their St. George Absinthe Verte is the first legal American absinthe released after the ban was lifted in 2007, and remains one of the most acclaimed and respected spirits in this category.
Whatever brand you choose, choose a quality bottle with no artificial green coloring. Absinthe is somewhat expensive. But, consider that one bottle will typically last a long time and help you make many classic cocktails like a Corpse Reviver #2, and Toronto. If you love the classics like we do, a bottle of absinthe is a great home bar investment for you!
Absinthe Frappe
The combo of great flavors in this drink is added with some simple syrup and the fresh lemon wedge being muddled, as well as fresh mint. This gives a great scent to the drink, in addition to the strong anise flavors of the absinthe.
Topped with soda water, this effervescent classic cocktail is a must make!
We hope you try this classic cocktail, the Absinthe Frappe, and try out the strong flavors at least once!
Cheers!
Also, don't forget to follow us on Instagram and tag #gastronomcocktails so we can see all the wonderful recipes YOU recreate from this site!
You can also subscribe to our newsletter so you never miss a delicious recipe again!
Like this recipe? Try these below, too!
Southside Cocktail
Cucumber Cooler
Other Absinthe Cocktails
Yield:

1
Absinthe Frappe Cocktail Recipe
This classic cocktail, the Absinthe Frappe is full of anise flavor, mint and lemon!
Ingredients
lemon wedge
8 mint leaves
1.50 ounces absinthe
2 ounces soda water
Instructions
Muddle mint and lemon wedge in a cocktail shaker. Add absinthe, simple syrup and ice.
Shake to combine.
Pour over crushed ice in a tall glass.
Top with soda water.
Garnish with mint and lime, if desired.
Cheers!
Recommended Products
As an Amazon Associate and member of other affiliate programs, I earn from qualifying purchases.
Nutrition Information:
Yield:
1
Serving Size:
1
Amount Per Serving:
Calories:

137
Carbohydrates:

11.9g
Interested in stocking your own home bar? Make sure to see our favorites at our Amazon Store!
If you liked this post, don't forget to subscribe for new (and of course free) recipes by entering your email address on the side bar (and get all the recipes delivered to your inbox when we post), so you don't miss out on a thing. You can find us on Facebook, Instagram, and Pinterest!
Gastronomblog is a participant in the Amazon Services LLC Associates Program, an affiliate advertising program designed to provide a means for sites to earn advertising fees by advertising and linking to amazon.com