Last Updated on June 10, 2023 by The Noms
This Southside Cocktail Recipe is so easy to make. It's like a Gimlet/Mojito, but was made at the New York 21 Club. You can even add soda water to make it a Southside Fizz. Easy and versatile!
Hello and welcome to another classic cocktail, the Southside! It's minty, botanical, and made with lime and gin. It is slightly sweetened, but is crisp and refreshing. We think it's perfect for sipping anytime, or afternoon cocktail on the patio. (or in the pool!)
This post contains affiliate links for products that we think you as readers might find useful, and we make commission off of these! For more details about our affiliates, click our Disclosure and Contacts Page.
Depending on how you look at it, the Southside is somewhere between a gin Mojito or a Gimlet with mint. New York's 21 Club says they lay claim to the recipe as part of its Prohibition menu, maybe?
The 21 Club in New York City, established by Jack Kreindler and Charlie Berns, was one of the great Speakeasys during Prohibition. The 21 Club was designed so the bar and all of its alcohol could be quickly hidden by levers and chutes should the police show up. The club still exists today, and still serves up a mean Southside cocktail recipe.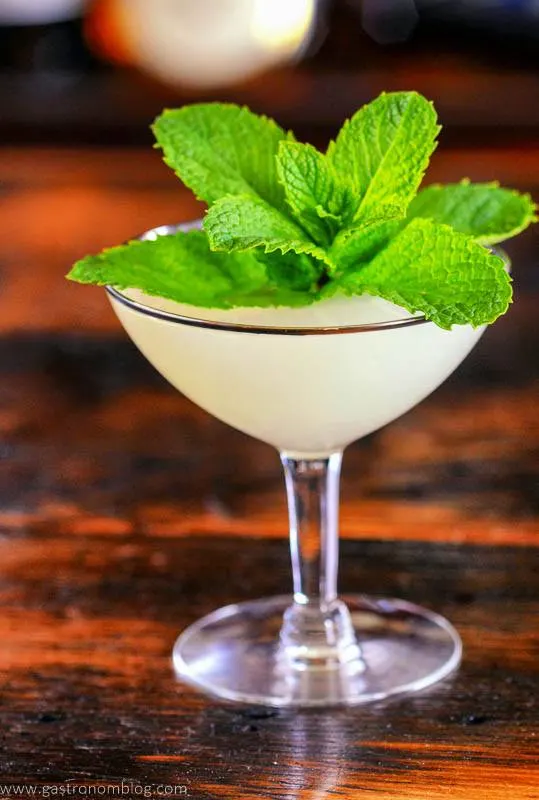 Southside Sportsmen's Club
It is maybe that some cocktail historians place it some 40 years earlier at the Southside Sportsmen's Club in Long Island. But, it may have come into popularity in the 1890s, when Fizz's were super popular.
The Southside Sportsmen's Club was a private club where New Yorkers went to hunt, fish and drink cocktails like Mint Juleps, which probably evolved into this Southside. The name stuck to the drink, and it became a staple, because it's as delicious as it is simple.
There is also a more interesting theory that the name refers to the South Side of Chicago. It may have been a favorite drink of Al Capone, whose gang ran the South Side! This may have been in the 1920s, because Chicago was a turbulent area under gang rule.
Al Capone was a bootlegger in the South of the city. It seemed there was a line between North and South Chicago, and one of the distinctions between these areas was the way they served their drinks. North side mobsters, who possibly had access to better spirits, drank gin and ginger ale, while those in the South possibly used lemon juice and sugar to mask the harsh taste of bathtub gin and moonshine.
What Is a Southside cocktail?
A Southside is a classic cocktail made with mint, simple syrup, lime juice and gin. It's can also be similar to a Tom Collins, but it's not carbonated and has lime and mint. Can you see where we are going with these classic cocktails? Most are all iterations off of each other! The oldest known printed recipe called the Southside was from 1917.
The fact that there are three variations adds some complication to the tale, but it is thought that the Southside Royale was started during Prohibition.
Southside Fizz
One variation on the Southside is the Southside Fizz! All you do is add soda water, and you've got a whole new drink. This version is refreshing as well, and bubbly. Adding soda water also waters it down a bit, so makes for a great daytime sipper (or anytime!) Or during sports – like at the Southside Sportsmen's Club!
There is also the Royale version, and it is in a coupe glass, and topped with champagne.
Harry Craddock, author of The Savoy Cocktail Book, in 1930, had a recipe for the Southside and does not omit the soda, so was the Southside Fizz was the first? Again, no one knows, but they are all tasty, and we should try them, right?!
What type of gin should be Used?
Use the highest quality gin you can for this Southside cocktail recipe. We are big proponents of the better the gin, the better the cocktail. Don't buy the cheapest gin you can find. Invest in a mid-price range gin: since this drink is so simple, it makes a huge difference the quality of gin you use! We recommend a London Dry, or a citrus forward gin.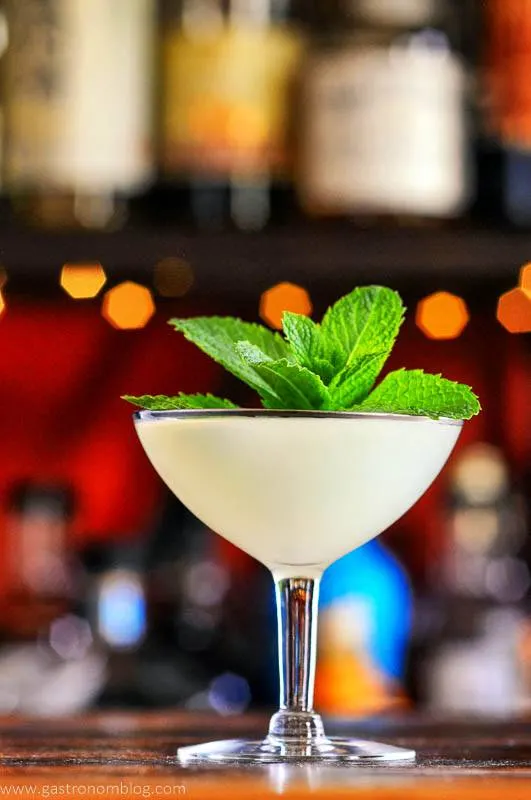 Mint Garnish
The garnish for this Southside cocktail recipe, you need to spank the mint leaves before adding them to the drink. What? Spank, slap, whatever you want to call it. But, here is why. If you give the mint leaf a slap between your hands, it releases the essential oils in the mint.
This does give the drink a more herby mint flavor! It's perfect for garnishes in any mint cocktail – Julep, Cucumber Cooler! We will going to make these all season long when our mint is growing, like the mint forest we have under our deck this year!
Cheers!
Also, don't forget to follow us on Instagram and tag #gastronomcocktails so we can see all the wonderful recipes YOU recreate from this site!
You can also subscribe to our weekly newsletter so you never miss a delicious recipe again!
Like this recipe? Try these below, too!
Basil Gimlet
Blueberry Pineapple Mojito
Other Gin and Mint Cocktails
Yield:

1
Southside Cocktail Recipe
This Southside Cocktail Recipe is a tasty one, a classic gin cocktail for a reason!
Ingredients
2 ounces Gin
1 ounce lime juice
6-8 mint leaves, more for garnish
Instructions
Combine all ingredients in a shaker with ice. Shake to combine.
Strain into a coupe.
Garnish with a mint sprig.
Cheers!
Recommended Products
As an Amazon Associate and member of other affiliate programs, I earn from qualifying purchases.
Nutrition Information:
Yield:
1
Serving Size:
1
Amount Per Serving:
Calories:

224
Sodium:

17mg
Carbohydrates:

20.0g
Fiber:

.1g
Sugar:

.5g
Protein:

.1g
Interested in stocking your own home bar? Make sure to see our favorites at our Amazon Store!
If you liked this post, don't forget to subscribe for new (and of course free) recipes by entering your email address on the side bar (and get all the recipes delivered to your inbox when we post), so you don't miss out on a thing. You can find us on Facebook, Instagram, and Pinterest!
Gastronomblog is a participant in the Amazon Services LLC Associates Program, an affiliate advertising program designed to provide a means for sites to earn advertising fees by advertising and linking to amazon.com