Last Updated on September 17, 2023 by The Noms
Need a Kentucky Derby cocktail? We have you covered with this classic Mint Julep recipe!
In honor of the Kentucky Derby horse race, we celebrated by making our own Mint Juleps! The Mint Julep was first prescribed in 1784 for stomach issues (best medicine ever!), and in 1803 was described in a book in London as, "a dram of spirituous liquor that has mint steeped in it, taken by Virginians of a morning." In the nineteenth century juleps were made with both bourbon and Genever, an aged gin.
The Julep is definitely a southern United States staple, and has become the official drink of the Derby.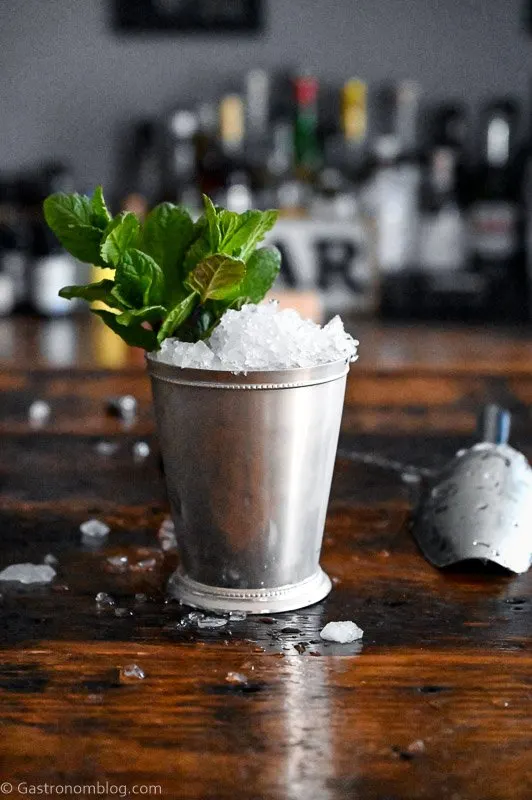 This post contains affiliate links for products that we think you as readers might find useful, and we make commission off of these! For more details about our affiliates, click our Disclosure and Contacts Page.
What is a Mint Julep Cocktail?
Churchill Downs has promoted and served Mint Juleps since 1938 and julep cups were handed out as souvenirs! They have been the official drink of the Kentucky Derby since then. Each year around 120,000 of this classic mint julep recipe are served over the 2 day race events. That's a lot of bourbon! While Woodford Reserve Bourbon is the official whiskey of the Kentucky Derby, you can choose any Kentucky Bourbon to use. Also, try our Mezcal version with our Mezcal Mint Julep!
But basically a Mint Julep has 4 ingredients. This classic cocktail is made from mint, sugar, bourbon and crushed ice. Kentucky Bourbon is the classic base for a perfect Mint Julep. There are 2 ways to make a Julep, and it can be divisive on the best tasting version.
More experienced cocktail enthusiasts can use granulated sugar and a muddler with a dash of water to dissolve the sugar and muddling the mint extracts the flavor from the mint leaves. This is more labor intensive, and personally it leaves "grit" in the bottom of a cup unless you REALLY muddle and dissolve it well.
We prefer a simple syrup version. It dissolves easier and makes it faster if you are making a lot for a party, or you just want to drink your julep faster! This version also makes it easier to set up a mint julep bar if this is something you are doing for a party. Your guests can make their own and regulate the sweetness level of their drinks. Or, if they only want an ounce of bourbon whiskey instead of two!
Check out these plastic cups perfect as Mint Julep Cups if you don't want to splurge for the sterling silver Julep cups!
What is the Kentucky Derby?
The Kentucky Derby is a horse race held annually in Louisville, Kentucky. It is called "the fastest 2 minutes in sports" because that is how long the race is. The events surrounding it though happen all weekend long. Hence the popularity of the mint julep and other Kentucky Derby cocktails.
It always takes place the first Saturday of May, and has since 1875, the very first Kentucky Derby. It was all inspired by some horse races started in England in the 18th Century. In 2024 it will be the 150th anniversary. Maybe someday we will get to go to Churchill Downs (where the race is held) and have an authentic Kentucky Derby Mint Julep in person! With a fancy hat, of course!
Try out a Rum Julep or a Blackberry Sage Kentucky Mule, too!
How Much Does it Cost for a Mint Julep at the Kentucky Derby?
Well, the most expensive ones are $1,000 and made by race sponsor Woodford Reserve Bourbon. I don't know about you, but we can make it much cheaper at home! Of course, they are that expensive for their mint julep charity program, and you do get a fancy silver or gold julep cup, too!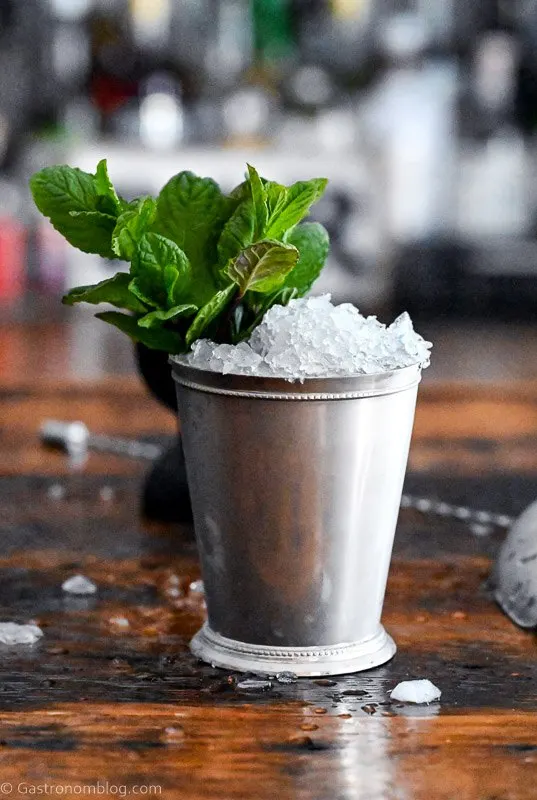 I can't tell you what the basic price of a traditional mint julep is at the race, but they use the best bourbon they can, cracked ice, a sprig of fresh mint and some sweetener to make this classic cocktail. Sounds like a great derby weekend to me sipping this favorite drink.
What Ingredients are Needed for the Mint Julep?
Bourbon – Kentucky Bourbon, of course, as they highlight the flavor from oak barrels and local grain! We suggest Woodford Reserve if you want to stay authentic. But, other great choices would be Old Forester, Evan Williams, or Elijah Craig.
Simple Syrup – best is homemade, and so easy to make! Get our homemade simple syrup recipe and make your own!
Mint – spring mint pops up in our yard early in the spring, so we already have some! But, most grocery stores or farmers markets have fresh mint, so check there if you don't have your own! You want some for the garnish too, so put them in a glass of water, like you would flowers, to keep them fresh!
Crushed Ice – The point of the crushed ice is to let the drink dilute as you drink it. The silver of the cup will keep the drink cold (it does get frosty), and it will stay cold for a while, but you need some dilution to the bourbon as you drink it! Makes it much more refreshing!
How do You Make a Mint Julep?
First, make sure you have homemade simple syrup made. This can be done even days in advance. Then, you need to have some crushed or freshly cracked ice. We use a Lewis Bag and Mallet to crush our ice at home. This ice is essential for a classic Mint Julep. Once you have your ice ready to go, you are ready to start making the Mint Juleps!
You can use a julep cup, or just a rocks glass if you don't have one. Slap the mint to release some essential oils and rub the inside of the julep cup if you would like with the fresh mint leaves. Place in the bottom of the cup and top with simple syrup. Use a muddler or the back of a spoon to press down on the mint.
Just press to combine mint and syrup, don't mash or muddle, as this will make mint bitter. Add in bourbon and fill cup with crushed ice. Combine to stir the ice and all the ingredients in the bottom of the cup with a bar spoon. Top again with more ice until it mounds on top. Add a sprig of mint for garnish, and a straw if you would like!
How To Make Crushed Ice
Like we said above, crushed ice is an actual ingredient for the Mint Julep, as it makes the Mint Julep. It is easy to make. You can use a Lewis Bag and Mallet, food processors or blender. The electric kitchen tools can make crushing ice a lot easier. In a pinch, you can also use a plastic bag wrapped in a towel and a rolling pin to crush your ice.
Whatever method you choose, crush it to order. You can make some in advance and store it in the freezer, but it may stick together. If so, just hit it against the counter or floor if you need to.
Tips & Tricks
Bitters – completely optional, but you can add bitters to this recipe if you would like to. This can take away some heaviness of the bourbon if you don't normally drink it. We recommend regular Angostura bitters, mint bitters, orange bitters or any nut bitters like almond, macadamia or pecan.
Crushed Ice – like we said above, this makes for a better julep, by frosting the cup and adding some dilution to the bourbon-heavy drink. Use a Lewis bag and mallet if you are crushing your own fresh ice, or you can use pebble ice if you have your own pebble ice countertop machine. (We aren't that fancy yet!). An ice scoop and bowl of crushed ice make it super easy to serve. Also – have enough ice. These use a LOT of ice. Make sure to get more pounds of ice than you think you need.
Bourbon – use quality Kentucky bourbon. Bourbon is the star in the cocktail. Woodford Reserve is the official bourbon of the Kentucky Derby, but some other good choices could be Old Forester, Evan Williams, Elijah Craig or Four Roses. These cocktails also use 2 ounces of bourbon each, so make sure you have enough bottles of bourbon and don't run out!
Non-Alcoholic Version – You can use some lemon juice along with the simple syrup and mint. Double the simple syrup. Or, use a non-alcoholic whiskey in place of the bourbon. Add a bit of ginger ale or ginger beer for a "bite" like alcohol has.
Sweetener – if you don't want to use the simple syrup, you can instead muddle some sugar or sugar cubes with a dash of water to dissolve it. Or, use powdered sugar as this superfine sugar dissolves easier. Or, brown sugar like in our Mezcal Mint Julep. Or, you can try maple syrup or a low carb sugar sweetener option. Also, if you really want the mint flavor to shine, add a tablespoon mint simple syrup instead of just plain syrup.
Garnishes – generous sprigs of fresh mint are the classic garnish. To make a perfect drink you don't have to have it though. Try out some rose petals (the race is called Race for the Roses, too), an orange peel, or lemon peel at the top of the glass when you serve.
Glassware – use what you have. If you don't have fancy silver julep cups or gold cups, who cares! Plastic glasses work, as do rocks glasses, pewter cups, other silver cups, double old fashioned glasses and even a tall glass.
Mint Julep Variations – there are lot of variations of the Mint Julep, so experiment with flavors and ingredients. Berry, sweet tea and peach are common variations.

Sweet Tea
Peach Mint Julep, Ginger, Berries, cherry, lime juice
Thin Mint – add some white creme de cocao for a chocolate mint version
Chocolate Mint version with a chocolate mint syrup
Alcohol: switch out the base alcohol to rum, vodka, gin, or scotch, mezcal, brandy
Flavored Syrups – change out the simple syrup for other flavors. Mint simple syrup, vanilla, strawberry simple syrup, peach syrup, lemon simple syrup, check out all of our simple syrups for more ideas!
If you came from this picture – you are in the right place. We just updated the photos in May 2023!
Try out our Kentucky Horsefeather Drink Recipe, plus check out our post all about What Drinks Are Served at the Kentucky Derby!
We hope you try out this signature drink of the Kentucky Derby!
Cheers!
Also, don't forget to follow us on Instagram and tag #gastronomcocktails so we can see all the wonderful recipes YOU recreate from this site!
You can also subscribe to our newsletter so you never miss a delicious recipe again!
Like this recipe? Try these below, too!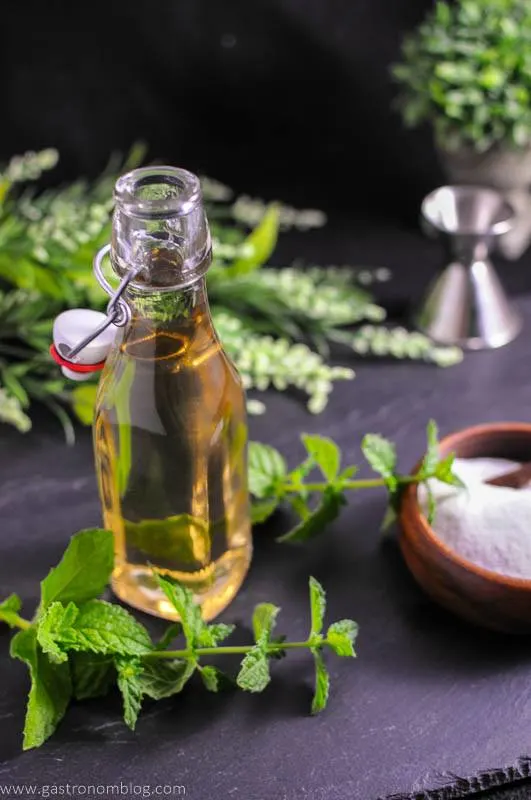 Mint Simple Syrup
The Recap – A Port Wine Cocktail
Other Julep Recipes
Kentucky Derby Party Food Ideas

If you need some food ideas for your Kentucky Derby party, here are some great ideas to go along with the leafy Southern sipper:
Yield:

1
Kentucky Derby Mint Julep - A Bourbon Cocktail
A celebration cocktail for the Kentucky Derby or anytime for a refreshing drink. This classic mint julep recipe is a tasty one!
Ingredients
mint sprig
5 mint leaves
2 ounces bourbon
Instructions
Clap the mint leaves between your hands to release the oils, rub the inside of the cup with them, place them in the bottom of the glass.
Add in the simple syrup and press down gently on the mint leaves to express the oils. Add in the bourbon.
Fill the glass with ice until it mounds over the top.
Garnish with mint sprig.
Cheers!
Recommended Products
As an Amazon Associate and member of other affiliate programs, I earn from qualifying purchases.
Nutrition Information:
Yield:
1
Serving Size:
1
Amount Per Serving:
Calories:

282
Total Fat:

0.3g
Saturated Fat:

0g
Trans Fat:

0g
Unsaturated Fat:

0g
Cholesterol:

0mg
Sodium:

41mg
Carbohydrates:

38.6g
Fiber:

2.3g
Sugar:

0g
Protein:

1.1g
Interested in stocking your own home bar? Make sure to see our favorites at our Amazon Store!
If you liked this post, don't forget to subscribe for new (and of course free) recipes by entering your email address on the side bar (and get all the recipes delivered to your inbox when we post), so you don't miss out on a thing. You can find us on Facebook, Instagram, and Pinterest!
Gastronomblog is a participant in the Amazon Services LLC Associates Program, an affiliate advertising program designed to provide a means for sites to earn advertising fees by advertising and linking to amazon.com