Last Updated on June 8, 2023 by Leah Hall
In the spirit of both Cinco de Mayo and the Kentucky Derby, here is a Mezcal Mint julep cocktail to celebrate them together!
We love a good Mint Julep! And if you are wanting to celebrate Cinco de Mayo and the Kentucky Derby together, we have you covered! There are times they both fall on the same day, or only a day apart. The Kentucky Derby is the first Saturday in May, and of course Cinco de Mayo is May 5.
This post contains affiliate links for products that we think you as readers might find useful, and we make commission off of these! For more details about our affiliates, click our Disclosure and Contacts Page.
We know that in the spring there aren't a whole lot of holidays or events that call for big celebrations, but these two days tend to be a good excuse to break out the bar cart and celebrate with a few cocktails! Both Cinco de Mayo and Derby Day are associated with iconic traditional cocktails, so naturally we are big fans of these holidays!
Juleps are smash cocktails, a fruity drink along the same lines that a Moscow mule or whiskey sour are simple ingredients and basic flavors. These basic flavors can be amped up by using other ingredients. This smokey Mezcal cocktail is an example of that, a twist on a classic mint julep.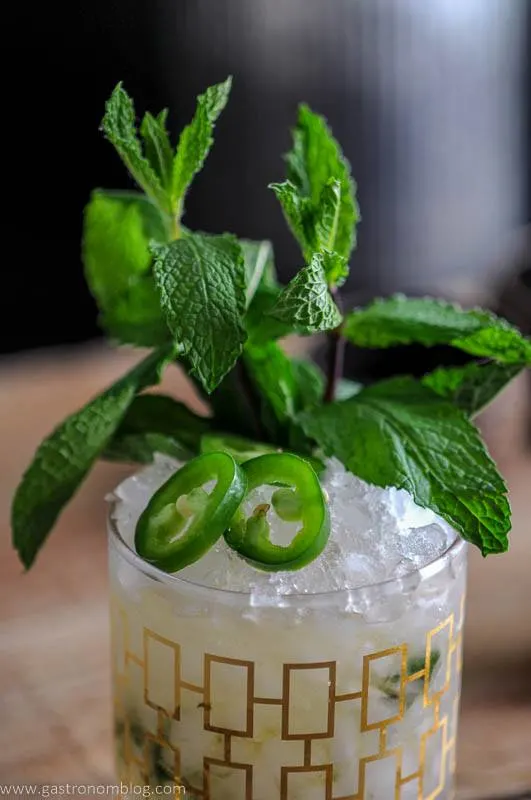 Mezcal Julep
We decided we should have a recipe that celebrated both holidays, with them being so close together. So we combined parts of them into one, and with that, the Mezcal Mint Julep was born! Perfect for a hot summer day, we made this twist on the official cocktail of the Kentucky Derby! Try our Peach Mint Julep.
Cinco de Mayo
These days, Cinco de Mayo is known as a good excuse to party! But really, the celebration has its roots way back to 1862 when the Mexican Army defeated the French at the Battle of Puebla. The French Army was considered a vastly superior force, better equipped and with far more troops than the out-manned Mexican Army.
But, against all odds, the Mexican Army came out victorious, and the next week the President of Mexico declared May 5th would be a national day of celebration in Mexico.
How to Celebrate
And while celebrating a Mexican military victory is natural in Mexico, it really doesn't make a lot of sense if you live in another county. This is where the great melting pot experience of living in the United States starts kicks in and the blending in of other cultures leads to celebrating all kinds of heritages.
It was only natural when Mexican Americans started celebrating their Mexican heritage on Cinco De Mayo! A Mexican celebration calls for some kind of cocktail, and the most iconic Mexican cocktail might be a margarita!
The margarita is a classic cocktail, made with tequila, orange liqueur and lime, a pleasing combination. A mix of sweet and tart citrus that is refreshing and crisp. While most people make their margaritas with tequila, we use mezcal a lot, or a combo of the two for an even more fun cocktail.
Mezcal is the bolder, smokier cousin of tequila that brings a depth and richness to the classic margarita. Both spirits are native to Mexico, so using a good mezcal in a cocktail definitely is a great way to celebrate Mexico! Or just an average taco Tuesday, but perfect for Derby weekend.
Kentucky Derby
The other big spring event that is definitely a party is the Kentucky Derby. The derby is held the first Saturday of May, and is a big and very famous horse race, but really is just a good excuse to drink the signature drink of the Kentucky Derby, the Mint Julep.
The official cocktail of the Kentucky Derby since 1938, the Mint Julep gets a big bounce in popularity when the Kentucky Derby rolls around. In fact, during the Derby weekend they have typically served around 120,000 mint Juleps!
Traditionally served in a silver julep cup amidst a pile of crushed ice, the mint julep is famous not only for its dominance of the Derby, but also as the drink of choice on many porches across the American South on a hot summer evening. The Mint Julep is a classic smash cocktail made with bourbon, sugar and mint.
At this point, the appeal of the Mint Julep in the American South started to make sense when add in a pile of crushed ice and a large pour of the South's favorite spirit, bourbon. The Mint Julep is served icy cold (and ideally cold enough to frost the glass or julep cup!) When made properly, the perfect combination of herbal sweetness helped to beat the heat!
Whether bourbon cocktails or mezcal cocktail recipes, they are both tasty.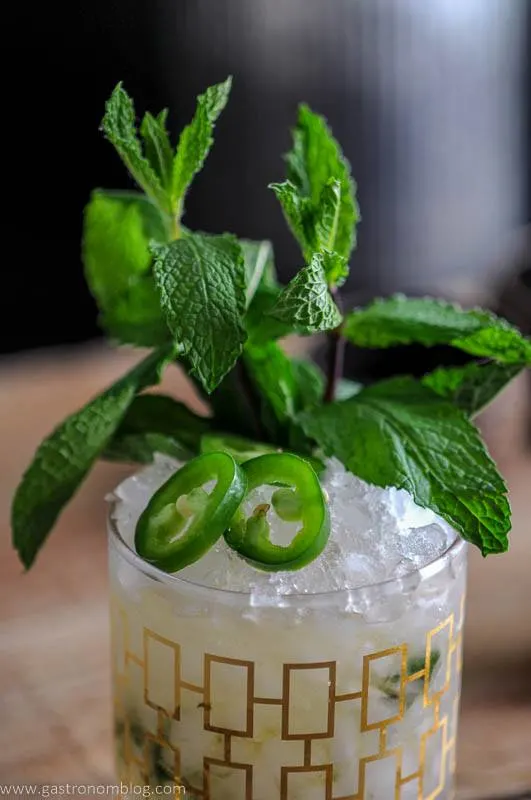 How to Make a Mezcal Mint Julep
We call for brown sugar as the sweetener in this Mezcal Mint Julep. First, combine brown sugar and some water in the bottom of each serving glass to dissolve it. Add in some mint leaves and press down to release the essential oils. (Don't muddle roughly, this will make the mint bitter!) Top with some mezcal and fill the glass with crushed fresh ice. (Use a Lewis Bag and Mallet to make your own!) Stir to combine and then top with more ice.
Garnish with a mint sprig and some jalapeno slices for some heat and green color! Try our Rum Mint Julep, too! Or, another fresh mint cocktail is our Mint Lavender Limeade!
The original chilled frosted cocktail is why traditionally the mint julep is served in a metal julep cup. The metal helped to conduct the chill out to the exterior of the cup. It also created a frosty finish all over the outside of the cup! So, you can feel free to use a julep cup, but a rocks glass is fine as well!
Doesn't a julep have to be made with bourbon?
The answer is no! In fact, the julep was likely originally made with brandy or gin! So, substituting in a great bold spirit like mezcal to make our Mexican Mint Julep means that this will be one great sipper! Try our Chocolate Mint Julep, too!
What Ingredients are Needed for the Mezcal Mint Julep?
The smoky spice of the mezcal playing against the herbal sweetness of the mint and sugar makes for a really pleasing sip. We swapped out the regular sugar for some rich brown sugar. This adds a warm depth to the sweet side and bringing a hint of that caramel flavor that can be found in bourbon! Add in the crushed ice to chill everything down and top it with a few jalapeno slices and a bouquet of fresh mint and you have a Mexican Mint Julep to celebrate!
Mezcal – this distilled alcoholic beverage is made from agave, the smokier cousin of tequila. The name comes from Nahuatl mexcalli, which means "oven-cooked agave". It is made from the heart of the blue agave plant, and is mostly crafted by small-scale producers. The heart of the agave is cooked for around 3 days in pit ovens, which gives mezcal its' intense and distinctive smoky flavor. Use your favorite mezcal, or some we recommend are: Del Maguey, Mezcal Amaras, El Silencio mezcal or Ilegal.
Mint – both in the cocktail and a bunch for a garnish are needed. Remember when using mint in a cocktail to not muddle roughly, just press down on the delicate leaves to release the essential oils. And keep your mint bunch in some water before using as a garnish so it stays fresh and green!
Brown Sugar – we loved the darker molasses flavor the brown sugar gave to this delicious cocktail.
Jalapeno Slices – as a garnish, but if you want some spice in the drink, you can muddle some more slices when you are pressing down on the mint leaves.
Crushed Ice – again, a Lewis Bag and Mallet are easy to use. Or, if you need to use a plastic bag wrapped in a towel and use a rolling pin to break up the ice. You can also use a food processor or blender.
Tips & Tricks
Non-Alcoholic Version – You can use some lemon juice along with the simple syrup and mint. Double the simple syrup. Or, use a non-alcoholic mezcal in place of the mezcal. Add a bit of ginger ale or ginger beer for a "bite" like alcohol has.
Sweetener – if you don't want to use brown sugar, you can try maple syrup or a low carb sugar sweetener option. Sweet honey or agave syrup goes great with a splash of mezcal, also!
Garnishes – generous sprigs of fresh mint are the classic garnish. We added the jalapeno slices, but small peppers or flowers could work, too! To make a perfect drink you don't have to have it though. Try out some rose petals (the race is called Race for the Roses, too), an orange peel, or lemon peel at the top of the glass when you serve. Some other ideas could be a lime wedge, watermelon slice, cucumber slices, peach slice, or a dash of chili powder over the top.
Glassware – use what you have. If you don't have fancy silver julep cups or gold cups, who cares! Plastic glasses work, as do rocks glasses, pewter cups, other silver cups, double old fashioned glasses and even a tall glass.
Other Variations – feel free to play with the flavors and add some juices like fresh lemon juice, mango juice, watermelon juice. pomegranate juice or fresh lime juice. Some other add-ins could be orange liqueur, apple cider as fall cocktails!
Other Mezcal cocktails – here are some more of the best mezcal cocktails for you that will maybe become your signature cocktails using smoky Mezcal! Mezcal Paloma, Mezcal Old Fsahioned, Mezcal Negroni, Mezcal Margarita, Mezcal Mule, Mezcal Sour, Strawberry Mezcal Mojito, a Peach Mezcal cocktail or try a tequila Old Fashioned or Peach Margarita.
Other Tequila and Mezcal Cocktails
Check out our post all about What Drinks Are Served at the Kentucky Derby! Cheers!
Also, don't forget to follow us on Instagram and tag #gastronomcocktails so we can see all the wonderful recipes YOU recreate from this site!
You can also subscribe to our newsletter so you never miss a delicious recipe again!
Like this recipe? Try these below, too!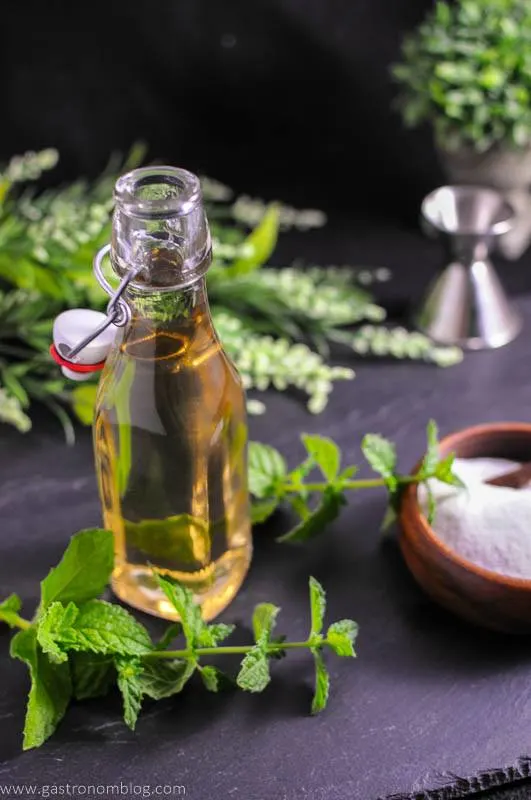 Mint Simple Syrup
Blueberry Mint Sorbet Sparkling Rose Float
Other Mint Juleps
Yield:

1
Mezcal Mint Julep
A fantastic combination cocktail to celebrate both Cinco de Mayo as well as the Kentucky Derby! Mezcal is a smoky tequila that plays well with the brown sugar and mint in this refreshing twist on the classic cocktail. Make this Mexican Mint Julep!
Ingredients
Mexican Mint Julep
1 teaspoon brown sugar
4-5 drops of water (enough to get sugar to dissolve)
4-5 mint leaves
2 ounces Mezcal
Crushed ice
jalapeño slices for garnish
Mint bunch for garnish
Instructions
Add brown sugar and water to a rocks glass or julep cup.
Stir the sugar and water until it starts to dissolve.
Add the mint leaves.
Press the mint and sugar. Don't muddle the mint leaves, just press to release the oils.
Fill the glass with crushed ice.
Add Mezcal and stir until the glass is frosty.
Top with more crushed ice, jalapeno slices and a bunch of mint.
Cheers!
Recommended Products
As an Amazon Associate and member of other affiliate programs, I earn from qualifying purchases.
Nutrition Information:
Yield:
1
Serving Size:
1
Amount Per Serving:
Calories:

173
Total Fat:

0.3g
Saturated Fat:

0g
Trans Fat:

0g
Unsaturated Fat:

0g
Cholesterol:

0mg
Sodium:

5mg
Carbohydrates:

6.8g
Fiber:

0g
Sugar:

2.9g
Protein:

1.5g
Interested in stocking your own home bar? Make sure to see our favorites at our Amazon Store!
If you liked this post, don't forget to subscribe for new (and of course free) recipes by entering your email address on the side bar (and get all the recipes delivered to your inbox when we post), so you don't miss out on a thing. You can find us on Facebook, Instagram, and Pinterest!
Gastronomblog is a participant in the Amazon Services LLC Associates Program, an affiliate advertising program designed to provide a means for sites to earn advertising fees by advertising and linking to amazon.com