Last Updated on June 10, 2023 by The Noms
This peach mint julep cocktail is an easy drink to make, and so full of flavor!
This Peach Mint Julep Cocktail is a great refreshing drink for any time of year, but especially perfect for around Kentucky Derby time. This refreshing cocktail is best with fresh peaches, so instead of making this for the Kentucky Derby, which is the first weekend in May, not prime peach season. Once peach season hits (August or September), plan on making these Peach Mint Juleps over and over!
A traditional Mint Julep is a combination of bourbon, sugar, mint and crushed ice. This bourbon cocktail is a staple at Churchill Downs in Louisville, Kentucky at the "fastest two minutes in sports." The classic mint julep served in a julep cup at the races is made with Woodford Reserve bourbon. You can definitely use that bourbon, or any Kentucky bourbon in this peach cocktail.
This post contains affiliate links for products that we think you as readers might find useful, and we make commission off of these! For more details about our affiliates, click our Disclosure and Contacts Page.
Beyond the classic bourbon and mint, this drink requires crushed ice.
Crushed ice is necessary before mixing this cocktail. Make sure you have a mound of it in your glass before pouring your drink in! Mint julep cocktails are traditionally served in silver cups so the cup maintains optimum frost. But, they work just as well in any rocks glass.
Mint juleps are for bourbon lovers, so it's probably safe to say that they're not for you if you don't like bourbon. We have a great mezcal mint julep though, and you can always use brandy or gin if you just can't do whiskey. Or our Rum Julep, Chocolate Mint Julep or Lavender Mint Limeade!
What's the Difference Between a Mojito and a Mint Julep?
They both use fresh and delicious mint, but a mint julep is different because it doesn't have citrus juice and it uses bourbon instead of rum.
What Ingredients are in the Peach Mint Julep?
Fresh mint leaves – you need fresh mint leaves in the cocktail, as well as sprigs of mint for the garnish.
Peach – fresh peaches are the best option for this recipe. So make sure peaches are in season and are ripe, as you need to muddle ingredients!
Bourbon – Woodford Reserve bourbon is the Kentucky Derby's favorite to use in a mint julep, but feel free to use any Kentucky Bourbon. We suggest Maker's Mark, Old Forester, Buffalo Trace or Elijah Craig.
Peach Bitters – This adds some extra peach flavor, but Angostura bitters can be used if you don't have peach bitters.
Crushed ice – Crushed ice makes a julep. It keeps the drink super chilled and helps dilute it. You can use a Lewis Bag and Mallet, a plastic bag wrapped in towels and a rolling pin, a food processor or blender.
Simple Syrup – (Optional) this is an entirely optional, and we didn't need it in ours. But this ingredient entirely depends on how sweet your peach is. If your peach puree is super ripe you probably won't need it, but feel free to add it if you want a sweeter julep. Our homemade sugar syrup is a great option. Or, mint simple syrup works too!
How to Make a Peach Mint Julep
We chose peach for this mint julep cocktail, because peach and mint together are lovely, and peach and bourbon together are lovely. The math just worked, and we went with it. We made it even peachier by adding the peach bitters.
This drink is made in the glass and not with a cocktail shaker. Simply add the peach slices to a rocks glass and muddle until you have a peach puree. Add in your mint leaves and press gently down on them to release the essential oils. Add in bourbon and a scoop of crushed ice. Stir the mixture.
Add in bitters and more crushed ice. Garnish your serving glass with a peach slice and a large sprig of mint and you have a great Georgia Julep!
If you don't have peach bitters, use Angostura, orange or lemon bitters, as the citrus will work to bring out the peach flavor, too. But, the peach bitters are great in other drinks, too, we use them a lot in tropical drinks like our Fall in Paradise!
Also, gently clap the sprig of mint in your hands before garnishing. Clapping the herb once between your hands releases a lot of the natural oils in the mint, making it more fragrant. This will give you a great scent every time you take a drink, and it enhances your drinking experience. Trust us. Try more mint flavor in our Blueberry Mint Rose Wine Float!
Tips & Tricks
Garnishes – obviously a mint sprig and peach slices would work best. Other great options could be a lime wheel, lemon wheel, or citrus peels.
Peaches – if it's not fresh peach season, you can combine peach nectar (found in most grocery stores) in this cocktail. Just know it won't have the same richness as fresh peaches. You may also have to regulate the sweetness level with some simple syrup.
Sweetness – as we said above, simple syrup is optional. Homemade simple syrup is easiest and best. Easily made with equal parts combining a cup of water and cup sugar in a small saucepan, wait until sugar dissolves and thickens slightly. Then cool the syrup before use.
Other Julep Recipes – some other flavors of delicious cocktails could be adding to this peach julep with flavors of peach liqueur, peach brandy, Florida orange juice, fresh lemon juice, club soda, Florida grapefruit juice, or pomegranate juice. Or, try some other recipes like Honey Peach Mint Julep Cocktail, Pineapple Mint Granita or Pineapple Mint Julep Sangria.
Other Peach Cocktails
Cheers!
Also, don't forget to follow us on Instagram and tag #gastronomcocktails so we can see all the wonderful recipes YOU recreate from this site!
You can also subscribe to our newsletter so you never miss a delicious recipe again!
Like this recipe? Try these below, too!
Peach Zombie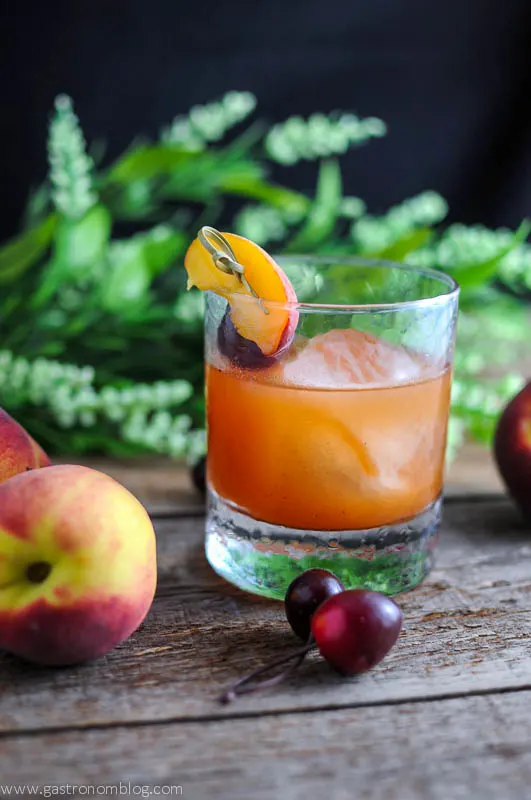 Fired Peach Old Fashioned
Other Mint Cocktails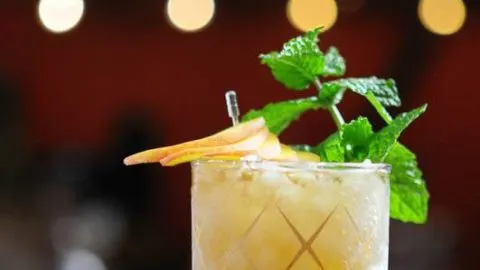 Yield:

1
Peach Mint Julep
This Peach Mint Julep Cocktail is a great peach twist on the classic Mint Julep. Perfect for anytime of year!
Ingredients
1/2 peach, sliced
10 mint leaves, more for garnish
2 ounces bourbon
3 dashes peach bitters
crushed ice
Instructions
Add peach slices into a glass.
Muddle peach slices until peaches are broken down. Add mint leaves but don't tear up the mint leaves too much, just lightly press.
Add in bitters, bourbon and some crushed ice, about 1/4 cup.
Stir to combine, Add more crushed ice to fill glass.
Garnish with peach slices and mint leaves if desired.
Cheers!
Notes
Crushed ice is ideal in this recipe. If you need crushed ice at home, a great thing to use is a Lewis Bag. If you are in a pinch, use a plastic ziploc bag wrapped in towel.
Place ice cubes in a Lewis bag (a cloth bag made for this purpose) and whack it until your cubes become
finely crushed ice.
Recommended Products
As an Amazon Associate and member of other affiliate programs, I earn from qualifying purchases.
Nutrition Information:
Yield:
1
Serving Size:
1
Amount Per Serving:
Calories:

166
Total Fat:

.3g
Sodium:

4mg
Carbohydrates:

8g
Fiber:

1.9g
Sugar:

7g
Protein:

1.1g
Interested in stocking your own home bar? Make sure to see our favorites at our Amazon Store!
If you liked this post, don't forget to subscribe for new (and of course free) recipes by entering your email address on the side bar (and get all the recipes delivered to your inbox when we post), so you don't miss out on a thing. You can find us on Facebook, Instagram, and Pinterest!
Gastronomblog is a participant in the Amazon Services LLC Associates Program, an affiliate advertising program designed to provide a means for sites to earn advertising fees by advertising and linking to amazon.com