Last Updated on October 10, 2023 by Leah Hall
ZOur tour of the Kō Hana Rum Distillery in Hawaii!
In March this year we went to Hawaii for a family vacation. We took the kids, and went with Jay's parents and sister, as well. For the first part of our trip we stayed on the North Shore, which was amazing by the way (the waves, the turtles, the beach!) But, of course, we had to add a boozy element even to family vacation, so we made the quick trip from the North Shore to Kō Hana Rum, which is in Kunia Camp, Hawaii.
Located about halfway between Honolulu and the North Shore, a visit to Kō Hana Rum is an easy trip no matter if you are enjoying the beaches of Waikiki or the waves of the North Shore!
This post contains affiliate links for products that we think you as readers might find useful, and we make commission off of these! For more details about our affiliates, click our Disclosure and Contacts Page.
Rum Distillery
When we travel, we are always interested in checking out local spirits. So when finding out there was a rum distillery on Oahu, we knew right away we had to schedule a visit! Rum is a favorite in this house, and we couldn't wait to try some Hawaiian Rum!
Kō Hana Rum
Kō Hana Agricole Rum is truly a farm to bottle experience. In fields just around the distillery, single varietals of native Hawaiian sugar cane are grown and then hand harvested, pressed to juice and then distilled within view of the fields where the cane was grown. Kō Hana's variety of sugar canes are not your typical sugar cane that you see in many sugar plantation, but are native to the islands and while they have less sugar, they have a very unique flavor which is evident in the flavor of the rums.
Kō Hana likes to say that their relationship to sugarcane is like a winery loving different grape varietals. Each cane brings a unique characteristic that contributes a specific flavor, which you get to try in the tasting room. After checking out the canes, you head back into the tasting room where fresh pressed sugarcane juice is served for you to sample.
These Kō plants (the sugarcane) were the start of the varietals of native Hawaiian sugarcane in existence today, drawing roots back to the canoes of the early native islanders who carried canes on their adventures. Rather than use molasses like many rum distillers use,Kō Hana uses the straight juice of the canes, which is why this rum is known as agricole (or agricultural in French) rum. Agricole rums tend to be more akin to wine, as you can taste the terroir (aka the land) and the grassy notes of the cane juice used to make the rum.
In Kō Hana's case, their carefully crafted rums are some of the finest examples of agricole rum that we have tasted (hey we ended up shipping 6 bottles home since we loved it so much!)
Kō (Sugarcane)
Kō was used in daily living and was planted around homes. It was valued for its ease of chewing and juice in the stalks, they also used the leaves. The sweet juice was an ingredient in medicinal recipes. Kō was also an offering to the Gods and as a component in ceremonies. Kō Manulele was one of three sugarcanes used to arouse a deep and everlasting love. There was also Kō that was for non lasting love (lust!).
It was fascinating learning all this info on the tour. We saw their garden where they showed off some of the different varietals of sugar cane, some of which tower above you! It is also worth taking a moment and enjoying the beautiful view (you could see the mountains of the Mokulē'ia Forest Reserve on the North Shore and Diamond Head and the ocean to the south!) You also get to stop in and see the still house where the rum is made.
Rum Tasting
After taking a tour of the grounds, its time for the main attraction, tasting some rum! Kō Hana gives you a chance to taste the gamut of styles, from white rum to an aged and blended rum.
We tried four different rums, with two versions of Kea, their white rum. Then we tried their Koho barrel aged rum, and then the Koholeka, a cocoa and honey rum. It was a great tasting, informative and so interesting comparing the 2 white rums with the aged and flavored.
With the Koho, there was a taste of their rum cake, which was a lovely bit of sweet before the sweetest, Koholeka. We ended up taking some rum cake back to our VRBO rental that night and made grilled pineapple, rum cake and coconut macadamia nut ice cream dessert, and it was AMAZING!!
Hawaiian Rum
The two Keas (each sample had been made with a different variety of cane!) was really interesting to try side by side. The first was a hit to the nose and palate with a little banana, olive brine and earthiness. The second sample was similar to the first, but the different varietal cane juice added a flavor of pepper, and fennel. It was interesting to sip them side by side.
Then the Koho was their barrel aged select rum. A gorgeous bronze color, this rum tasted of licorice, cinnamon and charred wood. It also had a woody bitterness and hints of herbal notes. It was perfect in the rum cake! We also got to try their barrel aged honey, which had great tropical flavors and was the epitome of the islands! Thanks, tropical honey bees!
The Koholeka was a favorite, because we love anything chocolate and this one combines rum and chocolate! This one uses the Kea rum, but with cocoa and honey infused into it! This one will be great in sweeter cocktails and definitely will be making an appearance on this blog in a tiki cocktail!.
What did We Buy?
We ended up buying 3 bottles of rum, along with 2 bottles of their barrel aged honey (which was amazing by the way!). So keep your eyes peeled for a cocktail or two featuring these great rums from Kō Hana Agricole Rum on the blog! We bought a bottle of the Koa, even though we didn't taste it, but had tasted it in San Francisco the year before, so we knew it was good!
And when you go to Hawaii, make sure to go on a tour and tasting! Also make sure to have some rum cocktails, like our Cuba Libre!
Make sure to stay at a VRBO for money saving accommodations while in Hawaii! Or, there are great hotels on Oahu as well!
Also, don't forget to follow us on Instagram and tag #gastronomcocktails so we can see all the wonderful recipes YOU recreate from this site!
You can also subscribe to our newsletter so you never miss a delicious recipe again!
Other Distilleries
Like this post? Check these out below, too!
Prohibition Spirits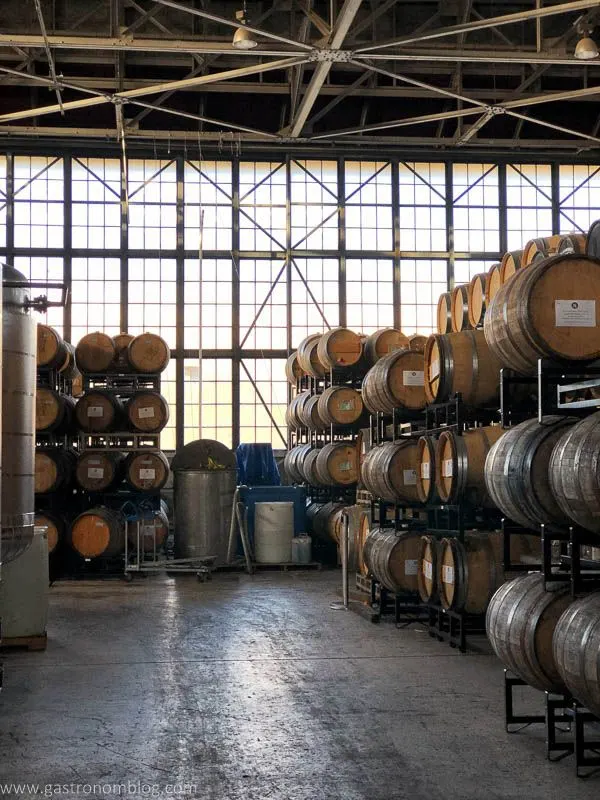 St. George Spirits
PIN THIS RUM DISTILLERY TOUR FOR LATER!
Interested in stocking your own home bar? Make sure to see our favorites at our Amazon Store!
If you liked this post, don't forget to subscribe for new (and of course free) recipes by entering your email address on the side bar (and get all the recipes delivered to your inbox when we post), so you don't miss out on a thing. You can find us on Facebook, Instagram, and Pinterest!
Gastronomblog is a participant in the Amazon Services LLC Associates Program, an affiliate advertising program designed to provide a means for sites to earn advertising fees by advertising and linking to amazon.com