Last Updated on June 13, 2023 by The Noms
We love the flavors in this classic gin cocktail, light and herbal with the lavender, perfectly citrusy with the lemon! Cheers to summer with this Lavender Bee's Knees!
We have been busy the last few weeks wrapping up the end of summer by finding ways to use our fresh herbs from our garden before the cold nights of fall finish off our herbs. One of the herbs we have been really enjoying is our lavender, which finally has established itself enough to bloom, its purple flowers fragrantly floral in the late summer sun.
This post contains affiliate links for products that we think you as readers might find useful, and we make commission off of these! For more details about our affiliates, click our Disclosure and Contacts Page.
Lavender Bee's Knees
We have enjoyed using lavender in some of our previous cocktails like the Brandy and Blackberry Lavender Shrub. Using lavender added a rich floral freshness to the recipe, too. We then decided to use a lavender infused simple syrup to make a delicious summer sipping cocktail, the Lavender Bee's Knees.
What is the history of the Bee's Knees?
The Bee's Knees is a delicious classic cocktail recipe that has been around since prohibition. Bee's Knees got its name from the popular 1920's phrase "It's the bee's knees," meaning the best. The Bee's Knees is a take off of the old standby, the Gin Sour cocktail, but uses honey to add a rich complex sweetness to the drink.
Likely the change from the classic sour recipe to add a big dose of honey syrup used in the original. It was to add an overwhelming sweetness to hide the questionable flavors of the bathtub gin that was common in the 1920's.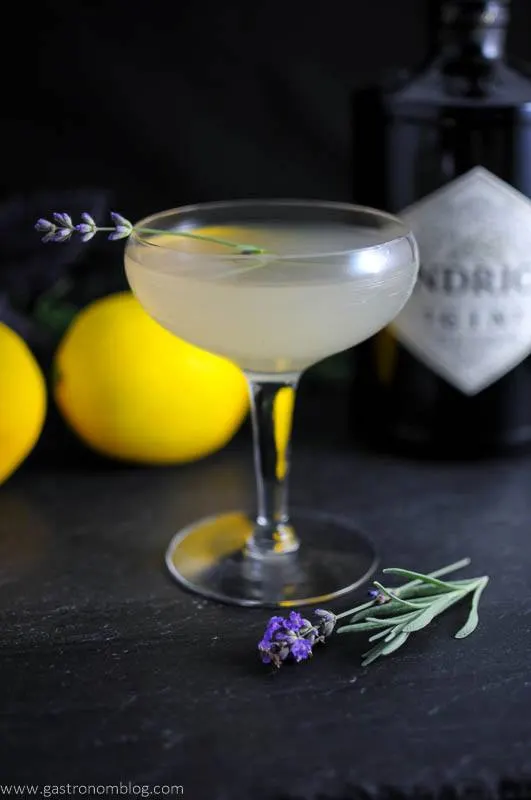 Shaker
When we started making the Lavender Bee's Knees, we found the original seemed a little sweet, especially for a summer sipper. We also were running a little short for the amount of honey the original recipe called to make the honey simple syrup.
What makes this Bee's Knees different?
Since we had a nice lavender infused simple syrup that we have been playing around with, we decided to sub in the lavender simple syrup for some of the honey syrup. It took this Lavender Bee's Knees down a whole different road than the original by adding a rich floral note.
If You are Looking for a Classic Cocktail, Try These!
We used a nice light gin, Hendrick's, which has a nice hint of floral sweetness that worked really well with the lavender syrup, too. Fresh squeezed lemon juice brings a tart component that works really well with gin, making the Lavender Bee's Knees a nice crisp cocktail good for sipping on a late summer evening.
We love a bit of honey to keep the rich sweetness and unique flavor that honey brings, and we hope that you try it with the floral flavor of the lavender. Try lavender in our Lavender Margarita, too!
What Ingredients are Needed for the Lavender Bee's Knees?
Lavender Simple Syrup

Lavender Sprigs
Water
Sugar
Honey

Cocktail

Lemon Juice
Lavender Honey Simple Syrup
Gin
Crisp and tart with a floral sweetness, we found ourselves sipping this on our porch as the sun set on a couple of wonderful warm evenings the past few weeks.
Cheers to this honey classic!
Also, don't forget to follow us on Instagram and tag #gastronomcocktails so we can see all the wonderful recipes YOU recreate from this site!
You can also subscribe to our newsletter so you never miss a delicious recipe again!
Like this recipe? Try these below, too!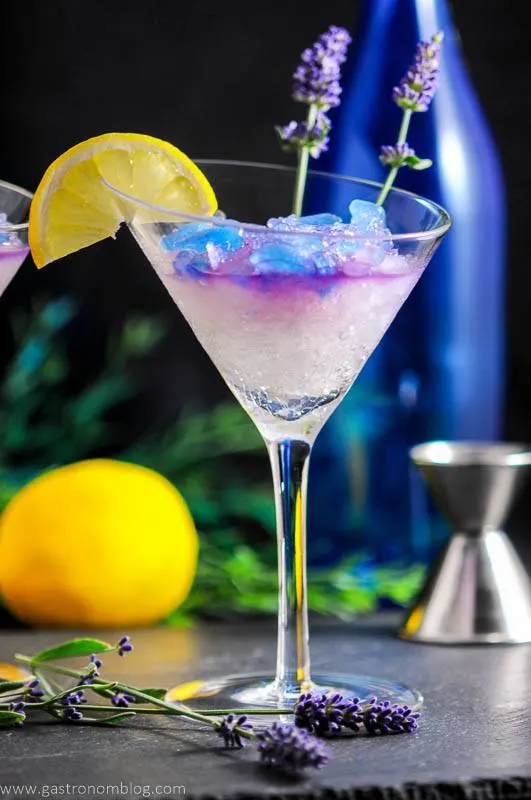 Lemon Lavender Gin & Tonic Granita Cocktail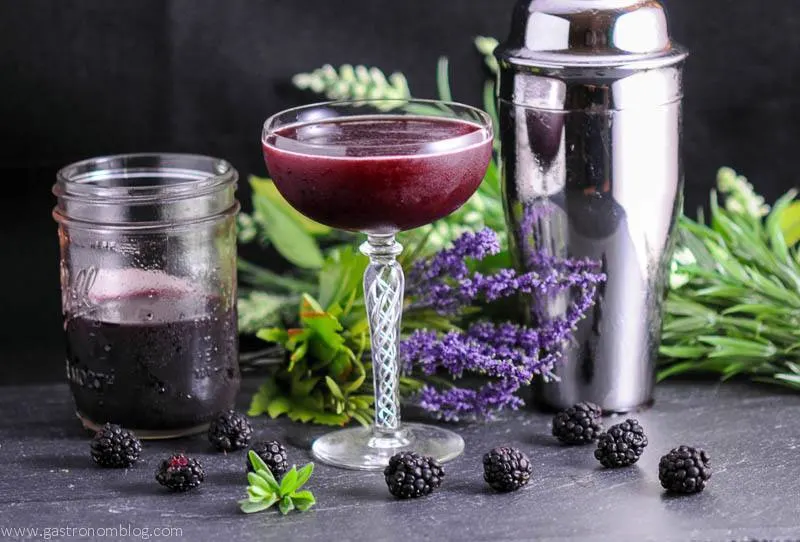 Brandy and Blackberry Lavender Shrub Cocktail
Other Bee's Knees Cocktails
Other Lavender Cocktails
Yield:

1
Lavender Bee's Knees - A Gin Cocktail
A lavender twist on the classic bee's knees cocktail, with gin and honey.
Ingredients
For the Lavender Simple Syrup
1 cup water
4-5 sprigs of lavender and/or flowers
1/2 cup sugar
1/2 cup honey
For the Cocktail
1 oz Lavender Honey Simple Syrup
1 oz freshly squeezed lemon juice
2 oz gin
Instructions
For the Cocktail
Add the ingredients to a shaker.
Fill shaker with ice.
Shake and strain into a cocktail coupe.
Garnish with a sprig of Lavender.
Cheers!
For the Lavender Simple Syrup
Bring sugar, honey and water to a boil, take off of heat, and add lavender sprigs.
Let sit for 15 minutes, strain out sprigs.
Store in an airtight container in the refrigerator up to 2 weeks.
Recommended Products
As an Amazon Associate and member of other affiliate programs, I earn from qualifying purchases.
Nutrition Information:
Yield:
1
Serving Size:
1
Amount Per Serving:
Calories:

268
Total Fat:

0.2g
Saturated Fat:

0.2g
Trans Fat:

0g
Unsaturated Fat:

0g
Cholesterol:

0mg
Sodium:

27mg
Carbohydrates:

30.2g
Fiber:

0.1g
Sugar:

6.4g
Protein:

0.3g
Interested in stocking your own home bar? Make sure to see our favorites at our Amazon Store!
If you liked this post, don't forget to subscribe for new (and of course free) recipes by entering your email address on the side bar (and get all the recipes delivered to your inbox when we post), so you don't miss out on a thing. You can find us on Facebook, Instagram, and Pinterest!
Gastronomblog is a participant in the Amazon Services LLC Associates Program, an affiliate advertising program designed to provide a means for sites to earn advertising fees by advertising and linking to amazon.com