Last Updated on June 12, 2023 by The Noms
This Barenjager Bee's Knees cocktail is so tasty and so easy to make with just 3 ingredients, perfect for Bee's Knees Week!
There is no better way to close out a busy National Honey Month than with a cocktail! Specifically, a Bee's Knees. A classic, with only three ingredients (gin, honey syrup, and lemon juice), this cocktail recipe is simple, but has an interesting history!
This post contains sponsored content brought to you by Marussia Beverages Group. We received compensation to create this post. But, all opinions and views presented here are 100% our own. This post contains affiliate links for products that we think you as readers might find useful, and we make commission off of these! For more details about our affiliates, click our Disclosure and Contacts Page.
A Bee's Knees is a Prohibition cocktail, meaning it was invented in the 1920s when drinking in the US was illegal. Gin was used as the base spirit, sometimes homemade gin, and because these homemade spirits were often pretty bad, they needed ingredients that would make them drinkable.
Bee's Knees Cocktail
In the Bee's Knees cocktail honey syrup and lemon juice were used to cover up the bad tasting gin!
This 100 year old cocktail has lasted, mostly in thanks to its perfect balance of honey simple syrup and lemon juice. Not too sweet, not too sour, it's a great sipper. It's a great refreshing cocktail to be enjoyed year round, especially in the warm days of September.
Bee's Knees Week
Our friends at Caledonia Spirits launched Bee's Knees Week in 2017 to call attention to the importance of honey bees. Honey bees are vital to our food systems (and drinks!). During Bee's Knees week, participating bars and restaurants across the country will be serving Bee's Knees cocktails and donating a portion of their profits to organizations that support the health of the honey bee industry!
This year's Bee's Knees Week is September 24-October 3, which is the perfect close to National Honey Month. Caledonia Spirits have a map of all participating venues where you can have a great cocktail while helping the honey bees.
If there is not a participating place near you, may we suggest that you make a Bee's Knees at home, and we have a great recipe for you, below!
Why Should We Take Care of the Bees?
Because chefs and bartenders need citrus, herbs and other ingredients that depend on pollination. Bees are needed for these things, if we didn't have bees we would have no flowers or plants, or anything really, no more coffee! Human life depends on them! Bees are endangered due to habitat loss and Bee's Knees Week is our way of directly helping the bees!
How Can You Support Bee's Knees Week?
Order a Bee's Knees cocktail at a favorite bar or restaurant or make one at home. Share on your social media and tag #beeskneesweek @barrhillgin. Caledonia Spirits will plant 10 square feet of bee habitat for every photo shared!
For: 1) a celebration of the bee's knees cocktail.
2) a spotlight on the importance of bees in our food and drink system.
3) a community of bartenders working together to save the bees.
Barenjager Honey Liqueur
In partnering with Barenjager Honey Liqueur we wanted to make sure to highlight the honey flavor of the liqueur in the Bee's Knees Cocktail. But, we also didn't want it to be overpowering or too sweet. So, we paired it with the obligatory lemon juice and exchanged the gin for aquavit.
Barenjager Honey Liqueur was originally called Barenfang "Bear Trap", and the drinkable honey wasn't just enticing to a bear, it soon became the drink of choice for the bear hunter, too! It developed as a mead like "moonshine" among the "Bärenjägers," (bear hunter), of medieval Europe. By the 15th century, these brews were made by many. It was around the time that Tuecke & Koenig Bear Trap Company introduced the first commercially produced liqueur, which was Bärenjäger.
Try it in our Thanksgiving Champagne Cocktail, too!
The taste of Barenjager is pleasant with cinnamon, cloves, allspice, and cardamom together. Can be used instead of honey or agave as a sweetener when needing to sweeten and spice a drink.
Aquavit
Aquavit is close to gin, but we wanted the dill and caraway flavors in aquavit to work with the honey. It is mostly distilled in Scandinavia and made using grain and potatoes. There are other herbs involved, but dill and caraway are the dominating flavors, but can have fennel, cumin and anise as adding flavors. We thought it would go really well as a gin replacement, and make the cocktail herbal, which is representative of Bee's Knees Week!
Pollinator Garden
2021 marks the 5th annual celebration of Bee's Knees Week. In 2020 there were over 7,400 #beeskneesweek posts on social media, helping to create over 74,000 square feet of new pollinator habitat. There has been an increase in pollinators since starting this initiative.
This year they have set an ambitious goal, aiming to plant 500,000 square feet of new pollinator habitat with the help of our friends and fans! So please help them out!
Cheers!
Also, don't forget to follow us on Instagram and tag #gastronomcocktails so we can see all the wonderful recipes YOU recreate from this site!
You can also subscribe to our newsletter so you never miss a delicious recipe again!
Like this recipe? Try these below, too!
Hot Honey Bee's Knees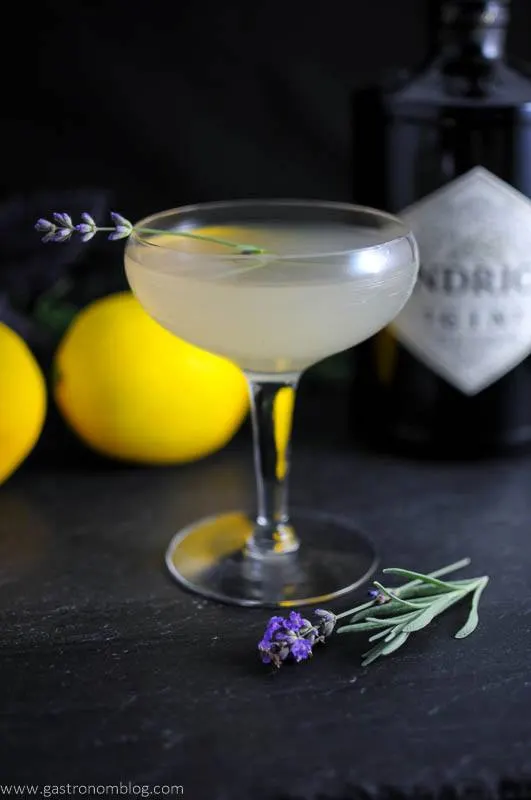 Lavender Bee's Knees
Other Honey Cocktails
Yield:

1
Barenjager Bee's Knees Cocktail
This Barenjager Bee's Knees is a delightful and simple Prohibition cocktail that we have switched up. We combined Barenjager Honey Liqueur with akavit and lemon juice!
Ingredients
2 ounces Aquavit Liquor
.75 ounce Barenjager Honey Liqueur
.50 ounce lemon juice
Instructions
Combine all ingredients in a shaker with ice.
Shake and strain into coupe.
Garnish with lemon peel, or dill flowers like we did!
Cheers!
Recommended Products
As an Amazon Associate and member of other affiliate programs, I earn from qualifying purchases.
Nutrition Information:
Yield:
1
Serving Size:
1
Amount Per Serving:
Calories:

222
Total Fat:

.2g
Saturated Fat:

.1g
Sodium:

6mg
Carbohydrates:

10.3g
Fiber:

.1g
Sugar:

10.2g
Protein:

.1g
Interested in stocking your own home bar? Make sure to see our favorites at our Amazon Store!
If you liked this post, don't forget to subscribe for new (and of course free) recipes by entering your email address on the side bar (and get all the recipes delivered to your inbox when we post), so you don't miss out on a thing. You can find us on Facebook, Instagram, and Pinterest!
Gastronomblog is a participant in the Amazon Services LLC Associates Program, an affiliate advertising program designed to provide a means for sites to earn advertising fees by advertising and linking to amazon.com