Last Updated on September 17, 2023 by The Noms
A flowery hibiscus simple syrup perfect for cocktails!
In the summer, we do lots of drinking on the patio by our swimming pool. We love to entertain out by the pool, sipping on cocktails and enjoying a little socializing with friends. Of course any good party has to have good decor, and we always decorate our pool deck with lots of beautiful hibiscus plants which give the pool deck a tropical feel with lots of beautiful flowers. Try our Pineapple Aperol Spritz if you want a porch pounder!
Hibiscus Simple Syrup
Of course these beautiful flowers also can be used to make a delicious hibiscus simple syrup. You can use Hibiscus Tea
bags if you don't have flowers that can be used in cocktails or sodas. We prefer to use dried petals in this recipe, as it is easier to work with, and the color and flavor is more intense than using fresh petals.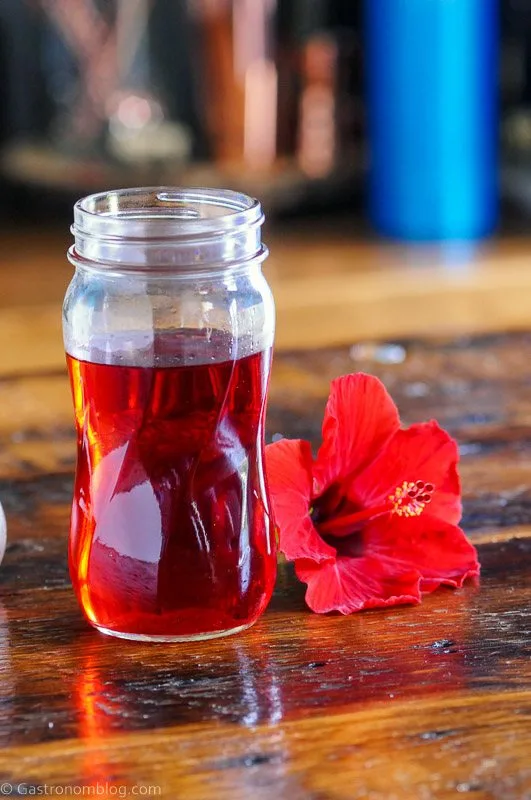 You can use fresh petals, but know that the infusion time is more, as is the color will be hit or miss, with it either being lighter or darker depending on what color petal you use. We used dried petals, as it's easier to control the level of color, flavor and more!
This syrup is a great way to add hibiscus flavor using a simple syrup recipe into a delicious drink recipe as well as adding vibrant color to new recipes and homemade drinks, too!
This post contains affiliate links for products that we think you as readers might find useful, and we make commission off of these! For more details about our affiliates, click our Disclosure and Contacts Page.
How to Make Hibiscus Simple Syrup?
This simple syrup is easy to make, but takes some time if you want to dry your own flower petals before making the hibiscus simple syrup. It is also important to note that the color of the syrup can vary greatly depending on the color of the flowers used to make the syrup. We tried some blood red flowers and our syrup came out almost black!
The hibiscus syrup is sweet (duh, simple syrup) but with a floral cranberry note, berries and almost a citrusy bite from the dried hibiscus petals. When used in drinks it can bring a subtle tangy flavor and a bold rich color. Great in craft cocktails and mocktails alike.
Right away when infusing the hibiscus starts to cast a red color in the water almost immediately when adding the petals. Hibiscus has been used with beets in natural food dye and it is such a bright red color.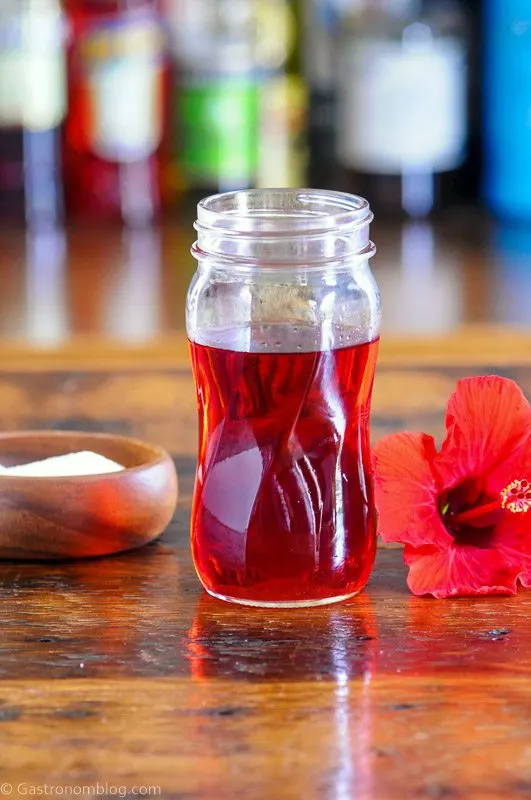 Simply combine a cup of sugar and a cup of water in a saucepan over medium heat. Heat the syrup 5-10 minutes until it just boils, stirring until the sugar dissolves, then pull off the heat. Add the dried hibiscus petals and steep for at least 15 minutes. This was our desired color in that time frame, but you can go as long as an hour if you want a richer and more flavorful syrup with a darker color.
Remove the dried flowers by pouring through a fine wire-mesh strainer into a glass bottle or glass jar. Cool to room temperature, then store in the refrigerator. Make this in small batches unless you are making a lot for the prettiest pink cocktails at a party.
How Do You Store Hibiscus Syrup?
Once the petals are strained out, we store it either in a mason jar or a swing top bottle. The swing top bottles have a stopper to keep the syrup air tight, and it does keep longer than even in a mason jar. It stays well in the fridge for up to 3 weeks.
What Is Hibiscus?
Hibiscus is a flower originating from Asia and the Pacific Islands.They grow in tropical and semi-tropical locals, although here in Nebraska we can grow them, as long as we bring them inside in the winter.
It can also be known as Jamaican Sorrel. Sorrel is the Jamaican name for a hibiscus flower known as the Roselle.
The flowers are dried and made into tea, which can be steeped as hot tea, or iced tea.
Where To Find Dried Hibiscus
Hibiscus can usually be found in teabags at grocery stores. We bought a big bag of dried petals, and they will keep for a long time, if they are sealed. You may not be able to find this at your local grocery store, but can be found at a health food store or online. You can also dry your own whole flowers if you grow hibiscus, but plan ahead for this time consuming project.
Can Simple Syrups go bad?
They can get moldy if they sit too long. We encourage you to store it in the fridge in an airtight container but for no more than two weeks. We actually have a whole shelf of simple syrups in our fridge at any given time!
Try some more red and pink cocktails with our Red & Pink Valentine's Day Cocktails!
What Do You Use Hibiscus Simple Syrup For?
Sodas – Simple sodas can be made with a tablespoon of the syrup over ice with sparkling water or soda water (Italian sodas). Great as a non-alcoholic drink.
Cocktails – a great addition to cocktails instead of basic simple syrup for a floral flavor, or in tropical cocktails. Think fun hibiscus cocktails like hibiscus margaritas, hibiscus mojito, Gin & Tonic, or our Hibiscus Salty Dog.
Dessert – You can use this homemade hibiscus syrup for ice creams and dessert, either in the recipe or drizzled on top.
Sweetener – Stir into iced tea or lemonade for a touch of sweetness and tart flavor.
Ice Cubes – Freeze as ice cubes in a favorite drink (cocktails, mocktails and tea alike!)
Gifts – Give bottles as gifts to teachers, hostess gifts or Christmas presents! Include a recipe for a pretty cocktail or your favorite ways to use it.
Substitute – Use as a sub for grenadine syrup like in a Shirley Temple or other delicious recipes like cocktail, teas and Holiday punches.
Other Flavors – If you want to boost this unique recipe in other ways, add some other flavors when making or steeping this recipe: add in a vanilla bean, fresh ginger chunks, star anise. Or, add in a different flower like rose petals for a floral flower combination! You can use other edible flowers like lavender, violet or marigold.
Other Sweetener – if you don't want to use regular granulated sugar, we suggest cane sugar, maple syrup or agave nectar.
Cheers!
Other Homemade Simple Syrups
Cheers!
Also, don't forget to follow us on Instagram and tag #gastronomcocktails so we can see all the wonderful recipes YOU recreate from this site!
You can also subscribe to our newsletter so you never miss a delicious recipe again!
Like this recipe? Try these below, too!
Hibiscus Salty Dog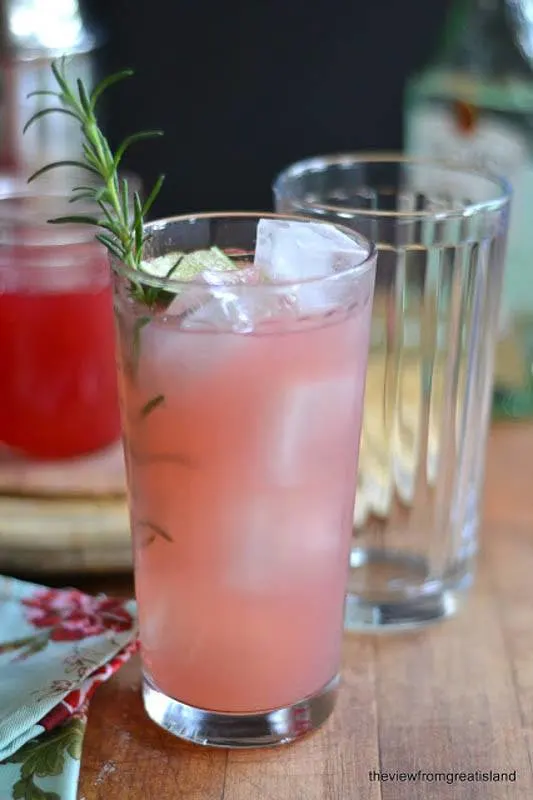 25 cocktails to Celebrate Spring
Other Flower Simple Syrups
Yield:

1
Hibiscus Simple Syrup
A floral simple syrup, make with hibiscus petals. Make this hibiscus simple syrup for a colorful and sweet addtion to cocktails, mocktails and dessert.
Ingredients
Hibiscus Simple Syrup
1 cup sugar
1 cup water
1/2 cup dried hibiscus petals, any color
Instructions
Combine water and sugar in a saucepan.
Bring to a boil.
Take off heat and add hibiscus petals, let steep for at least 15 minutes.
Strain out petals.
Store in an airtight container in fridge for up to 1 week.
Notes
You can use fresh petals as well, but let there be more time for steeping to leech out the color and flavor.
Recommended Products
As an Amazon Associate and member of other affiliate programs, I earn from qualifying purchases.
Nutrition Information:
Yield:
16
Serving Size:
1
Amount Per Serving:
Calories:

94
Total Fat:

0g
Saturated Fat:

0g
Trans Fat:

0g
Unsaturated Fat:

0g
Cholesterol:

0mg
Sodium:

0mg
Carbohydrates:

25g
Fiber:

0g
Sugar:

25g
Protein:

0g
Interested in stocking your own home bar? Make sure to see our favorites at our Amazon Store!
If you liked this post, don't forget to subscribe for new (and of course free) recipes by entering your email address on the side bar (and get all the recipes delivered to your inbox when we post), so you don't miss out on a thing. You can find us on Facebook, Instagram, and Pinterest!
Gastronomblog is a participant in the Amazon Services LLC Associates Program, an affiliate advertising program designed to provide a means for sites to earn advertising fees by advertising and linking to amazon.com