Last Updated on June 10, 2023 by The Noms
This rhubarb syrup is super easy to make, and is perfect for cocktails, drinks and baking!
Rhubarb is super easy to grow, (we have had a plant for over a decade, and it grows on it's own!). It's one of the first things you can harvest from your garden in the spring.
This post contains affiliate links for products that we think you as readers might find useful, and we make commission off of these! For more details about our affiliates, click our Disclosure and Contacts Page.
There are different types of Rhubarb, but the most common are the red and the green. For this recipe, we recommend using the red, since it is sweeter and makes a prettier rhubarb syrup.
Rhubarb was popular in Victorian England after a new variety was introduced at Queen Victoria's coronation. The variety, Victoria rhubarb, was easier to grow than others. It was used in all sorts of pies, jams and custards.
Can You Use Rhubarb Leaves?
Please don't!
Rhubarb leaves contain oxalic acid, which is fatal to people when eaten in large amounts. During WWI, rhubarb leaves were recommended as a food supply in England and oxalic acid poisoning killed people. So just don't eat the leaves!
Eat the stalks only. Plus, the stalks keep better and longer in your fridge with the leaves removed. So, win!
Is Rhubarb a Vegetable or Fruit?
Though considered a vegetable, rhubarb is most often treated like a fruit. It is usually combined with sweet flavors to counteract its tartness, but it can also be cooked in savory dishes.
Rhubarb is coming into season now here in Nebraska and I see our plant getting bigger everyday in the backyard! I think it's even in grocery stores right now.
We wanted to make this rhubarb syrup, as it's easy and tasty in a lot of spring cocktails! It can also lend a great flavor to sparkling water or mocktails.
While shopping for rhubarb, look for stalks that are crisp, bright pink, and thin. If it is thinner and darker pink, the sweeter it seems to be. Avoid stalks that seem old or slimy, or really fat. Lighter pink stalks are usually more tart, which can be fine in this syrup, since it is sugar.
Making a simple syrup is very easy, it is just water and sugar. To make this rhubarb syrup, you just add rhubarb.
When we made this syrup of course we had a cocktail in mind. Plus, we have a few others on the site, too! A Rhubarb Gimlet and Rhubarb Sour!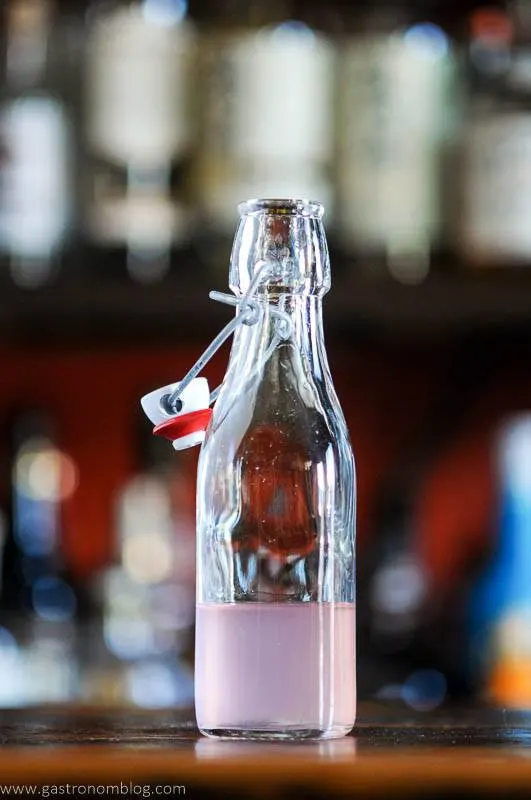 How Do You Make Rhubarb Simple Syrup?
To make this rhubarb syrup, combine water, sugar and chopped rhubarb and let the mixture simmer until the rhubarb is falling apart. Then strain out the rhubarb.
The syrup is tart and sweet and such a pretty color too. If you want darker syrup, let the rhubarb sit in the syrup for longer to make the color darker.
The rhubarb does need to be cooked, because of it's fibrous texture. Cook up this syrup to use this pink sweetener in your next cocktail.
What Ingredients are Needed for the Rhubarb Syrup?
We love rhubarb in cocktails, like our Rhubarb Collins, or just in our Rhubarb Infused Vodka! Try a floral syrup with our lilac simple syrup!
Cheers!
Also, don't forget to follow us on Instagram and tag #gastronomcocktails so we can see all the wonderful recipes YOU recreate from this site!
You can also subscribe to our newsletter so you never miss a delicious recipe again!
Like this recipe? Try these below, too!
Rhubarb Sour
Rhubasil
Other Fruit or Vegetable Simple Syrups
This rhubarb syrup is super easy to make! Syrup is great for cocktails and drinks!
Ingredients
1 cup rhubarb, chopped
1 cup sugar
1 cup water
Instructions
Combine all ingredients in a saucepan.
Bring syrup to a simmer. Let sti and steep for at least 15 minutes.
Cool and store in refridgerator.
Recommended Products
As an Amazon Associate and member of other affiliate programs, I earn from qualifying purchases.
Nutrition Information:
Yield:
8
Serving Size:
1 oz
Amount Per Serving:
Calories:

97
Sodium:

2mg
Carbohydrates:

25.7g
Sugar:

25.5g
Protein:

.1g
Interested in stocking your own home bar? Make sure to see our favorites at our Amazon Store!
If you liked this post, don't forget to subscribe for new (and of course free) recipes by entering your email address on the side bar (and get all the recipes delivered to your inbox when we post), so you don't miss out on a thing. You can find us on Facebook, Instagram, and Pinterest!
Gastronomblog is a participant in the Amazon Services LLC Associates Program, an affiliate advertising program designed to provide a means for sites to earn advertising fees by advertising and linking to amazon.com