Last Updated on June 26, 2023 by Leah Hall
This Rhubarb Sour Cocktail is a perfect summer cocktail!

With the hottest days of summer approaching, we harvested the last tender stalks of a rhubarb plant. We decided that we would use some of the stalks to make up a rhubarb simple syrup that would be a nice sweet and tart option for our cocktails. The end of spring and early summer is the perfect time of the year for this cocktail, and many other rhubarb cocktails like our Rhubarb Gimlet or Rhubarb Collins, too!
This Rhubarb Sour Cocktail adds a tart flavor twist to the classic gin sour cocktail. Made with gin, lemon juice, egg white, and homemade rhubarb syrup, this cocktail is sure to become a new spring favorite. Try another spring sip with our Lilac Gin Sour!
This post contains affiliate links for products that we think you as readers might find useful, and we make commission off of these! For more details about our affiliates, click our Disclosure and Contacts Page.
The Gin Sour cocktail is a classic for a reason. It's the perfect balance of sweet and sour with a creamy element from the egg white (which is an optional ingredient). We added a spin on this classic by adding some fresh rhubarb syrup in place of the usual simple syrup or sugar. It creates a unique and delicious flavor combination that is perfect with gin.
What is a Sour Cocktail?
A sour is an old-school cocktail recipe that dates back to the 1800s. They were originally made with gin, lemon or lime juice and sugar. You can find all sorts of variations, from daiquiris and mojitos to the classic pisco sour. Sours were super popular beginning in the 1940s and are still delicious today. If you like a margarita, we think you will love a sour cocktail!
It is your choice whether you add egg whites to a sour cocktail. Egg white can add a frothy, almost meringue-like topping that gives cocktails a decadent mouthfeel.
What Ingredients are Needed in a Gin Sour Cocktail?
Lemon Juice – lemon juice plays double duty as a flavor component to the rhubarb and as the main sour ingredient to balance out the sugar. We definitely recommend using fresh lemon juice for this cocktail!
Egg White – the addition of egg whites give it a luscious mouthfeel, a foam at first sip and believe it or not, a bit of protein. Shaking your cocktail with egg white thickens it and gives it a rich, velvety texture. If raw egg freaks you out (we get it!) you can use aquafaba, which is the liquid from a can of chickpeas.
London Dry Gin – The sweetness of the rhubarb simple syrup is a delicious complement to the botanical flavor of a London Dry gin. If you're not a fan of gin, feel free to make this with vodka instead.
Rhubarb Simple Syrup – This tangy vegetable is a perfect complement to the earthy taste of gin and citrus. A splash of homemade rhubarb syrup made from fresh rhubarb is all you need to add plenty of flavor.
With the fresh rhubarb syrup, we decided to try out this recipe that would be quick and simple and pay a bit of an homage to an often forgotten classic, the gin sour.
How to Make A Rhubarb Gin Sour Cocktail
Combine Ingredients – Pour all of the ingredients into a cocktail shaker and dry shake (this means with no ice).
Shake – Add a handful of ice to the shaker and shake again until everything is nice and cold.
Strain – Pour out through a Hawthorne strainer and a fine mesh strainer into your favorite cocktail glass.
Garnish – with a lemon peel, a fresh sprig of mint or a rhubarb ribbon.
What Gin to Use
The traditional Gin Sour Cocktail recipe calls for a London Dry Gin. Because this drink has a fresh garden element from the rhubarb syrup, we would suggest using a London Dry Gin like Bombay Sapphire, Tanqueray, Sipsmith or Ford's. There are so many different varieties of gin out there and you can certainly use whatever gin you prefer. Any gin will be delicious in this drink, as the rhubarb will shine!
If You Are Looking for More Egg White Cocktails, Try These!
Rhubarb Syrup
We already have a recipe done for you for this, so make sure to read over our homemade rhubarb simple syrup post! But simply you combine sliced rhubarb with water and sugar in a saucepan over high heat until the sugar dissolves. Then, let it sit to infuse for at least 15 minutes. Then, strain and cool to room temperature. Finally, use it in this cocktail!
Egg White Alternative
If you practice safe food handling while making your sour cocktail, it is very safe to have egg whites in your cocktails. The danger of salmonella comes from bacteria that may have been on the outside of the eggshell.
An alternative to using egg whites in cocktails is to substitute aquafaba. Aquafaba is the liquid from a can of chickpeas. It is gluten free, dairy free and vegan. It's a great alternative for people with egg allergies, too. The rules is to substitute 1-2 tablespoons of aquafaba per 1 egg white.
But, you don't have to add egg white to this cocktail. We like the foam and it makes this cocktail pretty.
Tips & Tricks
Dry Shaking – adding egg whites into cocktails uses a technique called dry shaking. This is when you shake a cocktail with an egg ingredient and there is no ice in the shaker. The idea is to "whip" the egg white, allowing it to foam up and emulsify into the drink.
Liquor alternatives – If you don't want to use a London Dry Gin, then we suggest either a citrus gin, vodka, homemade rhubarb infused gin or rhubarb infused vodka. Just make sure to plan ahead if you are using an infused alcohol, as this does take time. If you are using either rhubarb infused option, we suggest baking off of the rhubarb simple syrup a bit, as the flavors may be slightly overwhelming. Or, sub some rhubarb simple syrup with regular homemade simple syrup.
You will need a shaker, Hawthorn Strainer and mesh strainer for this one!
Other Flavors – if you are wanting to switch up the flavors in this rhubarb cocktail recipe, you can feel free to either add or take away some ingredients. You can add some Angostura bitters before you shake. Or, add more or less rhubarb syrup, more or less ounces lemon juice. As well as adding some flavors in your rhubarb syrup like pink peppercorn, ginger, strawberry, lavender, or mint. Or. making the syrup with a honey base instead of sugar.
Combining a tart sweetness with a citrus burst, the rhubarb sour is a great drink for the hot summer evenings.
If you want to try another sour cocktail, try our Lilac Gin Sour! Or, another rhubarb cocktail made with our Rhubarb Infused Vodka, the Rhubarb Collins!
Cheers!
Also, don't forget to follow us on Instagram and tag #gastronomcocktails so we can see all the wonderful recipes YOU recreate from this site!
You can also subscribe to our newsletter so you never miss a delicious recipe again!
Like this recipe? Try these below, too!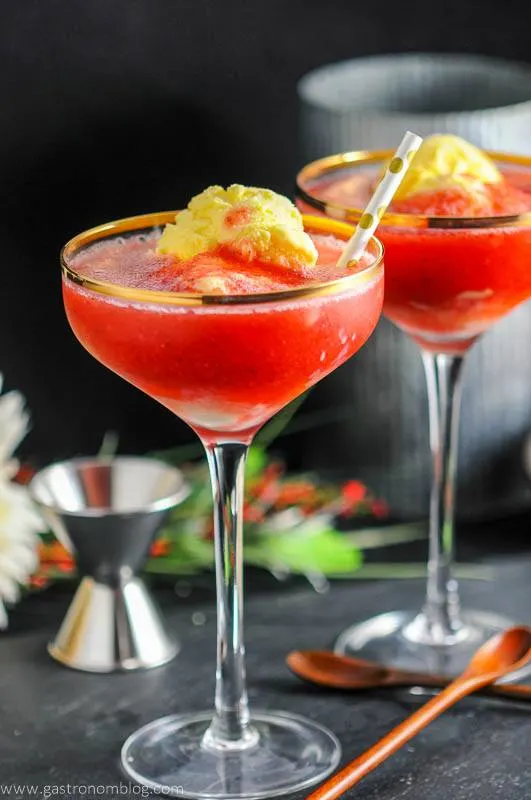 Strawberry Rhubarb Daiquiri Float
Rhubasil Cocktail
Other Rhubarb Cocktails
Other London Dry Gin Cocktails
A fabulous 4 ingredient cocktail with the bitter sweet bite of rhubarb and gin, as well as lemon and an egg white!
Ingredients
Rhubarb Sour
2 ounces London Dry Gin
1 ounce freshly squeezed lemon juice
1 egg white
Instructions
For the Cocktail
Pour all ingredients into a cocktail shaker.
Dry shake (no ice) for 20 seconds.
Add ice and shake for 30 seconds.
Double strain into a rocks glass or cocktail coupe.
Cheers!
Recommended Products
As an Amazon Associate and member of other affiliate programs, I earn from qualifying purchases.
Nutrition Information:
Yield:
1
Serving Size:
1
Amount Per Serving:
Calories:

288
Total Fat:

0.3g
Saturated Fat:

0.2g
Trans Fat:

0g
Unsaturated Fat:

0g
Cholesterol:

0mg
Sodium:

39mg
Carbohydrates:

56.8g
Fiber:

0.1g
Sugar:

56.8g
Protein:

3.8g
Interested in stocking your own home bar? Make sure to see our favorites at our Amazon Store!
If you liked this post, don't forget to subscribe for new (and of course free) recipes by entering your email address on the side bar (and get all the recipes delivered to your inbox when we post), so you don't miss out on a thing. You can find us on Facebook, Instagram, and Pinterest!
Gastronomblog is a participant in the Amazon Services LLC Associates Program, an affiliate advertising program designed to provide a means for sites to earn advertising fees by advertising and linking to amazon.com