Last Updated on June 12, 2023 by Leah Hall
Homemade Pine Syrup is wonderful in cocktails, drinks and teas. This sweet and savory syrup is reminiscent of the mountains!
If you want to bottle the scent of Christmas then this Pine Syrup is the way to do it! Make pine syrup with needles right off your own tree if you have one. Spruce or Douglas fir needles work best for this recipe and are the safest to use (more about that below!)
This post contains affiliate links for products that we think you as readers might find useful, and we make commission off of these! For more details about our affiliates, click our Disclosure and Contacts Page.
Pine Syrup
This Pine Simple Syrup is made by steeping pine needles in sugar syrup. It is a wonderful way to add some Christmas cheer to festive cocktails. So, we are bringing you a recipe for pine syrup and some great Christmas cocktails and a non-alcoholic drink, too!
Homemade pine syrup can lend a fresh and herbaceous flavor to all sorts of winter cocktails. These Christmas cocktails are full of the fresh flavor of pine, and definitely bring the holiday spirit to your cocktail party! Make a batch of this pine syrup and use it in mocktails and cocktails all throughout your holiday season!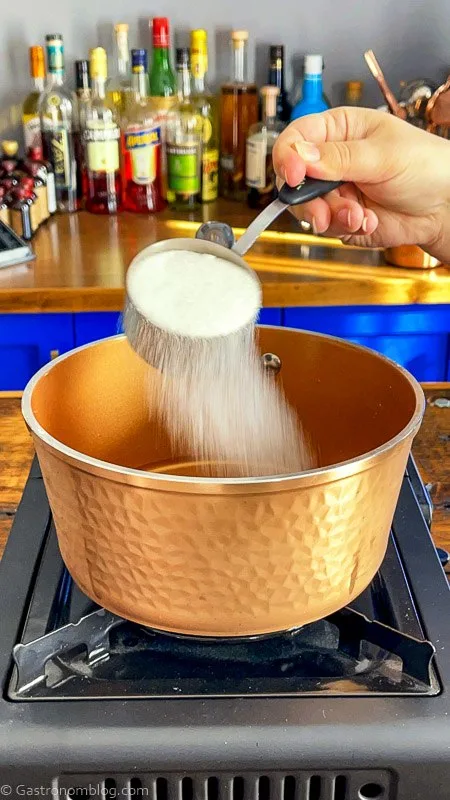 The syrup smells like a pine forest and tastes a little citrusy! It's an interesting flavor that a lot of people haven't had, and we definitely think you need to add it to your repertoire!
Pine also pairs well with cinnamon and cardamom, as well as mint.
What Pine To Use in Pine Syrup
Pine trees are categorized by their needles and how the needles grow on the branch in bundles of 2-5, along with the expected pine cone. You will want to be sure that the trees you are taking the needles from aren't being treated with anything chemical, and when gathering needles, try to find the younger needles which are a lighter green.
The fresher the needles, the better. Spring is best for finding fresh tips, but you can harvest during fall or winter as well. Just pick the youngest looking pieces on the tree.
Other conifers have cones that are sometimes mistaken for pine, so be sure you have a real pine and not some other cone bearing evergreen tree. We actually use a spruce in this recipe, as that's what we have in our backyard, but have used pine as well.

Please be sure that the pine needles you are using are edible. Make sure you have properly identified the tree. Please see our safety warning below.
Other Simple Syrups
How to Make Pine Syrup
Made like any other infused simple syrup, pine syrup needs steeping. Make an easy simple syrup (sugar and water), and then remove from heat, add the pine needles and steep for 2-3 hours.
When cool, strain the pine syrup. The syrup can be refrigerated for up to a month.
Try it in our Pine Old Fashioned, Evergreen Gin and Tonic or Honey Bourbon Pear Cider!
Safety Warning for Pine Syrup
Not all varieties of pine are safe to eat. Ponderosa Pine, Yew, Australian Pine, Hemlock and Norfolk Island Pine are poisonous when ingested, so make sure you know what pine you have and are using. this is if you are using fresh needles that you forage yourself. you can buy pine needles online and those are safe and already cleaned for you, which makes it easier!
Gastronom accepts no responsibility for ingesting poisonous pine needles or anything else.
Pregnancy and breastfeeding: There is not enough information about the safety of taking pine if you are pregnant or breastfeeding. Stay on the safe side and avoid use.
Asthma, allergy: Pine pollen can cause an increase in allergic symptoms, even in people who test negatively to pine skin tests. So make sure you are aware of this.
Also, don't forget to follow us on Instagram and tag #gastronomcocktails so we can see all the wonderful recipes YOU recreate from this site!
You can also subscribe to our newsletter so you never miss a delicious recipe again!
Like this recipe? Try these below, too!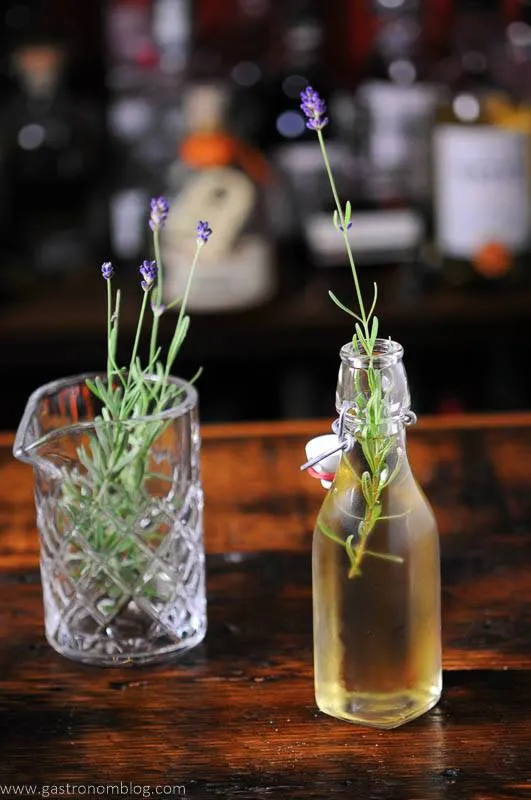 Lavender Simple Syrup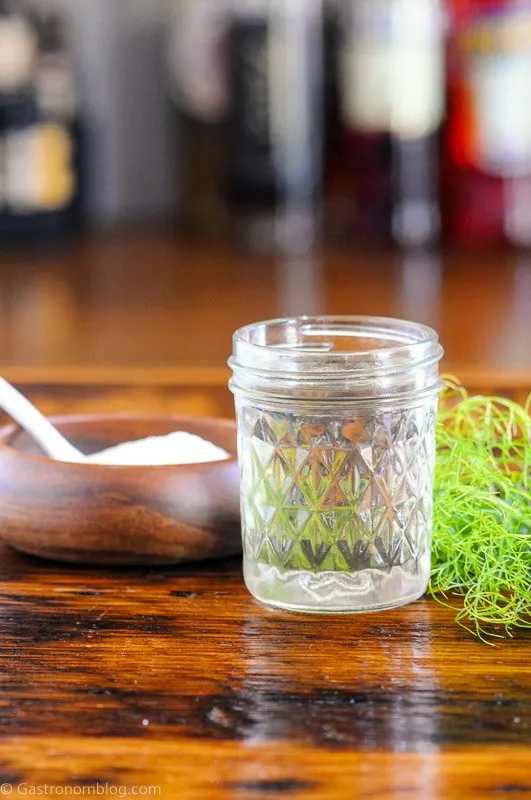 Fennel Simple Syrup
Other Simple Syrup Recipes
Yield:

1 cup
Pine Syrup - Pine Simple Syrup
Total Time:
2 hours
15 minutes
This pine syrup is herbaceous and a little citrusy, perfect for Christmas and winter cocktails!
Ingredients
1 cup water
1 cup sugar
1/4 cup pine needles, or small branch to infuse
Instructions
Stir together water and sugar in small saucepan over medium heat. Bring to a boil, take off of heat.
Place pine needles or spruce branch in syrup to infuse for at least 2 hours, making sure needles are covered.
After infusion, strain out needles and place in jar or airtight container in fridge for up to 1 month.
Notes
Make sure to check out pine/spruce information in the article above, and our safety warning, as well before making this recipe.
Recommended Products
As an Amazon Associate and member of other affiliate programs, I earn from qualifying purchases.
Nutrition Information:
Yield:
16
Serving Size:
.50 ounce
Amount Per Serving:
Calories:

47
Carbohydrates:

12.50g
Sugar:

12.50g
Interested in stocking your own home bar? Make sure to see our favorites at our Amazon Store!
If you liked this post, don't forget to subscribe for new (and of course free) recipes by entering your email address on the side bar (and get all the recipes delivered to your inbox when we post), so you don't miss out on a thing. You can find us on Facebook, Instagram, and Pinterest!
Gastronomblog is a participant in the Amazon Services LLC Associates Program, an affiliate advertising program designed to provide a means for sites to earn advertising fees by advertising and linking to amazon.com