Last Updated on June 11, 2023 by The Noms
This Cranberry Lime Gin and Tonic can be made with regular gin, but we loved it made with Monday Zero Alcohol Gin, and think you will too!
Treat yourself to this festive Cranberry Gin and Tonic (or two, or three) this holiday season! You know that you deserve it, and we made it non alcoholic, so you can do it without guilt! One of the easiest cocktails to make is a gin and tonic. A classic gin and tonic has three main ingredients: Gin, tonic water and lime. To quote Ina, how easy is that?!
We are regular gin and tonic drinkers (Gingerbread and Fall!), but you may know different gins can make a big difference in the cocktail, and in this case a non alcoholic gin makes it different too!
This post contains affiliate links for products that we think you as readers might find useful, and we make commission off of these! For more details about our affiliates, click our Disclosure and Contacts Page.
But, we always like to give the classic gin and tonic a seasonal flavor, like those 2 above. There are so many delicious flavor combinations you can make using the three main ingredients plus a few extras! Because always extras!
What is the Best Gin for a Gin and Tonic?
The best gin to use when making a gin and tonic is one you like. There are so many flavors you can go with – botanical, citrus, London Dry. Monday Zero Alcohol Gin seemed the perfect fit because of the citrus flavor.
Gin is traditionally distilled from grain and malt and the flavor comes from various botanicals: juniper berries, lemon peel, herbs and spices and more. The tonic water is bitter and sweet with a hint of citrus. Together a G & T is a combination made in heaven.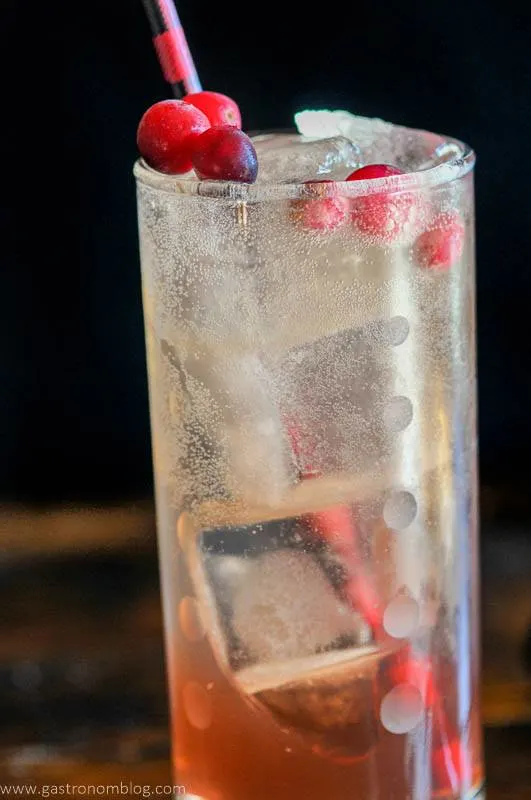 Non-Alcoholic Gin and Tonic
Our go to drink of choice for gin is a G and T, because we are usually tired in the evening and want something easy! We see this one, even with cranberry being a great all year drink because it's so refreshing!
A gin and tonic non alcoholic cocktail is an easy drink to start off with making! Great for the drinkers out there for zero proof options (or you can use it in a cocktail for extra flavor, too!) Because of the bright botanical taste (and smell), it adds that little pop of flavor, without being overwhelming to the rest of the cocktail.
To make this one easy, we used store bought cranberry juice and then fresh squeezed lime juice. We also added some simple syrup, because the Monday Zero Alcohol Gin was a little bitter with the cranberry juice in this case.
History of the Gin and Tonic
The Gin and Tonic has been around for centuries and was actually created a as medicinal purpose in the 1700s. It was introduced by the army of the British East India Company in India. (I think I cover this in another blog post, but I am too lazy to go look!)
In a lot of tropical regions, malaria was a problem. In the 1700s it was discovered by Scottish doctor George Cleghorn that quinine could be used to prevent and treat the disease.
The quinine was in tonic water, but, the bitter taste wasn't ideal. British officers in India in the early 19th century started adding a mixture of sugar, lime, and gin to the quinine in order to make the drink more palatable, thus gin and tonic was born.
Soldiers in India were already given a gin ration, so this made sense. Tonic water contains much less quinine now, as they aren't using it as a medicine. It is usually sweetened and is much less bitter. Interesting, right?!
Monday Zero Alcohol Gin
We think the Monday has the kick of a classic London Dry, but no alcohol. From a family owned distillery in Southern California, crafted in small batches using juniper, spices, and natural botanicals. It also is vegan and gluten free, and no sugar!
Plus, isn't the bottle gorgeous? Its sure to look great on your bar!
The dark green and gold art deco label, as well as a cork stopper, all have a premium feel to them. Monday Gin is one of the pricier options on the market, at $39.99.
We first tried Monday Gin neat. The nose, that mimics an alcoholic gin is very strong at first sniff. Very citrus, spices and botanicals at the first whiff.
It has a great mouthfeel, which we haven't seen in other non alcoholic spirits. Strong bitter and spicy flavors, and we did feel the bitterness lingered. Which, is something to consider if you are using Monday Gin in a drink.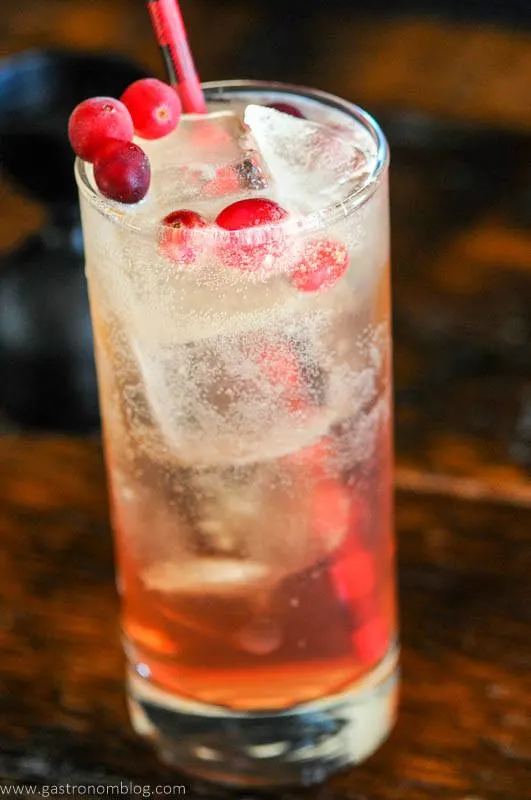 Our Cranberry Lime non alcoholic gin and tonic had great citrus and herbal note and a little bit of a bite on the tail end, like a cocktail. Monday Zero Alcohol Gin doesn't get lost in drink.
You can find Monday Zero Alcohol Gin on their site or on Amazon.
Monday Gin is a cool company doing awesome things, by innovating non alcoholic beverages. This is a great option that doesn't involve just simple syrup and juice! It's a game changer for virgin drinkers who want options.
Non Alcoholic Drinks
While many of you drink a lot of alcohol (us included), because why would you be here otherwise? We have had people inquire about zero proof cocktails, and alternatives that are non alcoholic for our drinks, so we want to make sure we include as many as we can.
We do have friends that don't partake in alcohol from time to time (Dry January or Sober October, or just in general). For you drinkers, no alcohol doesn't mean its not for you! Try it on a dry night, entertaining friends, or even as a cocktail mixer in your favorite vodka or gin drink recipe (with the booze).
I remember both pregnancies my beverage choices kind of sucked and I would have LOVED to have this as an option, and I would have felt fancy AF with this Cranberry Lime G & T with Monday Gin!
A lot of people are happy to pay for virgin cocktails at their local bar, but can be disappointed with the sugary artificial flavors that they get back from the bartender.
Monday Zero Proof Gin can give you a great option at home, or at that local bar if they would offer this!
"Free of alcohol, full of spirit." Monday describes the gin as "a complex, aromatic blend of juniper, natural botanicals, citrus, and spices that satisfies like a classic London Dry, finishing with the familiar kick of your favorite spirit."
What Makes a Good Zero Proof Cocktail?
Because a good non alcoholic drink can mimic cocktails, just without spirits. A good zero proof cocktail is one that combines some sophistication with various higher end ingredients. Maybe using muddled herbs, fruit pureé, sparkling water, flavored simple syrups, and bitters so that you can create the perfect drink with no icky feeling the next morning!
Do you have some rosemary or mint in your cocktail garden (what, you don't have one of those)? How about some fresh fruit or spices? The sky really is the limit on how creative you can get when creating a non alcoholic drink.
Cheers!
Also, don't forget to follow us on Instagram and tag #gastronomcocktails so we can see all the wonderful recipes YOU recreate from this site!
You can also subscribe to our newsletter so you never miss a delicious recipe again!
Like this recipe? Try these below, too!
Non Alcoholic Cranberry Moscow Mule
Grapefruit Spritzer
More Gin and Tonic Recipes
Yield:

1
Monday Gin Cocktail - Zero Alcohol Cranberry Lime Gin and Tonic
A non alcoholic Gin and Tonic made with zero proof Monday Gin. A great non alcoholic cocktail perfect for the holiday season!
Ingredients
1.50 ounces Monday Zero Alcohol Gin
1.50 ounces cranberry juice
.50 ounce lime juice
2-3 ounces tonic water
Instructions
Combine all the ingredients except tonic water in a shaker with ice.
Shake and strain into a tall glass with ice. Top with tonic water.
Garnish with rosemary or cranberries if desired.
Cheers!
Notes
If you don't want or have tonic, Topo Chico, Club soda or sparkling water also work in this versatile non alcoholic cocktail!
Recommended Products
As an Amazon Associate and member of other affiliate programs, I earn from qualifying purchases.
Nutrition Information:
Yield:
1
Serving Size:
1
Amount Per Serving:
Calories:

91
Sodium:

17mg
Carbohydrates:

21.9g
Fiber:

1.6g
Sugar:

6.8g
Protein:

.1g
Interested in stocking your own home bar? Make sure to see our favorites at our Amazon Store!
If you liked this post, don't forget to subscribe for new (and of course free) recipes by entering your email address on the side bar (and get all the recipes delivered to your inbox when we post), so you don't miss out on a thing. You can find us on Facebook, Instagram, and Pinterest!
Gastronomblog is a participant in the Amazon Services LLC Associates Program, an affiliate advertising program designed to provide a means for sites to earn advertising fees by advertising and linking to amazon.com