Last Updated on April 10, 2023 by The Noms
This gin and champagne cocktail is the perfect way to honor the new Netflix show, Bridgerton! London Dry Gin and a rosé champagne combine with some other tasty flavors for this classy cocktail perfect for sipping in Regency ballrooms.
So, we think this is a drink that Daphne would find most appropriate for a evening soiree, and one Lady Whistledown would want to write about! (Maybe, I don't think women were allowed to drink gin in the Regency time, but we are going to skip over that detail).
This post contains affiliate links for products that we think you as readers might find useful, and we make commission off of these! For more details about our affiliates, click our Disclosure and Contacts Page.
With beautiful costumes, fancy furnishings, fun characters, and some scandalous gossip, the Bridgerton series on Netflix has all the ingredients of the perfect binge session.
Bridgerton Series on Netflix
If you have no idea what I am talking about, that's fine, you can still enjoy the gin and champagne cocktail at the bottom of this post! But if you do know what I am talking about, welcome to the obsession that is Bridgerton! I think I started reading the series a while back (the first book came out in 2000), I think I started the series in 2003, I read the series out of order, but loved it then, never thinking it would be made into a fun and relevant to 2020 series 20 years later.
So when I heard that the series was coming out, I was all about it! Which made me think about my love of all things Regency. I have always loved books set in that time (Thanks, Jane Austen!) and my love of romance novels set in the same era made it a perfect fit. I started researching what they ate and drank in those times, let's be real though – we are talking here about what the nobility and rich people ate, not commoners and servants. But, it is fun to see what the hoity toity of those partook in.
The drama of Bridgerton takes place amidst a backdrop of lavish dinners, dances and events. In London, in the 1810s, dinner parties were the height of socializing, and were often a long affair with many dishes. According to the Jane Austen Centre, attendees could expect to be offered "soup, meat, game, pickles, jellies, vegetables, custards, puddings- anywhere from five to twenty-five dishes depending on the grandeur of the occasion". Whew. I am tired just thinking about it.
So, here is a little history lesson of what they ate and drank in the Regency times!
Afternoon Tea
Should Lady Whistledown come for tea, you should know it was served with comfortable chairs in the drawing room or lady's sitting room, or in the garden.
Tea was served at home by the hostess. Tea was made by the ladies of the house to prevent servants from taking any of this expensive product for their own use. The lady of the house held the key to the tea caddy.
The ceremony of afternoon tea, or the custom of serving tea with cakes, scones, and crumpets as a snack before dinner, was not invented until 1840 by the 7th Duchess of Bedford.
"Taking tea" is not how you say it (vulgar). Drinking tea is considered the proper way to say it.
High tea was as a dinner meal for common people. Tea was still served, but there was meat, fish, eggs, cheese, bread and butter, and cake. It was more of a meal, than a ladies gossip session.
Dinners
Dinner was normally eaten at about 5:00 pm and was the most extravagant meal, especially if guests were present. All the dishes were put on the table at the start of the meal and etiquette said the table should be "covered but not crowded". The first course would probably be soup, favorites were chestnut or artichoke.
Next, roasted meat, then sweet and savory pies and tarts, and also the game and fish courses (if close to the ocean). Vegetables would often be in a butter sauce, as butter was more expensive than meat, so it showed off the hosts' wealth. Pickled vegetables were also popular. (Vegetables were quite new in fashion because it was belief that vegetables were bad for you before this!) Then dessert came. It was often displayed in a pyramid shape using fruits or marzipan.
Sugar was believed to help digestion and a drink using ginger was drank to help 'an overfull stomach'. Comfits: nuts or spices covered in layers of sugar, also thought to be medicinal, were eaten, and licorice still remains popular today.
Evening Tea

Tea was also served one-two hours after dinner. But, this could be anytime after their meal. There were people that ate dinner at 4, others at 8. So, it just depended how your family's schedule went. People who did not follow the latest fashion in dining kept the earlier dinner hours.
After dinner, guests returned to the drawing room. After tea, "…when the tea things were removed, and the card tables placed" (from Pride and Prejudice) the guests would play games, such as riddles or charades, or read aloud.
Tea was also provided at balls, when suppers were served at midnight, on visits and at musicales. A lady at a ball had to have a gentleman escort her to the tea room.
Supper
This meal was eaten as late as 10:00 or 11:00 at night, or midnight at balls. Returning from the opera or theater in their coach, people would have a warm drink or light meal like soup. Often a "negus" was made up for guests twenty minutes before they were due to leave. It was made of calves foot jelly, wine, boiling water, lemon and spices. (I don't think we will be making that one!)
Regency Drinks
The patronesses of Almack's served orgeat and ratafia, both sweet drinks.
Orgeat syrup, made with almond extract, sugar, and orange flower water, was (and still is) added as a flavoring to punch, coffee, or cocktails. I wouldn't want to drink this milky liquid by itself, and a little bit goes a long way (we usually only use 1/4 ounce per cocktail). Some drinks were made like orgeat lemonade. Orgeat lemonade would have been orgeat syrup, lemonade and soda water, and might well have been the sort of drink served at Almack's.
Ratafia, was either distilled or with an infusion of fruits and spices. Ratafia had an alcoholic base of Marc brandy and grape juice. A liqueur routinely made in December, could be ready to serve two months later on Valentine's Day. A recipe for dark brown ratafia suggested that it be stored in an oak barrel for at least two years.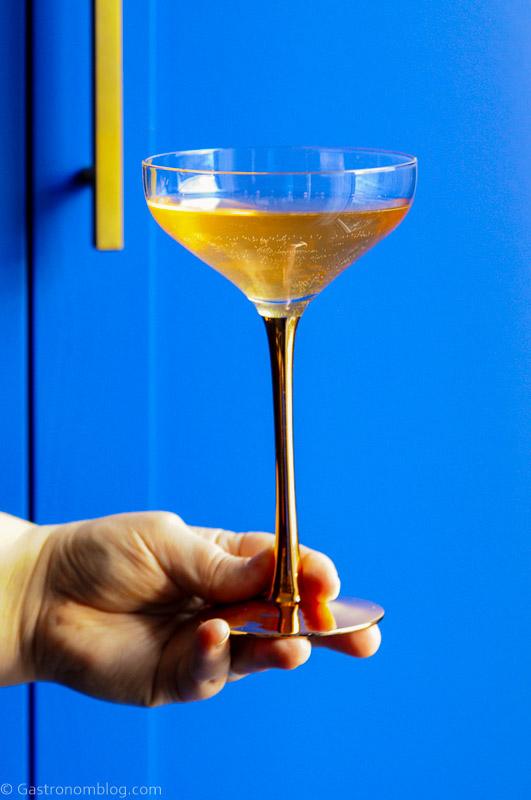 Wines and Liquor
Madeira is a sweet fortified wine that was popular especially in Colonial America. Brandy was also added to stop the conversion of alcohol from the sugars in the grapes.
Madeira became so popular in colonial America that nearly 25% of all Madeira wine was shipped there. A chemical reaction occurred inside the casks during the long and hot voyage across the ocean: the wine improved in flavor. Before this, they thought for Madeira to age well, the wine had to cross the equator in order to heat up sufficiently. Madeira was offered as an aperitif, or with cheese and dessert after dinner.
Cordials or Liqueurs had enjoyed a reputation as wholesome or medicinal drinks, and personal recipes were everywhere and differed from home to home.
Usually, upper class women didn't get drunk, although alcohol was everywhere. The arrack punch at Vauxhall Gardens was drunk by both men and women, despite being strong. Some men preferred to mix their own punch, like rum punch (rum, lemon, spices, black tea and sugar), Regent's punch (citrus, rum, spices, green tea, rum, arrack and champagne) were popular choices.
Sherry was also popular with men and some women, but red wines like claret, burgundy and port tended to be drunk by men. Brandy, gin and rum were imbibed by upper class men.
Bridgerton Cocktail – Gin and Champagne Cocktail
So now that we had a bit of a history lesson, on to the Bridgerton gin and champagne cocktail! We wanted to bring the flavors of London and England all in one drink, and because it's almost Valentine's Day, we chose to make it a light and pink drink that is perfect for sharing with your beau and plus, it just looks fabulous!
We loved the combo in this one of London Dry Gin, Earl Gray Tea syrup, lemon juice and lemon bitters, all topped with some beautiful rosé champagne!
It's a bit of London, a bit of England, and you will feel classy AF if you have one of these while watching Bridgerton! A perfect champagne gin affair to celebrate Daphne and Simon!
Cheers to this gin and champagne cocktail! Try our pink Strawberry Mimosa or Thanksgiving Champagne Cocktail, too! Or, if you need some Champagne Drinks for Easter, we have those too!
Also, don't forget to follow us on Instagram and tag #gastronomcocktails so we can see all the wonderful recipes YOU recreate from this site!
You can also subscribe to our newsletter so you never miss a delicious recipe again!
Like this recipe? Try these below, too!
Spiced Rum Punch
Gloria Ferrer Vineyards
Other Literary Cocktails
Yield:

1
Gin Affair Champagne Punch - Bridgerton Cocktails
This Gin and Champage cocktail is in honor of the Bridgerton show. A great take on English flavors and a tasty pink drink for Valentine's Day!
Ingredients
1 ounce London Dry Gin
.25 ounce lemon juice
4-5 dashes lemon bitters
2-3 ounces rosé champagne
Instructions
Combine gin, lemon juice, Earl Grey Syrup and bitters in shaker with ice.
Shake and strain into coupe.
Top with rosé champagne.
Garnish with lemon peel if desired.
Cheers!
Recommended Products
As an Amazon Associate and member of other affiliate programs, I earn from qualifying purchases.
Nutrition Information:
Yield:
1
Serving Size:
1
Amount Per Serving:
Calories:

165
Total Fat:

.1g
Sodium:

12mg
Carbohydrates:

12.6g
Sugar:

.2g
Protein:

.1g
PIN THIS CHAMPAGNE PUNCH RECIPE FOR LATER!
Interested in stocking your own home bar? Make sure to see our favorites at our Amazon Store!
If you liked this post, don't forget to subscribe for new (and of course free) recipes by entering your email address on the side bar (and get all the recipes delivered to your inbox when we post), so you don't miss out on a thing. You can find us on Facebook, Instagram, Pinterest and Twitter!
Gastronomblog is a participant in the Amazon Services LLC Associates Program, an affiliate advertising program designed to provide a means for sites to earn advertising fees by advertising and linking to amazon.com