Last Updated on June 13, 2023 by The Noms
The Highlander Hotel in Iowa City, Iowa is a great family friendly hotel with options for all ages. Chic meets shag in this bohemian themed hotel with an indoor pool and lounges. This urban resort is the place to stay in Iowa City or Coralville, Iowa!
Before we start in about all the lovely things we have to share about The Highlander Hotel Iowa City, we first have to cover the history of the building! We recently stayed at their sister location of Hotel Grinnell in Grinnell, Iowa, so you need to check that post out too! The history behind both of these locations is rich and makes the themes of the hotels make sense!
This post contains sponsored content brought to you by The Highlander Hotel. We received compensation to create this post. But, all opinions and views presented here are 100% our own. This post contains affiliate links for products that we think you as readers might find useful, and we make commission off of these! For more details about our affiliates, click our Disclosure and Contacts Page.
To make reservations at the Highlander Hotel for yourself, click here!
Highlander Supper Club
The Highlander Hotel started out as the Highlander Supper Club which opened in 1967 on the edge of Iowa City. It was (and still is) adjacent to the I-80 interstate. Supper clubs were popular in the Midwest where guests could go for a special occasion or a weekend evening out, usually with music, drinks and good food.
A few years after the Highlander Supper Club opened they then revealed the second part of their project. A coffee shop, convention center and meeting rooms, ballroom, lounge, 90 hotel rooms and indoor pool were completed in 1973. It was the place to go in Iowa City for a long time – parties, weddings, retirements, you name it!
The Highlander Supper Club had three dining rooms, a bar, dance floor and live music, so it stayed a popular location! They had signature meals: New York Strips, Prime Rib, fried mushrooms, and shrimp cocktail. The old menu pictured here is a trip – look at the prices!
The property changed owners over the years and was finally the Clarion Highlander Hotel and Conference Center. This is when Angela Harrington got a hold of it, and has been changing things up to show off her groovy ideas in this fun urban resort.
Highlander Hotel, Iowa City
The re-imagining of the Highlander is retro with chic meeting shag. We love seeing old properties transformed into new, as Hotel Grinnell was one of those too, and the Highlander urban resort didn't disappoint. The Highlander Hotel in Iowa City is located on a hill right alongside the I-80 interstate. We definitely didn't notice road noise unless we were outside, and even outside it wasn't bad.
Iowa City is a great location for us, it was just under a four hour drive from Omaha, and from Des Moines it was less than two. Cedar Rapids is 30 minutes north, and Chicago is 3.5 hours drive to the east, so perfect for any direction for a great road trip to the Highlander Hotel and Iowa City! And we think that road trip is calling your name. We took our boys on this trip, and they will even tell you in their own words below what they thought about this great hotel!
Highlander Hotel Great for School Breaks
While we love the idea of going to The Highlander Hotel Iowa City for quick weekends away, we encourage you to think about going over Thanksgiving break for a long weekend with family or the kids, as well as Christmas break! I don't know about you, but my kids would think we are the absolute best parents for this lovely and kid friendly location during school break! Because of the many things to do, as well as the pool (duh!) it would be a fabulous time away from home, fun for the kids and adults alike!
There are also some great fall and winter events in the area that would be perfect to attend while you are staying at The Highlander.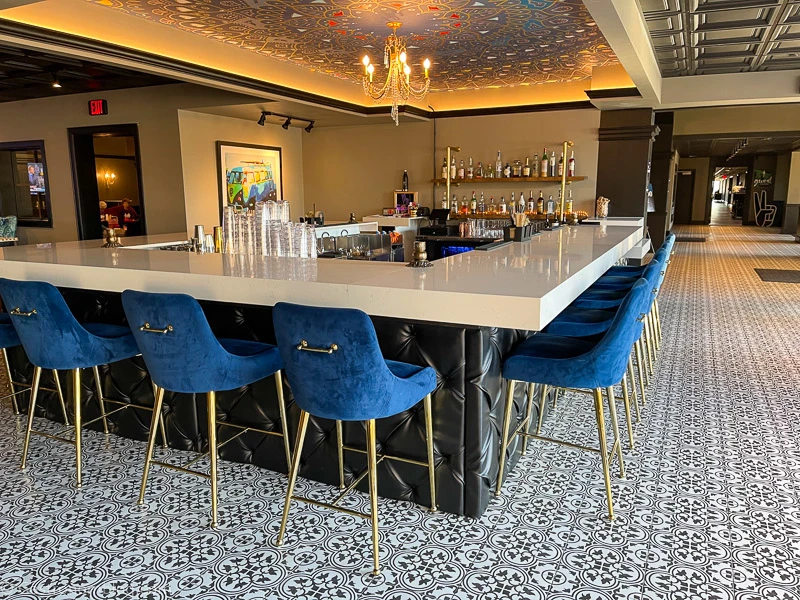 Highlander Hotel Lounge and Restaurant
The Highlander Hotel has a spacious bar and lounge with a colorful painted ceiling that is just gorgeous. Make sure to get a look at it when you visit! The bar has a great selection of beers, wine and a custom cocktail menu with signature cocktails as well as classics. The blue Mai Tai is groovy and so much fun, and they are working on a new fall and winter cocktail menu too, which we may or may not have had a small hand in! We got to try an orange and cranberry cocktail as well as a pomegranate mule that aren't on the menu yet!
Their food menu is food truck inspired and everything we had was fresh and flavorful. Everything is made from scratch and it shows. Breakfast is simple but tasty, with great choices for all – oatmeal, eggs, bacon and sausage and baked goods. They also served a pico de gallo like salsa with cucumber in it both days, which was a great twist, and it was tasty on the eggs, or even by itself. The boys liked breakfast both days!
We ate lunch in the lounge on Saturday and then dinner on Saturday night as well, and didn't feel like we had to repeat foods, and we loved everything we tried. For lunch the boys had a pepperoni pizza and a margarita pizza. Jay had the Japanese Pan Bowl which was a sweet and spicy dish that included noodles, corn salsa, carrots, mushrooms, and green onions. The broth had a great umami and we couldn't stop eating it! (Yes, I said we!). I had the Butter Chicken tacos which was Indian inspired and very flavorful.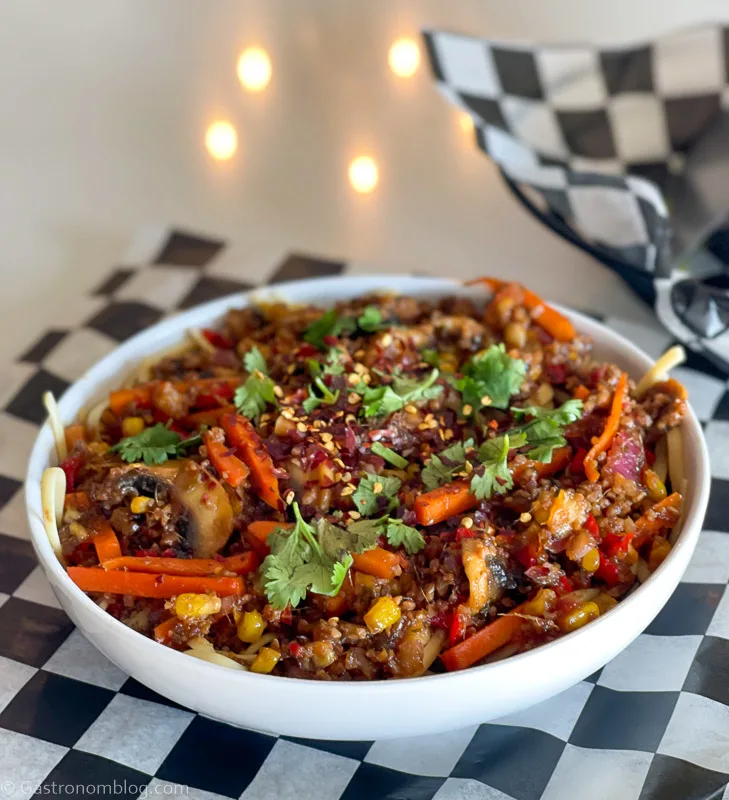 Dinner at Highlander Hotel
For dinner, we shared the Charcuterie plate with meats, cheeses, berries, olives, spicy pickles and a spicy pepper jelly topped cream cheese with salty crackers. This was gobbled up quickly. The boys each had the Mahi Mahi tacos with a corn salsa and sour cream dill sauce. They were so tasty and I don't think the youngest even chewed between bites he loved it so much!
Jay had the KC BBQ pizza that I nibbled off of, and everything was fresh and hot. To finish the meal we had cheesecake mousse with strawberry slices and vanilla cookies, it was rich but not overly so and went down quickly. The boys had the S'mores Pizza with lots of gooey melted chocolate and melty marshmallows. Jay and I didn't even get to try it because they loved it so much!
Snack Shack
The Snack Shack is near the lounge for breakfast purposes, and there is coffee, fresh fruit and yogurt available to guests in the morning, and then once the pool opens at 9 am, there is a window that opens into the pool area. You can order food and drinks through the Snack Shack to eat and sip on while taking a break from swimming, or while the kids are still in the pool.
The Snack Shack is open 24 hours and offers complimentary coffee all the time. The same goes for soda. They are also eco-conscious, so no straws, paper cups, styrofoam, or plastic bottles.
Amenities at the Highlander Hotel in Iowa City
Indoor Swimming Pool: The piece de resistance of the Highlander is the indoor pool area. Renovated last year, there is a huge vibrant mural on the wall and a balcony from the penthouse suite into the pool area. There is also a large hot tub, space and chairs for lounging, high top tables for eating, and garage doors that open up onto the courtyard.
The Highlander Hotel has the largest indoor pool in the Iowa City area. If you are a family that loves to swim, this is the place to stay when you are visiting Iowa City! Your entire day can be spent playing in the swim area alone.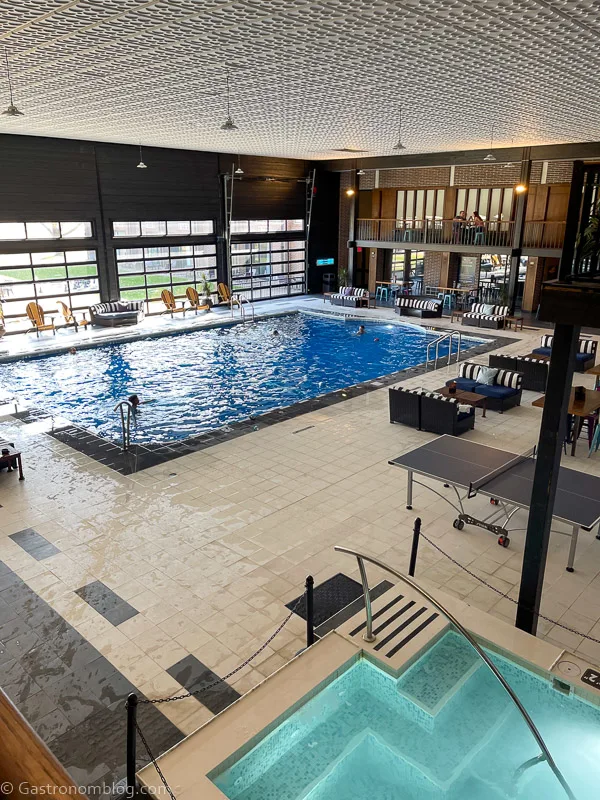 Portable Record Players: Take a record player back to your room to listen to some vintage records that they have in the vinyl lending library in the lobby. The soundtrack for your stay can be any favorite album that is there. We saw the Beatles, Fleetwood Mac, Black Sabbath and tons more!
Fitness Room: equipment is available in the room just off of the pool.
Games: Game lovers can enjoy three TVs in the lounge to watch games on, and a giant Pictionary wall is there in the bar as well, too. There are also board games to check out from the lending library in the lobby – Catan, Apples to Apples, Spirograph and more! There are lawn games out in the courtyard, chess and checkers as well as cornhole. Table tennis is available in the pool area.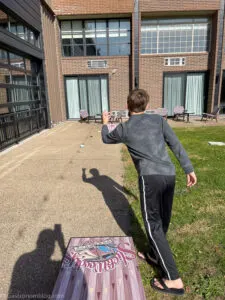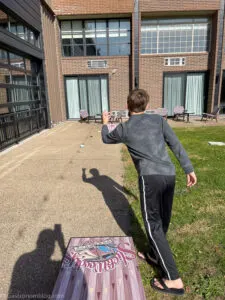 Fire Pits: various spots around the property have fire pits available to sit around on those chilly fall and spring nights! The front patio just off of the bar and lounge has a lot of chairs and fire pits, as well as the courtyard for a more secluded experience.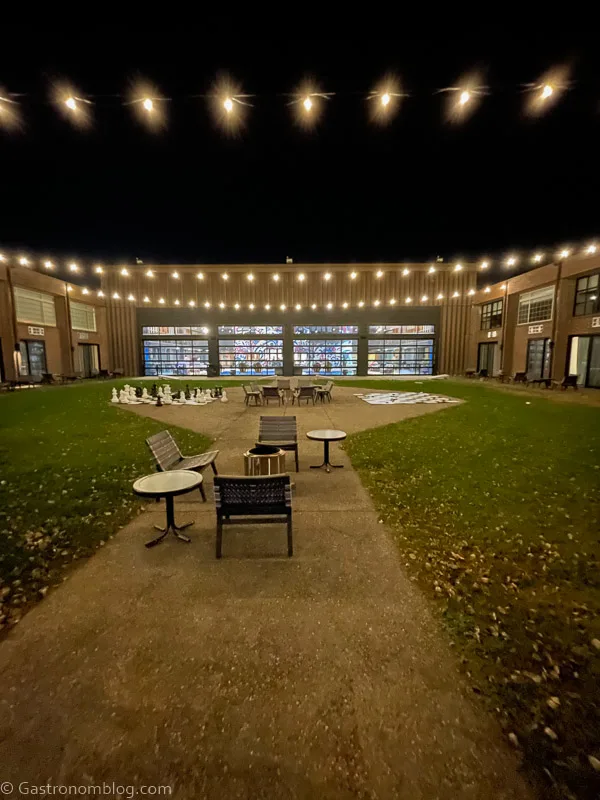 Highlander Hotel Rooms
Whether you're looking for a
staycation
or just driving through Iowa City, we can't recommend a stay at
The Highlander Hotel
enough! We stayed in a
poolside suite
for a family. It was two adjoining rooms, so we ended up with a king bed room with a living room area and a small kitchenette, as well as a bathroom. The adjoining room had two queen beds and a bathroom. Both opened onto the pool area with sliding glass doors. These doors do have many locks on them, and when the pool is closed down at night they are locked from inside the pool area as well, and not reopened until 9 am when the pool opens again the next morning.
Check out time is at noon, so if you are leaving you still have plenty of time to get the kids one last swim before checking out. We did this, even had breakfast and had the car packed and were leaving by 11:30! The kids thought it was so fun for one last swim!
If you forgot anything or need something for your room, there is a sign in your room listing things that are available for your use. You can request everything from alarm clocks, space heater, and refrigerators to phone chargers, baby monitors, and yoga mats. Pets are welcome at this urban resort for a $30 fee.
The Do Not Disturb signs for the doors are wooden peace signs, another nod to the retro vibes.
Poolside Hotel Rooms
If you have kids with you, or plan on spending a lot of time swimming, we recommend a poolside or balcony room. But, also be aware that these rooms are noisier. If you want a quieter night consider booking one of the rooms overlooking the courtyard or outer part of the hotel. The pool closes at 10 for children, but adult swim is available until 11, so it does stay noisy in the pool area until that time. Just as a heads up.
We had a first floor room, near the hot tub, and when opening our sliding door could step right onto the pool deck. There is a table and stools for each room on the pool deck for your personal use, so it's great for eating or just hanging out. Also great for sitting at if you want to watch the kids play in the pool.
The Highlander Hotel Vibes
The hospitality team at The Highlander Hotel was incredible. Everyone was helpful and always willing to help with directions or questions.
1970s and 80s music is pumped through the sound system. Jewel tones were on the walls and in the furniture. A fun neon lit peace sign is in the bar, and colorful artwork is all over the hotel.
The hall floors are bright and colorful. Every hallway is a different color palette and pattern.
The communication from the hotel before and during our stay was great. A few days before we arrived, we received an email inquiring about arrival time. As soon as we checked in and got to our room we received a text message asking if everything was ok in our suite.
The lobby of The Highlander Hotel has a retro vibe and the kids loved it! The boys said that it was such a fun hotel with yummy food and so many things to do they never felt bored or needing to find things to do. There were always other options if they got tired of one thing, they were on to the next. Since the signature cocktails at the The Highlander Hotel Iowa City are all able to be boozy or mocktails, they ordered them as mocktails and felt as grown up as the adults.
Our oldest got the mocktail grasshopper and said it was liquid dessert, he loved it! The youngest got the Bra Burner, LOL, and said it was so yummy. It was a twist on the classic Sex on the Beach cocktail. He loved the tropical flavors, we told him it was a "training bra". Ha!
Iowa City, Iowa
The Highlander Hotel Iowa City is just off of the interstate on the east side of Iowa City which is a very convenient location. The hotel is easily accessible for interstate drivers, but it's also just a short drive from downtown Iowa City. If you are planning to spend time at the hotel for a vacation or staycation, it's a great place to stay to explore the area as well. A great home base for events or sports, also a great way to get to your inner rocker! We also went to Press Coffee just down the street – they had some great fall flavors, too!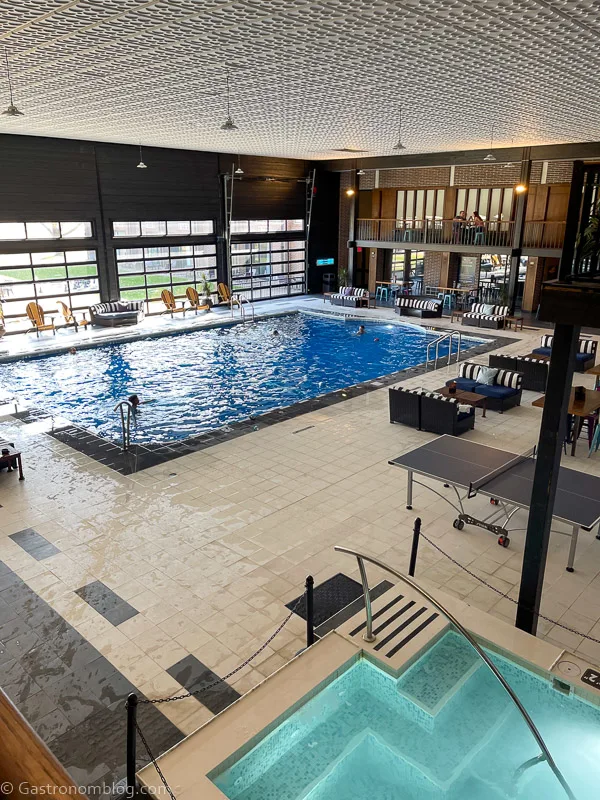 Which popular attractions are close to The Highlander Hotel: Iowa City or Coralville?
Old Capitol Museum – Next door to the Museum of Natural History on the University of Iowa campus. Only National Historic Landmark in Iowa.
Wilson's Orchard: grows fruits and vegetables, has many options of apples to pick from, as well as berries throughout the summer and fall. A lot are U pick options. They also have Rapid Creek Cidery – a hard cidery!
Terry Trueblood Recreation Area – great for bird watching, trails, picnicking. Kayak, Paddle Boat, Paddle Board Rentals.
Prairie Lights Bookstore–

they have three floors of books, including an acclaimed children's department, as well as a cafe/wine bar. Readings and special events available.

Winter Recreation: cross country skiing, ice skating, snowshoeing, sledding. Iowa City even has a Nordic Club!
Hickory Hill Park – passive nature area. Hiking, birdwatching, skiing.
Taste of Iowa City – in August every year. Taste food and drink from around Iowa City.
Northside Oktoberfest – in October, beer and food fest!
Things to do With Kids in Iowa City
Devonian Fossil Gorge – we went to this, and it was so neat to see old fossils in rocks. Its almost like a scavenger hunt to find them, so fun! It's at Coralville Lake – so many recreation options: trails, boating, fishing, camping.
Museum of Natural History – on the University of Iowa campus
Stanley Museum of Art – on the University of Iowa campus. Great programs for kids, and changing exhibits throughout the year. They are moving to a new location in 2022, so right now, they are just virtual visits.
Iowa Raptor Project – Solon, Iowa. Self guided tours of the birds of prey.
Downtown Iowa City Digital Scavenger Hunt
Iowa Children's Museum – Coralville
Spirited Travel
Attractions within 30 Miles from the Highlander Hotel, Iowa City
What are the check-in and check-out times at The Highlander Hotel?
You can check in from 3:00 pm on. Check-out time is noon.
Also, don't forget to follow us on Instagram and tag #gastronomcocktails so we can see all the wonderful recipes YOU recreate from this site!
You can also subscribe to our newsletter so you never miss a delicious recipe again!
Other Places to Visit
Like this post? Check these out below, too!
Hotel Grinnell, and the town of Grinnell, Iowa
Sioux City Brewery Tour
Interested in stocking your own home bar? Make sure to see our favorites at our Amazon Store!
If you liked this post, don't forget to subscribe for new (and of course free) recipes by entering your email address on the side bar (and get all the recipes delivered to your inbox when we post), so you don't miss out on a thing. You can find us on Facebook, Instagram, and Pinterest!
Gastronomblog is a participant in the Amazon Services LLC Associates Program. It's an affiliate advertising program designed to provide a means for sites to earn advertising fees by advertising and linking to amazon.com