Last Updated on October 10, 2023 by Leah Hall
Spend 24 hours with us in Grinnell, Iowa seeing what we saw, drank and ate at Grinnell, Iowa restaurants, Hotel Grinnell, Grinnell College and art gallery, too! Can't wait to share with you!
Have you ever been to Grinnell, Iowa? If not, you need to put this on your list to visit! Located an hour east of Des Moines, Grinnell is the perfect small town that is a great foodie destination with many things to do and see in town, plus many more just a short drive away! It's also an hour west of Iowa City and Cedar Rapids, making it a great central location in Iowa. Let us show you what we did there in 24 hours!
If you want to reserve your own trip to Hotel Grinnell and Grinnell, Iowa, click here!
This post contains sponsored content brought to you by Hotel Grinnell. We received compensation to create this post. But, all opinions and views presented here are 100% our own. This post contains affiliate links for products that we think you as readers might find useful, and we make commission off of these! For more details about our affiliates, click our Disclosure and Contacts Page.
We arrived in Ginnell after a short 3 hour drive from Omaha. Being that 99% of the drive is by interstate for us, this is easy and Grinnell would make for a great weekend getaway for folks from Omaha, but this is especially true for people from Des Moines! A perfect location with a lot of great food and a top notch hotel, Grinnell, Iowa is known as the "Jewel of the Prairie"!
We had a private tour of Hotel Grinnell with the owner, Angela Harrington. Hotel Grinnell is contemporary boutique hotel with 45 rooms, a mix of 42 standard and Premium rooms, 2 bunk rooms, and a Penthouse Suite. The history of the Hotel Grinnell is rich and oh so interesting!
Currently, Small is the New Big, as travel in the Midwest is amping up as people are not able to travel much overseas and are discovering the US more with traveling by car! Full of authentic charm, Grinnell is the perfect stopping point.
Hotel Grinnell
The building that Hotel Grinnell is in was built in 1921 as the junior high school for the town of Grinnell. It closed in 1978 and became office space for the city. It was rarely used and deteriorated until Angela bought it in 2012 and turned it into a great luxury boutique hotel and event space! They opened in 2017.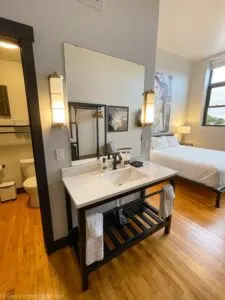 During the restoration attention was placed on keeping as much of the original touches of the school. The maple floors were kept and refinished, but still shows wear and scratches from desks and chairs. The ballroom, which was the gym, still has the basketball court markings which makes the gym feeling so fun!
School terms abound in things such as the Report Card (review cards), Hall Pass (Room Key), Men's tie (do not disturb sign). There is a chalkboard in every room – and they encourage you to write a note to them on it, too! Also, the Periodic Table, the onsite restaurant and bar is themed with drinks and food! There's access to bikes for guest use too, since the town is walkable, makes it bikeable, so this is a great option.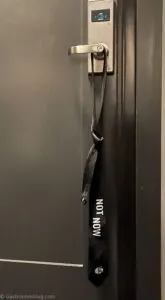 One of the most unique touches in the hotel is the artwork. Angela found all 300 pieces of artwork, and none of them are duplicated.
The Penthouse Suite is also very unique, it used to be the dressing room for the theater, located above the theater. The entrance to the suite is on the third floor, and there is a great extra space that they added with a wall of mirrors and a beauty chair – this is the perfect place for a bride to get ready!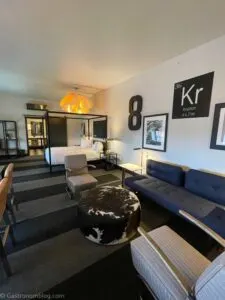 The rest of the suite is up some steep stairs (I can't imagine doing them in a theater costume!), and the room has a large bed, sitting area and dining table. This space also has a bathroom with tub and shower. A beautiful and fun set up for sure, it's a unique room!
Periodic Table
The Periodic Table is a great onsite restaurant that serves free breakfast for guests in the mornings, as well as lunch and dinner. Cocktails, wine and beer are available during regular hours.
Periodic Table is NOT just for hotel guests, the Periodic Table is open for all, and we encourage you to go! Between the great, flavorful food choices and the fun themed cocktails, (and classics), you will find something tasty and wonderful to enjoy. The menu offers fun flatbread pizzas and street tacos – we tried the Korean Beef and Bahn Mi Spicy Tacos. They were on point and full of flavor. There are some great shared plates like charcuterie or fondue, as well as desserts.
The Cocktails are delicious, with classics or twists on classics that have fun School Themed names like: Lab Partner, New Kid and Team Captain. It's another nod to the school theme found all over the old junior high.
All signature cocktails on the Periodic Table's menu can be made as a mocktail, or you can boozify them with suggested alcohols. Great for those who aren't imbibing, and can still feel like the cool kid!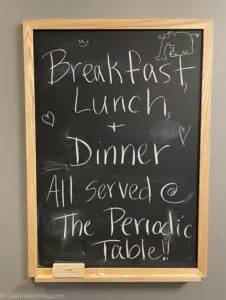 The Periodic Table also has a fabulous (and huge!) patio with fire pits and tons of tables and chairs to enjoy some time outside. Feel free to just hang out here for a time and enjoy the fire pits, if it's chilly, or a lovely evening if it isn't.
Solera Wine Bar
Solera Wine Bar is located a block from Hotel Grinnell and has a great selection of over 150 wines and beers. Colleen Klainert is the owner and operator and it was fun to meet her. We also enjoyed a pizza from her extensive pizza list. We picked a fall themed pizza that just sounded so tasty – pumpkin butter, blue cheese and candied walnuts. It was to die for, and went perfectly with our zinfandel from Alexander Valley in California.
The wine selection was vast and we saw a lot from California, Washington and Oregon, as well as Italy and France. Beers encompassed everything from Brown Ales, Lagers, Stouts, IPAs, Belgians and Domestics.
We thoroughly enjoyed or visit to Solera and think you will too! Sit at the bar, your own table or the patio outside!
Grinnell Craft Brewhouse
There are a lot of great beer options at Grinnell Craft Brewhouse! Serving brews from all over Iowa, there are many flavor selections to be had: IPAs, stouts, even seltzers and hard ciders!
Jay ordered a German Chocolate Stout and I ordered the delicious Apple Pie Cider. These were great sips and we tried a few others, as well as taking a growler of 13.5% Cat Dragon ginger beer home to make cocktails with!
After our sips we headed over to the Prairie Canary for dinner!
Prairie Canary Restaurant
The Prairie Canary was a super cute restaurant with wood floors and tin ceilings and super great local comfort food! They locally source as much as possible, and the beef and pork are from Iowa.
We started our meal off with Truffle Fries and a couple cocktails! Jay drank the Boozy Canary with bourbon, cognac, Grand Marnier, aperol, orange juice, orange bitters, and egg white. I ordered the Fig Get About It with rye, sweet vermouth and fig syrup.
Jay ordered the Iowa chop with mashed potatoes and asparagus, it was well cooked and so flavorful. I ordered their chicken salad with feta, fresh greens and avocado. The vinaigrette the salad was tossed in was fresh and light.
We also added on the soup special of the day which was pizza soup. It was spicy as well as rich, topped with cheese like French Onion soup. We enjoyed this fun twist.
Unfortunately we didn't have room for dessert, although they sounded delicious, and we will make a point to try some at our next visit!
Grin City Bakery
The next morning we headed over to Grin City Bakery for a pastry or two, and it was hard to pick what to try! Between the blueberry fritter bread (Jay's choice) and the coney (for me), filled with buttercream and topped with vanilla frosting, the donuts were fresh and light and a must try if you are visiting! Of course the smells alone were worth the visit!
Each pastry is hand rolled, formed and measured as well, so make sure to stop to get a donut, cookie, cinnamon or pecan roll, or their fun sausage kolaches.
Saints Rest Coffeehouse
Saints Rest was a lovely and homey coffeehouse with comfy couches, lots of tables and chairs, likewise it just felt comfortable and like it belonged in a small city. There were people greeting each other, and a lot of older folks bringing in their own coffee cups for morning sips!
We ate our pastries here while enjoying our coffee! Jay got a mocha, and I ordered the Smash'n Pumpkin – with pumpkin, vanilla and hazelnut syrups. Autumn in my coffee cup that morning, and I enjoyed it a lot!
They also offer fresh pastries that change often, and fresh herbal teas and coffee. Open since 1999, it's the place to be in the mornings in Grinnell, Iowa for sure!
Grinnell College
Twice in the 24 hours in Grinnell, Iowa, we went over to Grinnell College for 2 different tours. First we headed over to the Grinnell College Museum of Art's Faulconer Gallery to see a great current display of Queer/Dialogue all from Queer artists. It was a colorful show – paintings, photos, sculpture, textile and film. It is currently on display until December 12. Masks are required on campus, by the way.
The Grinnell College Museum of Art changes out their displays up to 3 times a year – once per each semester, and one over the summer, so the artwork is always changing and are a great stopping point on any visit to Grinnell. They have over 5000 art pieces in their art collection that they can change out pieces in their exhibitions!
Grinnell College Tour
Grinnell College was established in 1846 and is a private, coed liberal college with about 1700 students. Social responsibility, cultural awareness and mutual respect are core tenants. The campus student body is diverse. Inspired by this, we met up with the college executive chef, Scott Turley.
Scott led us on a tour of their food operations for the campus, feeding students every day, and doing conferences, events and camps during the year, too. It's quite the operation, and we enjoyed seeing the processes involved in keeping food fresh and flavorful all the time, while offering diverse and specific diet and allergy friendly meals to all students and visitors.
The dining hall gives access to all kinds of foods – grill station, pizza oven, soups, international flavors, vegan options, and gluten free options. They also make sure to keep those allergy options such as gluten free or nuts away from other food offerings so that there is less risk of getting sick, as well.
Things to Do In Grinnell, Iowa
Other than being a great foodie destination with some great restaurants and fun places to get a drink, there are a lot of other things to do in Grinnell!
Louis Sullivan Bank – Feels like a Jewel Box inside because of all the stained glass. A must stop when in town, it is currently home to the Grinnell Chamber of Commerce.
Grinnell Historical Museum – Changing exhibits, and fun artifacts from the town's history
Architectural Walking Tour – Includes the Louis Sullivan Bank
Community Art Walking Tour– murals and art around the city
Uncle Bill's Farm – only open in October, offers hay rides, corn maze and jumping pillows
Outdoor Recreation: 11 parks, disc golf course, lakes for fishing
Grinnell Mutual Aquatic Park: Summer only: offers slides, lazy river and zero depth entry pool
Shopping: a lot of boutique stores and gift stores to choose from!
Music in the Park: Summer concert series
Sporting Events at Grinnell College: all year, check the schedule
Grinnell College Museum of Art offers summer classes that are hands on for kids and families in area parks. Ceramics, painting, drawing and more!
Rock Creek State Park: camping, boating, horseback riding, hiking, fishing, picnicking, hunting
Gravel Bike riding: check with Bikes to You for advice and locations to bike, you can also rent a bike if you need one.
Jacob Krumm Nature Preserve: Pier, trails, fishing and boating
Grinnell, Iowa Restaurants
Here are some great choices that we didn't talk about here in the article!
Dari Barn Grinnell: a great ice cream shop, open during the summer season
Hometown Heroes: sports bar with a great bar menu
Jay's Deli: sandwiches, soups and salads
Pagliai's Pizza: Pizza and Pasta
Relish: Local food, Global flavors: great offerings with international flavors
Maria's: 831 West St.
Hotel Grinnell Location
925 Park St, Grinnell, Iowa 5011
Things To Do A Little Farther Away from Grinnell, Iowa
We picked some fun things that are within 20 miles from Grinnell as well, if you are looking to keep Hotel Grinnell as your home base for a weekend!
Hope after all this info you put Grinnell, Iowa on your must visit list! And make your own trip plans to Grinnell! Cheers!
Make sure to check out their sister property, The Highlander Hotel in Iowa City, Iowa!
Check out our other 24 hour itinerary in Kansas City! Or, if you are headed north to Minneapolis, stay at Hotel Alma! Or McHenry County Craft Beverage Trail in Illinois.
Also, don't forget to follow us on Instagram and tag #gastronomcocktails so we can see all the wonderful recipes YOU recreate from this site!
You can also subscribe to our newsletter so you never miss a delicious recipe again!
Like this post? Try these below, too!
Iowa Brewery Tour
Weekend in Dubuque, Iowa
Interested in stocking your own home bar? Make sure to see our favorites at our Amazon Store!
If you liked this post, don't forget to subscribe for new (and of course free) recipes by entering your email address on the side bar (and get all the recipes delivered to your inbox when we post), so you don't miss out on a thing. You can find us on Facebook, Instagram, and Pinterest!
Gastronomblog is a participant in the Amazon Services LLC Associates Program. It's an affiliate advertising program designed to provide a means for sites to earn advertising fees by advertising and linking to amazon.com