Last Updated on January 16, 2023 by The Noms
An easy homemade Salted Caramel Vodka that becomes a DIY liqueur, perfect for creamy dessert drinks and any caramel flavored cocktail!
This Salted Caramel Vodka is an absolutely decadent treat and it can also be a great gift to present friends for the holidays coming up!
This post contains affiliate links for products that we think you as readers might find useful, and we make commission off of these! For more details about our affiliates, click our Disclosure and Contacts Page.
We had been wanting to make our own caramel vodka for a while now, so we did. We made two recipes, one that is plain caramel, and this one with salt. It's amazing just how easy this recipe is!
Is there a Caramel Flavored Vodka?
Yes, there are readily available store bought Salted Caramel Vodka (Smirnoff Kissed Caramel Vodka). Please note that this homemade version will not look like caramel vodka you can find in the store, which is usually clear. This homemade salted caramel vodka is creamier and heavier than clear vodka.
Homemade Salted Caramel Vodka
A great bottle of Salted Caramel Vodka is available in the stores, and it super tasty. But this homemade version is closer to Bailey's in consistency to the liqueur and flavor profile.
This Salted Caramel Vodka is sweet with a touch of salty, as well as a bit of a bite from the vodka and all of it combined together with the creaminess of a liqueur. We make this recipe so easy which is just infused vodka with chewy caramel candies and a touch of salt.
As we noticed with the Caramel vodka, there was a white frothy bit at the top of the infusion. So we strained that out before adding the salt and storing the Salted Caramel Vodka.
Then we added a pinch of salt, an eighth of a teaspoon. If it isn't salty enough you can always add more later, or even add it to cocktails you make! You can also rim cocktail glasses with salt if it isn't enough.
Ingredients Needed for the Salted Caramel Vodka
Vodka – any brand will do, just a plain bottle of vodka
Caramels – wrapped caramels work great, or if you have access to meltable caramels, those will work too. Either way, you will be filtering the infused vodka through a coffee filter, which will get rid of any residue left behind by the caramels. Just simply cut the caramels in half to make infusing even easier and quicker.
Salt – you can use any kind of salt, table salt is fine, but we used sea salt. Just a pinch of sea salt adds a great salty goodness to this Salted Caramel Vodka.
Instructions to Make the Salted Caramel Vodka
This process does take a few days, between 2-3 days, so make sure to plan that time for the infusion to take place. But, you just have to combine the ingredients, do some bottle shaking, and then filter, and you have some delicious homemade salted caramel vodka, perfect for our caramel apple mimosa, caramel mule or any other fall cocktails!
Combine the vodka and caramels in a mason jar with lid (or any other container with a lid that seals well).
Shake 2 times a day for 2-3 days and taste before filtering to make sure the flavor is what you want.
When ready, strain through a coffee filter or cheesecloth. Add salt.
Store in an airtight container.
How to Store the Homemade Caramel Vodka
In an airtight container. It doesn't need to be refrigerated, so it can stay on your home bar or bar cart. But, if you make a large batch, make sure to use it within 6 months.
Tips & Tricks
This Salted Caramel Vodka is a great homemade gift for a hostess gift, housewarming or the holiday season. Simply make a big batch of this recipe, and then make sure to save some for yourself before packaging this liqueur up! Put it in a pretty bottle with a bow, and maybe a recipe card with this recipe, or tasty caramel vodka drinks like our Caramel Apple Cider Mimosas, Caramel Apple Mules or Pumpkin Salted Caramel Martini!
This homemade liqueur is great in or on other recipes, too! Try it on ice cream, in hot chocolate or add a bit to some whipped cream for a boozy treat!
We hope you try this recipe out, as well as the regular Caramel Vodka. Also try out our Strawberry Infused Campari!
Cheers!
Also, don't forget to follow us on Instagram and tag #gastronomcocktails so we can see all the wonderful recipes YOU recreate from this site!
You can also subscribe to our newsletter so you never miss a delicious recipe again!
Like this recipe? Try these below, too!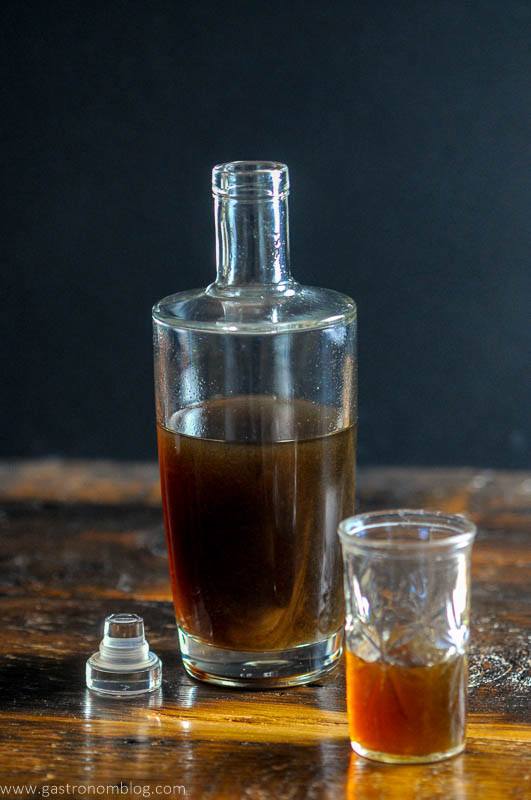 Homemade Banana Liqueur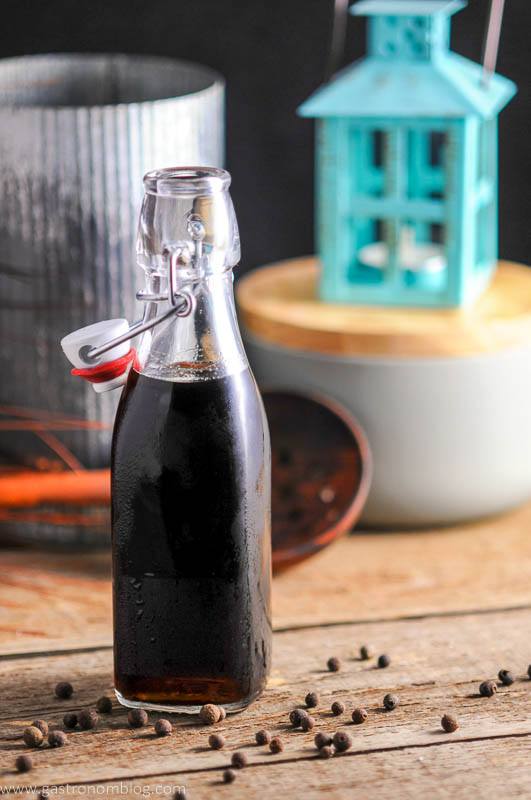 Homemade Allspice Dram
Other Homemade Liqueurs
Yield:

2 cups
Salted Caramel Vodka Recipe
Total Time:
2 days
5 minutes
This Salted Caramel Vodka is perfect for creamy dessert cocktails and great fall drinks!
Ingredients
2 cups vodka
16 caramels, unwrapped (or soft meltable caramels, about 1/3 cup), cut in half if larger caramels
1/8 tsp sea salt or Kosher Salt
Instructions
Combine vodka and caramels in a jar with a lid. Shake jar before letting sit.
Shake every 12 hours or so for a couple days.
Let sit for at least 2 days - we did this a few times, and it was anywhere between 2 days to 3 days for it all to break down.
Strain out caramel remnants and solids. You can use a mesh strainer and cheesecloth like we did. Or just a coffee filter.
Add in salt and stir.
Store in a jar with a lid.
Cheers!
Recommended Products
As an Amazon Associate and member of other affiliate programs, I earn from qualifying purchases.
Nutrition Information:
Yield:
16
Serving Size:
1 oz
Amount Per Serving:
Calories:

103
Total Fat:

.8g
Saturated Fat:

.3g
Cholesterol:

1mg
Sodium:

10mg
Carbohydrates:

7.8g
Sugar:

6.6g
Protein:

.5g
PIN THIS SALTED CARAMEL VODKA RECIPE FOR LATER!
Interested in stocking your own home bar? Make sure to see our favorites at our Amazon Store!
If you liked this post, don't forget to subscribe for new (and of course free) recipes by entering your email address on the side bar (and get all the recipes delivered to your inbox when we post), so you don't miss out on a thing. You can find us on Facebook, Instagram, Pinterest and Twitter!
Gastronomblog is a participant in the Amazon Services LLC Associates Program, an affiliate advertising program designed to provide a means for sites to earn advertising fees by advertising and linking to amazon.com
Follow my blog with Bloglovin