Last Updated on October 9, 2023 by Leah Hall
A tart and sweet combo of flavors in this whiskey blackberry smash, this is a very refreshing twist on the Bramble Cocktail.

We love the combination of blackberries and bourbon, and when a surplus of blackberries from a brunch found their way into our possession, it was only a matter of time before they ended up in a drink.We took the idea of this cocktail from a classic drink, the Bramble Cocktail. Perfect for blackberry season, especially in late summer, or a hot summer day!
This post contains affiliate links for products that we think you as readers might find useful, and we make commission off of these! For more details about our affiliates, click our Disclosure and Contacts Page.
The Rambler is pleasantly tart and refreshing, the blackberries and lemon juice giving a tart bite. Fresh squeezed orange juice adds a bit of sweetness that helped compliment the oak and vanilla notes of the bourbon, along with a dash of simple syrup. We called this a Smash cocktail because of the need to muddle the fresh fruit.
We always enjoy whiskey cocktails that highlight fresh fruit like sweet blackberries, and one that shines during a certain time of the year. Try blackberry recipes like this whiskey smash, a blackberry whiskey lemonade, blackberry whiskey sour or whiskey blackberry collins.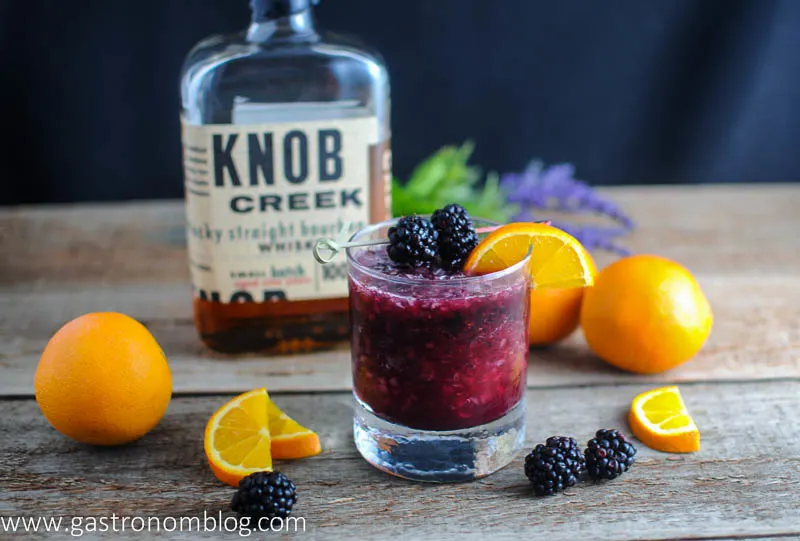 What is a Bramble Cocktail?
A Bramble is a cocktail created by Dick Bradsell in London during the 1980s. Usually described as a spring cocktail, the Bramble combines gin, lemon juice, sugar syrup, and crème de mûre, all with crushed ice. Bradsell also finished off the cocktail with some fresh fruits, like juicy blackberries and a lemon slice.
We took this same idea and applied it to this Whiskey Blackberry Smash, but added some other flavors. Instead of the blackberry liqueur we used fresh blackberries. We added orange juice, because blackberries and orange are divine together. And, we subbed the gin for some bourbon whiskey.
What Is a Smash Cocktail?
A smash cocktail is a simple drink and usually includes a spirit, herb, syrup or sugar, and fruit. For this blackberry whiskey cocktial, we used fresh berries!
We also have recipes for a Bourbon Peach Smash, Strawberry Sage Tequila Smash, Rhubarb Basil Smash, or Blackberry Gin Smash. If you like this whiskey blackberry smash recipe, make sure you also put these cocktail recipes on your list, too!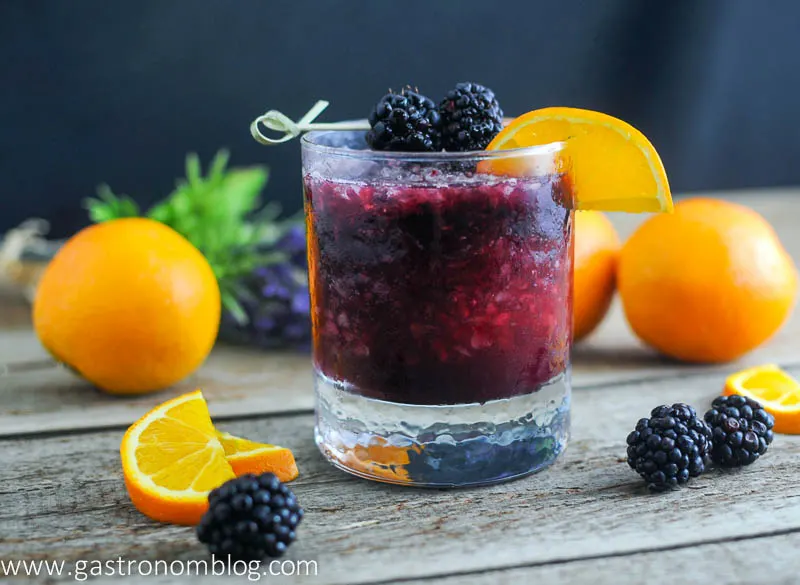 What ingredients are Needed for the Rambler Cocktail?
Bourbon -the bourbon in this cocktail adds some great flavor. Use a bourbon that has notes of vanilla, fruit and spice. By doing so, the vanilla notes of the bourbon will play well with the fresh berries and citrus in this drink. Some suggestions are Elijah Craig, Michter's, Woodford Reserve, Knob Creek and Four Roses. Look for some small batch bourbons, as they are always great options. These are all great in other bourbon cocktails, too!
Blackberries – fresh berries make this drink. Use berries that are ripe and they will smash up perfectly in this Whiskey Blackberry Smash. Hence the name, you need to use a muddler for this drink, to extract all the fresh blackberry juice and flavor.
Orange Juice – of course, fresh squeezed is best! Save a slice of fresh orange for the garnish!
Lemon Juice – again, fresh squeezed is best! Fresh lemon juice adds a sour note to the drink. You can use lemon wedges for a garnish, too!
Simple Syrup – Just a dash is needed. We recommend making your simple syrup at home, try our Homemade Simple Syrup Recipe, and add as much or little as you want. It can also vary because of the sweetness level of the fresh berries, as some can be sour.
Orange Bitters – This adds more orange flavor to the drink, and can take some of the sweetness level of the bourbon, berries and simple syrup when combined. Makes for a nice rounded cocktail, so make sure to add Orange Bitters!
What is Muddling?
For this cocktail, you want to have a muddler. A muddler is a handheld wooden (or metal) bar tool with a flat head on one end. It is used to mash fruits and fresh herbs like fresh basil leaves to extract delicate flavors into cocktails. They are inexpensive and a necessary tool to have fruity cocktails in your home bar.
The best way to smash blackberries is to use a muddler at the bottom of a shaker or mixing glass to mash the berries down. This expresses the juices and separates the seeds from the pulp and juices for this whiskey blackberry smash. You can muddle citrus wedges, fruits and fresh herbs. It helps to extract the oils from herbs, and help infuse the cocktail. After muddling, you add the spirit, sugar, ice and then shake.
Muddling is used in a lot of classic cocktails with minimal ingredients like a mint julep or other bourbon smashes.
How to Make the Whiskey Blackberry Smash
To make this Whiskey Blackberry Smash, we start by muddling the blackberries, simple syrup and orange bitters in a cocktail shaker. Once the blackberries break down, add the bourbon, citrus juices and ice cubes, secure the top to the cocktail shaker and shake vigorously. Shake for about 15-30 seconds.
Next, take off the cocktail shaker top, add a Hawthorne strainer and strain the cocktail through a fine-mesh sieve (this is double straining) into an ice filled rocks glass. Crushed or shaved ice work well in this situation.
Double straining takes out the seeds from the berries, which the Hawthorne strainer may miss. But, you don't have to take the seeds out if you don't want to.
Then, garnish with a cocktail pick full of fresh berries, and an orange slice. Or a sprig of mint if it is in season!
Tips & Tricks
Sweetener – if you don't want to use our Homemade Simple Syrup, which is made with regular sugar, feel free to use another sweetener source. This could be honey, maple sugar or a sugar free syrup option. You can also go with the amount that we advise in the recipe, but feel free to change your level of sweetness in this easy cocktail. You can even use blackberry syrup if you want a huge punch of blackberry flavor.
Fizz – If you want a little lighter cocktail, feel free to add some bubbles of some sort. We suggest a splash of ginger beer, ginger ale, soda water, tonic water or a splash of club soda.
Herbs – A typical smash has an herb in it, and we didn't use one in this case. But, feel free to add some at the end of muddling the blackberries if you would like. Fresh rosemary, fresh mint, thyme or basil would be lovely in this. Try our Peach Basil Gin Smash!
Fruit– If you don't have access to fresh blackberries because of the time of year, blueberries, strawberries, or raspberries are great in this. Or, if berries are out of season, you can try frozen blackberries, and/or try peaches, apricots, cherries or pear. Seasonal fruit is always a good bet!
Pitcher – if you are wanting to serve this in a large format for a group, feel free. Read on to make a big batch: Muddle the blackberries, syrup and bitters in the bottom of a large pitcher. Multiply the amount by at least 6 servings for a pitcher. 8-10 servings is even better. Pour in the bourbon, lemon juice and orange juice. Then, cover and refrigerate the pitcher for a few hours. When ready to serve, pour over crushed ice in rocks glasses, garnish and serve!
Can I use a different type of whiskey? Yes! You can use your favorite whiskey. Just remember different types of whiskey have their own flavor profiles. Like, rye whiskey would add spicy notes and a Scotch would give a richer and smokier flavor (if you use a smoky Scotch, try lowlands if not wanting smoke).
Glassware – A smash is typically served in a double old fashioned glass or rocks glass. A double old fashioned glass holds around 12-14 ounces. This will give plenty of room for the crushed ice. Make sure to use a Lewis Bag to get that crushed ice! Try a Blueberry Smash, Ginger Cherry Smash or Pisco Smash, too!
Spirit – if you are not a whiskey fan, feel free to use gin, vodka, or tequila in place of the whiskey in this smash.
Mocktail – you can make a mocktail version of this by using a zero-proof bourbon. Add a splash of ginger beer to get the "zip" from a full proof whiskey.
Garnish – blackberries on a bamboo cocktail pick, and an orange wedge is what we used. Or, a lemon wheel, mint sprigs, lime wedges and more work well! Make sure to clap your mint leaves together between your hands before garnishing if you use it! This helps release the mint fragrance with every sip!
Muddle – if you don't have a muddler, you can use a wooden spoon. But, try to get a muddler, it's a good bar tool to have!
Bar Tools Needed – other tools you may want for this cocktail are: (other than a muddler), a cocktail shaker, strainer, Hawthorne strainer, jigger and Lewis Bag with mallet. All are useful for this drink, as well as many others!
Spirit – If you don't like whiskey, feel free to try another spirit. You can turn this into a tequila, rum, gin or vodka smash.
Ice – like we said above, a great bar tool to have is the Lewis Bag and Mallet. But if you don't want crushed ice, feel free to shave the ice. Easiest way to do this is blending ice cubes in the blender, which makes a light lovely snow cone type of ice for this drink. Just make sure to use fresh ice in your rocks glass when you serve this classic whiskey cocktail.
If you want another blackberry cocktail, try out our Blackberry Sazerac!
Cheers!
Also, don't forget to follow us on Instagram and tag #gastronomcocktails so we can see all the wonderful recipes YOU recreate from this site!
You can also subscribe to our newsletter so you never miss a delicious recipe again!
Like this recipe? Try these below, too!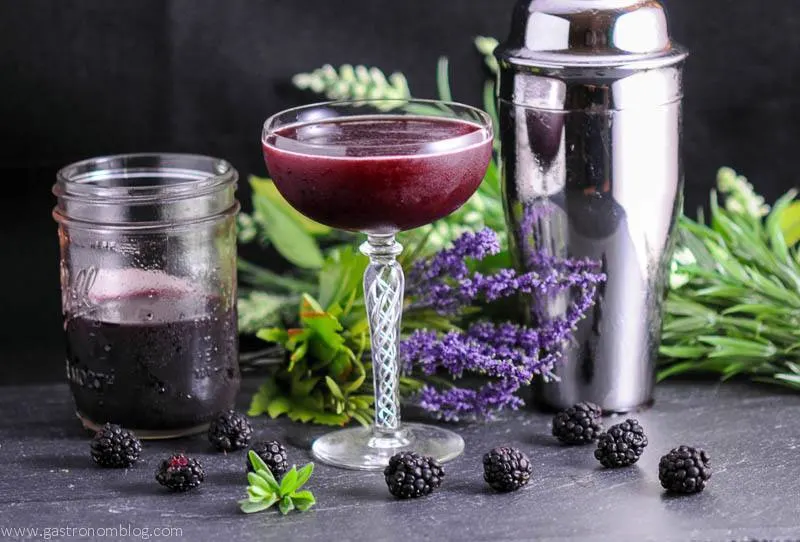 Brandy and Blackberry Lavender Shrub Cocktail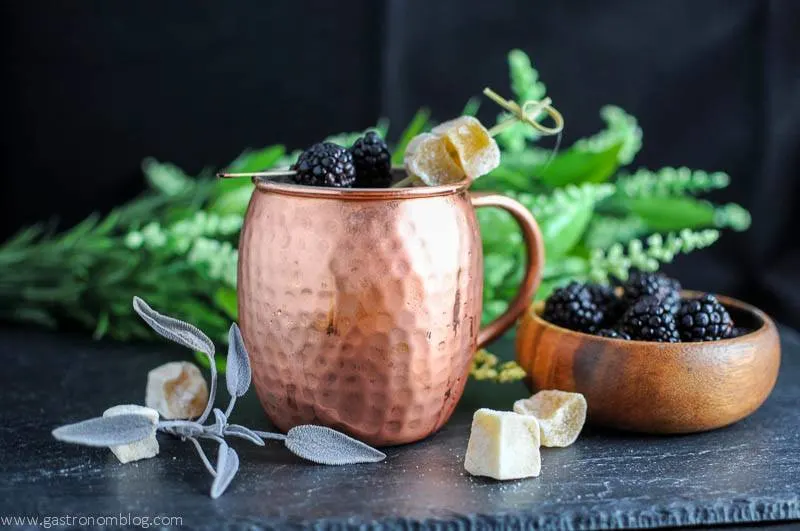 Blackberry Sage Kentucky Mule
Other Rambler Cocktails
Other Blackberry Cocktails
Yield:

1
Whiskey Blackberry Smash
This simple cocktail is full of flavor. The Whiskey Blackberry Smash is easy to make and perfect for all year long!
Ingredients
2 dashes orange bitters
3-5 blackberries
.50 ounce fresh squeezed lemon juice
1.25 ounces fresh squeezed orange juice
2 ounces bourbon
Instructions
Add berries, simple syrup and bitters to the bottom of your cocktail shaker.
Muddle berries, syrup and bitters until berries are mashed.
add in ice, bourbon, lemon juice and orange juice.
Shake and double strain into a rocks glass filled with crushed ice.
Garnish with berries, orange slice or mint bunch if in season.
Cheers!
Recommended Products
As an Amazon Associate and member of other affiliate programs, I earn from qualifying purchases.
Nutrition Information:
Yield:
1
Serving Size:
5 ounces
Amount Per Serving:
Calories:

188
Total Fat:

.4g
Sodium:

9mg
Carbohydrates:

13.4g
Fiber:

2g
Sugar:

5g
Protein:

.9g
Interested in stocking your own home bar? Make sure to see our favorites at our Amazon Store!
If you liked this post, don't forget to subscribe for new (and of course free) recipes by entering your email address on the side bar (and get all the recipes delivered to your inbox when we post), so you don't miss out on a thing. You can find us on Facebook, Instagram, and Pinterest!
Gastronomblog is a participant in the Amazon Services LLC Associates Program, an affiliate advertising program designed to provide a means for sites to earn advertising fees by advertising and linking to amazon.com