Last Updated on March 20, 2023 by The Noms
This lilac liqueur is the scent of spring in a bottle. Easy to make and easier to use!
Lilac Infused Vodka can preserve the scent of summer into a bottle for use later! This Lilac Liqueur recipe takes only a few days to make.
This post contains affiliate links for products that we think you as readers might find useful, and we make commission off of these! For more details about our affiliates, click our Disclosure and Contacts Page.
The scent of the lilac is amazing in the spring. It's a quick and short season, so if you want to have this recipe for use all year long, don't wait!
Lilac flowers are edible, and make for such a great floral ingredient in cocktails. We even made Lilac Simple Syrup, and these are great combined together.
Lilac Infused Vodka
You know we love to make our own homemade liqueurs – banana, peach, even allspice dram. We also love to infuse alcohols, so we knew right away what we wanted to do with our fresh lilac flowers.
Lilacs bloom mostly in the month of May and are common around the world. This really is lovely if you just want to make lilac vodka, and you can keep some that way, but we enjoy the lilac liqueur even more!
Preparing Lilac Flowers
We describe this in more detail on our recipe Lilac Simple syrup, but here are the basics to prep your lilac flowers.
Make sure your lilacs were not treated with pesticides or sprays.
Harvest the lilac blooms in the morning when the temperatures are cooler.
Shake off any dead blossoms, as well as any bugs or dirt.
Rinse off the lilac blooms before de-stemming.
When prepping for the infusion, remove just the blossom, leaving behind the stems, leaves and the green bits. If a few get in, no big deal, but it can make it bitter.
How do you Make Lilac Liqueur?
Place 1 cup of lilac blossoms in a jar or container with a lid, and top with 1 cup of vodka. 1 cup of blossoms to 1 cup of vodka is a good ratio.
Allow to steep for at least 1 week. We found we liked it best after 2 weeks, but taste to see when you liked it.
Strain the lilac blossoms from the infused vodka. You can use both a mesh strainer and a cheesecloth, or 1 of each.
Prepare the simple syrup to put into the liquor.
Pour in the simple syrup and stir. Store with lid. Should keep for up to 6 months.
Lilac flowers do lose their purple color in the liquid, (or if you use white, it's a little green), but you can add some blueberries into your simple syrup recipe and it will come out a pretty purple pink, which is what we did. Just add in 3 smashed blueberries, and it will give you a great color, but it's completely optional.
All about Lilac Liqueur
While it is infusing, you can add more flowers if you would like, as the ones in the vodka will shrink down a bit, especially if you want to maximize the lilac flavor. This is completely optional, but just something to keep an eye on.
Also make sure to taste it every so often while infusing, because the flavor may get to where you want it before our quoted infusion time. This is entirely up to you and your taste buds.
When adding the simple syrup to the final lilac infused vodka, it can be hot, this isn't an issue. But, just make sure you have the amount of sweetness you want. You can always add more, but you can't take away if it gets too sweet.
If you let the sugared liquor sit for a bit before using it will mix and be more flavorful as well. Give it a few days, and check the sweetness level, and add more if you would like. But, the flavors will be strong and sweet, and then you can get to shaking up some drinks! Use this lilac liqueur in our Lilac Gin Sour, too!
Make some Strawberry Vodka, too!
Tips and Tricks
We tried a mix of white rum and vodka as the base for the liqueur. We didn't like it as much as just vodka, but it was a little sweeter, so keep that in mind if you want to do a split base liquor.
Remember to remove the green part of the flowers. You can always use scissors and cut off the blossoms if they don't easily remove from the green stem.
Before placing the flowers in vodka, make sure to shake off bugs and rinse. Alcohol will kill anything, but you don't want that extra stuff in your infused vodka.
Great to use in a Lilac Gin and Tonic, added into a Lilac gin fizz, or a Lilac Collins cocktail!
How Long with Infused Alcohol Last?
Around 6 months if it makes it that long! But, the sugar is preservative, and you shouldn't see any changes until after 6 months, and then just make sure to check it before using.
And lastly, please note the liqueur will not have the lilacs color. Only color will come from the blueberries added as optional above. Don't worry, you didn't do anything wrong!
Cheers! Try out our Strawberry Infused Campari, too!
Also, don't forget to follow us on Instagram and tag #gastronomcocktails so we can see all the wonderful recipes YOU recreate from this site!
You can also subscribe to our newsletter so you never miss a delicious recipe again!
Like this recipe? Try these below, too!
Homemade Peach Liqueur
DIY Banana Liqueur
Other Homemade Liqueurs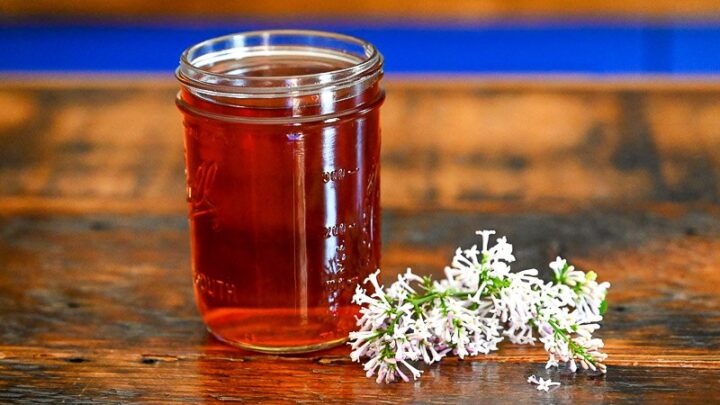 Yield:

2 cups
Lilac Liqueur
Total Time:
14 days
20 minutes
This lilac liqueur is easy to make, and is full of the floral flavor that lilac brings in the spring. Great in floral cocktails!
Ingredients
2 cups vodka
2 cups lilac flowers, rinsed and taken off of stems
3 blueberries (more info below), optional
Instructions
Combine the lilac flowers with vodka in a container with a lid. We used a jar and placed it in a dark place for 2 weeks.
You can check your infusion after a week, but we liked the flavor after 2 the most.
When you like the flavor of the infusion, make at least a cup of simple syrup to add to your infused lilac vodka. Add in the blueberries whie cooking, if you want added color in your liqueur.
Strain out the lilac flowers and discard them.
We actually liked it a little sweeter, so we added 1 1/4 cups of simple syrup, but feel free to add that amount or less.
Store in a bottle or jar with a lid.
Should keep well for at least 6 months, if it lasts that long!
Cheers!
Recommended Products
As an Amazon Associate and member of other affiliate programs, I earn from qualifying purchases.
Nutrition Information:
Yield:
16
Serving Size:
1 ounce
Amount Per Serving:
Calories:

71
Sodium:

2mg
Carbohydrates:

1.9g
PIN THIS LILAC LIQUEUR RECIPE FOR LATER!
Interested in stocking your own home bar? Make sure to see our favorites at our Amazon Store!
If you liked this post, don't forget to subscribe for new (and of course free) recipes by entering your email address on the side bar (and get all the recipes delivered to your inbox when we post), so you don't miss out on a thing. You can find us on Facebook, Instagram, Pinterest and Twitter!
Gastronomblog is a participant in the Amazon Services LLC Associates Program, an affiliate advertising program designed to provide a means for sites to earn advertising fees by advertising and linking to amazon.com