Last Updated on June 12, 2023 by Leah Hall
Spring lilacs are something we look forward to every year. A great use for these fragrant flowers is to make lilac simple syrup. Great for cocktails and mocktails.
What do you think about lilac simple syrup? We think it is absolutely delicious, easy to make, and a great way to add the unique flavor of lilacs into cocktails.
The flavor of the syrup is floral, almost lavender like, but distinctly lilac. It is a great flavor to mix into lemonade and other light summer drinks, offering a taste of spring from your very own backyard. Or, in our case this spring, from a neighbor's backyard because they had a glorious lilac bush!
We think the flavor of lilac simple syrup can be described easily: it tastes like it smells.
Are Lilacs Edible for Humans?
Yes! They are edible flowers, and delicious! You will need fresh, clean lilac flowers (make sure no chemicals were used on them) to make this recipe.
It is very important you know the source of your lilacs to make sure they are organic. If you are getting them from a florist make sure they are food grade.
Also, make our Lilac Liqueur to use in our Lilac Gin Sour!
Lilac Syrup
This lilac syrup is just as easy to make as any other homemade simple syrup. It does take some extra time to prepare the flowers and steep the syrup, so keep that in mind. Since lilacs are only around for a short time each spring, it's best to take advantage of the moment, and make this recipe, as well as our Lilac Liqueur!
Each lilac variety has a slightly different taste. If you have options of different kind, give the flowers a quick taste to see which you enjoy best. We only had 1 option this year. But, often, the purple varieties are more flavorful than white.
This recipe makes it easier to get the flavor of lilacs all year! Simple syrup is easy to make, and it's a great way to preserve the flavor of lilacs for later use.
Just remember over-steeping can be bad, too. The flavor of the flowers is delicate, and a few hours of steeping will be enough to get the bright fresh floral flavor you want.
The syrup will look brown in the bottle, but it will change a bit in a cocktail recipe to make a soft lilac color, it really is fascinating, especially with citrus juice. We show you that in our Lilac Gimlet!
Lilac Syrup Ingredients
Lilac Flowers – Pick clusters that are fresh, not wilted, or dried out. Place the bunches in water or wash gently with a strainer to remove any tiny pests or dust. We had some tiny bugs on ours that definitely needed to be washed off. They were hard to see, so keep that in mind.
Sugar – We used regular granulated sugar, but honey would also be lovely in this, as would a sugar free option like Stevia or Splenda.
Blueberries or Food Coloring — as we said above, it doesn't make a lilac colored syrup. If you would like that purple color for appearance sake, add 3 smashed blueberries in to steep with the lilac flowers. This is optional, as is food coloring after you have strained out the lilac blossoms. Completely optional.
How to Make Lilac Simple Syrup
Pick Your Flowers – gather the fresh lilac flowers. Remember to always gather flowers or any wild ingredients in a place that doesn't have sprays and other contaminates.
Rinse Your Flowers – like we said above, remove any bugs or dust. You can also shake them over the sink before rinsing, and that seems to take care of some bugs, too.
Remove the Flowers from Stems – this is the most time intensive part of the process. Make sure to remove all the flowers from the green parts, as these add a bitter note to the recipe. We tried it with some green in it, just to compare and it really did impact the flavor. So, avoid them if possible. These are delicate blossoms, so just do the removal over a bowl and discard the green stems.
Make simple syrup – combine your water and sugar and then after boiling, add the flowers to steep for flavor. We let ours sit for 2 hours, but start checking after 1 hour to make sure you like the level of flavor.
Color (optional) – add in blueberries or food coloring if desired (more info above). If you wonder if the blueberries or the food coloring affect the flavor, and the answer is no. We haven't noticed any difference, as it is such a small amount just to add color.
How Long Does Lilac Syrup Last?

Homemade lilac simple syrup will last in your fridge for about 2 weeks when stored in an airtight container.
How To Use Lilac Simple Syrup
Lilac simple syrup is great for adding to summer drinks but has many more uses!
Add to non-alcoholic drinks like lemonade, hot tea, iced tea or sparkling water.
Use on pancakes or waffles at brunch. Or over ice cream in the evening!
Use in our Lilac Gimlet or Lilac Mimosa!
Make a lovely Iced Lilac Latte or add into your cold foam!
Add into whipped cream.
Give it as a hostess gift!
Can be added into yogurt, cake batter, cookies, ice cream, frostings and more. Goes great with fruits, especially berries and stone fruit.
Tips and Tricks
Blueberries – If you add the berries to make the syrup purple, smash them to release their color.
Freeze Some – you can freeze some lilac syrup in ice cube trays and then place the cubes into a pitcher of lemonade or ice tea. Use a few fresh lilacs blossoms and place into each cube before freezing to be extra fancy.
Cocktails – the lilac flavor goes especially well with vodka and gin.
Other Flavored Simple Syrups
Cheers!
Also, don't forget to follow us on Instagram and tag #gastronomcocktails so we can see all the wonderful recipes YOU recreate from this site!
You can also subscribe to our newsletter so you never miss a delicious recipe again!
Like this recipe? Try these below, too!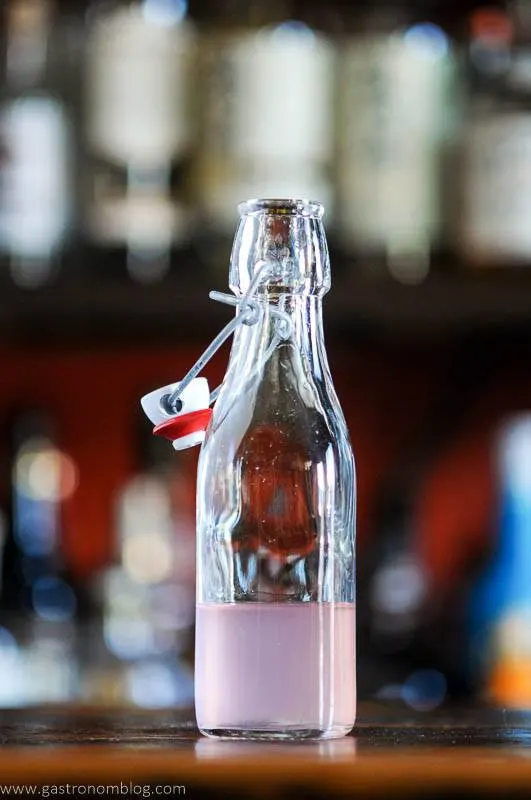 Rhubarb Simple Syrup
Cinnamon Simple Syrup
Other Floral Simple Syrups
Yield:

1 1/2 cups
Lilac Simple Syrup
Total Time:
2 hours
30 minutes
This lilac simple syrup is a great addition to cocktails and mocktails. A floral flavor that makes it seem like spring all year long!
Ingredients
1 cup granulated sugar
1 cup water
1 cup lilac flowers, washed, greenery and stems removed
Instructions
Combine sugar and water in a small saucepan. Bring to a boil.
Add in lilac flowers and let steep for up to 2 hours, checking flavor every so often.
Cheers!
Recommended Products
As an Amazon Associate and member of other affiliate programs, I earn from qualifying purchases.
Nutrition Information:
Yield:
12
Serving Size:
1 ounce
Amount Per Serving:
Calories:

63
Sodium:

1mg
Carbohydrates:

16.7g
Sugar:

16.7g
Interested in stocking your own home bar? Make sure to see our favorites at our Amazon Store!
If you liked this post, don't forget to subscribe for new (and of course free) recipes by entering your email address on the side bar (and get all the recipes delivered to your inbox when we post), so you don't miss out on a thing. You can find us on Facebook, Instagram, and Pinterest!
Gastronomblog is a participant in the Amazon Services LLC Associates Program, an affiliate advertising program designed to provide a means for sites to earn advertising fees by advertising and linking to amazon.com