This popular Cuba Libre Cocktail can be found most anywhere, and easily made at home. This is a simple 3 ingredient recipe that is refreshing and a great summer drink.
Cuba Libre, or a Rum & Coke with lime, is a classic and easy cocktail. But, its more complex than just the simple 3 ingredients. It is a rum and Coke with lime, but using those three ingredients together has made for some happy sips for a long time! It is one of the most popular Cuban cocktails, along with the classic Daiquiri.
This post contains affiliate links for products that we think you as readers might find useful, and we make commission off of these! For more details about our affiliates, click our Disclosure and Contacts Page.
History of the Cuba Libre
The story goes that the Cuba Libre can be traced to around 1900. Around this time Coca-Cola had started importing glass bottles of Coca-Cola to Cuba. A drink that was called the Cuba Libre was popular in 1898 during the Spanish-American war, but it was a combination of water and brown sugar.
There is the story that Fausto Rodriguez, a Bacardi advertising executive, claimed to have been present when the drink was first made, and gave a notarized affidavit to that in 1965. According to Rodriguez, this took place in August 1900, when he was 14, and a messenger working for a member of the US Army in Havana. Rodriguez's employer ordered Bacardi rum mixed with Coca-Cola at a bar.
A group of American soldiers ordered a round for themselves, thus giving birth to the popular new drink. Bacardi published Rodriguez's affidavit in a Life Magazine ad in 1966. But, Rodriguez's being a Bacardi executive has led some to doubt the story. Another story says the drink was first created in 1902 at Havana's El Floridita restaurant to celebrate the anniversary of Cuban independence.
Why is it Called a Cuba Libre?
Cuba Libre translates to "Free Cuba" and as stated above, this may be the correlation of celebrating the anniversary of Cuban independence from the Spanish-American war.
Is Cuba Libre the Same as a Rum & Coke?
Obviously Bacardi has embraced both drinks, as rum is the main ingredient of both. Bacardi rum was available during Cuban independence, but, the drink doesn't call for a specific rum. This means you can feel free to use any rum that you like.
A light rum like Bacardi makes a Cuba Libre tasty and flavorful. But, you can also try a richer and more robust rum from Jamaica, or Central or South America, too.
Rum and Coke by itself is a classic combo that mixes tropical and grassy notes the rum with the bubbly and spicy flavor of the cola. The squeeze of lime adds a burst of citrus that works with both ingredients and tamps down some of the sweetness.This makes a Cuba Libre different from just a Rum & Coke.
Other Ingredients in a Cuba Libre
Lime Juice: the lime should be fresh, not bottled, to keep the drink authentic.
Rum: like we said above, Bacardi was the classic ingredient, but make sure to use the rum you like. Feel free to use a gold or anejo, this will also help keep the Cola's sweetness away.
Cola: the classic cola is Coca-Cola. But, feel free to use Diet Coke, Pepsi or any other cola you like the best.
Tips and Tricks
Just because it's easy to mix up a Cuba Libre, these tips will make sure you have a fun, refreshing cocktail:
Fresh lime juice: always the better choice, and things like Rose's Lime Juice is sweetened, so the drink will be even more sweet. Fresh is best!
Muddle the Lime: if you really want a fresh lime flavor, we love using fresh lime wedges and muddling them. This releases the citrus oils, which makes even more lime flavor.
Mexican Coke: if you want to elevate your Cuba Libre, use Mexican Coke. It's made with sugar cane rather than high fructose corn syrup. This will give the uthentic sweetness of the original cocktail.
Rum Choices:

Aged/Golden rum: as opposed to white rum. The original Cuba Libre likely used white rum, but aged rum makes it tastes better in our humble opinion. Aged rum has a more complex flavor, and has undertones of vanilla, coconut, or caramel. Which will highlight the cola.
Dark rum: Dark rum has a dark color and a rich flavor with notes of vanilla, caramel, and brown sugar. Makes a darker and richer Cuba Libre.
Pineapple Rum: Pineapple rum is a flavored rum that is distilled with fresh pineapple. This is a tropical twist.
Coconut Rum: Also a tropical rum choice, this sweet rum is full of coconut flavor. If you like sweeter drinks, this may be a great choice.
Cuba Libre Variations
The Cuba Libre started a lot of cocktails that mix spirits and cola!
Jack Daniels for a Jack and Coke
Crown Royal for Crown & Coke
Whiskey or Bourbon for a Whiskey and Coke
Vodka for a Vodka & Coke
Tequila for Tequila and Coke
If you are only familiar with a Rum & Coke as a sweet party drink, this lime added version Cuba Libre may surprise you. We hope you try it out, cheers!
Try out a Mai Tai, too!
More Cuban Cocktails
Also, don't forget to follow us on Instagram and tag #gastronomcocktails so we can see all the wonderful recipes YOU recreate from this site!
You can also subscribe to our newsletter so you never miss a delicious recipe again!
Like this recipe? Try these below, too!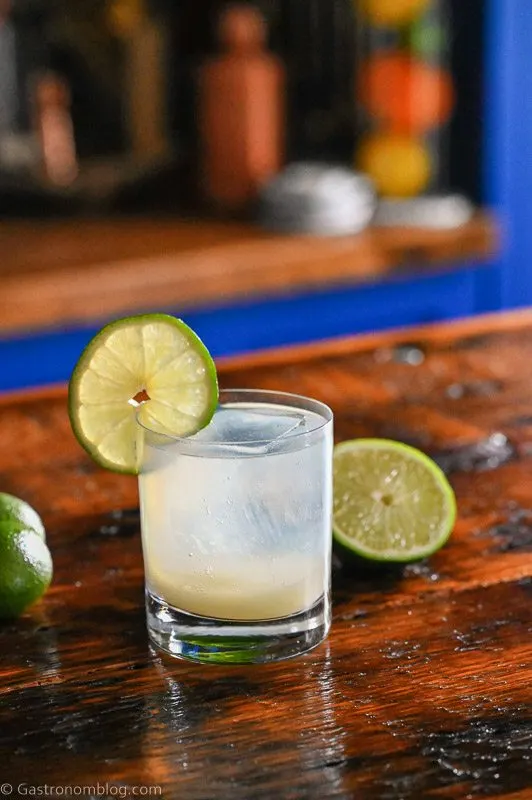 Ranch Water
Barenjager Bee's Knees
Other Cola Cocktails
This Cuba Libre is an easy 3 ingredient cocktail from Cuba. Simple to make with rum, cola and lime juice.
Ingredients
.50 ounces freshly squeezed lime juice
2 ounces white rum
4 ounces Cola
Instructions
Add ice to highball or rocks glass.
Add in lime juice and rum.
Top with Coke and stir if desired.
Garnish with lime wheel or wedges if desired.
Cheers!
Recommended Products
As an Amazon Associate and member of other affiliate programs, I earn from qualifying purchases.
Nutrition Information:
Yield:
1
Serving Size:
7 ounces
Amount Per Serving:
Calories:

176
Sodium:

5mg
Carbohydrates:

12g
Fiber:

.1g
Sugar:

10.4g
Protein:

.1g
Interested in stocking your own home bar? Make sure to see our favorites at our Amazon Store!
If you liked this post, don't forget to subscribe for new (and of course free) recipes by entering your email address on the side bar (and get all the recipes delivered to your inbox when we post), so you don't miss out on a thing. You can find us on Facebook, Instagram, and Pinterest!
Gastronomblog is a participant in the Amazon Services LLC Associates Program, an affiliate advertising program designed to provide a means for sites to earn advertising fees by advertising and linking to amazon.com