A Classic Mai Tai recipe, this classic cocktail has many renditions. We will try to tell you about all about the different ones in this post!
The Mai Tai is one of the most famous Tiki drinks in the world. Made of a combination of rum, orange curacao, fresh lime juice and orgeat, it has been a popular tropical cocktail for decades. It even enjoyed a bit part in the Elvis film "Blue Hawaii."
Also, a great winter twist is our Winter Mai Tai with some winter flavors that is perfect all year long, too!
This post contains affiliate links for products that we think you as readers might find useful, and we make commission off of these! For more details about our affiliates, click our Disclosure and Contacts Page.
History of the Mai Tai
Victor "Trader Vic" Bergeron is credited with inventing the Mai Tai at his Trader Vic's bar in Oakland, California in 1944. It may be likely that Donn Beach made the basis of this cocktail in the 1930s at his Don the Beachcomber bar. The original Trader Vic's recipe featured Jamaican J. Wray & Nephew rum. Once Bergeron ran out of this, he blended rums to create a similar flavor profile.
This cocktail became very popular in the 1950s and 60s, especially at tiki restaurants. Tiki Culture is built on appropriation, so we aren't going to extol that. But, these classical tropical cocktails are tasty as they originally were made.
The Mai Tai recipe is shaken and served over crushed ice. Tropical cocktails can feature everything from pineapple wedges to cherries. If you would like a classic garnish, a lime wheel and mint sprig work well.
This Mai Tai recipe is a close adaptation of what is believed to be the original Mai Tai. Being that the rum float was a 1970's addition, combining the white rum and dark rum equals an aged rum flavor used in the original. At Trader Vic's in the 1970s, there was an old regular who liked his Mai Tai with a float of a 151 Demerara rum. The staff called it "Old Way," and this was not because it was an old recipe, but because the patron was old! So, take that with a grain of salt.
The Mai Tai's taste is complex and not as fruity as most tropical cocktails. Note: A Mai Tai does not have pineapple juice in it. Or orange juice. Or any other juice besides lime. There are a lot of various recipes out there – the classic recipe only has lime juice.
What is Orgeat?
Orgeat Syrup is a non alcoholic almond syrup used for sweetening cocktails. It has a nutty flavor with a hint of citrus. This citrus flavor is from orange flower water.
Homemade Orgeat: we have a great homemade orgeat recipe, with a little bit of booze to keep it fresh. Try out our Homemade Allspice Dram, too!
Is there a substitute? There really is no substitute for the unique flavor. A Mai Tai without orgeat syrup just doesn't work. This goes for quite a few tropical cocktails. You can use almond syrup, but it just won't quite be the same. Try it in our Hawaiian Creamsicle and The Seer.
How to Make a Mai Tai
If you have all your ingredients, you shake it up, then garnish.
Shake in a cocktail shaker: Pour all ingredients except the dark rum into a cocktail shaker, add ice, and shake.
Strain into a Glass. Strain the drink into a rocks glass filled with crushed ice.
Float the Dark Rum. Pour the dark rum on top of the drink, it will settle on top. But, stir before drinking.
Garnish: a sprig of mint and a lime wedge is the classic garnish. Traditionally the garnish was half of a spent lime shell and a fresh mint sprig, to look like a small island and palm tree.
Mai Tai Recipe for a Crowd
It is easy to do! Just multiply the ingredients by the number of servings you want, for example 8, and pour into a large pitcher or punch bowl. Except for the dark rum, add all the ingredients. Then, when ready to serve, top each glass with dark rum. Garnish each and serve.
What is the Best Rum for a Mai Tai?
This cocktail started with 100% Jamaican rum that was aged 17 years. Rich in body and oak flavor, there is no exact substitute today, but 100% pot still or blended pot and column molasses rums work. The Mai Tai is an simple cocktail designed showoff great rum. You can blend rums or use Rhum Agricole in the cocktail with a dark rum.
Now, most Mai Tai recipes use both light and dark rum. Use good quality rums, since this cocktail is rum heavy and flavorful. Go mid range – not your most expensive rum, and definitely not your cheapest.
Bartenders have continued the tradition of blending rums for their Mai Tai recipes, aiming to find the optimal combo of flavor and complexity. Some use a white rum alongside a dark overproof rum. Others combine Jamaican rums and grassy rhum agricole. Find things that play well together and you will find a lovely mix for your own Mai Tai.
White Rum or Rhum Agricole are great choices. Some recipes use aged rum, but we prefer the white rum as it shows the color differential in the cocktail.
Aged rum can be used if you prefer. This is a rum that is also called golden, amber or anejo. This gives rum a complex flavor with vanilla, coconut, citrus or caramel undertones.
Dark Rum: Also known as black rum, dark rum is dark and has a rich flavor that is sweet and a little smoky.
Mai Tai Ingredients
Light Rum: also called silver rum or white rum, you can use Agricole, too
Dark Rum: black rum, super dark
Orange Curacao: or triple sec, Grand Marnier or Cointreau
Orgeat: almond syrup, here is our homemade orgeat recipe
Lime Juice: fresh squeezed, of course! This makes or breaks this cocktail.
Tips and Tricks
If you have had the classic version, then feel free to mix it up with these variations:
Simple Syrup: If it's not sweet enough for you, feel free to add .25-.50 ounce simple syrup
You can use Grand Marnier or triple sec in place of the orange curacao.
Tropical Twist: For an extra tropical twist use your favorite coconut rum or pineapple rum in this recipe. Note: this will make it sweeter than using regular white rum, or agricole rum.
Shake: All ingredients together and not do the dark rum float. This will make more of a gold cocktail.
High quality ingredients: Since the rums cannot hide in this drink under a ton of tropical juices, make sure that your rums are flavorful and perfect for being the star of the drink.

Other Tropical Cocktails
Cheers!
Also, don't forget to follow us on Instagram and tag #gastronomcocktails so we can see all the wonderful recipes YOU recreate from this site!
You can also subscribe to our newsletter so you never miss a delicious recipe again!
Like this recipe? Try these below, too!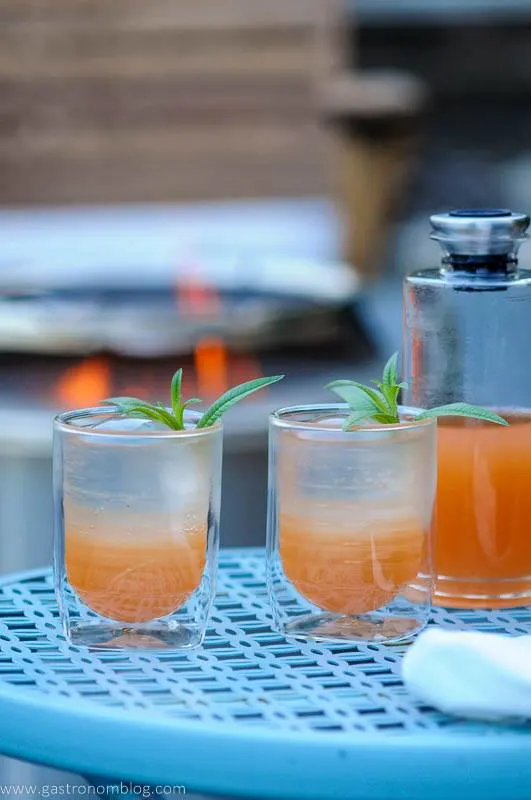 Rum Punch Cocktail
Other Classic Tropical Cocktails
This Mai Tai Recipe is a classic tropical cocktail! Perfect for poolside or summer sipping! Or, winter sipping, it's great all year!
Ingredients
1.50 ounces white rum (or Rhum agricole)
.75 ounce orange curacao
.75 ounce freshly squeezed lime juice
.50 ounce dark rum
Instructions
Combine white rum, orange curacao, orgeat and lime juice in a shaker with ice.
Shake and stain into glass with ice.
Top with dark rum float.
Garnish with lime, mint, or orange slice.
Cheers!
Recommended Products
As an Amazon Associate and member of other affiliate programs, I earn from qualifying purchases.
Nutrition Information:
Yield:
1
Serving Size:
4 ounces
Amount Per Serving:
Calories:

220
Sodium:

1mg
Carbohydrates:

11.9g
Fiber:

.1g
Sugar:

10g
Protein:

.1g
Interested in stocking your own home bar? Make sure to see our favorites at our Amazon Store!
If you liked this post, don't forget to subscribe for new (and of course free) recipes by entering your email address on the side bar (and get all the recipes delivered to your inbox when we post), so you don't miss out on a thing. You can find us on Facebook, Instagram, and Pinterest!
Gastronomblog is a participant in the Amazon Services LLC Associates Program, an affiliate advertising program designed to provide a means for sites to earn advertising fees by advertising and linking to amazon.com