Last Updated on June 12, 2023 by The Noms
Ranch Water is an easy 3 ingredient cocktail with lime, tequila and Topo Chico. A bubbly and light cocktail perfect for all year long!
We think Ranch Water is the unofficial (maybe official) drink of Texas, it is a simple tequila cocktail made with lime juice and Topo Chico. It is like a bubbly and lighter version of a classic margarita. But, less sweeter and we think a little more sour!
This post contains affiliate links for products that we think you as readers might find useful, and we make commission off of these! For more details about our affiliates, click our Disclosure and Contacts Page.
What is Ranch Water?

Ranch Water is a tequila cocktail that comes from West Texas. The history is a little murky, and no idea how it got the name. Some people say a Texas rancher invented it in the 1960s as a popular summer refreshment. Whatever the case, Ranch Water seemed to be a word of mouth recipe until around 2010, when bartenders in Texas started adding it to their bar menus. It especially shows up on summer bar menus!
This simple 3 ingredient combo sets you up for a crisp and thirst quenching cocktail!
Ranch Water Ingredients
Topo Chico: Topo Chico is the main ingredient in the Texas Ranch Water recipe, according to most people, the the MOST important ingredients, and don't deviate brands. Topo Chico is a

sparkling mineral water sourced and bottled in Monterrey, Mexico since 1895.

Lime Juice: 1/2 of lime is the perfect amount, we used about 3/4 an ounce. This gives the Ranch Water a nice balance between the lime and Tequila.
Tequila: A good quality Tequila is always a good idea no matter what the cocktail, (To quote Ina Garten, Store Bought is fine, LOL!) But, Tequila Blanco is the preferred ingredient.
Salt: This is an optional ingredient, but if you like your margaritas with salt, you may want to consider this. Rub a lime wedge on the rim of the glass and dip it in salt. Dip half the rim if you only want a little.
Topo Chico Mineral Water
The claim is it's not Ranch Water unless it's made with Topo Chico. You can make it with another brand, but Topo Chico adds to the flavor of the drink in a lovely way. And if you ask any Texan, they will say it's blasphemy to use another mineral water.
You can find Topo Chico at a store near you, if not at a local Whole Foods or online (Amazon). When you get it, make sure to keep it cold so your ingredients won't melt your ice too fast.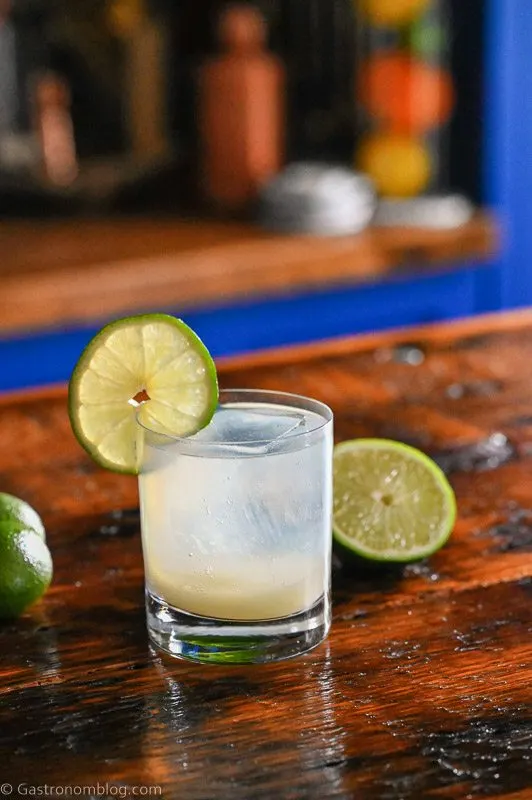 It's also tasty just by itself with a squeeze of lime and over ice.
How to Make Ranch Water
There is technically not a recipe for Ranch Water! It was a word of mouth cocktail for a long time, so it's really whatever you are feeling. Measure it with your soul. Really, you can use as much or as little lime, tequila, and Topo Chico as you'd like.
What Tequila to Use for Ranch Water
Remember the better the tequila, the better the cocktail! The tequila doesn't need the top shelf stuff. Try to find a mid range tequila, most mid range choices are pretty good. You can use either tequila blanco or tequila reposado (aged). We used a tequila blanco, but feel free to used an aged version, it can add more flavor, but makes the drink darker.
Tips & Tricks for Ranch Water
If you are making this easy tequila cocktail for the first time, we have some tips for you!
Use a good tequila. If you want tequila blanco, Patron or Casa Dragones is a good choice. If you want reposado, try Herradura or Casa Noble.
Make Your Ranch Water Spicy. Muddle one or two jalapeno slices in the drink before pouring in the liquid ingredients to make it spicy.
Swap out lime for lemon. If you prefer lemon over lime, then simply switch out the citrus juices. Either way, fresh juice is the way to go!
Chill the Topo Chico. You've seen us say this already, but cold Topo Chico makes this much more refreshing.
Add sweetness. This is a dry and not sweet cocktail. You can add a little simple syrup, agave syrup, or honey, and this will make it more like a margarita.
Customize: if you are over the basic Ranch Water, feel free to change it up a bit. Some ideas: 1) add some grapefruit juice 2) rim the glass with Tajin (chile lime salt) 3) muddle a couple jalapenos to make it spicy!
We hope you try this easy and refreshing summer cocktail, perfect for a party, or just sipping on the porch, this is sure to be a winner!
Cheers!
Also, don't forget to follow us on Instagram and tag #gastronomcocktails so we can see all the wonderful recipes YOU recreate from this site!
You can also subscribe to our newsletter so you never miss a delicious recipe again!
Like this recipe? Try these below, too!
Strawberry Sage Tequila Smash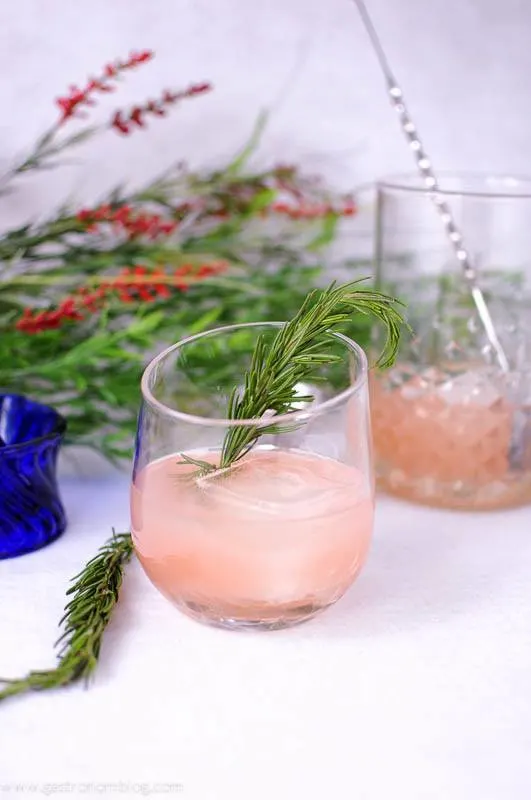 Rosada Cocktail
Other Simple Cocktails
Yield:

1
Ranch Water Cocktail
This Ranch Water Cocktail is an easy 3 ingredient cocktail using tequila, lime juice and Topo Chico mineral water.
Ingredients
.75 ounce-1 ounce lime juice
2 ounces tequila blanco
3-4 ounces Topo Chico
Instructions
Add lime juice to a glass with ice. Add tequila blanco, then stir.
Top with Topo Chico and garnish with a lime if preferred.
Cheers!
Recommended Products
As an Amazon Associate and member of other affiliate programs, I earn from qualifying purchases.
Nutrition Information:
Yield:
1
Serving Size:
6 ounces
Amount Per Serving:
Calories:

147
Sodium:

7mg
Carbohydrates:

1.9g
Fiber:

.1g
Sugar:

.4g
Protein:

.1g
Interested in stocking your own home bar? Make sure to see our favorites at our Amazon Store!
If you liked this post, don't forget to subscribe for new (and of course free) recipes by entering your email address on the side bar (and get all the recipes delivered to your inbox when we post), so you don't miss out on a thing. You can find us on Facebook, Instagram, and Pinterest!
Gastronomblog is a participant in the Amazon Services LLC Associates Program, an affiliate advertising program designed to provide a means for sites to earn advertising fees by advertising and linking to amazon.com