Last Updated on June 10, 2023 by Leah Hall
This Chicago cocktail is named for the city of Chicago, and has been in cocktail manuals since the 19th Century. A brandy based mixed drink.
The Chicago cocktail is a Champagne drink that is great all year long. While it shares some similarities with the Champagne cocktail, it has a much larger dose of brandy, which makes it different from the light and brunchy sparkling drink. For a champagne cocktail, reverse the ratio and substitute a sugar cube for the orange liqueur.
Instead, the result is a rare drink when the bubbles feel like a component. The base of the drink is the brandy, and then topped with Champagne. The bubbly texture of sparkling wine, with orange liqueur and brandy is a fruity and citrusy drink. Try a classic champagne cocktail like our French 75!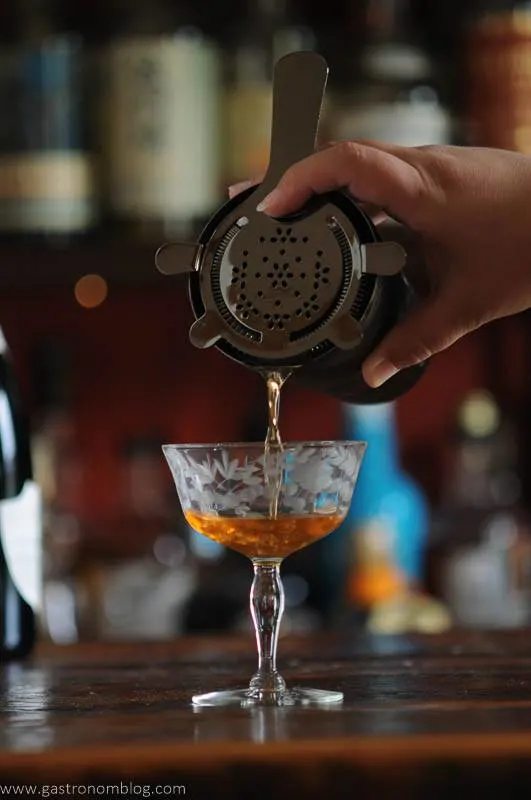 This post contains affiliate links for products that we think you as readers might find useful, and we make commission off of these! For more details about our affiliates, click our Disclosure and Contacts Page.
The Chicago Cocktail is also called a "Fancy Brandy Cocktail." Named after the windy city, this is a great drink for a warm summer night. It is an obscure cocktail, not really known among famous cocktails from the era. Resembling the color of a dark rum, this pretty brown drink can be served up in a cocktail glass or over ice in a double rocks glass. Your choice. We went with the former option.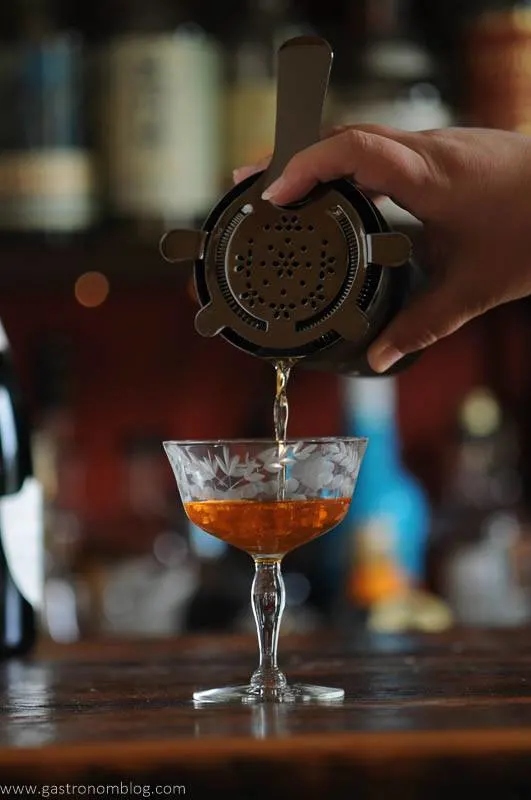 Chicago Cocktail
Overall, the Chicago has to be close to correct ingredients, because too much Champagne will be too much and take over, the orange liqueur is same. We came up with a ratio that we liked, including a specific dose of orange liqueur and defined measure of bubbles. We love using wine in cocktails like our Feuerzangenbowle!
Some versions do call for sugaring the rim of the glass. (We did not, but please feel free) To do so, rub a lemon or orange slice around the rim and dip it in superfine or powdered sugar. The Chicago cocktail can be served on the rocks or straight up in a coupe.
Taste this drink to make sure it's to your liking, or the person you are serving it to, as the sweetness of both the wine and orange liqueur can effect the balance of the drink. Play around with ratios you may like, and don't be afraid to deviate from this recipe guideline that we have given you. This is just what we preferred.
Ingredients in the Chicago Cocktail
Brandy – this distilled beverage comes from wine or fermented fruit mash. Use a great brandy like Korbel, Bertoux, Torres, or Singani 63.
Triple Sec – this orange liqueur adds a great orange flavor to the drink.
Aromatic Bitters – bitters are the salt and pepper of the cocktail world, and aromatic bitters adds a lot of flavor to this simple sip.
Champagne – a great touch of bubbly makes this cocktail lighter! Perfect for porch sipping.
Lemon Peel – a great garnish for this City of Chicago cocktail
How to Make a Chicago Cocktail
This classic cocktail can be either shaken or stirred. If you use a mixing glass, make sure the ice is above the liquid line and stir for at least 30 seconds to chill it properly. If you are using a cocktail shaker, shake for 25-30 seconds and strain into a cocktail glass or a rocks glass.
Make sure you use a prepared glass; ice the coupe or rocks glass while you are mixing it, and then dump the ice before pouring in the cocktail recipe.
Wine Choices
Don't get too tricky with the wine, feel free to use champagne, prosecco, or cava. Use a sweeter version if you like sweeter and a drier version if you don't like as sweet in a cocktail.
The bitters in this can be played with as well. Feel free to use aromatic, orange, or any flavor you like. Bitters add so much to a drink, and can change things with just a few dashes, so find something you like!
This drink recipe is adapted from Harry Craddick's Savoy Cocktail Book (1930). There are other versions that don't have the champagne and serve it over cracked ice with a sugared rim and a lemon slice. This is an interesting drink from Harry's cocktail recipes.
Due to its spirit forward nature, be prepared for that, and play with the ratios yourself, you may find one you like!
Tips & Tricks
Wine Choice – as we said above if you don't have champagne; cava or prosecco would work too. Just know that prosecco will be a lot sweeter choice. Seltzer water can be used as well, if you want an even lighter ABV cocktail.
Orange Liqueur – the classic recipe calls for the classic orange liqueur: triple sec. But, Grand Marnier or Cointreau are also good choices, and usually are better quality.
Sweetness – this recipe isn't sweet. In fact, it is quite dry. So, if you want it sweeter, we suggest a dash of simple syrup (like .25 oz), or rim the glass with some superfine sugar. Makes for a pretty and sweet garnish.
Garnish – lemon peel is a classic choice, but an orange peel would work as well.
Bitters – Aromatic bitters are in the classic recipe, but orange bitters would add a good amount of flavor to this.
Cheers!
Also, don't forget to follow us on Instagram and tag #gastronomcocktails so we can see all the wonderful recipes YOU recreate from this site!
You can also subscribe to our newsletter so you never miss a delicious recipe again!
Like this recipe? Try these below, too!
Woodsman Cocktail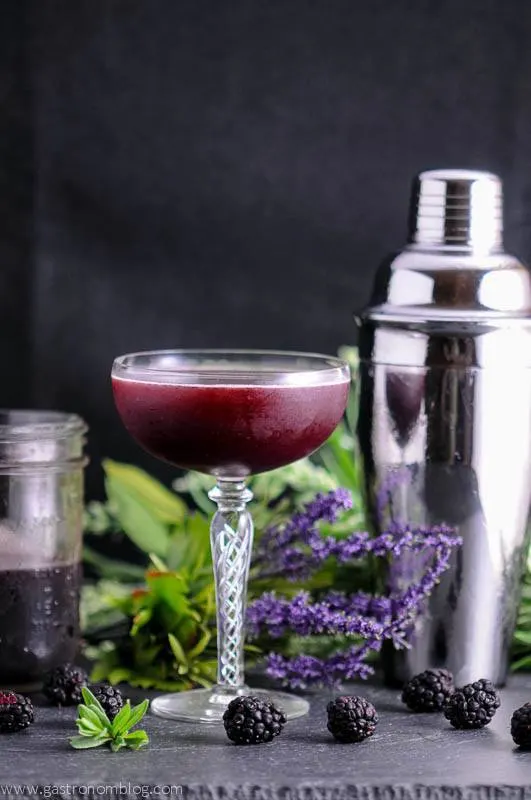 Blackberry Lavender Brandy Cocktail
Other Brandy Cocktails
Yield:

1
Chicago Cocktail Recipe
This Chicago cocktail is named for the city of Chicago. A brandy based drink.
Ingredients
2 ounces brandy
.25 ounce triple sec
dash of aromatic bitters
1 ounce Champagne
lemon slice for garnish
Instructions
Combine brandy, triple sec and bitters with ice in a shaker.
Shake and strain into coupe.
Top with Champagne.
Garnish with lemon peel or slice.
Cheers!
Recommended Products
As an Amazon Associate and member of other affiliate programs, I earn from qualifying purchases.
Nutrition Information:
Yield:
1
Serving Size:
1
Amount Per Serving:
Calories:

163
Carbohydrates:

.3g
Interested in stocking your own home bar? Make sure to see our favorites at our Amazon Store!
If you liked this post, don't forget to subscribe for new (and of course free) recipes by entering your email address on the side bar (and get all the recipes delivered to your inbox when we post), so you don't miss out on a thing. You can find us on Facebook, Instagram, and Pinterest!
Gastronomblog is a participant in the Amazon Services LLC Associates Program, an affiliate advertising program designed to provide a means for sites to earn advertising fees by advertising and linking to amazon.com