Last Updated on November 2, 2023 by Leah Hall
Perfectly compromised of fall flavors, this maple and brandy cocktail is perfect for sipping on those cool autumn nights.
During the long winter evenings we like to find cocktails that are good for sipping on. Especially while enjoying a good book and a roaring fire. While a good hot toddy or a classic Tom and Jerry are delicious hot cocktails in the winter, we still enjoy some chilled sippers. We love those that can bring a warm glow to you thanks to their big boozy punch. This brandy cocktail uses the classic mixing technique of a mixing glass.
This post contains affiliate links for products that we think you as readers might find useful, and we make commission off of these! For more details about our affiliates, click our Disclosure and Contacts Page.
Apple Brandy and Maple
Today's cocktail, The Woodsman fits into the big bold boozy category as it uses classic winter spirits of applejack and ginger liqueur to really bring the flavor!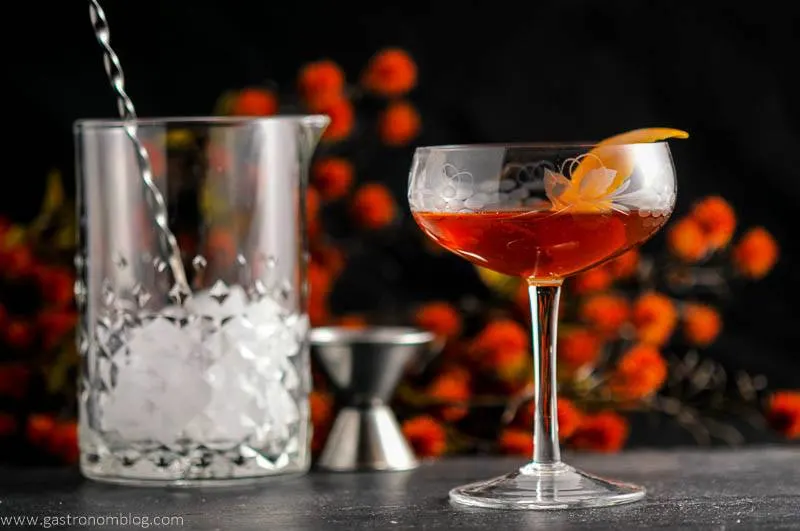 Not the same coupes, ours are vintage, but these are cute! Bar Spoon
Applejack is a classically American spirit dating back to the colonial days. It was an extremely popular spirit thanks to plentiful apple orchards and the fact it didn't require expensive and rare equipment like stills to make. Instead of distilling using a still, Applejack was made using the freeze distilling method. This also makes applejack a perfect winter spirit, as the cold winter temps were perfect for freeze distilling.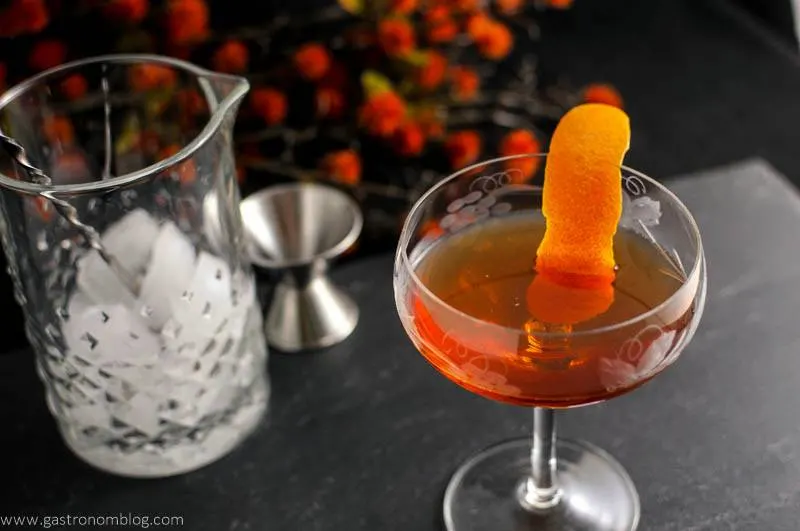 What is Applejack?
These days, Applejack is made using stills and distilling like many other high proof spirits. We chose to use a locally distilled apple brandy from Cedar Ridge Distillery in Iowa. Cedar Ridge uses fresh fermented apple cider to make their brandy, and then distilling it to punch up the proof.
Cedar Ridge then ages them in oak casks which imparts a rich spicy note to the spirit. It makes the apple brandy a nice warming spirit perfect for winter drinks.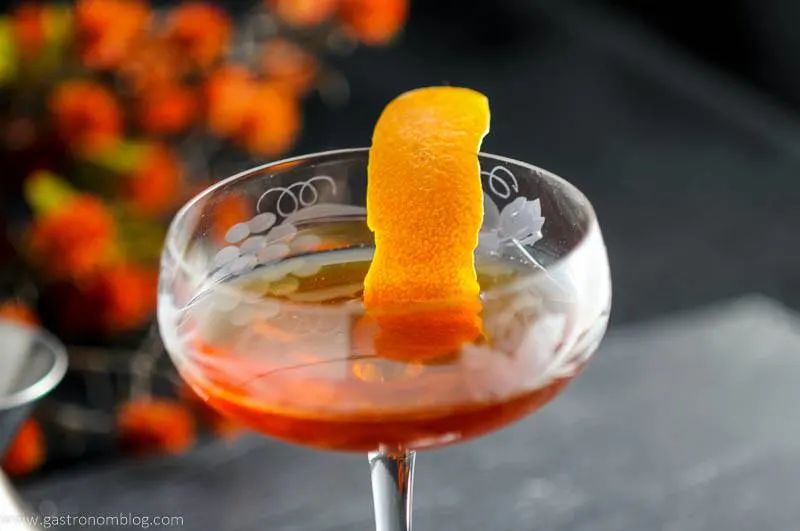 For The Woodsman, we used the apple brandy as our base spirit, the sweet and spicy notes of the brandy bringing a nice boozy foundation for the drink. The apple brandy has hints of the oak it was aged in, bringing a richness to the drink.
Since this is a winter cocktail, we wanted something that would bring more of the spices that really work with winter flavors. Nothing says winter more than ginger, so we added in a little splash of ginger liqueur as well.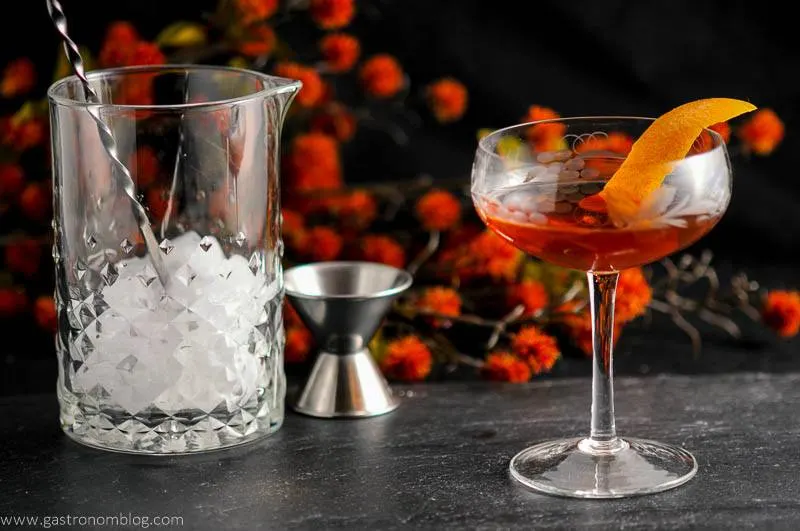 What other Flavors did we Use in the Brandy Cocktail?
The ginger liqueur brings more spice and warmth to the cocktail, but doesn't bring any sweetness. Needing to bring it into balance, we added in another great winter flavor, maple syrup. The maple syrup adds a rich nutty sweetness to the drink while pulling out some of the hints of vanilla and apple sweetness of the apple brandy and the spice of the ginger liqueur. Maple and apple work really well together, and when the ginger is added in, a definite winter flavor appears.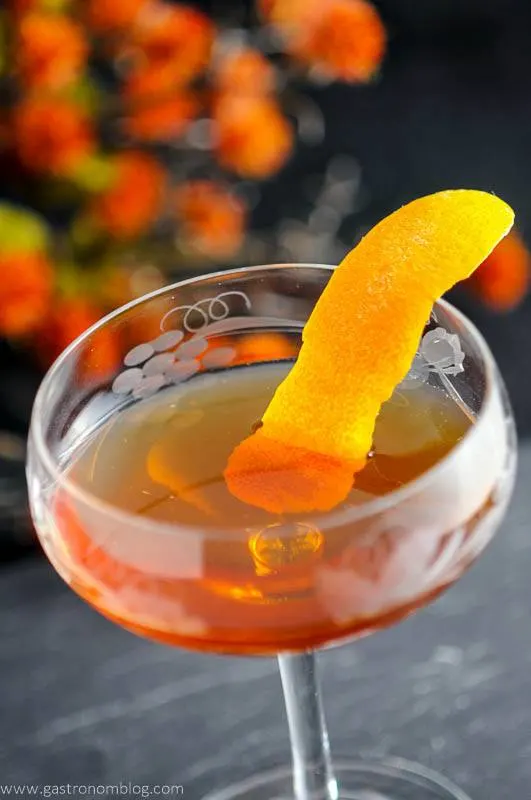 What Ingredients are Needed for the Woodsman Cocktail?
Ginger Liqueur
Maple Syrup
Applejack
Angostura Bitters
To finish the brandy cocktail, we added in a few dashes of aromatic bitters. The aromatic bitters brings a nice mix of herbal and baking spices that really layers on some flavors to the drink. Once the bitters are added in, the Woodsman rounds itself into a nice manly drink, full of complex spices, strong boozy notes and plenty of bold flavors.
If You Are Looking for More Recipes with Liqueur, Try These!
A garnish of a fresh orange peel adds a bright citrus perfume that opens up your sense of smell. Likewise it lets you inhale all the rich spicy scents of the bitters. You might just find yourself sipping this brandy cocktail by the fire with a good book if you aren't careful!
If You Are Looking for More Ginger Cocktails, Try These!
Cheers!
Also, don't forget to follow us on Instagram and tag #gastronomcocktails so we can see all the wonderful recipes YOU recreate from this site!
You can also subscribe to our newsletter so you never miss a delicious recipe again!
Like this recipe? Try these below, too!
Maple Old Fashioned
Maple and Cider Kentucky Mule
Other Applejack Cocktails
Other Maple Cocktails
Yield:

1
The Woodsman - An Applejack and Maple Cocktail
A lovely fall cocktail with applejack and maple syrup, with a dash of ginger.
Ingredients
Woodsman Cocktail
2 ounces applejack or apple brandy
.50 ounce ginger liqueur
.75 ounce maple syrup
4 dashes Angostura bitters
orange twist for garnish
Instructions
Add all liquids into a mixing glass.
Add ice and stir to chill.
Strain into a coupe.
Garnish with orange twist.
Cheers!
Recommended Products
As an Amazon Associate and member of other affiliate programs, I earn from qualifying purchases.
Nutrition Information:
Yield:
1
Serving Size:
1
Amount Per Serving:
Calories:

321
Total Fat:

17.3g
Saturated Fat:

10.8g
Trans Fat:

0g
Unsaturated Fat:

0g
Cholesterol:

50mg
Sodium:

307mg
Carbohydrates:

20.4g
Fiber:

0g
Sugar:

18.5g
Protein:

13.9g
Interested in stocking your own home bar? Make sure to see our favorites at our Amazon Store!
If you liked this post, don't forget to subscribe for new (and of course free) recipes by entering your email address on the side bar (and get all the recipes delivered to your inbox when we post), so you don't miss out on a thing. You can find us on Facebook, Instagram, and Pinterest!
Gastronomblog is a participant in the Amazon Services LLC Associates Program, an affiliate advertising program designed to provide a means for sites to earn advertising fees by advertising and linking to amazon.com