Last Updated on February 22, 2023 by The Noms
We got to use the Instant Pot for the cherry toasted cream in this! This Gin Fizz Recipe is a tasty one!
One of our favorite things about writing about food and drink is the endless combinations and creations that people make. Also how one little tweak to an ingredient or process can create something entirely different. In fact, just the other day we were reading an article about how the simple act of toasting cream can completely change cream. It changes it from simple and smooth into something that is full of butterscotch and caramel! Plus, this is the perfect Valentine's Day Cocktail!
This post contains affiliate links for products that we think you as readers might find useful, and we make commission off of these! For more details about our affiliates, click our Disclosure and Contacts Page.
Cherry Toasted Cream
When you are in the business of mixing flavors into something delicious, finding a way to get more flavors our of an ingredient is a really cool thing. So, naturally we had to give this toasted cream a try and see what this little experiment could inspire in our world of cocktails! Our result is the Cherry Toasted Cream Ramos Gin Fizz!
Heart Paper Straws / Arrow Garnish Picks / HIghballs
What Ingredients are Needed for the Toasted Cream Ramos Gin Fizz?
Gin
Orange Flower Water
Egg White
Maraschino Cherry Juice
Toasted Cream
Club Soda
Lemon Juice
Lime Juice
Simple Syrup
Cherry Liqueur
When we first read about toasted cream in this article by Serious Eats, it sounded like a really great idea. It seemed to add lots of great flavors to a ingredient we love to use, plus it sounded like a great excuse to play with our brand new Instant Pot! We followed the pressure cooking recipe found in the Serious Eats article and we got a wonderfully browned cream. It had a flavor reminiscent of a cross between butterscotch and a cheesecake, nutty and sweet with a hint of savory caramel.
This little experiment definitely had promise!
Gold Jigger (like ours, without the handle) / Luxardo Cherries
That cheesecake flavor inspired a thought about a way to use this ingredient in a cocktail! Since Valentine's Day was coming up, we decided that a cocktail that harnessed a bit of a cheesecake flavor might be a great idea! Cheesecake is one of those rich luxurious desserts that lots of folks find romantic, so why not a cocktail that channels a bit of the luxurious and romantic feel of a cheesecake for a romantic holiday? We just had to find a cocktail that we could make that would make good use of the toasted cream!
Ramos Gin Fizz
One cocktail that that we love that uses cream is the classic Ramos Gin Fizz, a cocktail that has been around since the 1880's. It became a signature cocktail in the New Orleans bar world! Originally invented by Henry C. Ramos to serve at his Imperial Cabinet Saloon. The Ramos Gin Fizz recipe is a great combination of sweet and tart drink with a pillowy, creamy puff of foam on top. We made a great summery cocktail in our Raspberry Peach Ramos Gin Fizz, and we really liked the way that fruit flavors worked in the rich foam.
That pillowy creamy foam is the key to the Ramos Gin Fizz and one of the best ways to make foam in a cocktail is to use a bit of cream. In the case of the Ramos Gin Fizz recipe, they also incorporate an egg white. This combined with the heavy cream, makes for a rich velvety foam that makes for a luxurious sipping experience!
This is where our toasted cream comes in, adding that rich, nutty, toasted flavor into an already delicious cocktail added a whole richer dimension! We also added a little simple syrup to make sure it was sweet like a dessert cocktail should be!
If You Are Looking for More Egg White Cocktails, Try These!
Toasted Cream in A Cocktail
Since this toasted cream reminded us of cheesecake, what better cheesecake is there than a cherry cheesecake? We have a great Tart Cherry Liqueur that we have used in a couple of other cherry recipes (Boozy cherry marshmallows anyone?) that brings a really bright, fresh cherry flavor to whatever we use it in, and this was no exception!
To add a little bit of sweetness, we added in some of that bright red maraschino "cherry" juice from those famous sugar sweet cherries that usually adorn the top of cocktail. The combination of the cherry liqueur and cherry juice gave a nice pinkish color to the foam, making the Cherry Toasted Cream Ramos Gin Fizz recipe perfectly festive for Valentine's Day!
Ramos Gin Fizz
The addition of the cherry and toasted cream to the Cherry Toasted Cream Ramos Gin Fizz made for a nice smooth sipping cocktail, the foam rich and luxurious with a hint of nutty sweetness and cherry. The toasted cream adds a nice hint of caramel richness and body to the drink, making the drink feel silky while still staying light and airy! Topped with a couple of bright red cherries, the Cherry Toasted Cream Ramos Gin Fizz will be just the thing for your sweetheart!
If you want another great Valentine's Cocktail try our Blood Orange Gin Sour or Blood Orange Gin Fizz!
Cheers!
Also, don't forget to follow us on Instagram and tag #gastronomcocktails so we can see all the wonderful recipes YOU recreate from this site!
You can also subscribe to our newsletter so you never miss a delicious recipe again!
Like this recipe? Try these below, too!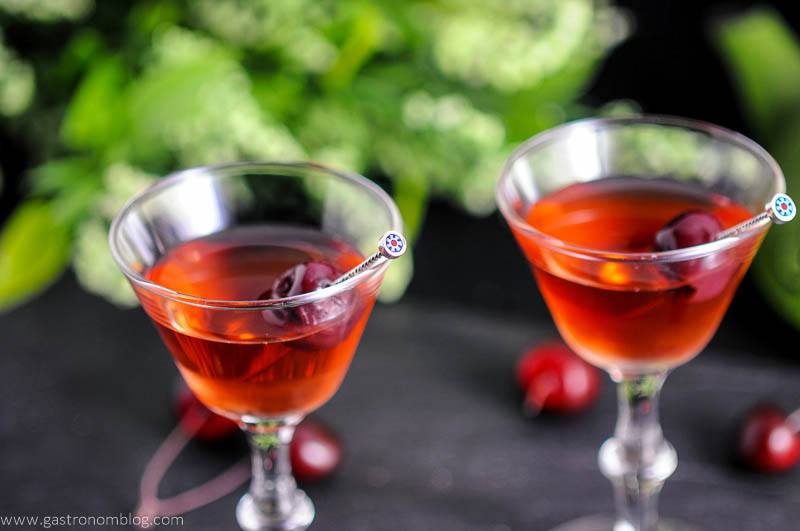 The Cherry Blossom Cocktail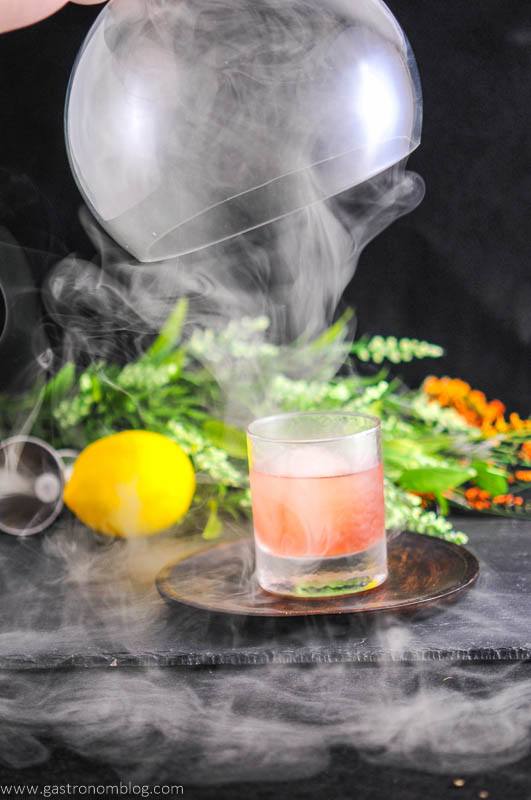 The Smoked Cherry Cocktail
Other Ramos Gin Fizz Cocktails
Yield:

1
Cherry Toasted Cream Ramos GIn Fizz Cocktail
A fantastic cherry and toasted cream twist on a classic Ramos Gin Fizz. Be prepared for an arm workout on this cocktail!
Ingredients
Cherry Ramos Gin Fizz
1.50 ounces gin
1 ounce cherry liqueur
.50 ounce maraschino cherry juice
.50 ounce freshly squeezed lime juice
.50 ounce freshly squeezed lemon juice
3 drops orange flower water
1 egg white
club soda
Instructions
Combine all ingredients in a shaker except for club soda.
Dry shake (no ice), and shake and shake and shake until your arms hurt, about 4 minutes.
Add a scoop of ice and shake until your arms hurt again, for about 8-10 minutes total.
You can shake for 30 seconds dry shake and 30 seconds wet shake, so don't feel you have to, but the richness is increased with the longer shaking)
Double strain into a highball glass.
Add a little club soda into shaker and swish around to get the rest of the foam, top the drink.
Cheers!
Nutrition Information:
Yield:
1
Serving Size:
1
Amount Per Serving:
Calories:

336
Total Fat:

3.5g
Saturated Fat:

2.1g
Trans Fat:

0g
Unsaturated Fat:

0g
Cholesterol:

11mg
Sodium:

69mg
Carbohydrates:

29.6g
Fiber:

0.3g
Sugar:

15.9g
Protein:

4.3g
PIN THIS CHERRY TOASTED CREAM RAMOS GIN FIZZ RECIPE FOR LATER!
Interested in stocking your own home bar? Make sure to see our favorites at our Amazon Store!
If you liked this recipe, don't forget to subscribe for new (and of course free) recipes by entering your email address on the side bar (and get all the recipes delivered to your inbox when we post). Don't miss out on a thing. You can find us on Facebook, Instagram, Pinterest and Twitter!
Gastronomblog is a participant in the Amazon Services LLC Associates Program, an affiliate advertising program designed to provide a means for sites to earn advertising fees by advertising and linking to amazon.com