Last Updated on November 2, 2023 by Leah Hall
We worked with a local distillery here in Omaha to develop this cocktail! This Whiskey and Stout Cocktail combines two loves!

One thing we love about writing about food and drink is the opportunity to explore the culture of a city or region. This can really can bring some great insight into a place. Whenever we travel, we always try to eat at a local place or visit local breweries or distilleries.
With that philosophy in mind, we really feel that it is important to highlight our own local companies when we can. When we saw that our friends over at Lucky Bucket Brewing had partnered up with local coffee roaster Archetype to make a new seasonal craft beer, we jumped at the chance to try their new release, Wide Eye Coffee Stout.
This post contains affiliate links for products that we think you as readers might find useful, and we make commission off of these! For more details about our affiliates, click our Disclosure and Contacts Page.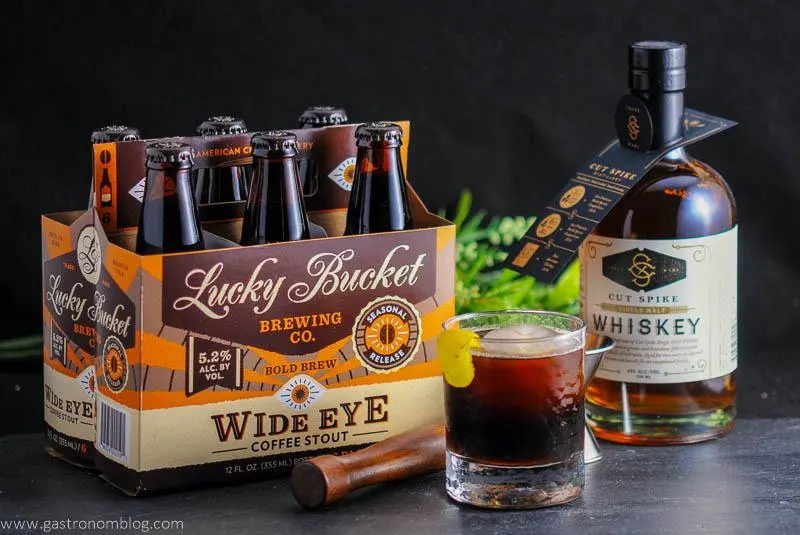 Whiskey and Stout
We have long been fans of Lucky Bucket Brewing and their sister company Cut Spike Distillery! You probably have seen many of their products in some of our other cocktail posts like The Nebraskan. Lucky Bucket started in 2008 when a group of beer lovers decided they wanted something different than big name beers.
Looking to make something totally different, they started making a barrel aged beer! They tried different recipes until they hit on one lager that they couldn't stop drinking. This particular lager was released to the public in 2009 as Lucky Bucket's Pre-Prohibition Lager. It soon became one of the hottest craft beers in Nebraska and the Midwest!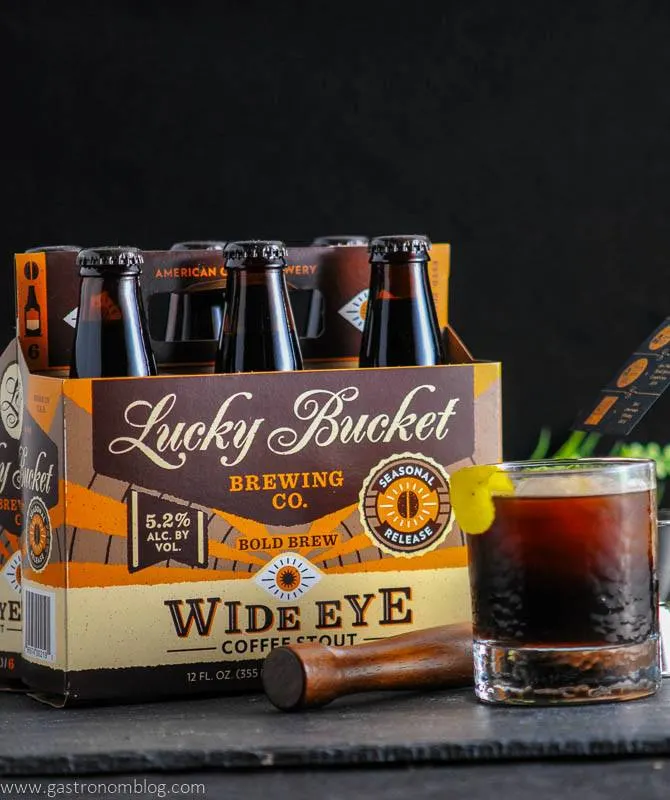 What Ingredients are Needed for the Bean & Barley Cocktail?
Coffee Stout Beer
Simple Syrup
Lemon Juice
Angostura Bitters
Whiskey
With Lucky Bucket embracing the Pre-Prohibition style beers, it was only natural that they turn to another Pre-Prohibition Midwestern tradition, whiskey making. Being surrounded by some of the finest farmlands around and having access to amazing limestone filtered water from the Sandhills, the brew masters at Lucky Bucket were inspired to make a great single malt whiskey.
No whiskey had legally been distilled in Nebraska since Prohibition! The folks at Lucky Bucket decided to start up Cut Spike Distillery.
What is Cut Spike?
Cut Spike's flagship product is their fantastic Single Malt Whiskey which is made with 100% malted barley. Then it's aged in American oak barrels and cut with limestone filtered water from the Sandhills of Nebraska. This whiskey is one of our favorite spirits, super smooth and full of caramel, toffee, vanilla and warm honey, we love to sip it as well as mixing them in cocktails!
Evidently the experts agree with us, as Cut Spike Single Malt Whiskey was awarded a double gold medal. This was at the prestigious San Fransisco World Spirits competition in 2014!
Making a Beer Cocktail
With these guys being local, we love to use them in our cocktails! When we mentioned that we would love to play with their new seasonal beer, Wide Eye Coffee Stout, to make a cocktail, the folks at Lucky Bucket thought that sounded like a great idea! We headed over to the tasting room to check out the Wide Eye Coffee Stout and see if we could get some inspiration for an original cocktail!
If You Are Looking for More Beer Recipes, Try These!
The Wide Eye Coffee Stout is a classic stout beer, full bodied with lots of warm roasted malt. It also has a rich coffee flavor imparted by the coffee beans from Archetype Coffee. It's beautifully dark from the roasted malt and coffee. The Wide Eye Coffee Stout has a pleasing bitterness that a french roast coffee brings along with a nice dark chocolate note and wonderful aroma, too!
Unlike a lot of dark beers, the Wide Eye Coffee Stout is super smooth, which makes this a really wonderful sipper!
What Kind Of Cocktail To Make?
We wanted a cocktail that would highlight both the Wide Eye Coffee Stout but still pack enough punch that you knew it was a cocktail. Since both the beer and the Single Malt Whiskey are made with barley, we figured they would be a good place to start mixing from. Also, the whiskey has enough flavor that it wouldn't be hidden by the Wide Eye's coffee flavor.
The combination of whiskey and stout worked really well! The whiskey complimenting some of the toasted malt flavors and coffee richness of the Wide Eye, too. With this combination whiskey and stout as our starting point, the Bean and Barley cocktail was born!
We wanted to add a little special edge to this cocktail, so we drew on a little known trick used in Italy. In Italy to really wake up their espressos, which is to add a little lemon twist to an espresso. The lemon oils and hit of citrus helps enhance the natural caramel sweetness of a roasted coffee bean. With Wide Eye Coffee Stout having such a rich coffee flavor, and we thought this trick might work with the cocktail, especially since lemon and whiskey are natural partners!
What Other Flavors in This Beer Cocktail?
With the splash of lemon added, we needed a little sweetness to bring everything into balance. A splash of rich simple syrup brings the Bean and Barley into perfect balance. We finished up the cocktail with two dashes of Angostura Aromatic bitters which adds a final layer of spicy complexity!
Oh, one final little special treat for our local readers… We often get asked where you can go try out our cocktails, and in this case you can! The fine folks at Lucky Bucket will be featuring the Bean and Barley on the menu at their tasting room in La Vista!
Head on over to the tasting room! Check out their great beers, spirits and actually get a chance to have one of our cocktails to sip on!
Cheers!
Also, don't forget to follow us on Instagram and tag #gastronomcocktails so we can see all the wonderful recipes YOU recreate from this site!
You can also subscribe to our newsletter so you never miss a delicious recipe again!
Like this recipe? Try these below, too!
Roast & Toast Cocktail
Chocolate Coffee Stout Fudge Ripple No Churn Ice Cream
Other Beer Cocktails
Yield:

1
The Bean and Barley - A Stout Beer and Whiskey Cocktail
A beer and whiskey combination cocktail, accompanied by lemon.
Ingredients
Stout Beer Cocktail
1 ounce Cut Spike Whiskey
3 ounces Lucky Bucket Wide Eye Coffee Stout
1/8 ounce freshly squeezed lemon juice
2 dashes Angostura bitters
Instructions
In a rocks glass, add in whiskey, simple syrup, lemon juice and bitters.
Add a small bit of ice to the glass.
Top with the Lucky Bucket Wide Eye Coffee Stout.
Garnish with a lemon twist.
Cheers!
Recommended Products
As an Amazon Associate and member of other affiliate programs, I earn from qualifying purchases.
Nutrition Information:
Yield:
1
Serving Size:
1
Amount Per Serving:
Calories:

653
Total Fat:

0g
Saturated Fat:

0g
Trans Fat:

0g
Unsaturated Fat:

0g
Cholesterol:

0mg
Sodium:

326mg
Carbohydrates:

62g
Fiber:

0g
Sugar:

0.1g
Protein:

2.8g
Interested in stocking your own home bar? Make sure to see our favorites at our Amazon Store!
If you liked this post, don't forget to subscribe for new (and of course free) recipes by entering your email address on the side bar (and get all the recipes delivered to your inbox when we post), so you don't miss out on a thing. You can find us on Facebook, Instagram, and Pinterest!
Gastronomblog is a participant in the Amazon Services LLC Associates Program, an affiliate advertising program designed to provide a means for sites to earn advertising fees by advertising and linking to amazon.com