Last Updated on October 6, 2022 by The Noms
Combining two of our favorite things – our bourbon butterscotch sauce and a Christmas treat, bourbon eggnog, this is a great holiday treat!
With the halls all decked out with holiday cheer and a whole bunch of Christmas parties yet to come, we decided that we should take on another famous Yuletide drink, Egg Nog. Eggnog is one of those drinks that can elicit excitement in some and dread in others. Most of us are familiar with the heavy thick commercial version. You find in the local grocery stores, but in times gone by Eggnog was the drink around the holidays.
This post contains affiliate links for products that we think you as readers might find useful, and we make commission off of these! For more details about our affiliates, click our Disclosure and Contacts Page.
Bourbon Eggnog
What if we could discover a version that was closer to the original historic recipe that would be lighter and smoother while but still packing all the delicious flavors. The resulting Salted Butterscotch Bourbon Eggnog was fantastically light and drinkable with a special sweet edge from our Salted Bourbon Butterscotch sauce.
Eggnog has a long and somewhat muddled past, but its roots are likely found in the brandy flip. A Brandy Flip cocktail that originally was made with a whole egg, spices and brandy and warmed with an iron poker fresh out of the fire. Popular with folks all across Europe, variations of the flip soon appeared, some adding cream and different spirits.
Eggnog was especially popular with the aristocracy who had ready access to fine brandies and sherry, spices, eggs and cream. It became a staple at holiday celebrations.
What is the History of Eggnog?
At some point in the mid 1700's the recipe made its way across the Atlantic to the Colonies. Egg nog became popular drink in the ale houses and inns. With fine spirits like brandy and sherry being heavily taxed, and with the Colonies having lots of bourbon and rum, the recipe was soon adapted to use a more native spirit.
It finally showed up in Jerry Thomas's 1862 version of The Bartender's Guide. This is where we can see a snapshot of the typical style of eggnog, which was far thinner and lighter than what we find in stores today.
Jerry Thomas's recipe called for almost all of the ingredients we find in modern eggnog. These are eggs, milk, sugar, rum and some fresh nutmeg. His recipe called for it to be put on ice, which would water the eggnog down making it a less thick drink. While we were wanting a drink that would be lighter, we weren't real thrilled about watering down our eggnog!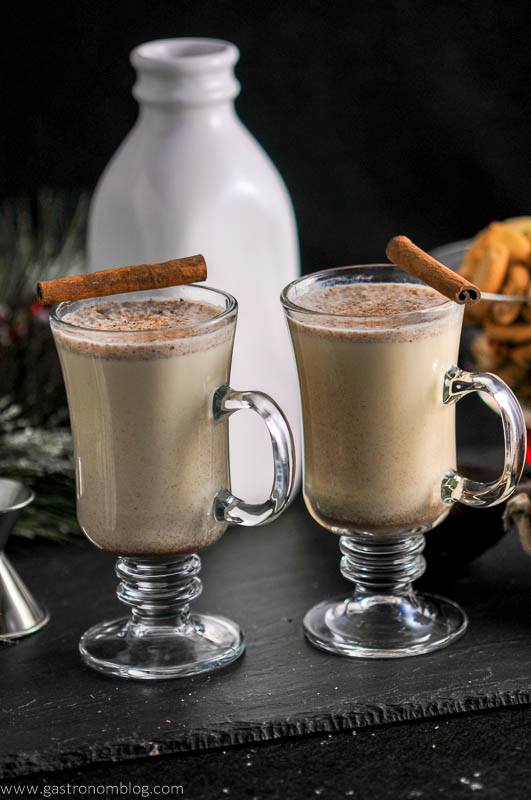 What Ingredients Did We Use in the Eggnog?
We decided to emulate another great holiday recipe that is similar to eggnog, the Tom and Jerry, which also uses eggs and sugar to make its batter. The Tom and Jerry uses whipped egg whites to create a light fluffy quality to the drink. We decided to use a similar technique for our eggnog.
We separated the egg whites from the yolks, and while the whites were whipping, we mixed up the yolks with spices, sugar and cream to create a nice thick base. Once the whites were super fluffy, we folded the yolk base into the whites and came up with a fluffy creamy mix.
What Ingredients are Needed in this Salted Butterscotch Eggnog Cocktail?
Salted Bourbon Butterscotch Sauce
Eggs
Salt
Milk
Heavy Cream
Cinnamon
Nutmeg
Amaretto
Vanilla Extract
Sugar
Cloves
Bourbon
If You Are Looking for More Holiday Recipes, Try These!
We are big fans of bourbon, so we decided to be true to the original American version of eggnog and add some bourbon to bring a nice boozy edge. Wanting to add a little sweet nuttiness, we also decided a little amaretto would be a good partner. The caramel sweetness of the bourbon and the nutty amaretto makes for a nice boozy base that helps further thin out the creamy nog mixture.
Wanting to make our eggnog a little more festive, we added a nice drizzle of our Salted Bourbon Butterscotch sauce. This then adds a great sweet finish to our Salted Butterscotch Bourbon Eggnog.
If You Are Looking for More Bourbon, Try These Recipes!
We hope you will give our version of Salted Butterscotch Bourbon Eggnog a try at your next Christmas party!
Cheers!
Also, don't forget to follow us on Instagram and tag #gastronomcocktails so we can see all the wonderful recipes YOU recreate from this site!
You can also subscribe to our newsletter so you never miss a delicious recipe again!
Like this recipe? Try these below, too!
Tom & Jerry Cocktail
Christmas Old Fashioned
Other Eggnog Recipes
Yield:

1
Salted Bourbon Butterscotch Eggnog
A salted butterscotch version of the classic holiday cocktail, eggnog.
Ingredients
Butterscotch Eggnog
9 ounces bourbon
3 ounces amaretto
1/4 cup sugar
1/8 teaspoon ground cloves
1 teaspoon vanilla extract
1 teaspoon ground cinnamon
4 cups whole milk
2 cups heavy whipping cream
6 eggs, separated into yolks and whites
1/8 teaspoon ground nutmeg
1/2 teaspoon salt
Instructions
Whisk egg yolks, butterscotch sauce and salt until smooth.
Add milk, whipping cream, nutmeg, cinnamon, cloves and vanilla. Whisk until smooth.
In a bowl with a standing mixer, or with a hand mixer, whip egg whites with 1/4 cup sugar until soft peaks form, around 8-10 minutes. Fold whites into cream mixture until smooth.
Chill until cold, serve in a punch bowl with bourbon and amaretto, or individual glasses with .75 oz bourbon and .25 oz amaretto for each. Top with more grated nutmeg.
Cheers!
Recommended Products
As an Amazon Associate and member of other affiliate programs, I earn from qualifying purchases.
Nutrition Information:
Yield:
12
Serving Size:
1
Amount Per Serving:
Calories:

271
Total Fat:

12.2g
Saturated Fat:

6.8g
Trans Fat:

0g
Unsaturated Fat:

0g
Cholesterol:

118mg
Sodium:

769mg
Carbohydrates:

17.8g
Fiber:

0.2g
Sugar:

14.4g
Protein:

6g
PIN THIS SALTED BOURBON BUTTERSCOTCH EGGNOG RECIPE FOR LATER!
Interested in stocking your own home bar? Make sure to see our favorites at our Amazon Store!
If you liked this recipe, don't forget to subscribe for new (and of course free) recipes by entering your email address on the side bar (and get all the recipes delivered to your inbox when we post), so you don't miss out on a thing. You can find us on Facebook, Instagram, Pinterest and Twitter!
Gastronomblog is a participant in the Amazon Services LLC Associates Program, an affiliate advertising program designed to provide a means for sites to earn advertising fees by advertising and linking to amazon.com
Follow my blog with Bloglovin