Last Updated on October 10, 2023 by Leah Hall
Killiecrankie House is a not to be missed place to stay when you visit Scotland. Located in Pitlochry, this inn, restaurant and bar has it all for the culinary traveler, who enjoys spirits, wine and local beer, as well as Scottish food. Read more below for this exciting Scottish lodging.
On our recent trip to Scotland, we journeyed through a lot of the country. Starting in Edinburgh, we saw Edinburgh Castle, museums and the sights, as well as had tasty food and drink (Panda and Sons!). We ventured up to Speyside to tour some distilleries (make sure to check out our post all about Scotch regions) and see the highlands. On the way north, we toured Lindores Abbey Distillery!
This post contains affiliate links for products that we think you as readers might find useful, and we make commission off of these! For more details about our affiliates, click our Disclosure and Contacts Page.
Next to Cairngorms National Park, we discovered Killiecrankie House, a fine dining restaurant with rooms. And, we then knew we had a place to stay for the night!
Killiecrankie House
Killiecrankie House is a 10 minute drive from the holiday town of Pitlochry. Distantly surrounded by houses in the gorge of the River Garry, stunning forests are all around the property. Just south of Killiecrankie House is Soldier's Leap where a Redcoat jumped 18 feet across the River Garry to escape the Jacobites in 1689.
Pitlochry is in Perthshire, in the center of Scotland, 90 minutes north from both Glasgow and Edinburgh. Perthshire is part of a growing gourmet destination of distilleries and restaurants.
Killiecrankie House has a mid-century vibe that meets Scotland charm, with five rooms, and a tiny but glamorous art deco cocktail bar. But, it's really all about the innovative Scottish food at Killiecrankie House.
Dinner at Killiecrankie House
Dinner is set at 7 pm for around a 7.30 pm start (finishing around 10.30). While check-in is at 4:00 pm, but the bar and garden are open from midday should you want a refreshing drink and a walk. In the winter, the sun sets around 3:45 and we arrived after 5, but got to our room, changed, and then made our way to the bar. (More on that below!)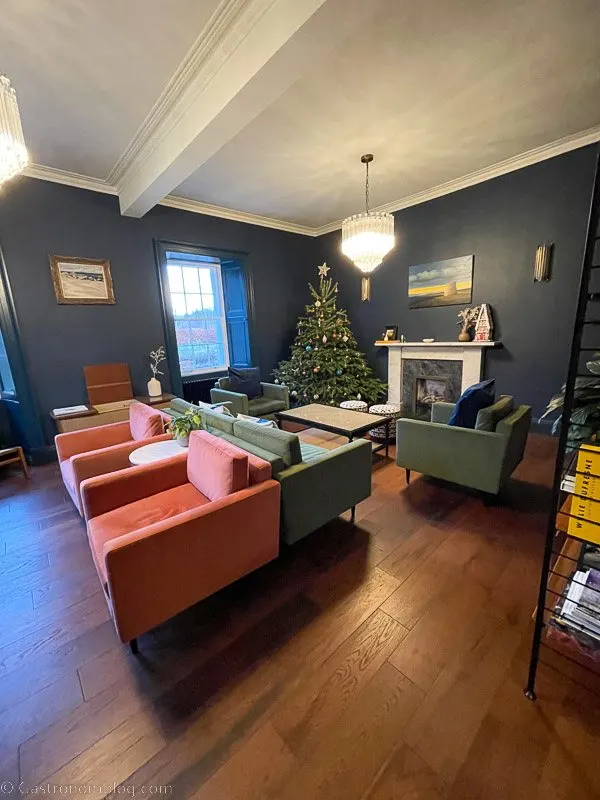 Killiecrankie House has an intimate house-party vibe to it, with guests gathering in the bar and drawing room before dinner for drinks and conversation. When you are escorted into the kitchen, you are greeted with a table for 2 in the open kitchen to watch the food being made. Enjoy the sparse yet elegant surroundings alongside a soundtrack of hip-hop and 80s rock.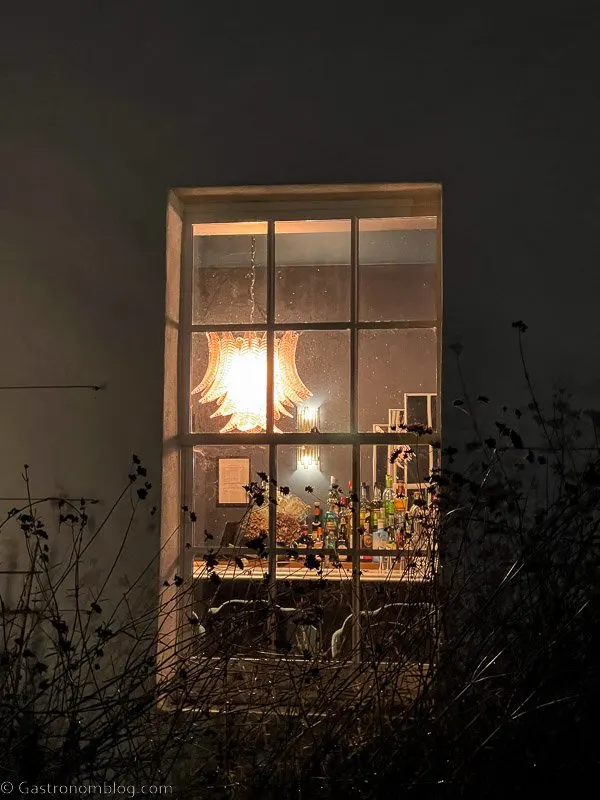 After some brilliant cocktails in the tiny art deco bar, the open kitchen has an almost a theater like feel with our 15 course tasting menu. The courses feature distinctly Scottish ingredients: smoked salmon, langoustine, venison, brambles and seaweed accompanied by more complex flavors of Christmas tree needles, beetroot and miso. Our tasting menu was accompanied by an unusual and intriguing wine pairing that included wine from China and saké, because we picked the Discovery Pairing. This Discovery Pairing can include lesser known regions and varietals of wine, sake and even beer.
You can also get the Signature Wine Pairing with premium wines and sake from known regions and vineyards. For those that don't partake, or don't want to, there is a non-alcoholic pairing option that includes teas, soft cocktails, juices and infusions. Of the 10 people that were eating that evening, a lot of us did the Discovery Pairing, but the Signature Wine Pairing and the non-alcoholic offering were drank as well.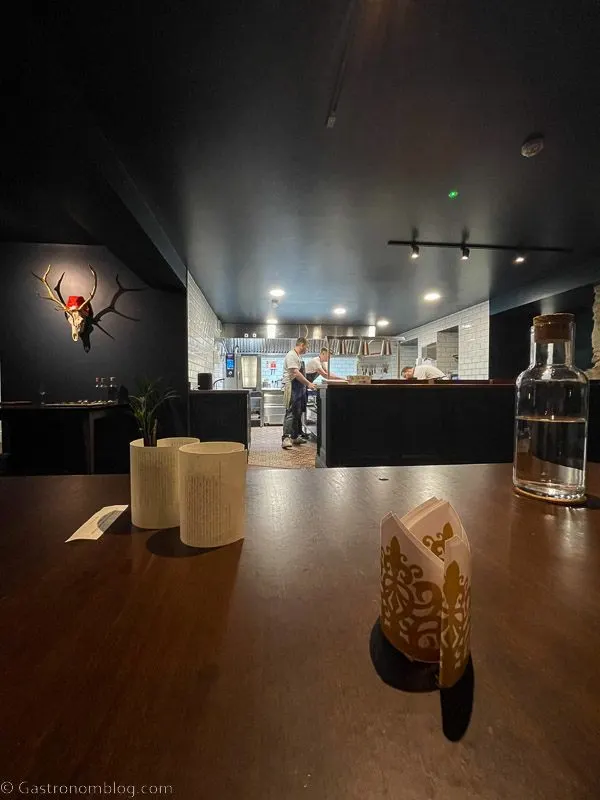 It is an option to just do dinner, and not stay at the property. But please arrive at 7:00 pm for some drinks before dinner with the tasting menu of Scottish classics brought up to date. They serve a tasting menu with innovative Scottish cuisine that celebrates the gastronomic bounty of Scotland. Everyone sits down and starts eating around the same time so that dishes come out of the kitchen, and are presented to all diners at the same time. This prevents spoilers because if the table next to you is two courses ahead, you know what is coming.
Dinner at Killiecrankie House is a culinary adventure. The food is flavorful, thoughtfully prepared and the owners and kitchen staff will explain as much or as little as you like about each dish. Since we stayed in December, we had a holiday themed meal and cocktails, all thoughtfully paired with wine and sake.
Our holiday tasting menu consisted of 15-courses presented to us from the open kitchen. Tom and his tiny team of two take a joyful and playful approach to food but, Tom definitely takes both his menu and the food very seriously. The 15-courses were based on the Christmas poem a Visit from St Nicholas.
Expect playful riffs on Scottish foods with a French Onion Mouse in our soup, 'coal oysters' over rocks with beetroot flames, and braised ox cheeks as "His Cheeks Were Like Roses."
The food is as locally sourced as possible, but paired with a wide-ranging wine list, including one from a vineyard in China that Matilda's father founded. Matilda's drink pairing are just as exciting as the food is with her choices of wine and sake.
The amount of food should not sound intimidating either. If you have never done a large tasting menu (like our 25 courses at é or Joel Robuchon in Las Vegas), the 15-courses amount to about an average 3-4 course meal total. Small bites and bits make for a great way to taste a large amount of flavors without feeling like you need to be rolled out of the kitchen.
Jay and I think it is one of the best tasting menus we have ever partaken of. Beautiful to the eyes, as well as intense flavors and brilliant humor. The menu has been thought out with care and creativity, each dish with its own story to tell, but telling the whole Christmas story, too.
In summer, the kitchen garden will grow seasonal produce on site. This produce can be used in cooking and making cocktails, too. They will be growing their own berries, a small orchard, edible flowers. They want to put in a smokehouse to smoke their own salmon for breakfast.
Killiecrankie House features a set menu from Wednesday to Sunday, with those being the only nights to stay on the property as well.
15 Course Tasting Menu
Smoke – smoked salmon belly tartare, seaweed tart
Flew Like a Flash – pheasant liver pate, black garlic and chestnut tart
(both on this wooden box)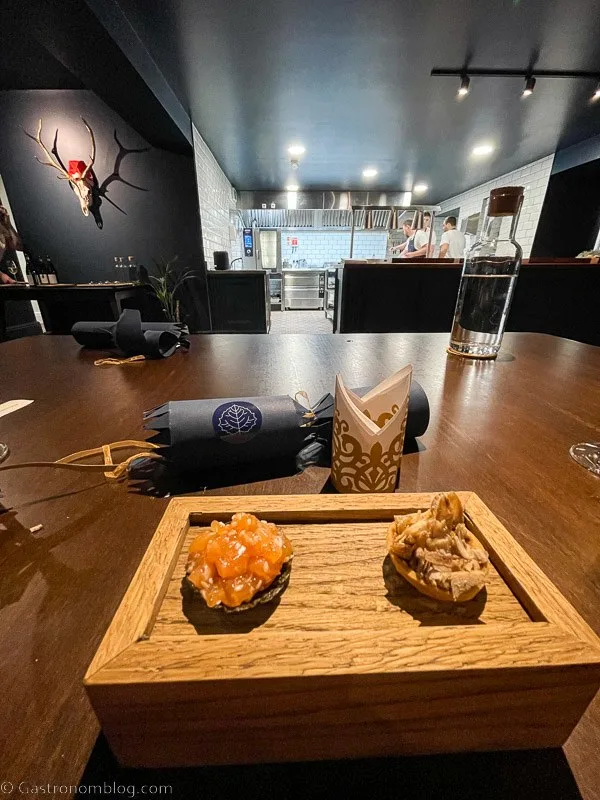 Sky – Isle of Skye langoustine "prawn cocktail" tart, tomato and cherry blossom jelly, Langoustine hot toddy
Ashes and Soot – oyster tempura "coal", beetroot flames
Leaves – miso, chestnut and brussel sprout chawanmushi
Not a Creature was Stirring, Not Even a Mouse – French Onion Mouse, pickled shimeji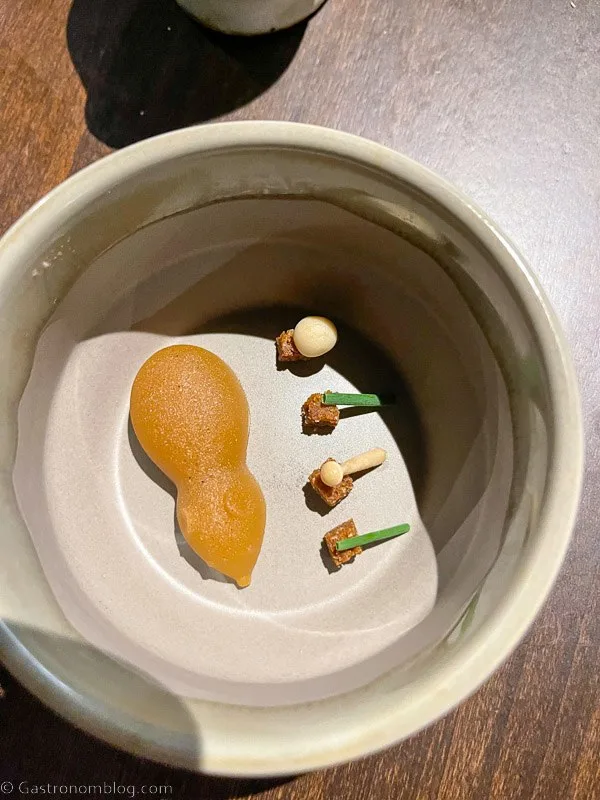 Wild – venison tartare, wild garlic, brambles and cinnamon
Cap – oyster mushrooms cooked over smoking Christmas tree needles, pine nut risotto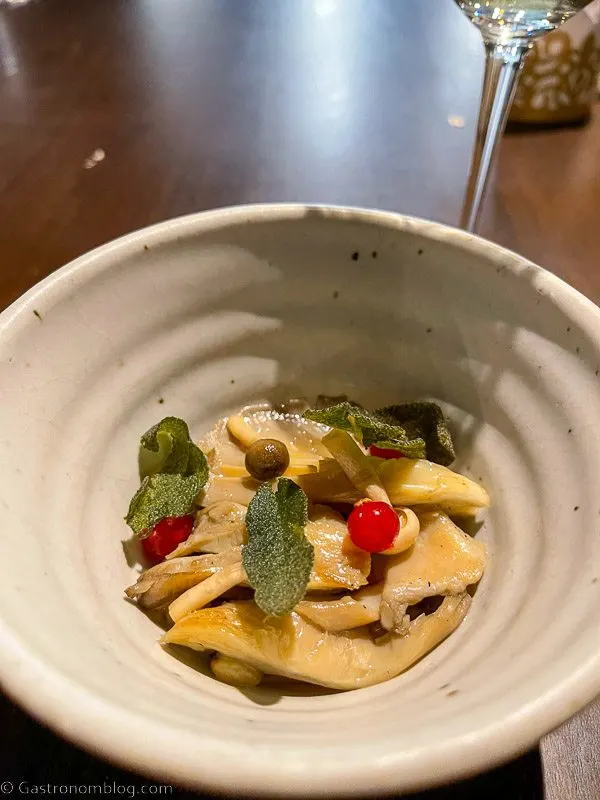 Snug in Their Beds – hand-dived scallops, Shetland mussels and seaweed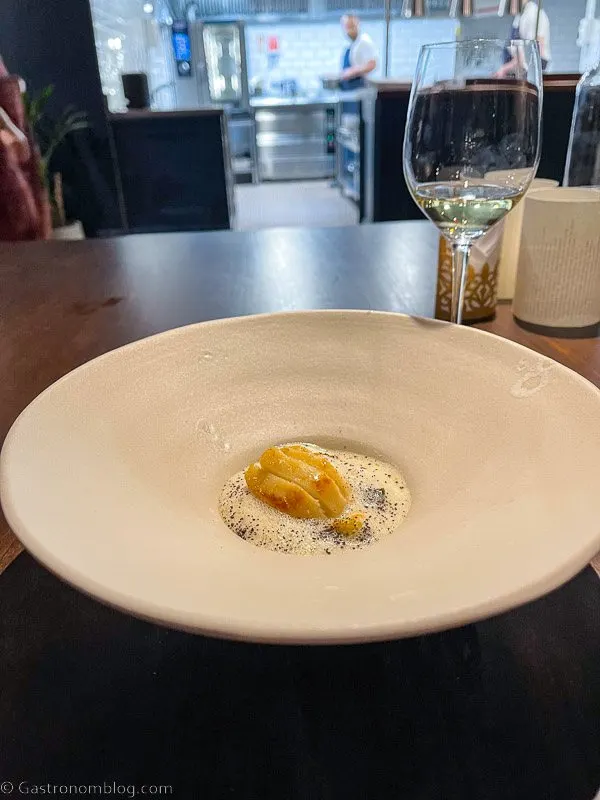 His Cheeks were like Roses – braised ox cheek, Turkish delight, beetroot rose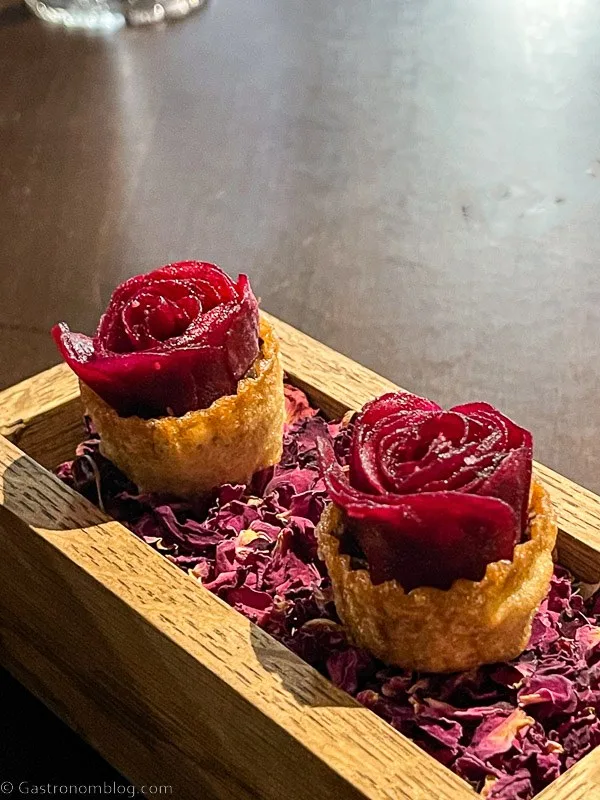 Deer – BBQ venison loin, pumpkin, braised fig, mulled wine sauce, mint pie hand laminated brioche
Cherry – Stilton, port, sherry, cocoa nib oatcakes
New Fallen Snow – Parsnip and white chocolate ice cream snowflake
A Bowl Full of Jelly – sherry vinegar, spiced orange, gingerbread and pumpkin trifle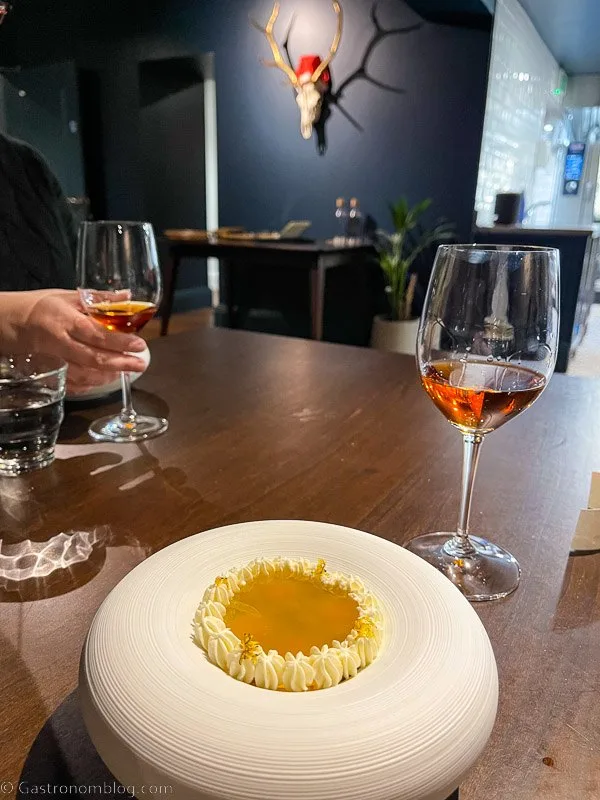 Happy Christmas to All, and to All a Good Night – salted After Eight fudge, mulled wine cola bottles, Christmas pudding madeleines
Tom and Matilda
The owners, Tom and Matilda are providing guests with a taste of the country's food which is a great representation of what Scots actually eat. Matilda and Tom Tsappis, have turned this traditional Highland country house into what looks to become one of Scotland's top fine-dining restaurants with rooms.
This couple traded their city lifestyle for this period country house, which they restored to combine original and modern features, which they bought during lockdown.
Then, this husband and wife team (sounds like us!), decided to restart their lives in Scotland, Matilda's homeland. Killiecrankie House is the kind of hidden gem you can find in rural Perthshire, it's warm and welcoming.
Chef Tom started out hosting supper clubs in London. With Matilda as Sommelier, they set up and ran their supper club Elia, which was booked up months in advance. Now, the couple have brought their love of food and wine to this food lovers retreat.
The two are charming and informative hosts at this restaurant with rooms.
Rooms at Killiecrankie House
The white stone Georgian mansion, built in 1840, has five lovely rooms, modernized with free standing tubs, large walk-in showers, dark colors and an older mid-century vibe. Upon entering, you will be greeted by Matilda and taken to your cozy room.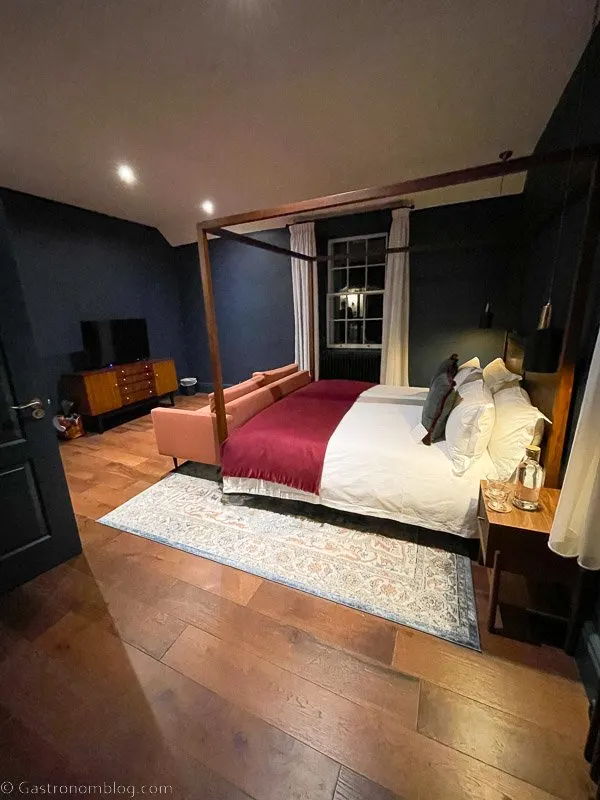 Not so much rooms as they are cozy retreats: dark and expensive simplicity encompasses the five modern and dramatic suites. Four-poster beds, mid-century furniture, and absolutely flawless interiors. Four large four poster bedrooms and a suite are upstairs, each uniquely shaped with some sloped ceilings and alcoves, as well as some skylights in this Highland retreat.
The gorgeous interiors might look like the work of a professional designer, but every detail was picked by the Tsappis', and they have amazing taste. The color palette throughout the entire boutique hotel is a deep blue with dark wood floors and other colors thrown in. Colorful artwork, white curtains, light pink stone wash basins with bronze taps are lovely touches. Our windows overlooked the garden and front door, with original shutters available to cover them.
The luxurious bathrooms are tiled in a lovely green.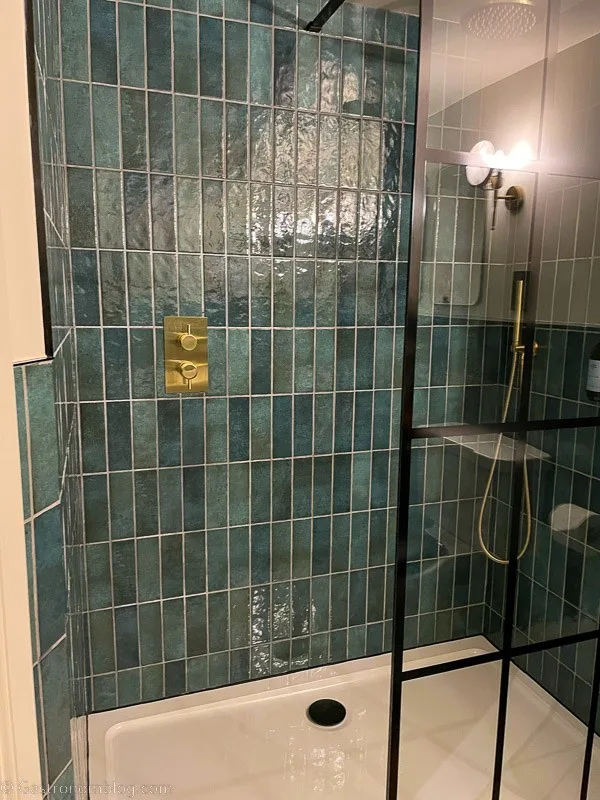 Fun chandeliers and lights have a vintage feel, along with a 1960s record player and mid-century furniture abound. The corridors, nooks and crannies are all dark and dramatic.
The toiletries are from Laura Thomas Co in North Berwick. Pastel packaged chocolate bars from Glasgow company Bare Bones are on the bedside table. We had to take ours with us.
There aren't coffee machines, kettle or a minibar in the room, and no room service, so keep that in mind if those are important to you.
Downstairs has a drawing room with plush sofas, a aforementioned record player and collection of vintage vinyl. All of this holds a genuine sense of hospitality, and mingling with other guests is encouraged. You can sit and have a drink by the fire, in the bar, or outside if the weather is nice.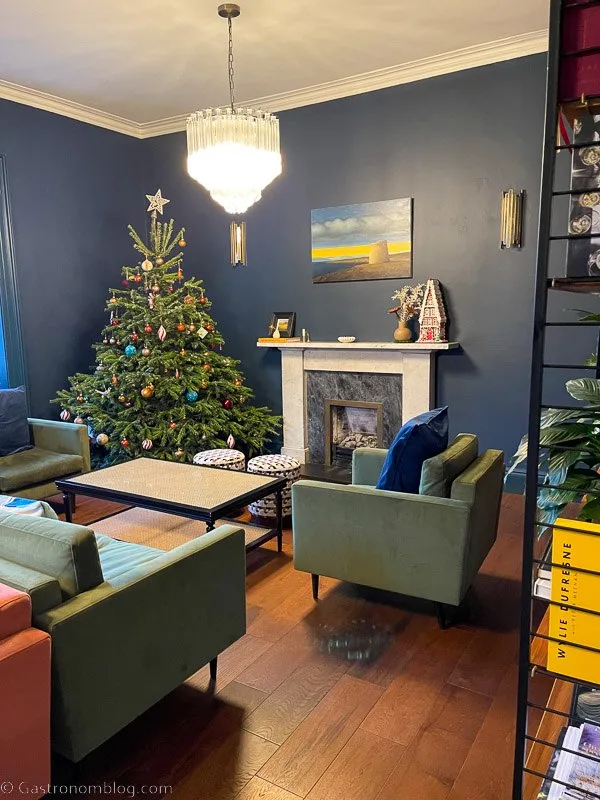 Cocktail Bar

The on property cocktail bar is quite unusual in the Scottish Highlands. They have a good wine list with well known names as well as wine from places like China or Cyprus.
But, we felt the cocktails were definitely the star of the show. Not part of the dinner pairing, you can order cocktails before and after dinner. Again, since we stayed in December, there were some cocktails that were Christmas themed – a Scotch Nogg with spiced whiskey, condensed milk, white port and egg, The Sloe Day in Manhattan – Sloe infused whisky, Cocchi Torino, pineapple weed and Killiecrankie mulled vermouth.
But, the majority were staples of their cocktail list including the Made from Girders – marmalade gin, Cocchi Americano, citrus, orange bitters, and Irn-Bru. Irn-Bru is a popular soda, and called the "other national drink of Scotland" (after whisky). With flavors of blackcurrant and maybe orange? no one really knows, it's just tasty and adds a lot to this cocktail.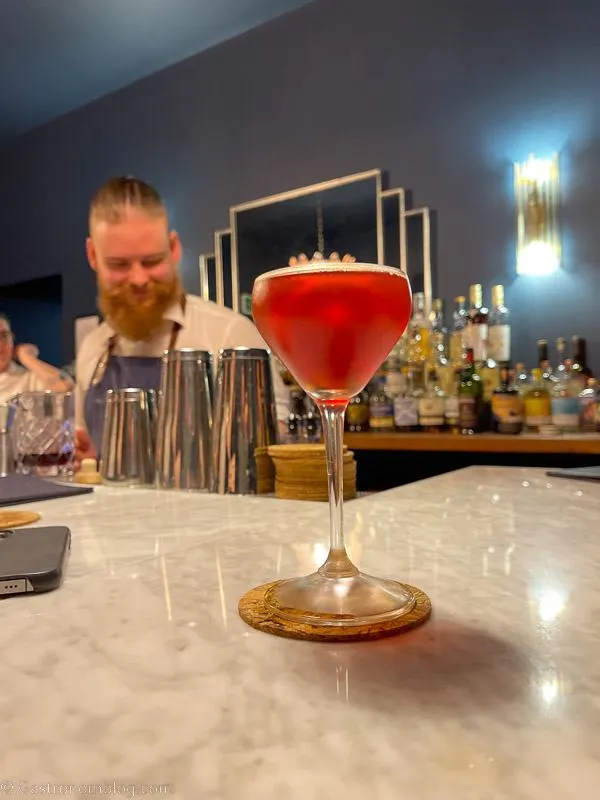 Another popular sip at Killiecrankie House is the Glasgow Punch – a blend of Scottish rums, Italicus, citrus, Demerara, and burnt lime rapscallion (a soda). This one was tasty as well, I think we drank the whole cocktail menu between the 2 of us. The previous 2 can also be made non-alcoholic if you would prefer.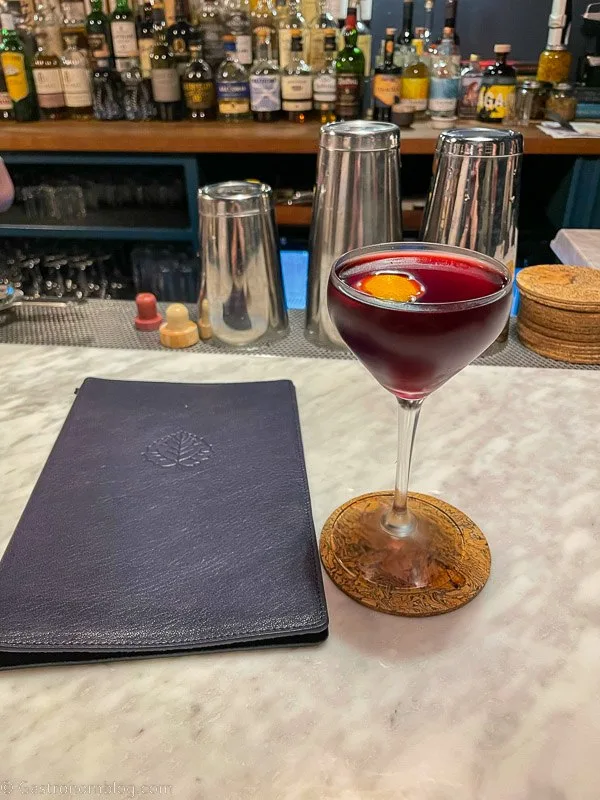 Niall, the bartender and Lauren were lovely hosts in the bar (and later during dinner), and we enjoyed conversation with them amongst the sophisticated setting of blue and dark woods, barstools, shiny marble countertop and feathery pink statement glass chandeliers.
Wasted Degrees brewery is local and has made Killiecrankie House beer just for them. A few guests ordered this very pale IPA and pronounced it delicious.
You can, also indulge in an afternoon whisky tasting if you so choose. Add it onto your reservation and make sure to get there early. We unfortunately didn't have time for this, but I am sure it's a great way to try whiskies from places you may not have time to visit.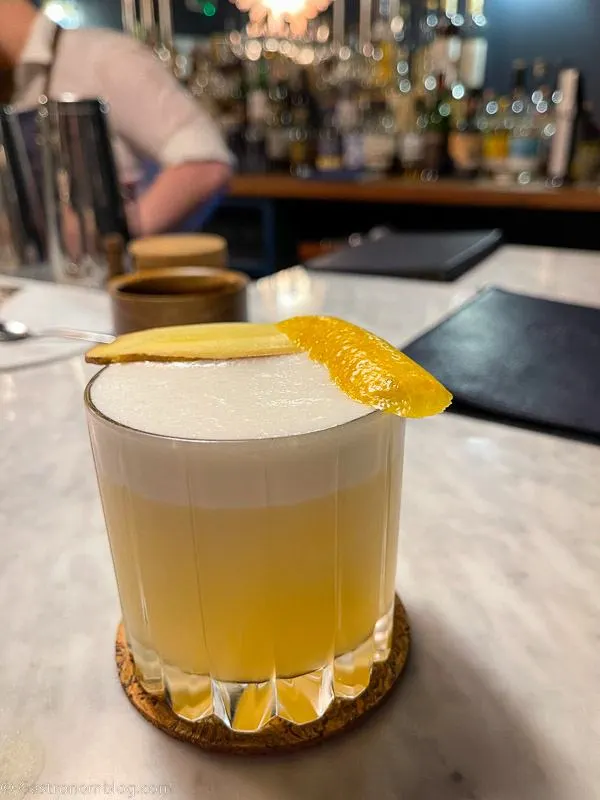 The art deco bar is open in the afternoon serving their delicious cocktails, local beers and wines.
Breakfast
After a great night's sleep in your comfy bed, guests can stroll downstairs to breakfast, which is served in the dining room at 9:00 a.m. 10:00 am is expected to be the departing time. Again, all of the ingredients are locally sourced and presented with the same flare and presentation that dinner was served the night before.
This gourmet breakfast is a little more typical with smoked salmon, local sourdough croissants, sourdough bread, smoky and spicy sliced venison salami, cheeses. We also ordered some eggs and bacon to make sure we had enough protein.
This is all served up by Tom and his kitchen staff of 2 and Matilda. Fresh apple juice, coffee and tea were also offered.
Things to Do Nearby

Most come to Cairngorms and Pitlochry for the outdoor activities like hiking, cycling, skiing or golf.
Outdoor Activities: hiking, cycling, golf, skiing, fishing, white water rafting, walking
Blair Castle – Castle, gardens and grounds are available for tours
House of Bruar – a premier fashion retailer of country clothing
Killiecrankie Gorge/Soldier's Leap – part of the area where the Battle of Killiecrankie took place. The gorge is an interesting geological site that the river Garry runs through.
Linn of Tummel – wooded riverside walk
Faskally Forest – walks and paths around a loch
Pitlochry Dam – dam with a visitor's center
Enchanted Forest – outdoor sound and light show in Faskally Wood. Choreographed sound and light shows while you follow the path around the forest.
Falls of Bruar – short hike to beautiful falls
Outlander Filming Location of Craig Na Dun – see where they filmed Claire going through the stones in Outlander.
Birks of Aberfeldy – steep walk up to falls
Lady Charlotte's Cave – a natural and man-made formation cave
Ossians Hall of Mirrors – woodland walk
Ossians Cave – best viewed from the ground, this cave can only be gotten to by climbers, but neat to see
Atholl Country Life Museum – railway, reproduction post office and exhibits about agriculture
Black Spout Wood – woodland trail and waterfall
Schiehallion – cone shaped mountain, footpath that goes to the top
Atholl Palace Museum – the Atholl Palace Hotel has a museum, as well as restaurants, a spa and a conference center
Ben Vrackie – a long hillwalk
The Hermitage – part of Ossian's Hall – this has a great view of Black Linn Falls and the River Braan
Pitlochry Highland Games – in September, this annual event is a must visit
Etape Caledonia – a closed road bike this, this annual event takes place in May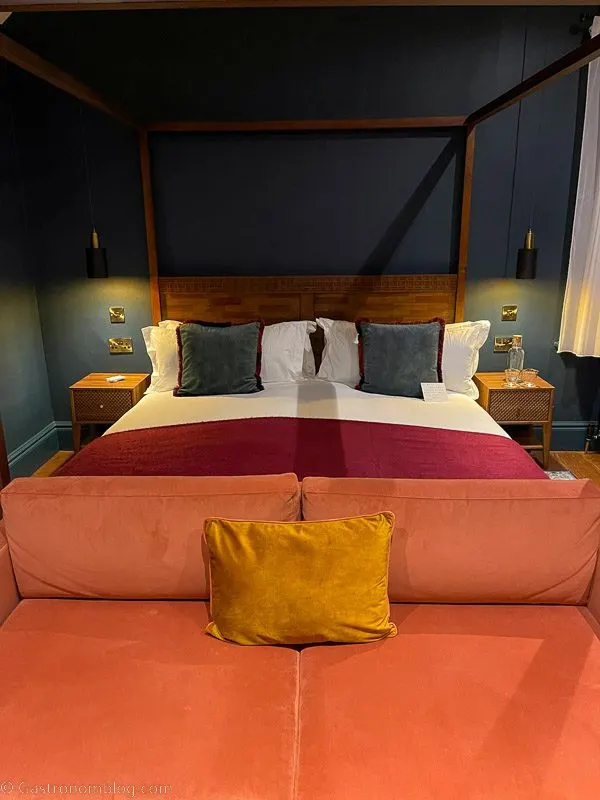 Killiecrankie House Amenities
The menu, which costs £105/pp (plus £75 for a discovery drinks pairing) or £520 including dinner, bed and breakfast in one of their five rooms for 2. Free Wi-fi.
Other added or optional costs are:
Signature Wine Pairing: £150
Non-Alcoholic Pairing: £50
5:00 pm whisky tasting: £60
Chef's Counter Experience: eat at the counter in the kitchen for dinner and breakfast, and hotel room: from £295/pp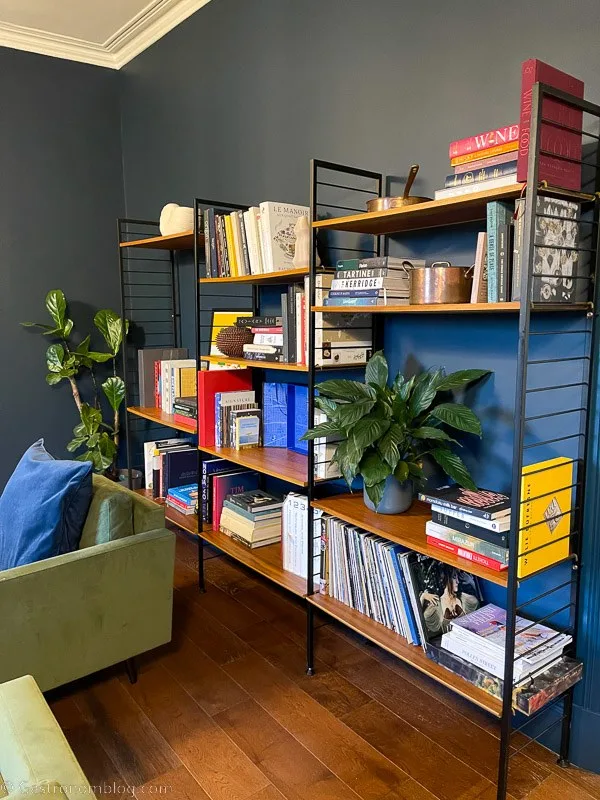 Coffee Houses and Tea Houses
We are sure you will be full of all the tasty goodies that Killiecrankie House has to offer – but if you need a good cup of coffee or tea on the way in or out of town, here are some suggestions:
Killiecrankie House
Pitlochry PH16 5LG, United Kingdom
https://killiecrankiehouse.com/
Tips and Tricks
Plan: make sure you plan your time well when staying at Killiecrankie House, so you can participate in the whisky tasting if you would like, and make sure to have time for a cocktail or drink before dinner. Also, make sure to make use of the space in this boutique hotel: enjoy the bar, the drawing room and your time in the dining room. If the weather is nice, take a stroll outside, or sit and enjoy the sunshine!
Room Amenities: the rooms have Tv's, with access to streaming programs, and we can guarantee on chilly winter evenings, the couch and bed are a great place to cuddle and catch up on some shows! That is, if you have time after the epic meal!
Items to make travel easier: carry-on luggage, sanitizing wipes, and a Weekender Bag.
Also, don't forget to follow us on Instagram and tag #gastronomcocktails so we can see all the wonderful recipes YOU recreate from this site!
You can also subscribe to our weekly newsletter so you never miss a delicious recipe again!
Like this post? Check these out below, too!
The Pinch – Charleston, South Carolina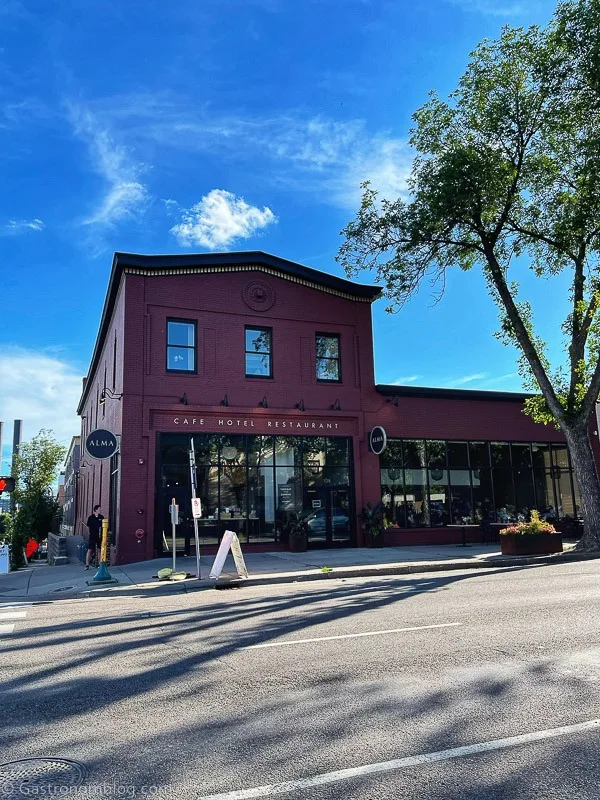 Hotel Alma – Minneapolis, Minnesota
Interested in stocking your own home bar? Make sure to see our favorites at our Amazon Store!
If you liked this post, don't forget to subscribe for new (and of course free) recipes by entering your email address on the side bar (and get all the recipes delivered to your inbox when we post), so you don't miss out on a thing. You can find us on Facebook, Instagram, and Pinterest!
Gastronomblog is a participant in the Amazon Services LLC Associates Program, an affiliate advertising program designed to provide a means for sites to earn advertising fees by advertising and linking to amazon.com