Last Updated on September 29, 2023 by The Noms
An Omaha Speakeasy, Anna's Place is dedicated to the notorious Omaha Madam, Anna Wilson. Located in the Hotel Indigo.
Omaha's newest speakeasy, Anna's Place pays homage to the madam whose brothels shaped Omaha during it's historic rise!
This post contains affiliate links for products that we think you as readers might find useful, and we make commission off of these! For more details about our affiliates, click our Disclosure and Contacts Page.
Located just off the lobby in the Hotel Indigo, with a light that changes from green to red, depending on the occupancy, Anna's Place makes some great craft cocktails. If the light is green, knock with the woman shaped brass door knocker. If the light is red, the bar is at capacity and you have to come back. More info on this below.
IHG Hotels asked Jill Cockson to create a small bar connected to the Hotel Indigo lobby. Jill has developed many bars in Lincoln and Kansas City, Missouri, with small capacity that have great hospitality. Check out our Kansas City Spirited Guide, which includes our trip to Drastic Measures. Her other bars comprise of Kansas City's Swordfish Tom's and Chartreuse Saloon. She also helped start The Other Room in Lincoln, Nebraska. Primary owner Devon Mundt operates Anna's Place.
IHG Hotels wanted to do a unique neighborhood concept. Jill decided to combine the story of the Burnt District in Omaha and legend of Anna Wilson as the bars' theme.
Omaha Speakeasy
Once you have entered this fun Omaha Speakeasy, you instantly are encompassed by the theme. Anna Wilson was known as the "Queen of the Underworld" in Omaha, up until she died in 1911. So obviously the bar is covered in red lights in the ceiling and lamps, a "Call Me" neon sign is on the wall near a vintage crank telephone, and dark patterned wallpaper is on the walls. And yes, it is as red inside as it is in the pictures!
Speaking of the walls, there are framed nude and sensual sketches done by local artist Watie White. The whole atmosphere is intimate and fun. There are a few velvet barstools located at the bar, otherwise there are separate seating areas with stools, banquettes or chairs and tables. Also look for the list near the door of places in Omaha that the staff suggests like restaurants, other bars, activities. This is especially helpful if you are from out of town.
The cocktails invoke the theme as well with the list of "Soiled Dove Auld Fashioneds" right when you open the menu are named after different madams from all over the US. These include Mattie Silks from Colorado and Dora DuFran from South Dakota. These six feminine takes on Old Fashioneds are all priced at $15.
In addition to the drink names paying homage to famous women, Anna's Place also features liquors from women-owned companies, they are marked with pink dots on the bottles.
Personally I love this aspect so much, because being a woman in a male dominated industry, and having so many times where it is assumed that Jay is the only person behind the recipes and blog, it's refreshing to see women honored in this way.
Anna's Place Cocktails
Drinks are creative and fun, like the Burnt District, a smoky twist on a Boulevardier. Ardbeg Islay Scotch and a smoked saline solution give the smoky aspects, while Campari and sweet vermouth balance and sweeten the drink.
Named after the Burnt District, an area east of Creighton University and contained saloons, opium dens, and brothels in shacks known as "cribs".
Other cocktails are appropriately named the Necromancer, Underworld Exorcism and Nine Feet Under. The Nine Feet Under is a reference to the nine feet of concrete Anna is buried under in the cemetery, which was at her request. This was so the "respectable" women of Omaha wouldn't try to move her body from where she wanted to be buried at Prospect Hill Cemetery next to Dan Allen, her longtime partner.
The Necromancer cocktail is an absinthe based sip that is a more complex version of a Bee's Knees. Named after a practitioner of black magic, it is herbal with black licorice from the absinthe, and has hints of pine from Mastiha, honey, mint from Branca Menta and rosemary.
The rosemary comes from the hard candy made in house, which melts into the drink, so as the cocktail warms and dilutes, changes. If you want to know more about absinthe, and it's place in US history, check out this post about St. George Distilling!
The Devil's Staircase cocktail even features a housemade riff on Kool-Aid, a Nebraska invention and staple. This carbonated and acid adjusted take on Kool-Aid is paired with tequila and Meletti Amaro, giving caramel and chocolate flavors. It comes garnished with an alcohol infused housemade marshmallow.
They also make pre-prohibition style tonic water made with quinine, also housemade. See the theme here?
But note, there is no wine, craft beers and no shots. There are also no snacks. But, Devon can make you any classic drink you might desire, if there isn't something that appeals on the menu, but we have never had a bad drink yet on our 2 trips!
How to Get into Anna's Place
Once entering the lobby of Hotel Indigo, walk past the front desk and into the snack shop. Once in the snack shop, there is a door on the left with the woman brass knocker. All you need to do is knock! Remember that a green light means there is room, so go ahead and knock, a red light means that the bar is full or they are closed.

Hotel Indigo Omaha
Some underground vaults and tunnels make up parts of the historic Hotel Indigo Omaha, which is located blocks away from the Missouri River.Prohibition was a time that these were used for liquor running, and IHG wanted to use this theme and location to make a fun speakeasy with an Omaha theme.
Bootlegging flourished in Omaha during Prohibition in these underground vaults and tunnels. Hidden saloons and speakeasies made for great tales and stories of history that continue in Omaha now.

Hotel Indigo welcomes guests in a sophisticated location with modern guest rooms. We will have to have a staycation here for sure!
Anna Wilson
Wilson's life story is full of intriguing snippets like her successful brothel, which was near 9th and Douglas streets, which Wilson later turned into the city's first hospital. Plus, her grave in Prospect Hill Cemetery, where she is buried under nine feet of concrete so "respectable" society couldn't move it from her spot next to Dan Allen.
Anna Wilson has been a part of Omaha history for quite a few years, including another bar with the name of Wilson and Washburn that was opened in 2013, named after Wilson and her employee Josie Washburn.
There is a lot of mystery around the life of Anna Wilson, including where she was from and how educated she was. It is known she got a lot of money from her common law husband, Dan Allen. Allen was a gambler in downtown Omaha, Council Bluffs, and on the riverboats on the Missouri River.
But, Wilson was pretty successful on her own, making money from her brothel for over 25 years. She was also a real estate investor, and reportedly worth more than $10,000,000 when she died in 1911. In the late 1800s, downtown Omaha was booming with people, gambling, prostitution and lawlessness. Police and government usually ignored Omaha's seedy area, the Burnt District, until Nebraska adopted the Red Light Abatement law in 1911, ironically the same year of Wilson's death.
In 1886, she built a 25-room mansion at North 9th and Douglas Streets. She moved in 1906 to a Kountze Place, a paved street with gas lamps and streetcars. Her home was filled with fine art, fancy wallpaper and furnishings. The yard was a well maintained garden.
She made friends in this new neighborhood. She delivered tea by hand weekly to the Old Peoples Home down the street, and befriended the seniors living there. When she died she left more than $1 Million to local charities, and gave her brothel to the City of Omaha to be used as a hospital.
She also left her mansion to the Old People's Home Association, and gave the organization $10,000 for improvements and maintenance. She was said to have a vision of the old people sitting on the front porch. There was an issue though, and Wilson's chauffeur Joseph Nelson was caretaker of the property. In 1912, Nelson killed himself at the home.
The Old Peoples Home Association wanted a new facility and never moved into the mansion. In 1914, the association sued the estate of Anna Wilson. Never occupying the mansion, they claimed they were unable to use the property because of insufficient money. They wanted a clear title to the property to sell it and build somewhere else. In 1915, they were given that title, and sold the property in 1916.
The hospital which was Anna's former brothel was shut down in the 1940s, and the site is now a merge lane to Interstate 480. We know Anna and women like her were omitted from history, which makes honoring them important. These interesting tidbits of Omaha's history make for conversation and tales to continue.
Anna's Place is located at 1804 Dodge Street, Omaha. Inside the Hotel Indigo.
Tips & Tricks
Devon will most likely be behind the curved bar when you visit, and he will happily help you with the menu. As will the other staff, and they will ask you questions to help you find a drink you will enjoy. He will also end up charting with more educated cocktail lovers about the menu, as he did with us on our visits. Don't be afraid to ask questions and try new things.
Parking – there is a parking lot on the west side of the hotel, but this is mainly for hotel guests. There is parking along the street as well as all around the block the hotel sits on. If you are there late enough, you don't have to even feed the meter.
There is a cheeky touch to Anna's Place, but the warm hospitality makes for a spot that cocktail lovers will greatly enjoy!
Hotel Indigo – 1802 Dodge St
https://www.facebook.com/annasplaceomaha/
Monday- Saturday, 4 pm – 1 am
Also, don't forget to follow us on Instagram and tag #gastronomcocktails so we can see all the wonderful recipes YOU recreate from this site!
You can also subscribe to our weekly newsletter so you never miss a delicious recipe again!
Other Omaha Spots Not to Miss
Like this post? Check these out below, too!
Omaha Cocktail Bars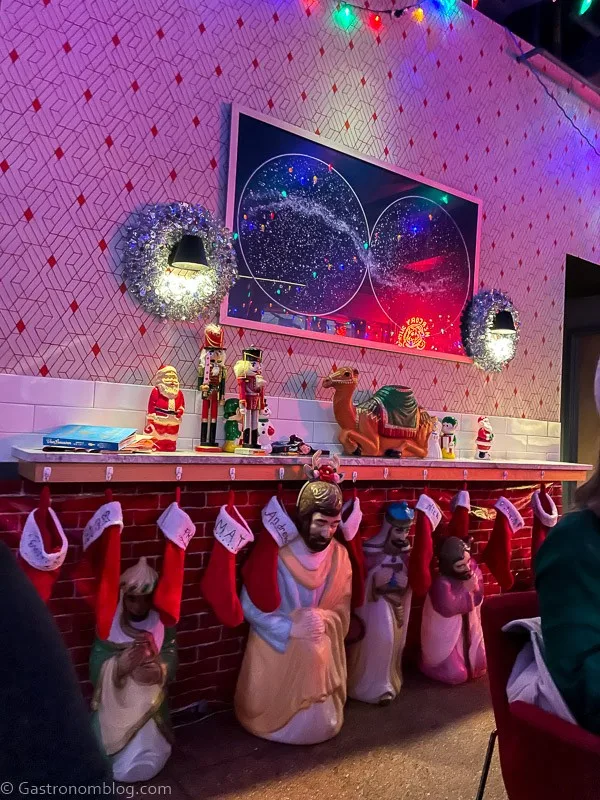 Christmas Pop Up Bars – Omaha
Interested in stocking your own home bar? Make sure to see our favorites at our Amazon Store!
If you liked this post, don't forget to subscribe for new (and of course free) recipes by entering your email address on the side bar (and get all the recipes delivered to your inbox when we post), so you don't miss out on a thing. You can find us on Facebook, Instagram, and Pinterest!
Gastronomblog is a participant in the Amazon Services LLC Associates Program, an affiliate advertising program designed to provide a means for sites to earn advertising fees by advertising and linking to amazon.com