Last Updated on June 1, 2023 by The Noms
A summery Honey Blackberry Shrub Cocktail that is refreshing for hot weather!
The summery weather had made us spend lots of time outside by our pool! Obviously any cocktail we can make without taking away pool time is a win for us. We looked for some good drinks to serve by the pool for the inevitable pool party we will have this summer and looked at punches. So, this Honey Blackberry Shrub Cocktail came to mind!
This post contains affiliate links for products that we think you as readers might find useful, and we make commission off of these! For more details about our affiliates, click our Disclosure and Contacts Page.
What is a Shrub for a Cocktail?
A beverage called a shrub kept coming up in our searches, and being the curious cocktail folks that we are, we decided to try one out and educate ourselves in the mean time. After all, why shouldn't drinking involve a bit of education at the same time?
Are Shrub Drinks Good For You?
Shrubs were found in Europe as early as the 1600s and 1700s. But, the shrub came into its own in colonial America when colonists found the sweltering American summers quickly spoiled fresh fruits and vegetables and needed a good way to preserve the fruit. Vinegar and sugar were two plentiful items in colonial America, so a mixture of vinegar and sugar was poured over fresh fruit and allowed to infuse the fruit to preserve it.
After removing the fruit, the remaining liquid was mixed with rum or brandy (another common American beverage) and the vinegar drink was found to be refreshing! The vinegar was said to add a cooling effect to the drink. Vinegar based drinks had a long record of being used in hot climates, even made an appearance in the Bible when Ruth has vinegar drink to cool off after working in the fields!
A Shrub History Lesson
Another factor in the popularity of shrubs came about with the ability to mask the favor of sea water spoiled alcohol. The Sugar Act of 1764 was passed and it became hard to import the sugars and rum from the Caribbean, smugglers routinely had to avoid English naval patrols. Smugglers resorted to sinking barrels of rum for retrieval after patrols had passed.
Often times, water would penetrate the barrels and foul the alcoholic contents. But, being resourceful entrepreneurs, smugglers found a way to save the rum by mixing in the infused vinegar and sugars and making a nice drink.
What Ingredients are Needed for this Honey Blackberry Shrub Cocktail?
blackberries
honey
apple cider vinegar
mint
club soda
whiskey or bourbon
Vinegar Cocktail
Shrub syrups are often made by heating the fruit with sugar and letting it macerate with vinegar. For the purposes of our cocktail, we decided to go with a cold version of the shrub. Honey replaced the usual sugar here, and the richer sweetness of the honey was especially nice with our whiskey. The longer the shrub macerates, the more the flavors will meld together, mellowing the tartness of the vinegar.
Making it ahead also means there's no sweat when it's cocktail hour! This recipe is also great for parties as you can make it ahead! Just serve in a large pitcher to leave more time with the guests! So, make this great Honey Blackberry Shrub Cocktail!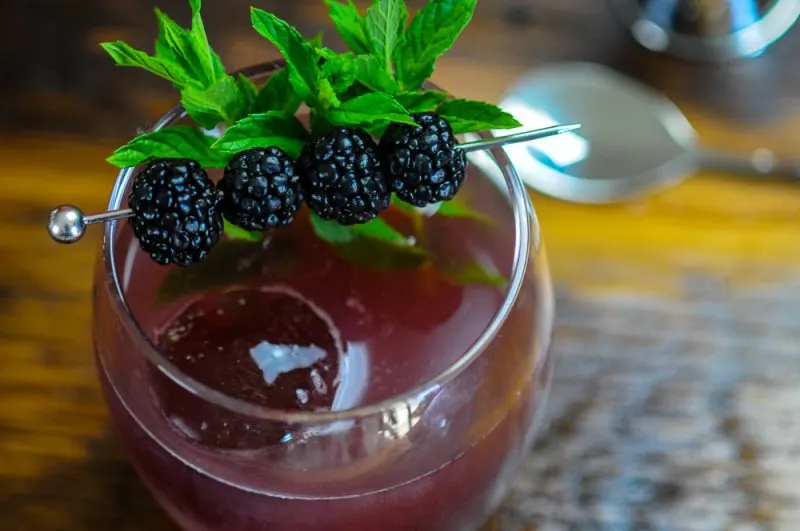 Cheers!
Also, don't forget to follow us on Instagram and tag #gastronomcocktails so we can see all the wonderful recipes YOU recreate from this site!
You can also subscribe to our newsletter so you never miss a delicious recipe again!
Like this recipe? Try these below, too!
Peach and Basil Shrub Cocktail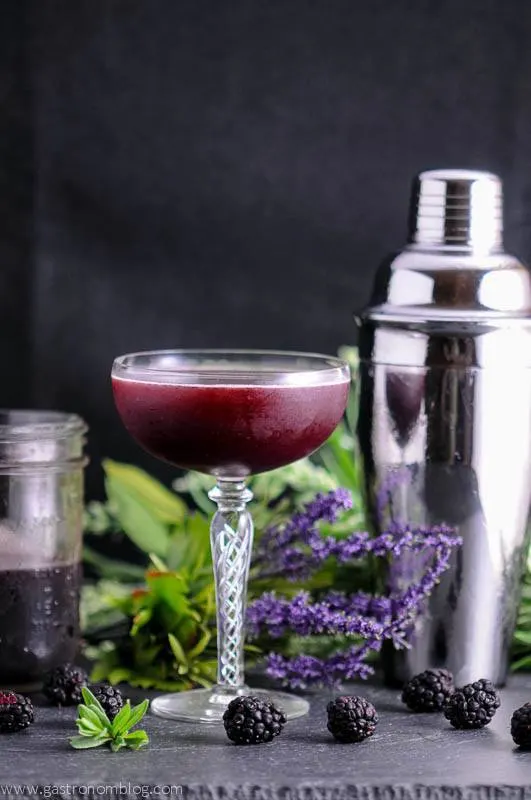 Brandy and Blackberry Lavender Shrub Cocktail
Other Shrub Cocktail Recipes
Also, don't forget to follow us on Instagram and tag #gastronomcocktails so we can see all the wonderful recipes YOU recreate from this site!
You can also subscribe to our weekly newsletter so you never miss a delicious recipe again!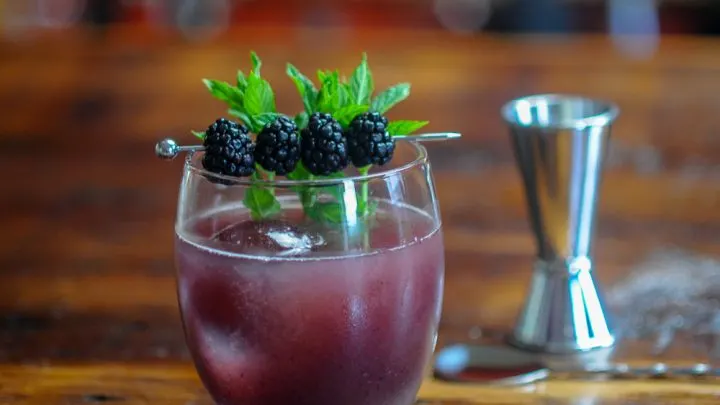 Yield:

4
Honey Blackberry Shrub
Total Time:
8 hours
5 minutes
Honey Blackberry Whiskey Shrub Cocktail. Honey Blackberry syrup with apple cider vinegar. bourbon and club soda.
Ingredients
Honey Blackberry Shrub
1 cup blackberries
1/2 cup honey
3/4 cup cider vinegar
1/2 cup water
Honey Blackberry Shrub Cocktail
8 oz bourbon or whiskey
half of the Blackberry Honey Shrub
6 large sprigs mint
2 cups club soda, chilled
4 cups ice
Instructions
For the Shrub: Combine all above and let sit overnight or up to 7 days in the fridge.
For the Honey Blackberry Shrub Cocktail: Combine 1/2 of shrub in a pitcher, along with the other cocktail ingredients.
Stir, Serve.
Cheers!
Nutrition Information:
Yield:
4
Serving Size:
1
Amount Per Serving:
Calories:

207
Total Fat:

.1g
Sodium:

27mg
Carbohydrates:

19.4g
Fiber:

1g
Sugar:

18.4g
Protein:

.3g
Interested in stocking your own home bar? Make sure to see our favorites at our Amazon Store!
If you liked this post, don't forget to subscribe for new (and of course free) recipes by entering your email address on the side bar (and get all the recipes delivered to your inbox when we post), so you don't miss out on a thing. You can find us on Facebook, Instagram, and Pinterest!
Gastronomblog is a participant in the Amazon Services LLC Associates Program, an affiliate advertising program designed to provide a means for sites to earn advertising fees by advertising and linking to amazon.com