Last Updated on June 10, 2023 by Leah Hall
This shrub recipe is easy and delicious. Up your cocktail game with this tart citrus flavored shrub. Shrubs are trendy and enjoyed by all ages. Make your own drinking vinegar recipe at home, and it will become your go to springtime drink!
What Kind of Drink Is a Shrub?
A shrub is basically fruit, or can be vegetables, (we have used beets) combined with two other ingredients, sugar and vinegar. After the ingredients combine over a little time, the result is a great balance of tart, sweet and acid. Shrubs are definitely a concentrated flavor, and they are tasty when combined with soda water or in a cocktail!
This post contains affiliate links for products that we think you as readers might find useful, and we make commission off of these! For more details about our affiliates, click our Disclosure and Contacts Page.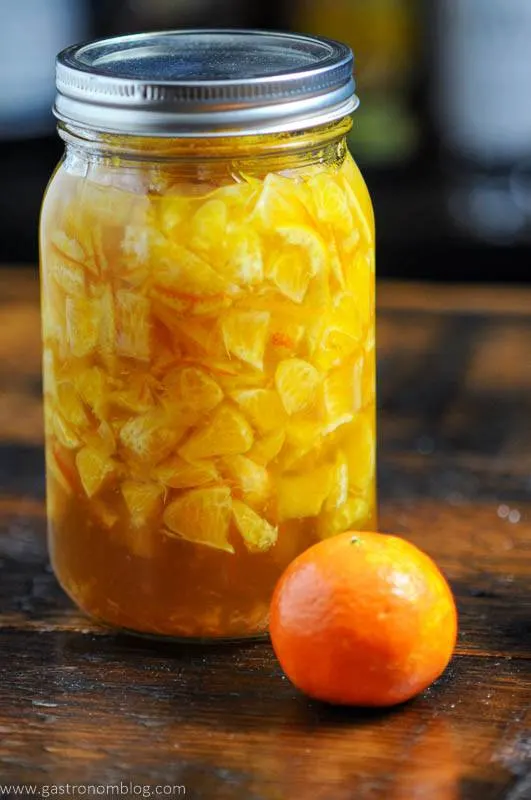 Remember, it doesn't just have to be fruit! Add fresh herbs (rosemary, thyme, mint, lavender), or spices (peppercorns, cardamom, or cloves), ginger, and even vegetables!
Drinking vinegar Recipe?
Does that even sound appealing? We say yes! We have quite a few shrub recipes on the site, and love to order then when out if I don't feel like drinking! But, they are also tasty IN cocktails, because of course they are!
How to Make a Shrub?
This orange shrub recipe doesn't require a lot of work, just a little time and patience. Once you've made the shrub, strain it into a Mason jar, and let it rest for a few days, and the shrub is ready to drink. (after you strain out all the stuff and put it in another mason jar!)
Why Is It Called a Shrub?
Many drinking vinegar recipes were popular in colonial America as a way to use the freshness of seasonal fruits. As time went on, home refrigeration pushed these drinks into obscurity. But, shrubs have been making a comeback.
The combination of sugar and vinegar does preserve the fruit, so you can enjoy your favorite fruit well into the next season!
The term "shrub" first appears in print in 1747 in London's Gentleman's Magazine referring to a "fancy libation". I think I want to be a fancy libation, LOL!
After our Peach and Basil shrub, we really have loved the sour and sweet combo that a drinking vinegar recipe gives to drinks and cocktails. In this one the tart of the clementines balance the sweetness of the agave and orange marmalade.
What Ingredients are Needed in the Clementine Shrub?
Clementines
agave syrup
orange marmalade
apple cider vinegar
orange zest
Hot Shrub Method vs. Cold Shrub Method
All of our shrubs have used the cold method, in which you combine fruit with sugar and vinegar and infuse for about a week before straining. It's an easy process, but it does involve a week long wait for your shrub. There is a hot method as well that is much quicker and imparts the flavors much quicker, plus you can use the shrub sooner, score.
But alas, in this case we used the cold method again!
Is a Shrub Alcoholic?
If you've never had a shrub before, we think it's about the most refreshing thing you can drink, especially when it's hot in the summer. The alcohol is optional, but I mean, come on, you know we have plans for this orange shrub, and it involves the booze!
The Vinegar for A Shrub Cocktail

Most vinegars will work, but try to match how fruit will pair with the vinegar. personally, we wouldn't use plain white vinegar. Apple cider vinegar is our favorite, but white wine, red wine vinegar, rice vinegar also work very well. Balsamic is always an option, but adds a lot of flavor so a little goes a long way, combine it with another to make it even more flavorful.
The Sugar for a Shrub

Regular white sugar is an option, brown sugar to add a depth of flavor. Agave, honey, maple syrup, and sweetened jams are also options.
We hope you will give this orange shrub recipe a chance and try it out to make your own drinking vinegar, whether you put it in a cocktail, or just combine it with soda water, or club soda!
Cheers!
Also, don't forget to follow us on Instagram and tag #gastronomcocktails so we can see all the wonderful recipes YOU recreate from this site!
You can also subscribe to our newsletter so you never miss a delicious recipe again!
Like this recipe? Try these below, too!
Brandy and Blackberry Lavender Shrub Cocktail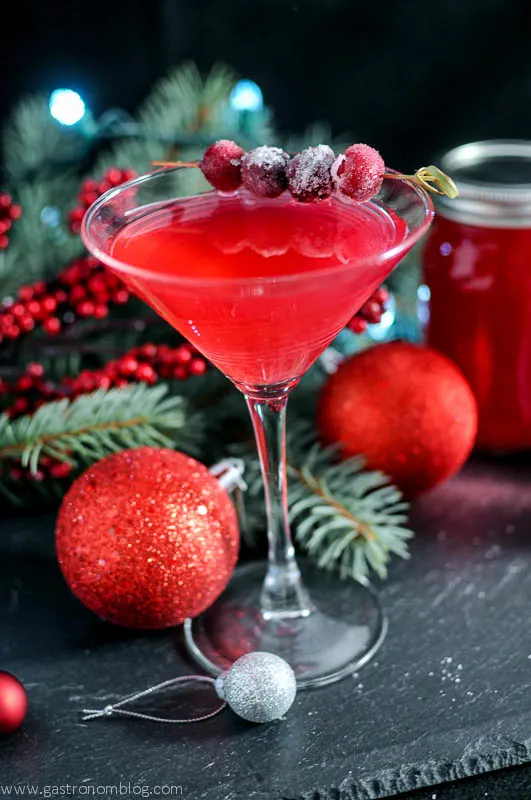 Cranberry Orange Shrub Cocktail
Other Shrub Cocktails
Yield:

1
Clementine Shrub
Additional Time:
10 minutes
Total Time:
5 days
30 minutes
This Clementine Shrub is a great apple cider vinegar based drinking vinegar. It's perfect for cocktails and drinks, or to drink by itself.
Ingredients
3 cups clementine sections, peeled
1/2 cup agave syrup
1/2 cup orange marmalade
1/2 cup apple cider vinegar
orange zest from 1 clementine
Instructions
Combine all ingredients in a large mason jar or container with a lid.
Shake and/or stir to combine so all the sweeteners are dissolved.
Let sit for at least 4 days, but ideally 5. Make sure to taste before straining to make sure the flavor is right.
Strain out all solids and dispose of solids. Store shrub in an airtight container in fridge or on counter for up to 6 months.
Use in cocktails or drinks.
Notes
It may start to ferment after 4 months or so. Check every so often. If it does, it may get slimy, so please dispose and don't use if that happens.
Recommended Products
As an Amazon Associate and member of other affiliate programs, I earn from qualifying purchases.
Nutrition Information:
Yield:
16
Serving Size:
1.5 oz
Amount Per Serving:
Calories:

57
Total Fat:

.1g
Sodium:

7mg
Carbohydrates:

14.6g
Fiber:

.9g
Sugar:

12.7g
Protein:

.3g
Interested in stocking your own home bar? Make sure to see our favorites at our Amazon Store!
If you liked this post, don't forget to subscribe for new (and of course free) recipes by entering your email address on the side bar (and get all the recipes delivered to your inbox when we post), so you don't miss out on a thing. You can find us on Facebook, Instagram, and Pinterest!
Gastronomblog is a participant in the Amazon Services LLC Associates Program, an affiliate advertising program designed to provide a means for sites to earn advertising fees by advertising and linking to amazon.com