Last Updated on June 8, 2023 by The Noms
An herbal bourbon shrub peach cocktail.
With labor day coming and going, and the kids back in school, we officially can say its really fall! In our house, fall means a lot of great nights out by the fire pit and nights watching football. Anytime we get together with friends, we love to have some good food to nibble and something delicious to drink! Of course our friends are always asking to sample the recipes we feature on this site!
Bourbon Shrub Cocktail
We were invited over to friends to watch a game and we volunteered to bring appetizers and provide some cocktails. With a couple of days to prepare, we pulled up our local Family Fare ads to check out the latest deals and do a little menu planning.
This post contains sponsored content brought to you by Family Fare Supermarkets. This post contains affiliate links for products that we think you as readers might find useful, and we make commission off of these! For more details about our affiliates, click our Disclosure and Contacts Page.
Mason Jars / Rocks Glasses / Fine Mesh Strainer
What Cocktail to Make?
Our friends who were hosting are bourbon fans, and they always ask us to come up with new drinks to try. One incredible pairing is bourbon and peaches, and there were some really great fall peaches in the store, too! We decided that we would make a cocktail featuring peaches and bourbon, a Peach and Basil Bourbon Shrub.
Our local Family Fare offering a nice selection of fine spirits. We saw they had a couple of nice bourbons on sale, we headed to one of the Omaha Family Fare Supermarkets to do a little shopping.
What is a Shrub?
As we have covered in a couple of previous posts, a shrub was historically used to preserve fruit. We love to use shrubs to not only preserve some of the delicious summer fruits for fall and winter, but we also like to use shrubs to add a rich tart flavor to a cocktail. On our shopping trip, we found a great deal on some big fresh fall peaches, which were super sweet and juicy.
The flavor of fresh peaches is one that we associate with summer and love to have in the late fall or winter.
We decided to see if we could keep some of this summer flavor for later by making a big batch of peach shrub. We cut up a bunch of the peaches, mixed them in with some apple cider and sugar and some fresh basil and let the mix mature for a few days until the night of our get together.
What Bourbon Should We Use?
For the bourbon, we poured through the big selection of rye whiskeys and bourbon that Family Fare offers. We found a nice bourbon that just happened to be on sale, Four Roses Small Batch Bourbon. A nice Kentucky bourbon, Four Roses is a blend of four different recipes which results in bourbon that is full of caramel and oak with a nice spicy finish.
A great bourbon for mixing cocktails, the Four Roses Small Batch Bourbon paired up nicely with the sweet tart peach and basil shrub. It was strong enough to stand up to the tartness of the shrub, but mellow and fruity enough to really add a nice complex layer of flavor.
What other Flavors Did We Need?
Our hosts were really excited to give the Peach and Basil Bourbon Shrub a try. The shrub gave the drink a beautiful peachy golden color and a real sweet tart flavor that really highlighted the sweetness of peach and the herbal notes of basil. A dash of orange liqueur gave a hint of sweet citrus which pulled out some of the fruity caramelized flavors of the bourbon while helping give a sweet balancing note the drink.
Tangy and tart, the Peach and Basil Bourbon Shrub cocktail was a nice sipper that was a real hit!
What Ingredients are Needed for the Peach Basil Shrub Cocktail?
Peach Basil Shrub

Sugar
Basil Simple Syrup
Apple Cider Vinegar
Peaches

Peach Basil Shrub Cocktail

Bourbon
Triple Sec
Peach Basil Shrub
No party would be complete without a nice appetizer, so we decided to make a Bacon and Blue Cheese flatbread. Using blue cheese, bacon, caramelized red onion, fresh asparagus, and topped by a nice Italian cheese blend, these flatbreads were a great combination and a perfect finger food for snacking.
The bacon and blue cheese gave a decadent richness while the caramelized red onion brought a spicy sweetness. As a bonus, these flat breads were really a great pairing with the tart Peach and Basil Bourbon. The richness of the flat breads a nice counter to the tart peach cocktail, too. We were able to find some great red onions and some nice specialty cheeses at Family Fare that worked really well for this recipe!
Check out Family Fare Supermarkets, especially if you are in Omaha! They have some great deals in their weekly ads and coupons, plus if you are a member of Family Fare's YES card, where you can get a lot of great deals like the Milk Club or Cheese Club.
Also, don't forget to follow us on Instagram and tag #gastronomcocktails so we can see all the wonderful recipes YOU recreate from this site!
You can also subscribe to our newsletter so you never miss a delicious recipe again!
Like this recipe? Try these below, too!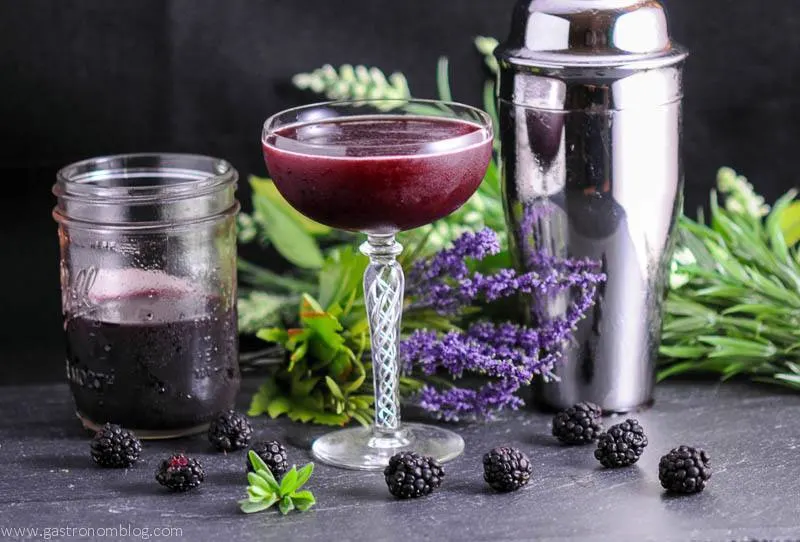 Brandy and Blackberry Lavender Shrub Cocktail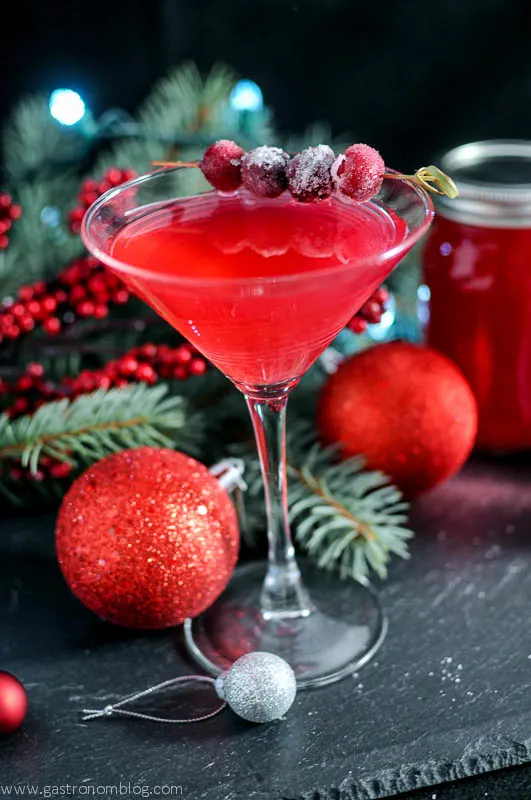 Cranberry Orange Shrub Cocktail
Other Shrub Cocktails
Total Time:
2 days
5 minutes
A refreshing shrub cocktail with the flavors of peach and basil.
Ingredients
Peach Basil Shrub Bourbon Cocktail
1.50 ounces bourbon
.50 ounce triple sec
3.5 ounces Peach Basil shrub
Peach Basil Shrub
6 cups fresh peaches, pitted and diced
1 cup sugar
Apple cider vinegar to cover the peaches
Instructions
For the Shrub
Combine peaches, simple syrup and sugar in a container, pour enough apple cider vinegar to cover the peaches.
Let sit for 2-3 days, or up to 5 days. After letting the shrub sit for a few days, strain out peaches, and run liquid through a fine mesh strainer if necessary. Store shrub in fridge if desired.
For the Cocktail
Combine shrub, bourbon and triple sec together, stir with ice in glass and serve.
Cheers!
Recommended Products
As an Amazon Associate and member of other affiliate programs, I earn from qualifying purchases.
Nutrition Information:
Yield:
1
Serving Size:
1
Amount Per Serving:
Calories:

319
Total Fat:

0g
Saturated Fat:

0g
Trans Fat:

0g
Unsaturated Fat:

0g
Cholesterol:

0mg
Sodium:

1100mg
Carbohydrates:

43g
Fiber:

0g
Sugar:

54g
Protein:

0g
Interested in stocking your own home bar? Make sure to see our favorites at our Amazon Store!
If you liked this post, don't forget to subscribe for new (and of course free) recipes by entering your email address on the side bar (and get all the recipes delivered to your inbox when we post), so you don't miss out on a thing. You can find us on Facebook, Instagram, and Pinterest!
Gastronomblog is a participant in the Amazon Services LLC Associates Program, an affiliate advertising program designed to provide a means for sites to earn advertising fees by advertising and linking to amazon.com