An interesting flavor Aronia berries, we loved trying them out!
We love working with locally grown and produced products to develop our cocktails, so when Whole Foods Market approached us to develop a summer cocktail promotion for their cafe featuring locally grown produce and products from their store, we jumped at the chance.
We previously have worked with Whole Foods Market to come up with a cocktail and a punch for the holidays and both drinks were big hits, so having the chance to make a summer cocktail was an exciting challenge, especially when they said they would like to promote aronia berries grown on a local farm, Sawmill Hollow Farms.
After a whole bunch of experimentation and recipe testing, we found an excellent summer cocktail, the Aronia Sour!
This post contains sponsored content brought to you by Whole Foods Market. We received products to promote and develop recipes with but all opinions presented here are 100% our own. This post contains affiliate links for products that we think you as readers might find useful, and we make commission off of these! For more details about our affiliates, click our Disclosure and Contacts Page.
Ice Ball Mold / Square Ice Mold / Shaker
For a good summer cocktail, we always want something that is going to be refreshing and easy to sip. We love a good tart drink, as they can be very refreshing and a great way to beat the heat while quenching your thirst. One of our favorite summer cocktails is the venerable whiskey sour, which is a great sipping drink, the balance of sweet and tart making the whiskey sour very refreshing (it is a classic for a reason!)
When we first started tasting the aronia berries, we noticed that they had a tendency to dry out the palate, kind of like a dry red wine. This reminded us of another variation of the whiskey sour that uses red wine, the New York Sour. With the aronia berries giving us a similar flavor profile, we thought using an aronia syrup in a similar manner as the red wine might make for an excellent cocktail.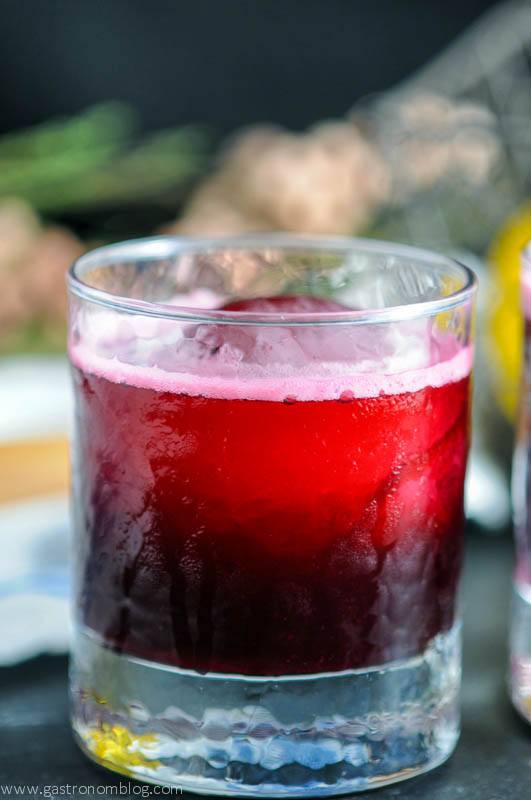 Rocks Glass / Fine Mesh Strainer / Hawthorne Strainer
We had come up with an aronia berry syrup that has a rich complex sweetness that is almost like a rich red wine, with a hint of dryness while still having enough sweetness to balance the tart. The flavor has a real old fashioned flavor that reminded us of an old homemade jams or an aged red wine, and when we combined that flavor with a classic whiskey sour, we found a great sipping cocktail!
A nice balance of sweet and tart with just a hint of a dry finish, the Aronia Sour is a very refreshing summer cocktail.
We included two different versions of the Aronia Sour, one that is perfect for a big summer party, and one that is a bit more true to the traditional sour cocktail and perfect for a more intimate nightcap. Traditionally, a whiskey sour uses an egg white mixed into the drink to add a rich creamy texture and a robust foam topping, but some people get a bit squirrely when presented with a drink that contains a raw egg.
The version for a big summer party skips the egg and just combines the ingredients over ice in a rocks glass to make the Aronia Sour.
For those folks who are a bit more brave, add in a raw egg white and give the drink a vigorous shake and strain into a rock glass and enjoy a creamier Aronia Sour! Either version will be a winner!
Cheers!
Like this recipe? Try these below, too!
Chianti, Blueberry and Basil Icepops
Muddled Blackberry Gin Cocktail
Ingredients
2 oz rye whiskey
1 oz lemon juice
.75 oz simple syrup
ice
Optional:one egg white
Instructions
For the No-Egg Version:

Combine all ingredients in a shaker.
Fill shaker with ice.
Shake and strain into a rocks glass over ice.

For the Traditional version with an Egg:

Combine all ingredients in a shaker.
Dry shake to emulsify the egg.
Add ice and shake vigorously to create a thick foam.
Double strain through a fine mesh filter into a rocks glass.
Cheers!
https://www.gastronomblog.com/2016/07/18/aronia-sour/
Recipe by www.gastronomblog.com
Interested in stocking your own home bar? Make sure to see our favorites at our Amazon Store!
If you liked this recipe, don't forget to subscribe for new (and of course free) recipes by entering your email address on the side bar (and get all the recipes delivered to your inbox when we post), so you don't miss out on a thing. You can find us on Facebook, Instagram, Pinterest and Twitter!
Save
Save
Save
Save